A guide on helping martial arts to adapt a physical boxing style and mental boxing attitude. Perfect for martial artists looking to cross-over and learn boxing skills to help their overall MMA (mixed martial arts) ability.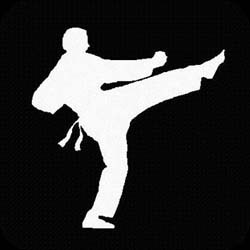 Physicality and Endurance
Boxing is a very raw sport. It's a lot more than just technique, you will have to be in great shape to even have a chance of executing proper boxing techniques. If your opponent is bigger, stronger, faster, or longer-lasting he or she has a great chance of beating you in the ring. All the most amazing technique in the world is nothing if you are not in top shape. Bruce Lee himself admired boxing for the amazing athletes and conditioning that they put themselves through. It's one thing to train yourself to break bricks or fancy moves. It's another thing to train yourself to throw hundreds of meaningful punches over several rounds. I would dare say that given all other variables are even, a C talent boxer with great endurance would easily beat an A level boxer with mediocre endurance. I would also say that a B level boxer with amazing speed could destroy an A level boxer with mediocre speed. My point is, to be a boxer or even attempt boxing you're going to have to get in really great shape or else all that technique you learn will be meaningless. You can't just be a better tactician, you're going to have to be a better athlete.
Stronger Opponents
Many martial artists don't respect a boxer's ability to withstand damage. When it comes to absorbing punches, a boxer is very well trained and conditioned to take punches. I'm dead serious, boxers take hundreds of punches everyday in training from all angles in the ring of various types of power. There are too many martial artists that have been trained to think that they have "secret" single punch moves that can cripple any human being. Do not be surprised if you land 10 of these on a boxer only to have him laugh at you.
Combinations VS Single Shots
In some martial arts, it's common to see fights being fought one strike at a time but that attitude won't work in boxing. In a typical boxing match, you can expect hundreds of punches to be thrown throughout the rounds. It would be foolish to think that everyone has Mike Tyson's power and can win fights with a single punch. You should be prepared to throw numerous punches in combinations non-stop from start to finish. Instead of focusing on just trying to score with a single punch which isn't enough, you have to throw numerous punches to finally break through your opponent's guard. You will throw offensive punches, counter-punches, and even retreating punches. Many of these punches will vary in power, angle, speed, and intent.You should also remember that because the fight is fought in combinations, you must be prepared to defend against combinations of punches.
Head Movement & Body Movement
Boxing utilizes a lot of foot, body, and head movement. Punches are not simply avoided by just clever arm deflections and hand-trapping maneuvers. Many boxers will utilize clever footwork, weaving, and head movement to evade your punches as they come in closer for devastating counter-punches. Just as you must be aware of a boxer's versatility, you must also learn these movements yourself. Ultimately, it doesn't matter how amazing you are; if you leave your head in the same place, you will get hit.
Practicality & Evolution
If you've never tried boxing, you will find that there's far more technique involved than just throwing punches and blocking them. Even though you are only attacking with two hands, it is by no means an easier fighting art to master. There is very much involved and many levels of advanced technique that is unseen by the untrained eye. For example, a non-boxer would never notice professional boxers rolling away from punches as they get hit; they would simply see a boxer taking a punch straight on. When televised, many viewers don't notice the amount of clever footwork that goes on in boxing matches; often the feet is cut out of the overall camera shot as the focus is only on the upper body. Non-boxers might not also notice the feints a boxer uses to manipulate his opponent's guard. My point is, boxing has been around for a very long time and there are many high level techniques that are not appreciated until you spar against someone of that level. Needless to say, the techniques have been far more refined than they seem.
Styles & Inferior Technique
Many traditional martial arts have a strict set of rules that govern the methods of striking and defending used by practitioners. In boxing, other then relatively basic rules on how to throw punches and defend against punches, boxers are free to attack and defend as they please. The saying "if it ain't broke, don't fix it" is heavily agreed upon by many boxing coaches. There are many boxers that are not technically sound but their "flaws" allows them to have an advantage over other boxers. In a sense, inferior technique is often allowed and used to confuse other boxers who are not accustomed to the technique because they have been taught never do that in the ring. There are many styles and many boxers that break numerous rules in boxing. It's a very freestyle form of fighting and because there is no rigid guideline or belt-earning practice, boxers are never really bound by any techniques. Over time, it's common for boxers to teach themselves to use only what works in the ring and not what is taught to be correct by the book.
Conclusion
This article was meant to be an eye-opener to all traditional martial artists looking to venture into the tough world of boxing. I would never intend to offend or disrespect any other martial arts. I would never dare say that boxing is superior to any other fighting style. To venture into the world of boxing with the wrong attitude could be dangerous. Do take care of yourself and have fun!