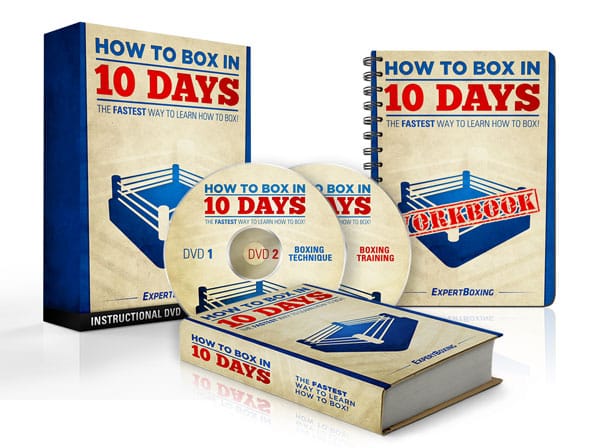 "How to Box in 10 Days" is an accelerated boxing course for beginners — complete with 300-page instruction ebook, 32-page workbook, and 1hr & 40min video — to learn the proper fundamentals of boxing technique QUICKLY for only $77.

Learn techniques used by boxing champions!
Develop knockout punching power!
Outbox opponents with slick defense and footwork!
Win fights with superior skills and conditioning!
IMPROVE YOUR BOXING SKILLS FAST!
"How to Box in 10 Days" accelerated boxing course
BUY IT NOW FOR $77
300-page eBook — broken down into 10 days of step-by-step instruction, with detailed explanations and over 300 hi-res pictures! Discover the techniques and training methods used by professional boxers! Learn and avoid over 200 common mistakes made by beginner boxers.
32-page workbook — workout routine and checklists to monitor your progress daily. These are great for review, since you can skim them quickly to reinforce the skills you need most.
1 hour & 40 minutes of instructional video — HD quality footage of boxing demonstration. See exactly how boxers throw, defend, and counter punches inside the ring. Learn how to use boxing equipment to hone your fighting technique.
THIS IS A DIGITAL PRODUCT – nothing will be shipped to you. All instructional items are downloaded through the internet.
I used to be a beginner…
There was a time when I didn't know how to wrap my hands. I didn't know how to breathe, let alone breathe through a mouthpiece. I couldn't throw a proper jab and couldn't punch without getting tired. I was nervous in every fight and got tired without throwing any punches. I got hit with punches even when I kept my hands up.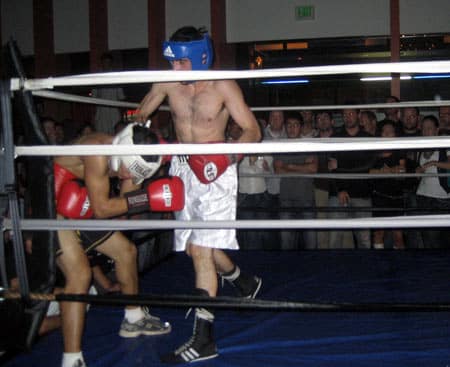 Me getting beat up in my first smoker fight.
This guy later won the Golden Gloves novice division. 
I didn't stand a chance until I learned some real boxing technique. This was the hardest part of being a beginner; the trainers paid more attention to the best fighters than the beginners. I had to earn respect by taking punishment in the ring before trainers and other boxers would bother helping me. Little tricks like foot placement, breathing technique, the shoulder roll and check hook improved my game immediately. One trainer shared a little trick that allowed me to punch TWICE AS HARD!
I went from being the guy nobody ever noticed, to the prospect every trainer wanted to work with. I went from "hopeless beginner" to "championship potential" in a short period. I don't get nervous anymore before sparring matches. I enjoy fighting and get excited about stepping into the ring because I know how to box now.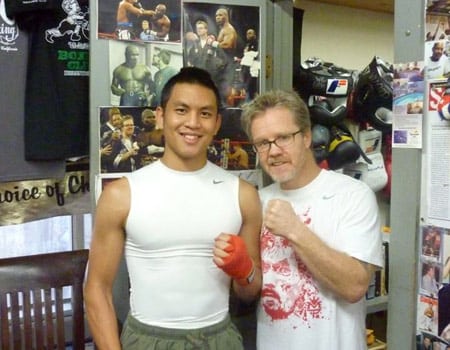 Training at Wildcard Boxing Gym. Freddie's a really nice guy 😉
Creating the perfect boxing course for beginners…
As you already know, being a beginner can suck. It hurts to lose fights and not be respected. You might be lucky enough to train at a great gym but is the best trainer in there working with you? If you've been there less than a year, the chances are slim to none… and you already know why — it's because you're a beginner.
So what can you do?
Well, you can pay for private lessons and go broke by the hour (if you can even afford that). You can take beatings in sparring to get a trainer's attention like I did (the hardest option). Or you can annoy other boxers for little tips here and there. My point is: it's not easy to get good boxing instruction….ESPECIALLY when you're a beginner.
For the price of roughly 2 private lessons, I share generations of knowledge acquired from visiting gyms across the US & Canada, training with dozens of coaches, and sparring with professional and amateur boxing champions. I originally started ExpertBoxing to share these techniques, but now you can have it all organized an easy-to-learn format.
Here's what you get:
Championship Boxing Technique – discover the techniques and training methods used by champions. Learn from years of proven experience to develop your knockout power, slick defense, and fight conditioning!
Detailed Instruction – instant access to 300-page instructional ebook, 1hr & 40min instructional video, and 32-page workbook with daily workout routines. See boxing technique broken down into step-by-step detail with over 300 pictures and HD-quality video demonstration. Also included: workouts, drills, tips, and checklists to aid your progress.
Made for Beginners – everything beginners need to know from equipment to sparring. This is a complete 10-day program on boxing fundamentals. Each day introduces new techniques and drills to help you develop gradually.
A few of the SECRETS you'll learn…
 The REAL way to develop explosive punching power with natural, bodyweight exercises that don't require weights or fancy equipment. HINT: You can double, triple or even quadruple your punching using these principles!
30 advanced punch combinations, that are challenging and fun to do (bet you've never tried half of them) PLUS I break down the Mayweather Mitts base combination to help you develop slick defensive reflexes on the mitts.
How to roll and slip punches with small, natural movements that have NOTHING to do with reflexes or "slickness". NOTE: I actually show you HOW to avoid punches instead of just telling you to keep your hands up!
Over 200 common boxing mistakes shown to me by numerous trainers over the years. You don't have to visit 10 different gyms or hire a dozen trainers. You can avoid these deadly mistakes RIGHT NOW.
Can't get past your opponent's jab? I reveal 6 ways to counter the jab.

View actual pages from the E-book
10 days of intense techniques, drills, and workouts!
Boxing stance, how to move and throw punches with proper form.
Intro – Safety briefings, details of boxing equipment, gym, and trainer
Day 1 – Stance & Footwork
Day 2 – Straight Punches (jab, right cross, 1-2 combination)
Day 3 – Curved Punches (hooks, uppercuts, body shots)
Defense, Combinations, and Counter Punching.
Day 4 – Basic Defense (blocking & parrying)
Day 5 – Advanced Defense (rolling & slipping)
Day 6 – Punch Combinations (basic combos, advanced combos, mitt drills)
Day 7 – Counter Punching (steps and details of over 60 common counters)
Advanced Skills, Training & Sparring.
Day 8 – Advanced Skills (tips to improve your punching, defense, body movement)
Day 9 – Boxing Training (weekly workout plan to develop fight conditioning)
Day 10 – Sparring (sparring drills, fight tips, fight strategy)
Final Words – advice, top 10 boxing questions, congratulatory hug
Some of the details covered in "How to Box in 10 Days"…
Learn the right boxing techniques!

  Recommendations for boxing equipment — handwraps, gloves, headgear, shoes, etc

  Stance & footwork – foot placement, hand positioning, body angles, weight distribution

  Proper punching form — jab, right cross, hooks, uppercuts

  Why you should never straighten your legs while punching — and many other common punching mistakes!

  6 ways to throw the jab — boxing's #1 most important punch!

  How to throw deadly left hooks to the head and body

  Difference between horizontal-fisted hooks vs vertical-fisted hooks

  Uppercuts & hookercuts — proper angle and form to these difficult punches.

  How to block & parry punches — without losing balance or leaving yourself open

  How to roll & slip punches — without getting caught!
Then train like a CHAMP!

  Over 60 combinations to practice your offense & defense on the mitts!

  REVEALED: the base pattern of the Mayweather mitts sequence!

  Over 40 boxing counters to help you defeat jabs, crosses, hooks, uppercuts, and even southpaws!

  Advanced tips for training, offense, defense, and footwork.

  How to hit the heavy bag, speed bag, and double-end bag.

  What are the most important fighting muscles?

  Challenging boxing workouts — develop power, speed, strength, balance, reflexes, and endurance.

  Learn the "classic boxing style" most commonly used in amateur fights.

  Quick strategies for fighting different opponents — brawlers, punchers, tall fighters, short fighters, speed fighters, pressure fighters, defensive fighters, southpaws, and even bigger opponents.

  …and much much more!
Start learning how to box now!
Compliments from boxers/trainers around the world.
You do an absolutely excellent job of showing the different techniques. Honestly, I didn't know there were so many variations to throwing the 1-2! Actually, to be honest, just your explanation of the cross had me sharper in drilling and sparring yesterday. Excellent stuff…Great pictures, even better explanations. Anyone interested in taking the first step into this beautiful sport we love, or want to brush up and evolve in what we love doing, I couldn't recommend it highly enough.
Keep up the great work Johnny! — Ron
I own/operate Ramos Boxing Team out of San Antonio. I was an amateur boxer from 1987 until 1995, professional from 95-00 and have been coaching since 96. I find your articles very accurate and in line with my way of thinking of the sport. It's good to find the younger generation out there with some common boxing sense. Keep spreading truth!
— Arturo Ramos III, RamosBoxing.com
Just ordered mine and I have to say to everyone: this is an excellent guide and a perfect complement to the articles on teh site. This is much more than the basics and has some secret stuff that you can't find anywhere else on the Internet!
— Jake
Permit me to say what you've heard often and correctly: your ExpertBoxing site is superb on all levels. It's not only the copious sharing of pristinely accurate information, but the metta ("loving kindness") which infuse the communications. Your tone is patient, respectful, and of constant service to others. That matters much for the uplift of boxing on all levels. Indeed, it's a throwback to an earlier era when the Sweet Science was regarded by many as a spiritual foundry of courage, warrior virtue, and inspiration.  — Michael D.
Bought a copy hours ago and started reading. I'm only about 30 pages into it but I have to say, this book was much more than a review for me. I have to say, even for a seasoned boxer with amateur experience like myself, there's a lot I could learn from this. Very well organized and I love the pictures. It makes the learning process easier. Good job, J!
I hope you have more guides coming out, I'll be first in line. 😉 — Steve
I don't know your experience level of fighting or coaching, but I must say, me being from a boxing family, from my welter weight champion of the world in the 30's, my father an amateur heavyweight boxer during WW2 to me coaching (going on 13yrs) and many other pros & amateurs in my family…I must say you really do know your stuff…keep up the much needed good work…our sport needs it badly! — Coach Derek Sr.
I bought it! Thanks Johnny for this incredible packed material. Very easy form to acquire tons of useful boxing knowledge. In a certain way, now I had the priviledge of keeping you like my assistant coach 😉 What an honor! — "Spaniardguy"
P.S.
The course is massive. I spent nearly a year writing the book to make sure all the techniques were explained perfectly. It's a "10-day program" but I guarantee you'll be be practicing these techniques for the rest of your boxing career.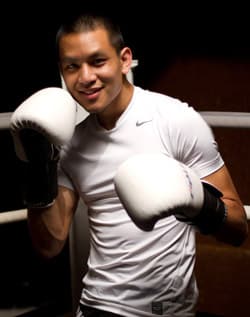 You get 8 years of my training experience (and generations of collected wisdom) boiled down to 300 pages of no-fluff content in detailed, step-by-step format with a workbook and video for only $77.
I recommend this boxing course for all amateur boxers with 10 fights or less. Even if you already know the basics, there are still plenty of techniques and drills to improve your fundamentals.
If you have any questions about this boxing course, please email me: expertboxing [at] gmail [dot] com
 In less than 5 minutes, you can actually start seeing improvements in your boxing technique. [

Order Now

]