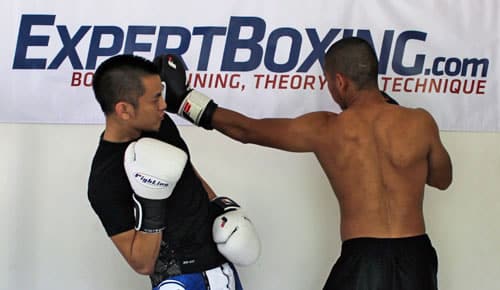 If you thought slipping was only about moving your head, you were wrong.
Slipping isn't limited to just straight punches or head punches. Advanced slipping techniques allow you to slip hooks, uppercuts, body punches, ANYTHING! I'm talking about a crazy James Toney level of slickness where opponents can't even lay a finger on you. The masters of slipping are untouchable!
Reach the next level of defensive slickness by learning how to slip USING BODY MOVEMENT!
How to Slip By Moving Your Body
I hope you guys enjoyed my first advanced slipping guide on head movement.
Today you'll learn to slip with body movement. Slipping with the body makes you infinitely more elusive by giving your opponent the slimmest target possible.
Making yourself a slimmer target is many ways more effective than trying to outmove your opponent's punch. It great increases your chances of evading the punch and relies on much less energy and reaction time. Using body movement is also a safer way of evading punches because you're in position to roll or block landed punches. Slipping with only head movement can be risky and quite dangerous if you get caught.
Benefits of Slipping with Body Movement
increased defensive effectiveness against all punches
less energy and less reaction time needed than head movement
can slip punches entirely (head movement alone cannot slip body punches)
decreased damage even if the punch connects
positions body to counter
To help teach body movment, I made up this technique called "turn the blade".
Turn the Blade
The principle behind this defensive technique is to imagine your body as a blade. It works like this:
bait the punch by showing your opponent the FAT side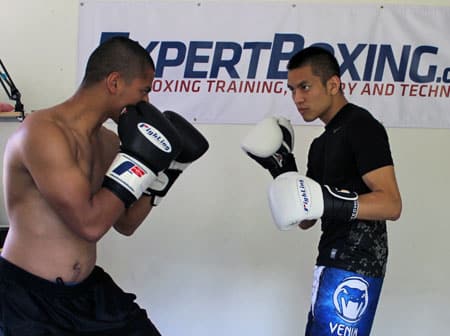 turn your body (the blade) to the SKINNY side when he punches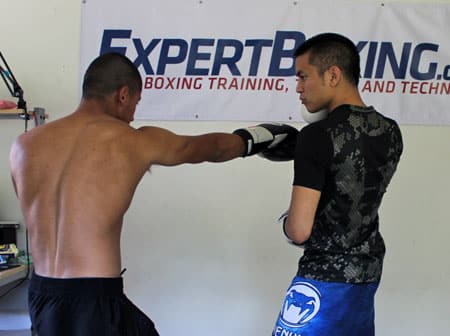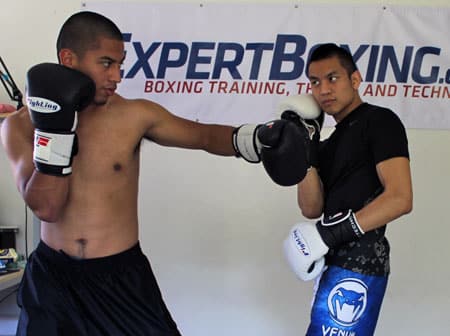 Turning your body constantly makes you far more elusive because it gives your opponent the slimmest target possible. The act of rotating your upper body also serves as a deflection to roll off any landed punches. This "turn the blade" technique does rely on skills that are similar to the shoulder roll.
This technique is used more often than you think especially at the advanced levels. You never realize how elusive somebody is until you fight him yourself. To the casual spectator, it looks like one fighter keeps missing a guy that is standing right in front of him. To the opponent it looks like a guy who is right in front of you but spins when you try to hit him.
Common Punching Angles of Attack
First we learn the 6 common angles of attack. Just about every conceivable punch your opponent throws will originate from one of these 6 common angles. This isn't so much because of the boxing style but because of the way the body is made. It is more natural for punches to come from these angles.
Common Punching Angle #1 – straight left
Common Punching Angle #2 – hooking left
Common Punching Angle #3 – upwards left
Common Punching Angle #4 – straight right
Common Punching Angle #5 – overhand right
Common Punching Angle #6 – upwards right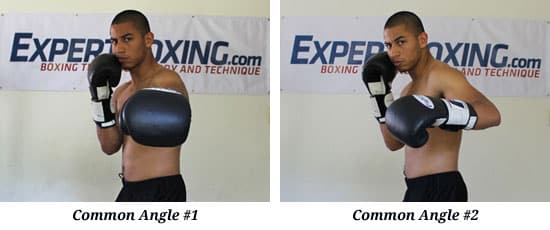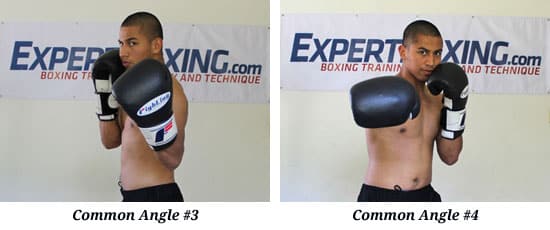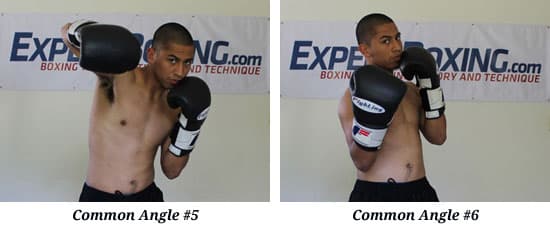 Turn the Body to Slip All Punch Angles
Slipping the Straight left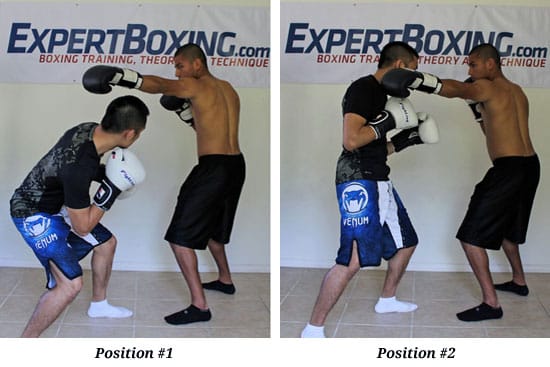 Position #1 slips outside the jab and sets up counters from the outside. Also for getting into range and or smothering the opponent afterwards.
Position #2 slips inside the jab and sets up counters from the inside. Also useful for using this as part of your in & out movement. Slip inside with some counters and then pull out.
I can also alternate between these 2 positions if the opponent attacks with multiple jabs.
Slipping the Hooking Left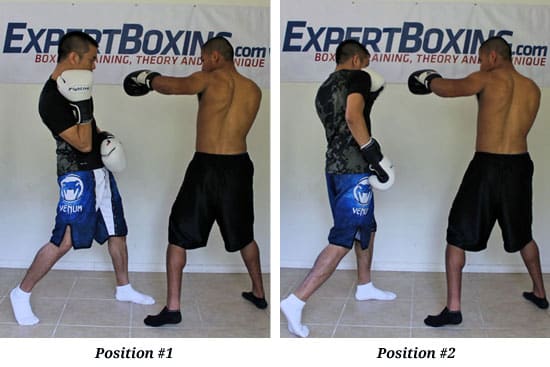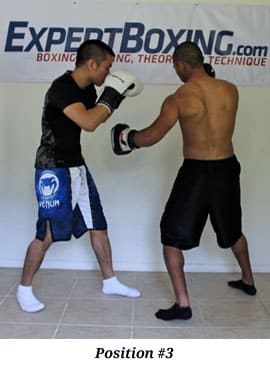 Position #1 turns your body sideways and sometimes leans away from the hook. This movement easily slips or rolls off the left hook from your boxing stance.
Position #2 is useful after throwing a right hand. Sometimes my right hand can't recover in time so I use the left glove to block high and drop my right glove to block low. I leave the body sideways instead of recovering to neutral position to avoid the chance of turning into a counter left hook.
Position #3 is a great way to slip body hooks by turning sideways and pulling the body back just a bit. I lift the elbows to let the body hook pass and I counter over the top.
Slipping the Upwards Left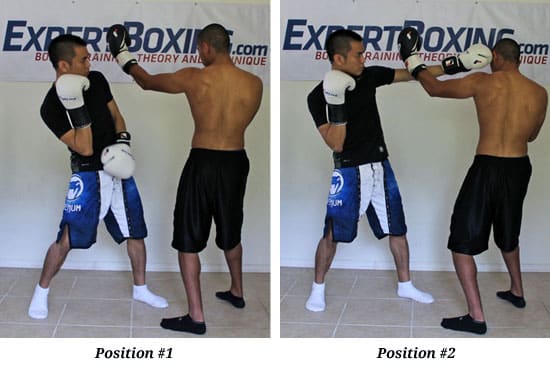 Position #1 avoids the left uppercut easily by rotating the body slightly and leaning away.
Position #2, I extend my left arm to push opponent back while leaning away from him.
Slipping the Straight Right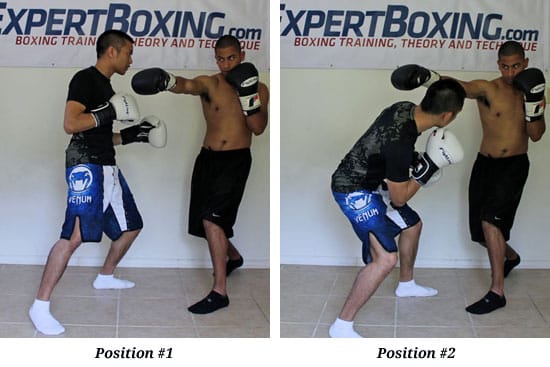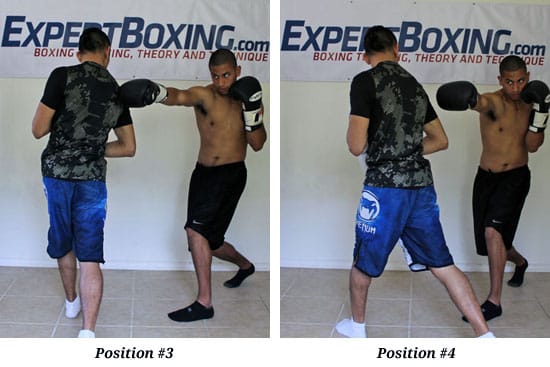 Position #1 slips the right hand by standing high to let the right pass.
Position #2 slips the right hand by going under. This can be a good position if you want to get closer to your opponent or push him back. It's probably a good idea not to stand up right away if you sense a left hook coming afterwards.
Position #3 slips the right hand by using an over-rotation to the left. This is an easy way to slip if you just threw a right hand and feel the counter coming before you're able to pull your hand back.
Position #4 can also be used after throwing your own right hand. It's easier to rotate to the left if you step your left foot out.
Slipping the Overhand Right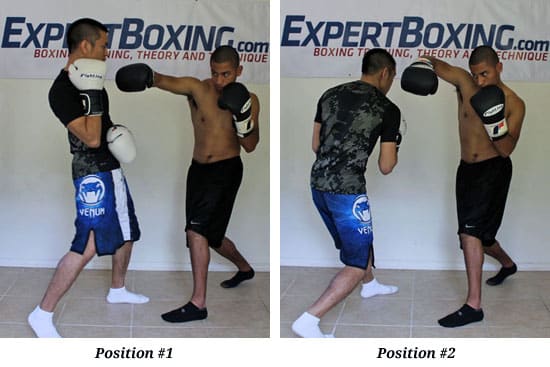 Position #1 avoids the wide right by turning your body sideways and leaning back. If your opponent swings the punch more sideways, this position will let the punch miss right past you.
Position #2 is a good option if your opponent is swinging over at you. It's a great way to make your opponent miss by going under his punch — please excuse the bad photo, it doesn't clearly show that I went under the punch and not outside the punch. Going under the punch allows you to escape out behind him and land counters while he turns around. (Also useful for escaping when you're cornered.)
There is a TIP to Position #2. Instead of trying to duck under his punch, dip forward as if you want to catch his punch on your forehead but then bend your knees just a little. This is all you need to make his punch sail over your head.
Slipping the Upwards Right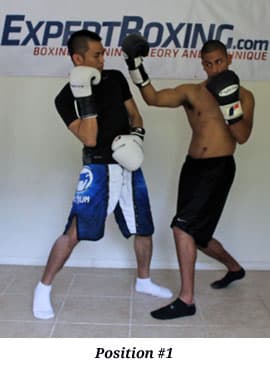 The easiest way to avoid uppercuts is to lean away. Too easy.
Body Movement Instructional Video
Watch my video for a much clearer demonstration of slipping with body movement!
Favorite Examples of Body Movement:
The one thing all these guys have in common is that they slip punches entirely. Not just straight punches but wild swinging ones and even body shots.
Final Tips on Slipping with Body Movement
Optimum Defensive Angle
Body movement is about changing the body's angle,
not about moving the body out of the way.
The main purpose of body movement is to place your body in the optimum defensive position. Although the ultimate goal is to slip the punch entirely, it's also ok if it becomes a roll or a block. Focusing too hard on slipping every single punch will exhaust your energy quickly. It's better to focus on placing your body at the optimum angle and then letting the position naturally slip or roll or block. You're not trying to swing your body out of the way but rather to make slight shifts in the body angle making it easier to defend.
The better you are at finding the right body angle, the less movement you have to make in your body. This is why it is ADVANCED SLIPPING TECHNIQUE. Any beginner trying this will probably find it to be too hard, too slow, and too much movement.
Different Positions for Different Purposes
I demonstrated several ways to slip certain punches because your body is always moving during the fight. Different positions will be easier to reach in different situations. Different positions also allow you to respond differently to your opponent's next move. Always angle yourself in a position that feels most natural for you and puts you in position to counter or slip the next punch.
Waist Movement
Many of these movements require strong core and back muscles. If you don't have the body for this, don't wreck your back by yanking your torso all over the place. Make slight movements and slight angles at first. It also helps to support your upper body by moving your feet to keep the upperbody balanced. (For example: step back with the back foot when you lean back.)
Throw a Counter
Don't just slip–counter back. Many of these positions give you great angles to fire back. Once you master the body movement, try doing them with a counter. Eventually you will be able to incorporate these body angles while trading punches. Your opponents will be completely confused when they keep missing and you keep landing!
Last reminder: this is an ADVANCED defensive technique!