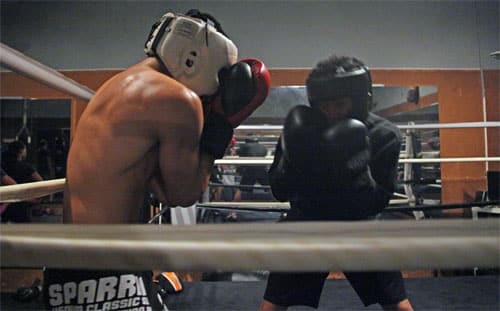 A comprehensive list of answers for the most common questions I get every day from readers.
Some of my answers weren't exactly sweet or polite but somebody's gotta say it. At the end of the day, boxing is a tough sport. And it's common for people to feel lost, defeated, and without a sense of purpose.
I hope my answers, as brazen as they are, help you find clarity in your journey inside the ring.
1. How do I get better at fighting?
Keep practicing until you get better. If you stop before you get good at it, don't complain that it's not good enough. The only way to improve is to learn more and train more.
2. What's the most important thing to learn?
Learn everything. Every technique, every style, every tactic, EVERYTHING. Even the tactics you don't use, you still have to know…because you might face them one day. Only when you learn every aspect of boxing, will you then be able to see what methods are most important TO YOU!
Knowledge is knowing techniques.
Wisdom is knowing when to use the techniques.
The greatest fighters rely on ALL their skills. Someone might say Ali was a great champion just because of his jab. But then you have to realize that he had great defense, footwork, reflexes, conditioning, and skills…to help him maximize that jab. Well now, Ali didn't just win using ONLY his jab, right? He had a solid left hook and right hand as well. Generally, great fighters are good at everything—it's just that not everything stands out.
Everybody can show you the right way to do everything, but you still have to learn all the wrong ways in order to take advantage of your opponent's mistakes. but you will never understand the weakness of every move until you do it yourself. You need experience to be great, there are no shortcuts.
3. How do I improve when my skills are stuck at a plateau?
A plateau usually means you're either doing the same things, still committing the same mistakes, or judging yourself too harshly. The first step would be to stop hating on yourself. Keep calm and pay attention to your coaches and other fighters. Look for areas of improvement or anything you can do differently.
Try something different. Don't judge it, don't over-analyze—just try something different. See what happens. If you don't want to be the same, you have to do something different. Chances are, what you're doing now is not the best technique possible or not the best strategy possible. Or you're doing something incorrectly that you're not aware of.
It helps to see footage OF YOURSELF. It's amazing how many fighters think their hands are up until they watch their own sparring video and see their hands down by their waist and NOWHERE close to the chin!
4. How much should I train?
Train until your body gets tired (or needs a rest). Then LET IT REST until it heals to 100%. With time, you will be able to train for longer periods before needing rest. Competing boxers typically exercise 3-5 hours, 5 times a week.
If you're getting injured, feeling tired, or getting sick of boxing… you're over-training (whether mentally or physically).
5. I don't have access to gym/trainer/running track/etc…is there any substitute?
Yes, there are substitutes for almost everything in life. Generally, the substitutes are never as good as the original thing. Otherwise, they wouldn't be called "substitutes". But sure…if you have no choice, then do what you gotta do.
6. How can I get good fast?
By doing everything properly. Use the right technique, do the right training. Get a good coach and start training alongside good fighters. There are no shortcuts, there is only the way. Using good technique IS the shortcut.
If anything…all the serious boxers are already working their ass off hustling and grinding in the gym everyday and dedicating their mind and body to the sport to improve themselves in every way possible. So for you to do that…only makes you "average" at best. An extremely hardworking individual is not the exception in boxing, it is the norm.
7. How long does it take to become a good boxer?
What do you mean "good"?
Good enough to spar without getting beat up?
Good enough to win amateur competitions?
Good enough to win pro competitions?
At least 5-10 years. To be world class, you can expect 15-20. If you have good BOXING coordination and a good trainer, that time can decrease. Even if you learned every boxing skill, it would still take years to develop the natural reflexes and coordination. Even if your technique is perfect, you still have to fight for years to build the experience to deal with different styles of opponents.
Most people don't have what it takes to become a champion. Many people will train forever and never get there. Many people will get beat up for nothing. Some are born with talent, some are not. Even many of the ones with natural talent will still never get there. For many of them, the reward was in the attempt, not the actual goal itself.
8. How do I deal with losing?
Losing is not something you "deal" with. It's a part of the learning process. A part of improving. Assuming you're training with people more experienced than you, you will be a loser long before you become a winner.
If you don't like losing, get out of the ring. Quit boxing and play checkers. No matter what you do in life, failure will always be a part of it. If you can't handle that fact, then stick to things you're already good at, or things that don't hurt when you lose.
Everybody loses. Sometimes it's in sparring, other times in competition. Inevitably, EVERYONE loses. Losing is the norm, not the exception. Comparing yourself to one of the all-time greats who've seemingly never lost is probably one of the worst ways to develop a poor self-esteem. Think of all the average-looking women comparing themselves to the picture-perfect photo-shopped girls on magazine covers. That's what you're doing to yourself.
If you want to be successful, work on winning, and train your best to win. With 100% focus on WINNING and doing things that help you win (like training, eating right, meditating, POSITIVE self-coaching…), you won't have any focus left to worry about losing. there's no time to be worried about losing when you're so busy focused on winning.
If you're not giving 100% focus to winning,
don't cry when you lose.
9. What can I do if I don't have natural talent?
What if I don't have natural power, speed, stamina, skills, etc. — how can I overcome my weakness?
Questions like that sound like a giant excuse and also offends the successful boxers that worked hard to achieve what they did (and overcome many of the same challenges you face).
I guess you don't like boxing enough if you're going to make that excuse.
You make it sound like everybody else was born with natural fighting skills, like they didn't start out just like you. Anyway…if you really DO have a disadvantage in one area, then you'll just have to train harder to make up for it. Crying about it will not help you.
You develop fighting attributes the exact same way everybody else does it. If you want speed, you train for speed. If you want power, you train for power. Everything is part technique, part physical conditioning, and part muscle memory/coordination.
You can sit there and complain about why you don't have natural hand speed, or you can learn how other boxers developed their hand speed. If you're a beginner, there's a good chance you're not yet truly aware of your strengths and weaknesses. And until you're properly trained, you have no right to say what hidden talents you have or don't have.
10. Am I too old to be a great boxer?
It depends. Are you too old to be athletic and learn something new everyday? You're the one with something to prove. So it's up to you to answer that question yourself. Some people take 20 years to become champion, others do it in 10 or 15. Find a gym full of other boxers and see how you compare to them.
It is possible to be a "great boxer" without being a "great champion". If you can embody all the makings of being a great boxer and live to it within your heart, you will be a great boxer regardless of whether or not others say you are or if you have a title belt. If you're going to judge yourself by other people's standards, you'll never please them and probably not even yourself.
11. How good can I be?
That's a question for YOU to answer, not me. Your advantages and disadvantages are what you start with. Your dedication and training is what you end with. Until you give it 100%, you will never know what you're truly capable of…
Instead of wondering how good you can be, how about asking yourself, "What can I do now to improve my learning? Where are my weaknesses? What could I be doing differently?"
12. Will weights hurt your boxing training?
It depends on how you do it. I've written several guides on this subject. The bottom line is…if it helps you, do it. If it doesn't, then don't. And if you don't know for sure…then you'll have to try it and see for yourself.
13. Can I be a switch-stance fighter?
That's usually a waste of time in my opinion. Most people who ask this question are doing it to be more versatile. Chances are, if your opponent is beating you up from your normal stance (your BEST stance), you switching it around to your inferior stance isn't going to help either. If anything, I would say you are most versatile from your best position.
So if you want to do something new, it's better for you to work on NEW things from your normal stance, than to try and do the same things from your switch stance. Because once you switch your stance, you have to spend time figuring out how to be comfortable before you can start doing new things with it.
There are professional fighters who can switch comfortably (Marvin Hagler comes to mind) but we're talking about guys who spent their whole life in boxing. They might have spent more years in their switch stance than you have in your whole boxing career.
The ultimate answer is for you to try it out and see for yourself. Do it, and then get in the ring with a skilled opponent and see how much it helps you.
14. How do I become a fighter if I have no money?
You don't need money to be a boxer. The entire history of boxing was built on poverty. If anything, it's almost like you shouldn't have money if you want to be a good boxer. On the flip side, I'd have to say you probably won't make any money being a boxer, either. If money is what you really want, I'd suggest starting a business. Or doing something that actually pays you right away (like getting a job).
15. How does [Mike Tyson/Floyd Mayweather/insert any name] do this cool move?
It's probably more important to focus on how YOU are doing the move. What matters most is unerstanding how YOU box….not how others box. Raise your self-awareness before you try to understand others. Better yet, try watching some footage of yourself instead of always watching others. You might learn something [about yourself] from watching your own fighting videos.
What matters is how YOU do the move. How many ways do you know how to perform that move? What technique are you using? Why do you prefer that technique over others? Have you considered the benefits of other technique? Have you ever been at a disadvantage for over-relying on your technique? How would you improve your technique?
Once you understand how to do the same move in many ways, you will easily understand which method matches the pros. And not only will you be able to copy the move but you will understand WHY they do it that way…and that is the very piece of knowledge that makes it valuable. Knowing the technique alone is nothing if you don't understand the timing and strategy that goes with it.
16. What do most fighters lack?
Inspiration.
They don't have a role model to look up to. They only know and see what they see on TV, on the internet, what they read in books, hearsay type of stuff.
When you see how a champion trains right in front of you, it will inspire you to work hard. You stop asking questions and you just start doing what he's doing. You copy the champion and find happiness in doing hard work. The reward for hard work becomes not because somebody gives you a pat on the back but because you can see that you're truly following in the footsteps of someone you admire.