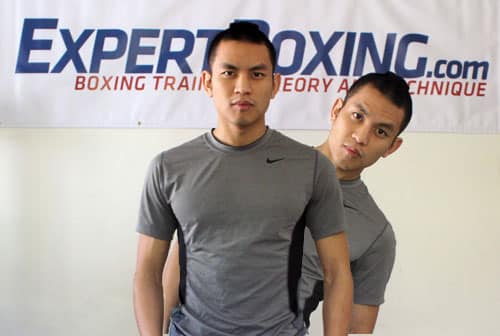 What's the proper way to use head movement? What's the difference between head movement and slipping? How do you slip without losing balance? How do you slip WITHOUT pulling on your head? How do you slip punches faster and easier?
The secrets to slipping are answered in THIS guide!
The problem with slipping…
I'm not trying to tell you that slipping isn't useful. I'm simply pointing out the common flaws and limitations of slipping. Understanding the advantages and disadvantages of slipping will allow you to use it more effectively.
Slipping is a defensive technique
that allows you to counter faster
because your hands aren't used for defense.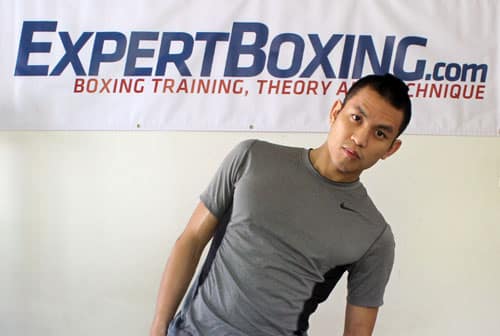 PROBLEM – slipping often compromises your position.
Naturally, a fighter will slip a punch by moving his head off the center line. This is where the problems begin. Taking your head off the center causes you to take yourself off balance. This off-centered position sacrifices your balance, power, speed, and mobility for the sake of avoiding one punch. Regardless of whether you want to counter back, slip some more, or move away–it's harder to do when you're off balance.
If you slip by pulling your head off center, you'll be forced to move your feet in order to regain your balance. This makes it easy for opponents to keep taking your ground.
So here are the 2 conflicting principles of slipping we must satisfy:
Slip the opponent's punch
Keep your head at the center
…and now we've come to the grand question!!!
HOW DO YOU SLIP WITHOUT MOVING THE HEAD?!!!
The Million-Dollar Trick – "Head Movement"
So how are we supposed to use head movement when I just told you that you can't move your head? It's a trick! It's all a trick!
The Trick to Head Movement:
Make your head appear to be moving,
without actually moving your head.
Yes, the trick is to make your head LOOK like it's moving! Please watch my video above to get a visual demonstration.
The Trick to Head Movement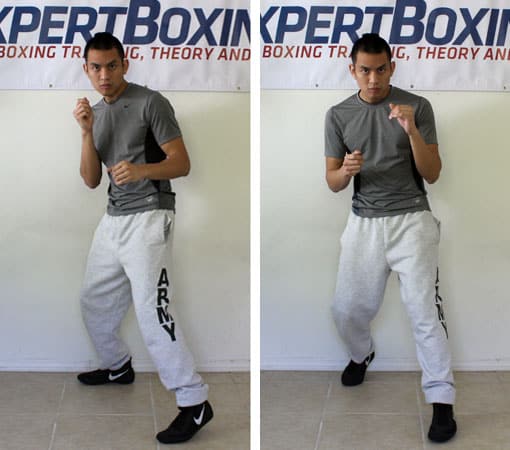 Move the body WITHOUT moving the head
Notice how my head & body stay in the same position but it LOOKS like I'm slipping back and forth. I can shift back and forth between these 2 positions however fast or slow as I want, to make it look like my head is constantly moving.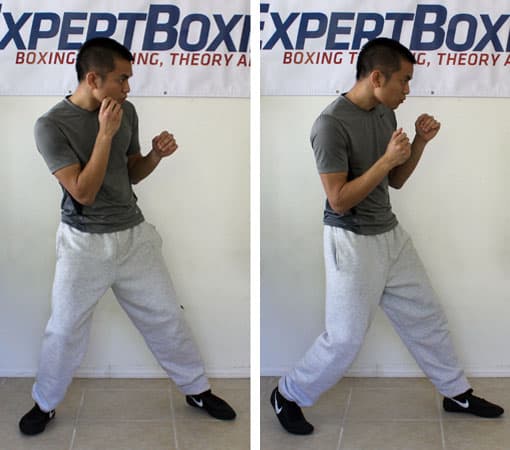 SIDE VIEW
Study the pictures above carefully. The clever use of my limbs make my head appear to be moving but my head barely moves at all. I'm trying to move my body so that it appears like I'm slipping back and forth, tempting my opponent to throw to one side instead of straight down the middle.
Using the Arms to Simulate "Head Movement"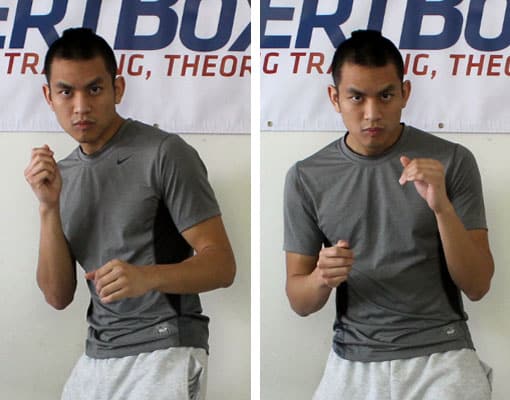 Head movement using the arms
In the images above, moving my arms around makes it look like I'm slipping back and forth. Looks like I moved alot, right? NOTE: I am showing you my style of movement. You don't have to copy me. Your arms can be in different positions and move in different ways to simulate head movement.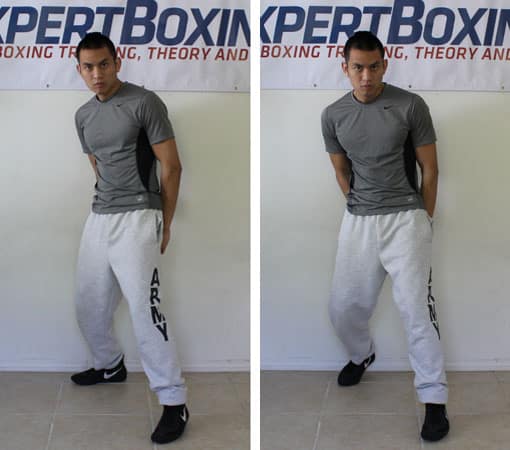 Head movement WITHOUT the arms
And now I make the same movement but without my arms. Can you see now that I barely moved at all?
Using the Legs to Simulate "Head Movement"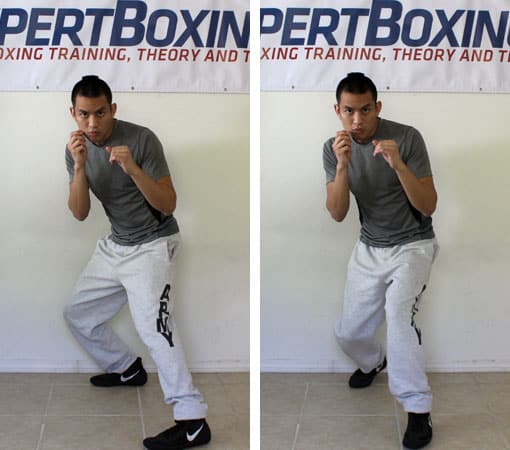 Head movement using the legs
Here's the same effect moving only my legs. Notice how in the first image I looked like I was leaning away. And then in the second image I looked like I was crouching forward. Once again, it's just a trick; the only thing I did was rotate my legs. My body and head are still in the same place—MAGIC!
The Wrong Way to do "Head Movement"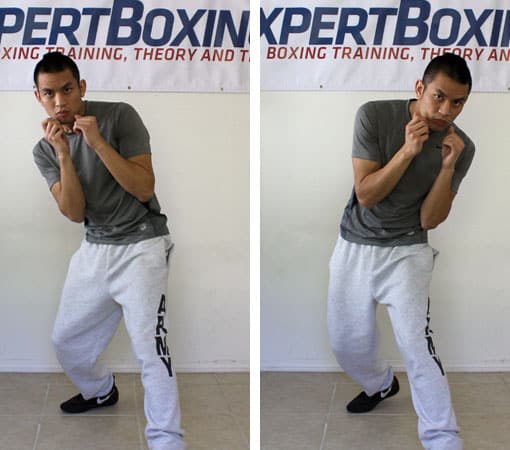 Pulling head off center = BAD
I'm sure you've seen this before. Maybe you're like me and did this for a long time and wondered why slipping was so difficult. Sure it works because you ARE moving your head but it's hard to keep up. Swinging your head back and forth like this requires a lot of energy because you're upsetting your balance. Furthermore, it's even harder to do against fast punches. It's much easier and much more effective to fake the head movement.
What's the Point of Head Movement?
Head movement makes your opponent aim off your center
So what's the point of all this crazy movement? Why am I trying to move everything but my head? It's not that I'm trying not to move my head. The focus is on moving only enough to create the ILLUSION of movement. The illusion of "head movement" tricks my opponent into throwing punches off my center. The "head movement" baits him to throw to one side making it easier for me to slip the punch.
Slipping at the center VS slipping side-to-side
Think about it. If your opponent keeps firing at the center, you'll have to keep moving your head from one side to the other. If you can make your opponent throw off the center, you can slip simply by staying in the middle.
In essence, head movement makes slipping MUCH EASIER!
I've heard many coaches yell at their fighters to "move your head!" without much success. There are simple reasons for this. Bobbing your head side-to-side isn't going to help your defense if you don't have a strong awareness of incoming punches. Making constant slipping motions can make you tired or even distract you from seeing the punches. You must know that "head movement" is NOT the same as slipping!
 "Head Movement" is DIFFERENT from "Slipping"
Head movement is to make your opponent miss. (moving the head only enough to simulate movement)
Slipping is to avoid the punch. (moving the head only enough to avoid the punch)
Head movement only LOOKS like a slip, it's an IMITATION of slip movement. Effective head movement makes the actual slipping easier. Your opponent's punches will come off target making large slip movements unnecessary. Combining head movement with slipping allows you to counter, slip, or move away more effectively.
"Head movement" allows you to slip punches,
WITHOUT giving up your balanced position.
Examples of Pro's & Amateur Boxers using "Head Movement"
Sometimes they do it fast and shifty like I did in my instructional video. Other times it's relaxed and liquid but they pull away with a slip when a punch comes. The pros usually do it slow (as if they're fluidly breathing). The amateurs typically use a more energetic shifty/jerky kind of head movement. Almost everyone in the Olympics is always shifting around; watch any Olympic fight and you'll see what I mean. Once you understand how to move your head, you can do it with your own style. Right after I learned this, I noticed that all the slick guys do it in some way or shape or form.