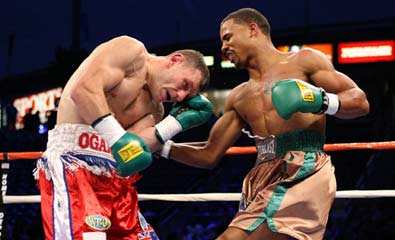 Three simple counter-punches for southpaw boxers to use against orthodox right-handed fighters. It's time you use your southpaw stance to your advantage!

If you're a southpaw boxing in a right-handed world, you're definitely at an advantage. The simple reason is because you as a left-hander will be fighting more right handers whereas the average right-hander would never have the same amount of experience with southpaws. For now, I enclosed some very simple counter-punches for any southpaw fighter to use against a right-handed boxer.
Southpaw Reminders
Whenever a southpaw fights a right-hander, it's common for the fight to become a brawl because of the open mirrored stance. Typically in an orthodox VS orthodox fight, both fighters have the ability to defend against each other's strong right hand by sticking their weak-handed jabbing arm in the way.
In a southpaw VS orthodox fight, both boxers are standing in a mirrored stance and the head and body is very open to being hit by each other's strong arm from the back. In the case of a beginner southpaw VS beginner orthodox (fancy footwork and head movement aside), it's common for the fight to become a race of punches — in other words, the faster jab intercepts the slower jab and the faster stronghand punch from the rear will intercept the slower one. So what I'm saying is…if you're the southpaw, punch faster and try to get your punches inside his punches.
Last reminder, try to circling to your right (which is your opponent's left). This will manuever you away from his strong right hand while at the same time bringing your strong left hand closer to him. Many trainers will tell you to always try to keep your front right foot on the outside of his front left foot. If you do this correctly, you will find that you will be able to land well with both hands whereas he can only land with his front hand. Enough pre-fight instructions… on to the southpaw counters!
1) Jab Over His Jab
Usually in the beginning of a fight between a southpaw and orthodox fighter, both fighters will have an awkward time trying to jab each other. The reason for this is because both of you will be jabbing and catching with the same front arm. What you will do here at first is simply catch his jab with your right hand. The typical orthodox fighter will feel weird and awkward jabbing at your jab arm since he's clearly trying to go for your face. At some point he's going to maybe lunge forward or throw a fast and forceful jab. The moment he does this, lift your right hand so that his jab comes under and then you can jab him right over the top of his arm. (You can also make the move a little easier by bending down on your knees a little and then raising your body to make him miss totally.) This counter seems simple at first but you will see that it works well if you practice a lot and do it subtlely. You can also make it better by pivoting counter-clockwise off your front foot as you throw the jab.
2) Left Cross When He Jabs
Many orthodox will not be ready for this because they're use to trading left jabs against other orthodox fighters. This is the same concept except only you will be throwing a left cross which is far more damaging. Anytime you see him throw a jab, immediately throw your left cross straight down the middle. It should land if you're throwing it fast and straight. The beauty of it is that even if he throws a right hand, your left cross started first and will intercept it easily; your head will be on the inside of your arm and protected from his right crosses.
3) Intercept his right hand with a straight left
Many orthodox fighters will not be able to see your straight left cross. If your orthodox opponent throws a right hand, quickly beat it by throwing a left cross straight down the middle and even between his gloves if he positions them there. This tip is almost like southpaw tip #2 except only you're doing the same move off a different reaction.
If you think you're ready for more, try reading my article "intermediate southpaw counters against righties"