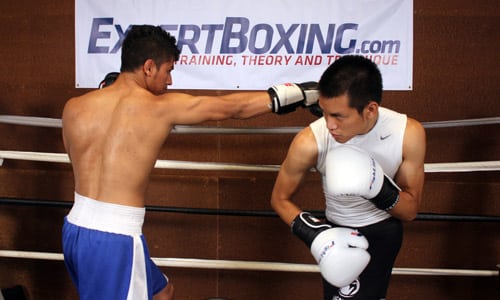 Any fighter can tell you the hook to the body can be the most painful punch you will ever feel. It cripples your body from the inside, paralyzes your legs, and takes away your will to fight. Worst of all: hooks to the body can knock you out but leave you conscious to feel the pain.
Nowadays, all fighters are taught to throw hooks to the body but very few are taught how to set them up. They think setting up body hooks means slipping a punch and coming inside. They're half right but they're still missing one key ingredient. This is something I took years to figure out.
…the proper setup determines whether you slip in safely to land your hook OR get crushed under your opponent and countered!
Taking Hooks to the Body
I learned how to box in a Mexican gym. And if there's one thing Mexicans are known for, it's body punching. I didn't know how they threw them but I'll never forget the pain. Even when my elbows were down, the hooks still got through. Even when I thought I was out of range, they still connected. I knew the hooks were coming, but they still got me every time.
I was even taught to counter the left hook to the body, by blocking first and then countering with a right hand. Now if you've ever faced a body puncher before, you know how scary it is to throw your right hand and risk getting hit to the liver. I was terrified so I kept my right arm pinned as my opponent battered my elbow with one hook after another.
"How the heck is he getting inside?!" I wondered. Everytime I tried the same tactic, I was held down or I just wasn't able to get past his right hand. One trainer told me to just throw the hook and not be afraid of my opponent's right hand. That advice was terrible, I ate many right hands for listening to that.
Another trainer suggested that I move my feet (and body) to the side to get out of my opponent's right hand range. The advice was logical but unrealistic. My opponent's right hand always moved faster than I could move my feet. The trainer suggested that I drill the slip some more. I drilled for months but still couldn't get outside the right hand fast enough to land my left hook to the body! Not only was I unable to get inside, I was getting hit with counter left hooks!
At best, I was able to land the body hook 10% of the time but it required too much concentration. Even then, it only worked against lesser skilled opponents and never the better ones. I never stopped trying though, I figured I would meet someone who could explain it to me.
…a few years later, I figured it out on my own anyway.
The Wrong Way to Slip Inside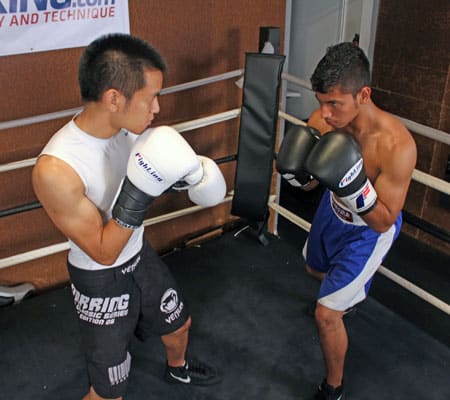 Richard stands square preparing to slip my right hand.
Can it be any more obvious that he wants to get inside to throw the hook?!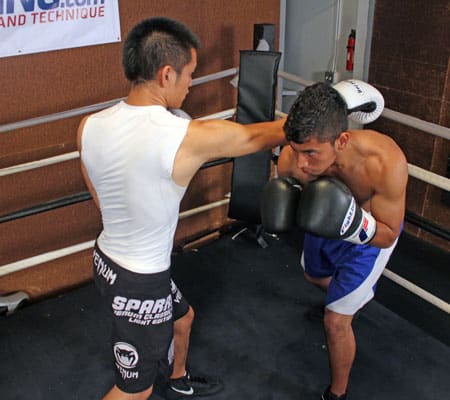 Richard now slips my right hand by diving under it.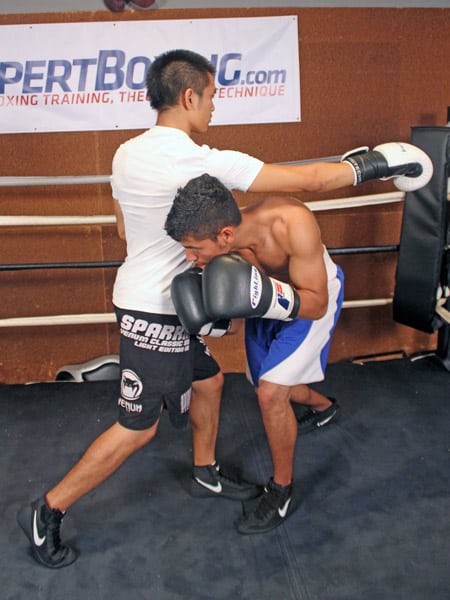 WRONG! WRONG! WRONG! Don't ever do this. Look at what happens next…
How exactly is he going to counter when he's trapped under my armpit?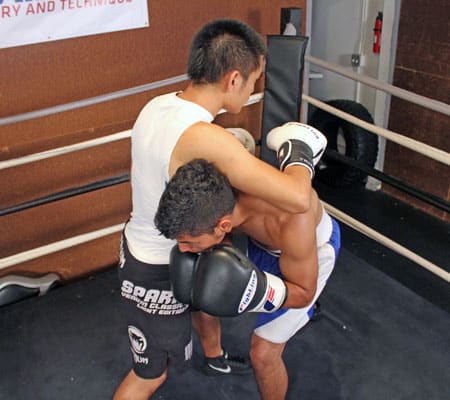 Richard crushed under me. Vulnerable to my punches, and unable to counter.
Look at how easy it is for me to fall into Richard and crush him under me. From here I can pin him under me and keep him from throwing any counters. I can throw my own hooks and uppercuts. It's easy to take advantage of him when he's leaning off center and held off-balance. Your opponent doesn't have to be a boxing genius, any brawler could fall into you and pin you under him.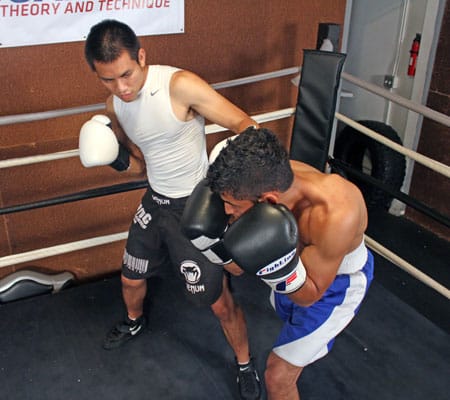 I can easily pivot to the side and land hooks and uppercuts from a side angle.
Slipping under punches is dangerous,
because you might get stuck under your opponent.
The Inefficient Way to Slip Inside
So we know it's not good to dive under the punch. Now here's another creative way to slip the right hand.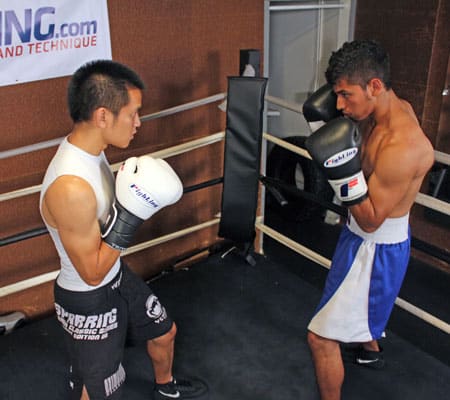 Hmmm…let's see how Richard avoids my right hand.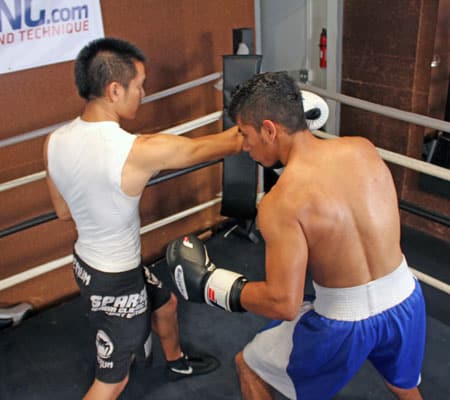 Ok wow, Richard jumps entirely to the outside of my right hand.
It's better…but unrealistic and inefficient.
Now this tactic does work, your entire body slips the entire punch perfectly. If you're an inside fighter and like cutting inside like Ricky Hatton, it can definitely work wonders. The problem with this approach is that it requires too much energy (because you're jumping your whole body), requires too much speed, and isn't easy to do off the fly.
Let's be realistic, do you really think Richard has the energy to jump outside my right hand every time? Do you really think a boxer can truly move his entire body across the floor faster than I can throw my right hand?
What can Richard do to make this counter better or easier?
Now I reveal the secret ingredient…
The Proper Way to Setup Hooks to the Body
My video demonstration of how to setup hooks to the body.
The secret to slipping inside is to SETUP THE SLIP!
That's the secret! Before the counter, before the slip, is the setup. It's the one thing most boxers are not taught and the main reason why many boxers are unable to counter the right hand. Watch carefully how I setup the slip.
Setting Up Left Hooks to the Body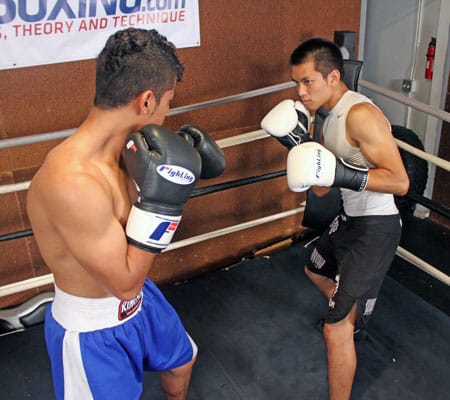 I setup the slip by putting my head to the right.
I'm trying to get him to throw a long right hand. I want him to stretch over to reach my head. If his body follows his punch, he will fall over to the side instead of falling into me when he misses.
NOTE: I know it looks like I'm leaning back with my weight on my back foot but it's not. My weight is actually even balance with maybe slightly more on the back foot. I tilt my head to the right but in reality, I'm trying to keep it as close to the center as possible. The trick is to make it LOOK LIKE you're way off to the without actually taking yourself off center. The closer you are to the center, the easier it is to cut across the center and slip to the other side.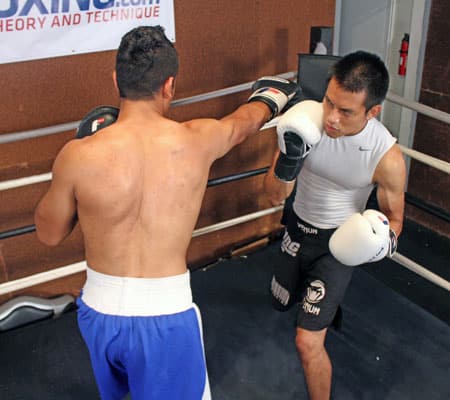 I easily slip his long right hand.
Notice how my body is still upright. I've got my legs and balance under me. I've got more control over my body and more power to counter with. Now look at my opponent. Look at how stretched out he is. Look at how powerful my stance is compared to how vulnerable my opponent looks.
Right after you land the left hook to the body, follow it up. Throw rights followed by more left hooks. You don't have to exit until he throws his left hook, which you can slip and counter with a right hook on his other side.
Making your opponent throw longer punches,
gives you more time to slip and a bigger target to hit.
What if your opponent doesn't throw the long right hand? One idea is to keep throwing the jab to force him to counter with the long right hand. (Likewise, you can throw your right hand to force him to throw the left hook.)
Setting Up Right Hooks to the Body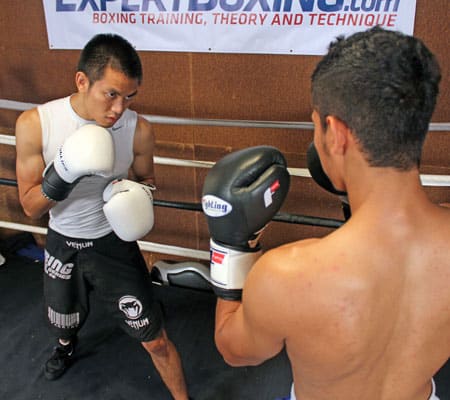 I setup the right hook to the body by placing my head forward to the left.
What I'm doing is baiting him to throw a jab or left hook at my head.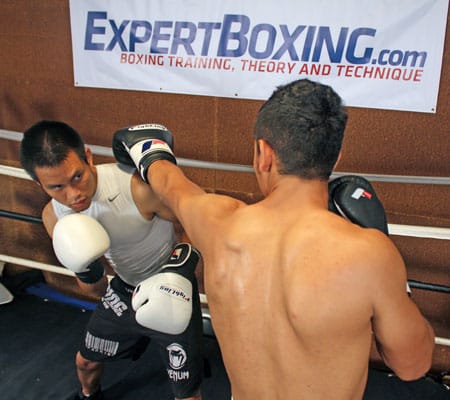 There's the jab! I slip to the right and…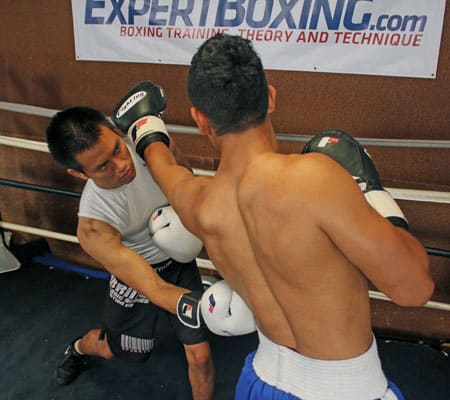 Throw the right hook to the exposed body.
Throwing the Right Hook to the Body During Exchanges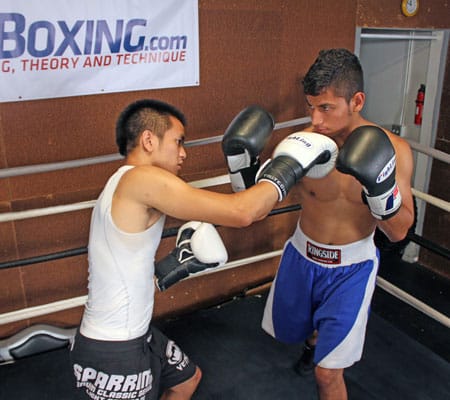 Here's me landing some big shots after slipping inside successfully.
I'm throwing non-stop lefts and rights from the pocket but what I'm really doing is waiting for his left hand.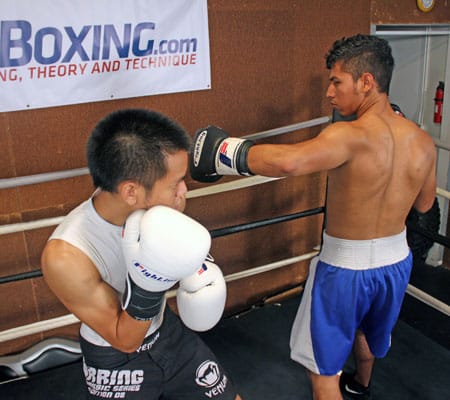 Here comes the left! NOW I slip to the outside!
You slip the left hook by pulling your head back. You don't need to roll under unless you prefer doing it that way.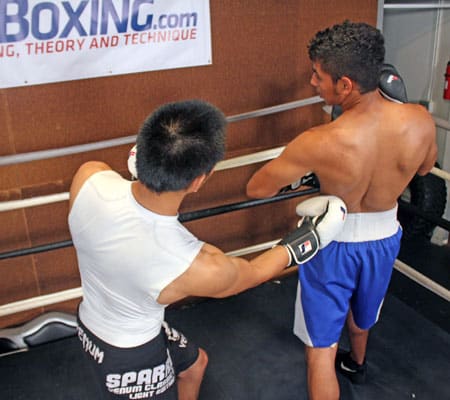 Once again, I've got him all stretched out. EASY right hand counter!
Combining Multiple Hooks to Body
Now that you've learned how to setup left hooks and right hooks to the body, it's time to learn how to put them together to use as a deadly counter-combination. All you have to do is setup one hook and that watch for your opponent's counter. As soon as he counters, you pull out or roll under to the other side and land a hook over there.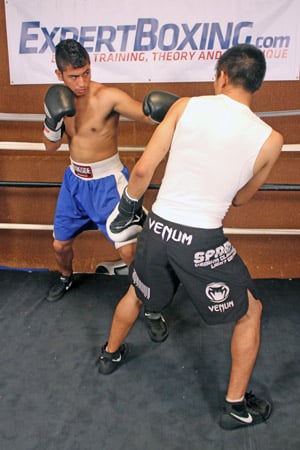 Here I am, baiting with my head to the right.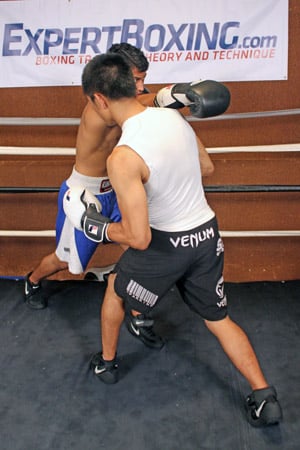 Slipping outside the long right hand.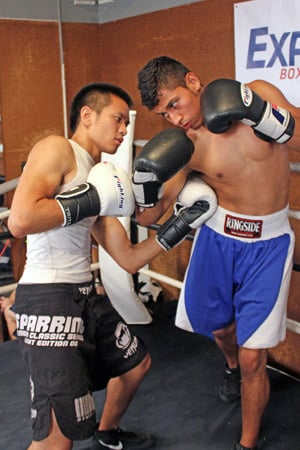 LEFT HOOK TO THE BODY!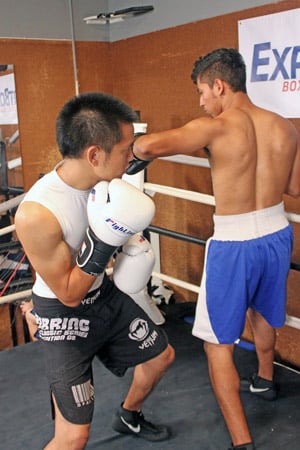 WHOA! Slipping outside his counter left hook.
COUNTER RIGHT HOOK TO THE BODY! BOOM!
The trick to combining hooks:
make your opponents over-swing their counters.
When you hit your opponent, hit him hard. This will trigger him to over-swing his counters. Once you get the hang of making your opponent over-swing his counters, you can easily chain multiple hooks together. As you become more experienced, you might touch him gently on the first hook and save your rotational power for the second hook.
It's not necessary to put 2 hooks in a row. Sometimes I keep attacking from one side and I don't slip to the other side until I see him over-swing. It's very possible that you might stay in the front left pocket and get away with repeated left hooks and overhand rights (leaving your weight on your front foot). Some opponents are more defensive so you don't have to cut to the other side until he fires back.
Landing multiple hooks is one of the most satisfying feelings you will ever get in counter punching. Some guys prefer rolling under the counter instead to slipping to the outside. It doesn't really matter. Learn to combine the two counter hooks together to the body and you will can beat any fighter on the inside. It is a devastating skill to learn and absolutely beautiful when you combo one hook setup after another.
The Outside Slip
Suppose I don't have time to setup the right hand slip. Or maybe my opponent is so aggressive that he's falling into me no matter how I set him up. That's ok, too. Just rotate your body to the left, but don't lean forward into him!
Here I barely manage to slip the right hand, but without making the mistake of bending forward under my opponent's right hand. At least from here, I have my legs and balance under me. With some luck, my opponent falls through his missed right hand allowing me to land my left hook and left uppercut counters!
Slipping OUTSIDE instead of IN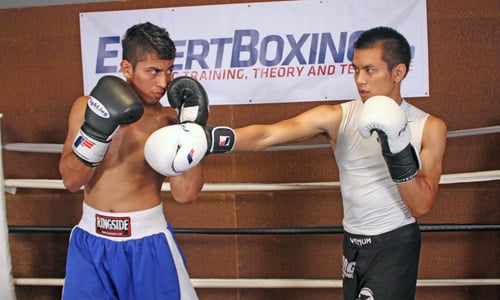 Sometimes when I miss a right hand…
I'm in the middle of a wild exchange here, there's no time to move in so I'll slip outside and let my opponent's punch carry him into me.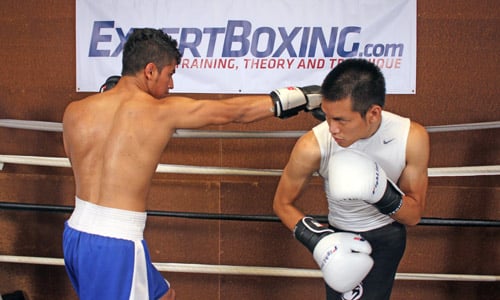 I'll leave my upper body rotated as I slip outside the counter right.
Notice how I'm not leaning forward. I'm letting my opponent's momentum bring him into range.
This trick is great for baiting opponents into throwing counter rights so I can slip in for a left hook or left uppercut.
(It may help in some scenarios to take a small step out to the left with your left foot as you're slipping outside.)
Hooks to the Body
Setting your head off center accomplishes 3 things:
Makes your opponent stretch himself off-balance and more vulnerable to your counter.
Gives you more time and more room to slip.
Makes it easier for you to counter without taking yourself off balance.
Setting your head to the side is a beautiful tactic. You're making him throw to the side instead of throwing straight into you. He's getting out of position with a longer movement as you slip with a shorter movement. His body becomes off-balanced and more exposed to you. All your weight is under you giving you more power and control to counter.
Many Ways to Setup Body Hooks
What I'm showing is just one way but there are many other ways to get inside. You can use footwork. Try circling away to your right and throwing repeated jabs. He might get reckless and throw a long right, which means you can cut to your left and land the hook from the side. Or you can come in behind your right hand and batter your opponent with left hooks and left uppercuts. Keep switching between the two and he'll never know where to block. Leaving your head deep in the pocket can make it hard for your opponent to counter with the right hand.
You know your technique is good when it works against bigger opponents.
It took years of getting crushed under bigger opponents to learn how to really slip that right hand correctly. I use to jump-slip to the outside which worked well against the smaller guys but failed against the long armed fighters. I knew I had the technique perfected when I saw that the biggest guys were the easiest prey to my tactics. I was making the bigger guys swing harder and more off-balance with every slip! Their long arms missed wider tiring them out more and giving me more time to counter.
My last piece of advice… don't wait for it, bait it. Any time that you throw combinations, try to watch for his counter. Cut around his counter and come back with some body shots. Eventually, he'll drop his elbows which means his head is wide open.
Come back and comment!
Let me know how many more body shots you're landed since reading this!