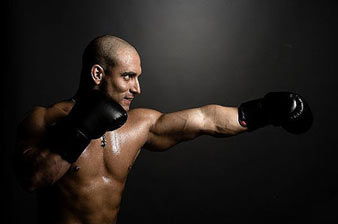 A guide for beginner boxers and a reminder for seasoned fighters on how to throw the most important punch in boxing.
The jab is everything. It is the most basic punch and always the first punch you learn in boxing. The easiest punch to land and sets your opponent up to be hit by your bigger punches. When used defensively, the jab is a very fast counter-punch that can defend your from opponents' punches and make room for you to get away. Read on to learn how to execute boxing's most important punch! – THE JAB.
Positioning for the Jab

1. Stand in your basic boxing stance with your feet spread shoulder-width apart, knees slightly bent, chin down, hands up, and eyes on your opponent.
Punch
2. Take a small step forward with your front foot as you push you entire body forward with the lead foot.
3. At the same time that you extend your left foot forward, you also punch your lead fist towards opponent's head extending the lead arm straight out in front of you. (Don't forget to breathe out when you throw the jab!)
4. As the you are throwing the jab, you are rotating the lead fist so that the palm is facing the ground by the time your jab hits your opponent.
Recover
5. Recover your lead fist back to your chin quickly by pulling the jab straight back. At the same time you are retracting your lead fist, you are sliding your BACK foot forwards so that your feet are shoulder width again.
6. When you are done throwing the jab, your body should be in the same position when you started with your feet back to shoulder-width apart and you are now a little closer to your opponent.
Notes:
Don't telegraph the jab! The rest of your upper body stays still as you throw the jab. It is a simple motion and does not require you to move your right arm or over-rotate your upper body when you throw the jab.
Keep your right hand by the chin the whole time. Don't drop the right hand or else you'll be easily countered by your opponent's counter-jab or counter-lead hook.
Remember to bend your knees. If you stand too straight up, you lose power on the jab and your body gets slightly off balanced making it easy for your opponent to counter-punch you.
When you are jabbing your opponent, keep your chin down and aiming forward as you raise your lead shoulder high during the jab to cover the chin. Raising the lead shoulder to cover your chin will prevent your opponent from throwing an overhand punch over the jab into your face.
If you don't want to step in and you're already in range, you can throw the jab from a stationary position without having to move your feet as you throw the jab.
If you've done all this properly, congratulations! You have now thrown a proper boxing jab! The jab can be used for offense, defense, counter-punching. It sets up all your big punches and is VERY VERY important!