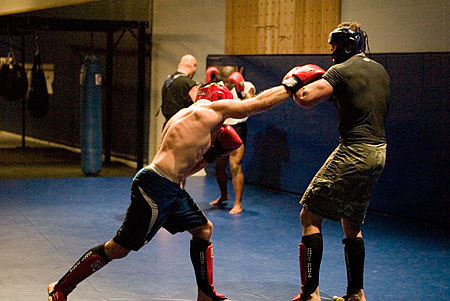 Balance is one of the most underrated assets of a boxer's advantages. Learn how to take your boxing balance to the next level.
Understanding Balance
Many athletes and boxers in general don't start out learning how to control their balance. They get too carried away by the sport's flashy moves that they don't learn to appreciate the value of good balance. To have good balance in boxing means to have a good foundation that keeps your body upright and stable so that you may attack, defend, or counter without worry of losing your footing and compromising your own position.
The Center of Gravity
Being aware of your center of gravity (CoG) is the most important thing in learning how to keep your balance in the ring. You can typically find your CoG within your hip area. When you bend your knees a little, the CoG drops lower. The lower your CoG, the less likely you are to get lose your balance as you fight in the ring. Ideally, you always want to be the fighter with the lower CoG; he is the one who is more likely to be able to push the other guy around. Try to imagine two sumo wrestlers squaring off on the mat; they're both usually trying to get as low to the ground as much as possible so that they can tip the other guy off balance. The ultimate goal is to always keep your CoG nice and low so that you're the one moving powerfully and tipping the other boxer off balance instead of vice versa.
The hard part of having good balance in boxing is to have your CoG in control as you move around the ring and throw punches. (Standing still in good balance is easy!) The general idea is that you always want to ground yourself as you move. You do this by bending the knees and moving your body WITH your CoG instead of independantly of your CoG. Many beginner boxers are boxing with only their upper body so their arms and torso are moving independently of their hips and legs. You also want to keep your upper body OVER your CoG at all times instead of letting your upper body lean too much forward when punching or too much back when defending. If your upper body is leaning too far forward, you'll get counter-punched easily. If your body is leaning back too far, you won't be in a position to counter-punch. Worse of all, your feet will constantly be move around as you try to catch your balance so now you're forced to throw weaker punches since your feet aren't grounded. Again, you want to move your CoG with every step or punch that you execute! By moving your CoG in harmony with every body movement that you make, you not only increase your balance but increase the power of your movement! (Yes, this means far stronger punches!)
Boxing Benefits from Good Balance
Increases defensive abilities since punches don't knock you off balance now.
Increased punching power since you're moving your center-of-gravity with your punch and using it to add power to punches.
Increased counter-punching opportunities because you're not getting pushed off balance when you're negating punches.
Increased footwork abilities since you can move around the ring more now that you have a better understanding of balance.
Increased boxing confidence since you're not finding yourself in awkward positions where your feet are tangled up and your hands are out of position against oncoming punches.
Increased boxing ability since your balance is superior to your opponents so you can get away with more complicated body movements and punches.
Moving without Compromising Your Balance
Many boxers don't know how to move around the ring without losing their balance. If you don't know how to properly move your body, you will easily get pushed off balance by hard punches and also find yourself constantly out of position to counter-punch or defend yourself adequately. The key is to never throw off your CoG or tip it over when you're moving around the ring. You want to stay grounded as much as possible! Balanced Movement Tips:
BEND THE KNEES – If you walk around the ring on straight legs it's easy to get pushed over when you block or punches. Bend your knees so that you can take impact better. By lowering your CoG to the floor, you create a more grounded base for yourself and prevent the likelihood of your CoG getting tipped over.
DROP STEP – When you take a step, bend your knees and try dropping your CoG as you move into the new position. The worst thing you can do is uproot yourself (lifting the hips) and shoot your CoG skywards when you're moving around in the ring. Every time you lift your CoG further from the ground during a movement, you make your body's balance vulnerable to opponent's attacks.
UPPER BODY OVER COG – Try to keep your upper body over the CoG at all times. Don't let it lean too far forwards or too far backwards. Moving it around at times to give yourself new punching angles or evade punches is OK – what you don't want to do is stand around with your upper body disconnected from your CoG.
Punching without Compromising Your Balance
Many boxers don't know how to punch without losing their balance. Below are some basic methods to deliver a punch without decreasing your balance. Balanced Punching Tips:
PUNCH LIGHTER – don't over-commit to your punches! (This will also increase your recovery time and tighten up your defense!)
BEND THE KNEES – always keep your knees bent so that your CoG moves with you everytime you punch instead of your upper body just swinging over the CoG all the time. This also increases your punching power! (EXAMPLE: bend and dip into the left knee when you throw the right hand.)
GROUND YOUR FEET – yes, always keep your feet on the ground ESPECIALLY when you're punching. It increases balance and also increases your punching power. Don't throw punches with your feet lifted; you're much more likely to throw yourself off balance.
MOVE YOUR COG – Move your CoG with the punches! Don't just let your upper body swing over your CoG when you punch! Bend the knees and move your CoG into the punch!
Common Mistakes that Decrease A Boxer's Balance
punching too hard
lifting the feet too much (try not to bounce around the ring or throw punch exchanges with your feet lifted off the ground)
forgetting to bend the knees
leaning forward too much (common in overly aggressive fighters)
spreading the feet too far (some people think that spreading the feet real far will lower the CoG). Just because your feet is far doesn't mean your balance is better; doing this might turn your CoG into a big wing that requires a very wide swing when you pivot and this is where you're vulnerable to losing your balance and getting pushed over if an opponents punches you from the side.
Sinking VS Squatting
A friend told me a very useful piece of advice… "SINK, don't SQUAT". It basically means that when you bend your knees to lower yourself, pull your butt into the ground instead of sticking your butt out and then bending forward to compensate. The general idea is that when you lower your butt, it's lowering your center of gravity whereas when you're sticking your butt out, you're just throwing yourself off center and then compensating for it with a forward lean. The most common instance where this error is made is usually when beginner level boxers learn to duck punches. Instead of bending the knees to lower their head, they bend at their waist. Again, it's a huge no-no and they're actually throwing themselves off balance.
Best Boxer to Learn Balance From:
Bernard Hopkins! This guy is a master of balance! You rarely ever see him over-extend himself to throw a punch or get knocked off balance. He's always in position to punch, block, move, and counter!
Breaking the Rules
Believe it or not, rules are meant to be broken – BUT, you may only do so after you learn the basics and master them. Once you learn everything there is to staying balanced, you can go crazy and hop around all over the place like Naseem Hamed and get away with it. However, this most likely won't be for another five years at least. In the meanwhile, stay grounded and try your best to box within the guidelines set above. Keep your feet on the floor, bend your knees, and SINK instead of squatting! As always, GOOD LUCK!
Boxing Balance Exercises and Drills
Shadow Boxing – this is great for learning how to punch while maintaining your balance. Since you're punching the air, your body will get thrown off balance if you punch too hard. (Punching on a heavy bag all day might decrease your balance because you're always throwing body weight into the bag in hopes of getting a bigger punch. In a real fight, you'll find yourself off balance every time you miss.)
Footwork Drills – try to do footwork drills while keeping your CoG directly under you at all times. Don't forget the SINK-DON'T-SQUAT rule!