Learn about the 3 basic levels of defense. Improve your defense and counter-punching against better opponents.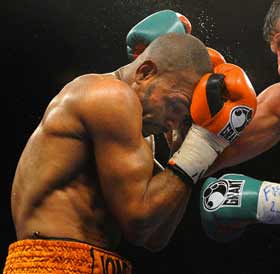 I broke down boxing defense into 3 different levels. The higher levels of defense will offer you a more effective defense as well as more counter-punching opportunities against better opponents. Train them in order and master all three!
1. Physical Defense
The physical defense is the most basic level of defense. This is just you holding your hands up to cover your face. Your elbows down to cover your body. At the most basic level of boxing, your arms are held in a stationary positiong, serving as a basic shield against your opponent's attacks. If you listened to anything your trainer said those first few times you sparred in the ring, it was probably something along the lines of "Put your hands up!"
Advantage:
Easy to do. Requires no skill.
Works well for beginners.
Very effective for blocking entire combinations.
This defense protects you against any style of opponent.
Disadvantage:
Can block your vision from tricky punches.
Not easy to counter-punch from.
Can be tiring to hold your hands up all the time.
How To Train:
Work focus mitts and have your trainer throw slow punches at you.
Work on your stance to make sure you don't fall over when you're taking punches.
Work on footwork around the heavy bag or in the ring as you hold your hands up high with your elbows down.
Record yourself hitting the heavy bag to see how often it is that you drop your hands. (Most people are shocked when they realize how often they drop their hands.)
2. Counter Defense
The counter defense is the next level of defense. Anytime you attack, you should be aware of how your opponent is most likely to counter back against you. If you're throwing a jab, expect an overhand right. If you're throwing a right hand, expect a left hook counter. Anytime you throw a punch, you should know what punch your opponent will probably counter with.
Advantage:
Allows you to be more offensive with less worry.
Improves your counter-punching ability since you know what to expect.
Saves energy since you are only worried about blocking specific punches.
Disadvantage:
Will not help you against tricky style opponent.
Can make you vulnerable against tricky counter-punches.
Requires you to be more alert.
Requires you to use your memory or train until your counters become a natural reflex.
How To Train:
Work focus mitts with your trainer. Have him throw counter-punches after your combinations.
Spar slowly with beginner level boxers and see what kind of punches they like to throw.
3. Awareness Defense
The awareness defense requires the most skill and elevates your boxing game to a whole other level. At this level of defense, you rely on high awareness inside the ring to defend yourself from your opponent's attacks. Using high awareness is what allows guys like James Toney or Floyd Mayweather to constantly slip and duck all their opponent's punches without getting hit. Raising your awareness allows you to feel what your opponent is doing and to evade the punch. Because your awareness is so high, you will be able to defend yourself without actually using the physical guard (Level 1 defense) or having to remember what punches your opponent will throw (Level 2 defense).
Advantage:
Allows you to box against higher level opponents.
Allows you to defend against trickier opponents.
Allows you to see more since you use your eyes for defense.
Gives you more offensive and counter-punching opportunities.
Disadvantage:
Will leave you dangerously vulnerable when you are tired or lazy.
Requires the most energy, physically and mentally.
Requires the most skill.
How To Train:
Work focus mitts with your trainer. Have him try and surprise you with punches during and after your combinations.
Work on the double-end bag a lot.
Spar with guys of all different types of styles. Work with smaller guys so you don't get hurt bad while you're learning how to defend against different styles.