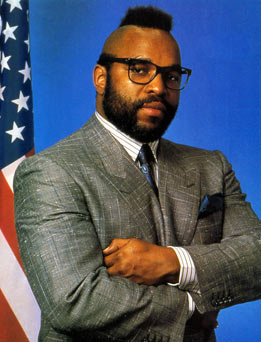 There's a great divide in my boxing gym at the moment.
On one side are the nerds. These are the learners. They're constant students, always analyzing and thinking. They're all about finding the best techniques and perfecting their skills.
On the other side are the brawlers. These are the tough guys. They're not afraid of getting hurt, in fact they might even like it. They're all about fighting and beating up people.
Clearly some of these guys will never get anywhere, where the others will likely become world champions. But which is which?
Nerds
These are the technicians. They'll drill every technique until it's perfect. Hell, even beyond perfect. They discuss hours upon hours of the best technique possible and then practice it all day long. They've watched every video possible of all the old time greats and can recall every verdict and timeline of boxing's past champions. The nerds are more than just perfectionists, they can even teach the technique, and in several different ways.
What's the problem? The nerds don't ever get in the ring. They're on the sidelines training endlessly, but never getting into the ring until everything feels perfect. You can bet the nerd never gets in if he's even slightly sick, tired, or just not feeling it. Nerds are potentially every trainer's dream come true. Their hard work and curious dedication to technique make them great students. It's too bad they don't fight more, it's through sparring that technique is truly refined. (Besides, what's the point of training if you don't fight?)
How to know you're a nerd…
you spend more time watching others fight than doing your own fighting
you see more mistakes in other boxers than in yourself
you're care more about perfecting a technique than testing what you have
Typical nerd question: "Should I hook with a vertical fist or horizontal fist?"
Brawlers
Total opposite of the nerds. These guys just wanna fight, and by "fight" I mean smash somebody's face in. Their greatest attribute is their confidence. They aren't worried about fear, conditioning, or even strategy. They don't care about being in shape or having the right technique. They're anxious to get in the ring and will spar even before they learn the jab. Brawlers learn to fight through ring experience, not training. Their body learns to naturally adapt to things and while they can't explain what they're doing, they do it just fine.
It's too bad they won't sit down and put more discipline into their technique drills, technique would make the biggest difference in their sparring. But of course, brawlers are so tough they get along just fine without technique. Brawlers aren't always wreckless overly aggressive fighters, sometimes it's just their over-confidence that keeps them from being curious about learning better technique. Brawlers are also notoriously bad listeners. There's no greater pet peeve to a trainer than a fighter who won't do what you tell him.
How to know you're a brawler…
you still make the same mistakes you did 3 months ago
you get in the ring every time you go to the gym
everyone else spends more time with the trainer than you do
Typical brawler question: "Can I spar with your friend?"
So Which Is Better? Being a Nerd or a Brawler?
Ha! Being a better fighter is better. I was simply describing how different people approach fighting differently. This isn't to imply that nerds can't brawl or that brawlers can't box. I wanted to observe how some people spend more time analyzing than fighting whereas others do more fighting than analyzing. The reality is that fighters are not so black and white. Most people are somewhere in between, which is where we want to be. Somewhere in there is a perfect balance of fighting and analyzing. This takes us to the 3rd kind of fighter…
Combat Athletes (the 3rd type of fighter)
I call the 3rd group of fighters "combat athletes", they're a perfect blend of both nerd & brawler. Combat athletes routinely step into the ring, but also train regularly to hone their skills. Without a doubt, these guys take fighting seriously. They train hard but understand the point of training is to fight. They're almost always competing athletes. When you have great skills and love to fight, competing seems like the most logical option. Technique is important, but so is using it.
"Without application, knowledge is useless."
Technique & Fighting
Ultimately, technique and fighting are 2 continuous parts of the boxing cycle. To fight better you need technique; to have better technique you need to fight. Balancing these 2 components of the boxing cycle puts you in an upward spiral of constant improvement.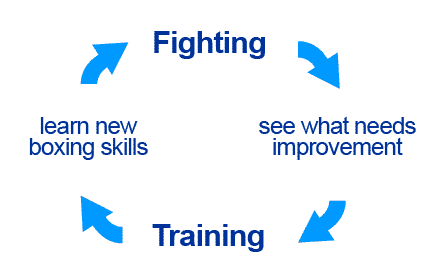 Unfortunately, most fighters I see are either one or the other. They either don't fight enough or don't work on their technique enough. They're still good at what they do, but they're not improving at their full potential.
I've gone through both phases myself. There were months when I sparred everyday and did minimal technique work. I got comfortable fighting but I wasn't getting any better. At best, I was having fun and recording crazy sparring videos to show my friends. Then there were months when I drilled heavily but avoided sparring. The new skills never developed into body memory because I wasn't sparring enough.
My point is you need to do both. By fighting, you realize the point of having better technique. When learning techniques, you realize the need to test their effectiveness in combat. I am always bombarded with questions like, "Hey Johnny, what skills should I learn next?" And my most logical answer is…"Go fight, and you'll find out what you need to learn next." I also get questions on the other end of the spectrum like "Hey Johnny, does my left hook look right?" And again, my answer will be, "Go fight, and see if it works!"
Too Much Conditioning
In my personal opinion, most folks actually don't do enough of either. Most guys I see in the gym don't do enough sparring and don't do enough technique either. Their time is usually wasted on conditioning.
I see most guys spending about 1 to 2 hours on conditioning, then 30 minutes technique (if even that much) and then only 15 minutes sparring (at most). I understand the need to be in great condition but you should also focus on improving as a fighter. Look, anybody can get in shape, it takes years to develop skills. The schedule that worked best for me was ramping my sparring up to 1 hour per day.
Most Fighters Need More Sparring
At first you're like WHAT?! ONE HOUR OF SPARRING??!!! It's not that crazy, give me a second to explain. When I first arrive at the gym, I warm up using light sparring with a beginner. He's working his jab and I'm working my movement. It's easy work, very light and relaxed. I'm start my day off quick by thinking like a boxer. Punches are being thrown at me, so my mind switches to fighting mode instantly. After 3 rounds, I'm loosened up and I do my shadowboxing and jumprope, stretching etc. I go through the conditioning stuff (mitts, heavybag) and jump into the ring for real when my sparring partner is ready. Before I get in the ring, my trainer has something for me to try.
Once in the ring, I get technical/strategic adjustments from my corner and work hard to outthink/outbox my opponent. After 3 to 6 rounds, sparring is done and I talk to my trainers about what skills need refinement. This time I'm really warm and do slow sparring for 30 minutes straight, no breaks. By slow I mean like 50% speed or even less, nobody gets hurt. The trainer will yell out adjustments as we spar. Me and my partner can adjust each other as well telliing each other what we see and what to look out for. Sometimes we purposely throw the same combos over and over to help each other drill our reflexes better. We're going easy so that we can spar longer and work on new things. Nobody is afraid of taking hits because they don't hurt.
When we're finally done, everybody hugs everybody. Awesome day..everybody's learned a lot, refined it through sparring, and learned a whole lot more than the nerd that hit the bag all day or the brawler that gassed out after 3 rounds. Just remember that we're all combat athletes…it's a constant cycle of training and fighting.
Where does conditioning fit in? That's the easy stuff, you just do it. 100 crunches, 1000 crunches…whatever it is, you just do it. Anybody can workout and get in shape. Being in shape is the easiest and bare minumum aspect of being a fighter.
So which one are you?
The nerd, the brawler, or the combat athlete?