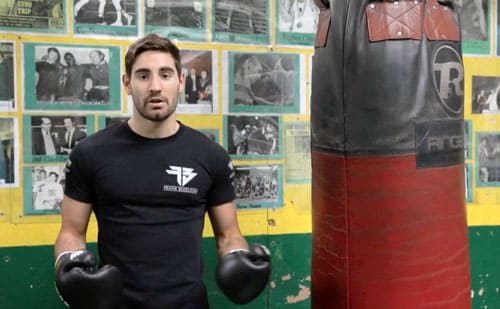 I was able to get UNDEFEATED professional super middleweight boxer Frank Buglioni to share some power punching tips for us here at ExpertBoxing. He's currently 11-0 with 8 knockouts! And fighting again on February 15, 2014.
This will the first part of a series where he shares some key tips to boxing training. I hope you guys enjoy and if you have any special questions for him, please let me know in the comments section!
Read on for Frank's basic keys to training for punching power:

*** Watch the video for a professional power punching demonstration! ***
Always Protect Your Hands in Training
Always wrap your hands
Make sure your hands are well supported with wraps for every training session. For added support, you can also use bandages, crepe, tape, gauze and any other padding. It's always a good idea to avoid hand injury especially before a fight.
The proper boxing glove size for training
For training, it depends where you're at in your camp. Frank recommends using 14-16oz gloves for training and even up to 18oz gloves for sparring. The bigger gloves can give you added protection for your hands AND your opponent. You can also use smaller 8-10oz gloves for pad work and bag work if you want to work on your speed. Using the smaller gloves can also get you more accustomed to a realistic fight timing as smaller gloves are used in actual competition.
How to Train for Punching Power
How do you increase your punching power?
Is power something god-given or something you can build and improve upon? Frank believes it's a bit of both but definitely something you can improve upon. Technique makes a hell of a difference.
As Frank explains, "Power is SPEED times FORCE." So basically you can increase your strength or increase your speed. Now because boxing is a weight-making sport, boxers are will have to go for speed to increase punching power. If you were to go for size and strength, it would be harder to make weight and also give you endurance.
There's also timing and accuracy. The real damage is done when you're hitting people in the right spots. So timing, accuracy, and increasing that speed are the keys to developing knockout punching power.
Training for power on the heavy bag
Accuracy
You should visualize realistic body positions on the heavy bag. Head punches should aim around the head height, with your arms aiming right to where you expect your opponent's chin would be. For body shots, you want to aim at lower positions on the heavy bag where you expect your opponent's body to be. It's key not to stand at the bag hitting at the same spots. You have to mix it up as if it's a human body.
Keys to the right hand and left hook
The secret is all in your hips. When you throw a right, the whole body rotates into the punch. You want to land, if possible, at the end of your reach. Turn your hands so the knuckle lands flush against your opponent. And that will limit damage to your hands. Line him up, turn the body, and let the punch come over. The same principles apply to the left hook. Turn your body and pivot on every shot.
For punching power, you also need a nice firm stance. Your feet should be slightly wider than shoulder width apart. They can also be a little when you want to load up on your shots ( for more balance and strength). When you throw a right hand, the back foot pivots. With a left hook, the front foot pivots. This pivoting movement of the foot generates momentum in your hips for more punching power.
Unorthodox training methods for punching power
Many people wonder about the unorthodox ways of training for punching power. For example: Rocky Marciano chopping down trees or Muhammad Ali punching under water. Frank feels there is definitely truth in those methods and that cross training and other methods can definitely help to increase punching power and rotational strength.
However, when it comes to boxing, if you want to increase punching power, you need to be on the bags and pads and practicing your punching technique.
Punching is the training for punching.