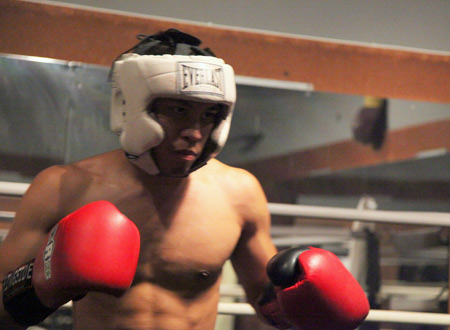 Learning where to look can make all the difference in your fighting ability. What are you supposed to look at? The shoulder? The foot? The eyes? The answer is less complicated than you think.
This was a great question that was asked a while ago in the mailbag, but I felt to break it down even further. I used to tell people, "Just look forward." But nobody ever listens. It's too simple, it seems.  Nobody believes it's that easy. It's gotta be more complicated than that, right? I didn't want to lecture…but ok…if you insist…
During a Fight, JUST LOOK FORWARD
It really is that simple…
JUST LOOK FORWARD
Don't look at any single thing.
Pay attention to your opponent's upper body.
…notice how I said "pay attention" to the upper body, I didn't say "look" at the upper body. I only want you to look forward. You're not looking for anything specific. Most of all, you are not looking for his movement!
Don't look for movement!
This is where most fighters jump at my throat.
I heard you should always look at his chest!

You can see the punches coming if you watch the shoulders!

If you look at his eyes, you can tell when he's gonna punch!
…BLAH BLAH BLAH…the endless "secrets" roll on. The truth is, none of that stuff matters. Because any of those could be a feint! Even if they were real punches and not feints, you're not looking for his punches. You're looking for something more valuable. Something that will make the difference between you winning the fight and you trapped in the corner with your hands up. What is it?
So What DO You Look At?
Think of it like driving: when you drive, you are not looking for cars or houses or things that may be in your way. You're looking forward at where you want to go. Of course, you pay attention to other things like cars and signs along the road. You might REACT to other cars and obstacles. You might notice things from your peripheral vision but you always pay attention to what's in front of you. You drive around the cars and pass by the house, but still…you look forward…at where you want to go!
The experienced driver pays attention to everything ahead. The experienced driver reacts to obstacles while still being aware of everything else. The beginner driver easily gets into accidents because he focuses on things one at a time. The beginner is at higher risk of hitting something because he looks at everything he comes across. I promise you, boxing is not that different from driving.
When you drive.. you are looking to where you want to go.
When you fight… YOU ARE LOOKING FOR OPENINGS! 
You pay attention to movement,
as you look for openings!
1. Look for openings.
Openings is what you where you want to punch. The openings are where you want to go; attacking these targets are the main objective of boxing. (Note: don't stare at the openings so much that you're telegraphing your attack.)
Look forward for openings.
2. Pay attention to opponent's body.
You are simply paying attention. You are not looking for any specific movement. You are just trying to be alert and aware of anything he does. You have to pay attention to his movements so that you can react to them, or take advantage of them.
You can see punches without looking at them.
3. React WITHOUT losing focus of the openings.
This is the hardest part.
You have to react to your opponent's movement WITHOUT looking at his movement.
For example: when he jabs, you are not looking at his jab. You should be focused on the opening that he creates when he jabs. As for his jab, you are blocking it with an automatic defense. Your defense should have been drilled enough that your body responds automatically, without you having to focus on the reaction.
An automatic defense will allow you to defend
without losing sight of the openings.
The problem with beginner boxers is that their defense is not yet automatic. They KNOW how to block a jab, but they can't do it instinctively. Beginners waste too much time focusing on defense that they never get a chance to throw a counter punch.
A beginner's thought process is like:
he's throwing a jab!

OH YEAH, I remember now…BLOCK WITH MY GLOVE!

OH CRAP, here comes the right hand!

And another punch…and another punch…I'm not fast enough to block them all!

there's too many punches….!!!!
The beginner focuses too much on the punches,
he goes from one block to another until he gets caught.
An experienced fighter's thought process goes like this:
hmmm…his left is a little low

I'll move around until he opens up

*blocks his opponent's jab with a trained reflex*

GOTCHA! *lands his counter right hand over the opponent's jab*
I NEVER waste my eyes looking for an opponent's attack. I can FEEL his attack; I can HEAR his attack. My body is already trained to react to his attack without me having to think about it. I cannot hear or feel his openings, so I have to look for them. It's more effective to look for openings than to look for punches.
All that crap about looking at the shoulder or the chest or the foot… it's all nonsense. Just look forward, look for openings anywhere you see them.
Don't look for punches,
look for opportunities.
Boxing is easy. It's the people that make it hard. Hopefully, I made it easier to understand. You basically just want to just pay attention to the whole picture as you look for opportunities to take advantage.
Look for openings.

Used your trained reflexes to defend against punches.

Focus on your counters, not your defense.
Learning how to use your eyes will make a huge impact in your boxing ability. I can always tell when a boxer is better than another just by where he looks. I used to say to my friends all the time, "Ooooh! That guy's got eyes!"
The best fighters can see everything without looking for them.
Focus too much on the leaf and you miss the tree,
Focus too much on the tree and you miss the forest.