Are you a southpaw boxer? Learn the natural advantages of being a left-handed fighter and more importantly, how to beat orthodox opponents.
How To Fight As A Southpaw
The most important step to learning how to fight southpaw is to learn all the natural advantages that left-handed fighters have over their right-handed opponents. Being NATURALLY left-handed is a very big advantage in the world of boxing and fighting in general. First learn the advantages, then learn how to use them to your advantage!
The Southpaw Advantage
As with many sports, left-handed athletes (known in boxing as southpaws) carry a huge advantage because everything they do comes from the opposite side that a normal right-handed orthodox fighter is use to seeing. Left-handed fighters, pitchers, fencers, tennis players, hockey, and more have been feared by their opponents for generations! In boxing, being left-handed was such an advantage that many fighters back in the days had to convert to an orthodox stance so that other fighters would be willing to face them.
Imagine spending your whole life driving on the right side of the road in America, and then having to go over to England and remind yourself to drive on the left. Even though you're constantly reminding yourself, your body will revert back to its habits and you're bound to slip up sooner or later. Simply put, southpaws have infinitely more experience against orthodox fighters than vice versa.
Quite often, their advantage in being a southpaw allows them to win fights even though they may be slower, weaker, and even less skilled. If you look throughout history you will see that some of the greatest orthodox fighters had their toughest fights against southpaws. Roy Jones Jr got knocked out for the first time in his career by a southpaw Antonio Tarver. Floyd Mayweather's invincible defense was penetrated several times by southpaws Demarcus Corley and Zab Judah. Other notable southpaws such as Manny Pacquiao and Paul Williams, have terrorized entire weight divisions with their southpaw styles. Examples of left-handed advantage in sports.
The Southpaw Theory
Because orthodox fighters are simply not used to throwing punches and defending punches against southpaw fighters, everything orthodox boxers do will be less effective against their southpaw opponents. When facing southpaws, orthodox fighters will throw punches with less accuracy and less power because they're not used to throwing at the different angles. The orthodox fighter's defenses will also be less effective and less elusive. The orthodox fighter will always be at a disadvantage against a southpaw because he doesn't train his offense and defense regularly to mimick southpaw opponents.
In contrast, the southpaw is far more comfortable against orthodox opponents. His offense and defense has always been tailored for orthodox opponents. Everything the orthodox fighter does, the southpaw has probably seen before.
Southpaw VS Orthodox Matchup
In this section, I'll analyze and illustrate crucial advantages that left-handed fighters have over conventional right-handed fighters.
The Placement
No matter what happens during the fight, the southpaw will always be more comfortable with his hand and foot placement. The southpaw's defense always seems to be in the right place whereas the orthodox fighter always feels like he's wide open no matter where he puts his hands. The orthodox fighter also feels uncomfortable because he can't seem to place his feet where he wants to put them. Throughout the fight, he might even trip over the southpaw's lead right leg because he's not use having to moving around a southpaw.
The Closed Angles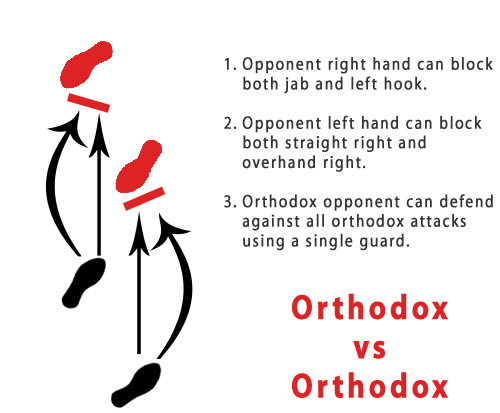 When two orthodox fighters face each other, the angles of attack are relatively narrow and closed. Because of this, two orthodox fighters can defend themselves much easier with a static guard. In other words, they are able to defend themselves by using a single guard to defend against all punches. The reason for this is because the opponent's jab and left hook will generally land in the same place and can be blocked by the orthodox opponent's right hand. The opponent's right hand and overhand right also generally land in the same place and can be blocked by the left glove or the left shoulder (ala Floyd Mayweather's style). So when two equally skilled orthodox boxers face each other, it's relatively easy for them to cover up and make the fight more defensive. As shown in the illustration above, their stances naturally close off many angles making it relatively easy to defend.
The Open Angles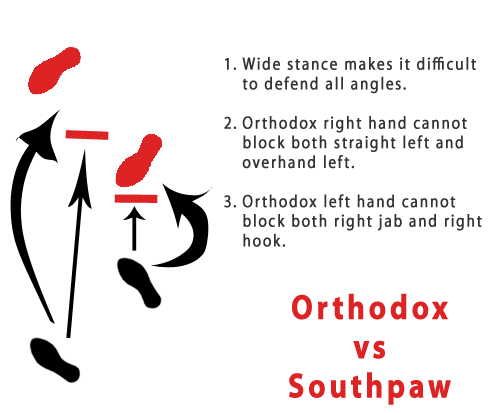 When an orthodox fighter faces a southpaw, everything changes drastically. First off, you'll notice that the angles are far more wide open. The southpaw-vs-orthodox matchup allows for much wide angles of attack compared to an orthodox-vs-orthodox matchup.
The orthodox fighter will not be able to block all four angles with a static guard. Because of the fighters' mirror stances, the head and body are exposed from multiple directions. Notice how the orthodox fighter will not be able to block all of the southpaw's angles unless he constantly adjusts his guard. Because of this open angle, a southpaw can easily penetrate (or confuse) the orthodox defense simply by mixing in right hooks with right jabs and overhand lefts with straight lefts. Now here's where a lot of boxers will ask me, "But can't I just use the southpaw's tactics against him? Won't the same tactics work in reverse?" This takes me to my next point.
The Race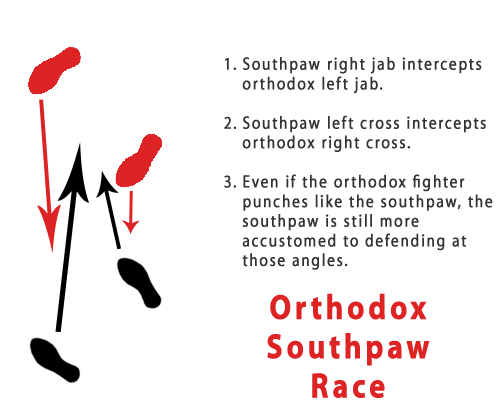 The orthodox fighter will most definitely lose if he tries to use the southpaw's tactics against him. Why? Because the southpaw is more trained and more practiced at using those angles! The orthodox boxer will always lose if he tries to race a southpaw boxer! The southpaw jab easily beats the orthodox jab; the southpaw straight left easily intercepts the orthodox straight right. Again, the southpaw will always be more natural at throwing from those angles and using those tactics. Assuming all fighter attributes even (size, speed, skill), the southpaw boxer will out-throw, out-punch, and out-land the orthodox fighter. Defensively, the orthodox boxer will be more surprised and hurt by the southpaw's punches because he's not used to getting hit from southpaw angles. Everything the southpaw does is perfectly trained for use against orthodox boxers but not vice versa!
The Uneven Exchange
This is naturally where most southpaw VS orthodox fights evolve into–uneven exchanges. What happens is the orthodox fighter realizes he can't outjab the southpaw and that his right hand can't beat the southpaw's big left. It's very natural at this point for the orthodox fighter to want to trade right for right and left for left. In other words, the orthodox boxer will throw his right hand when the southpaw throws his right and the orthodox will throw his left when the southpaw throws his left.
Here's the critical analysis. Usually when orthodox fighters exchange punches, they trade left jabs against left jabs and right crosses against right crosses. In that orthodox-vs-orthodox situation, the exchanges are pretty fair and even.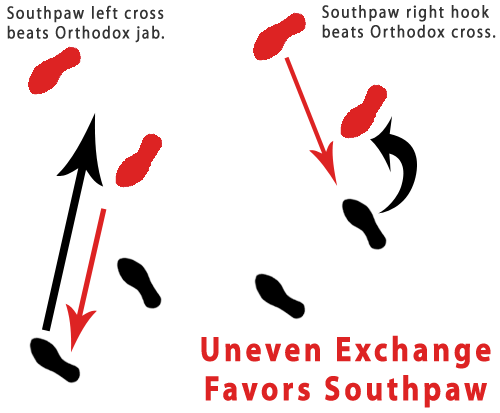 Against a southpaw however, the orthodox gets the short end of the stick. Here's why: when the orthodox throws a jab, the southpaw will land a huge left. When the orthodox throws a right hand, the southpaw easily defends (by moving his head or moving away) and lands a big right hook. The orthodox fighter is used to watching for the straight right hand and so he'll forget about the southpaw's big straight left and or not notice the southpaw's deadly right hook.
But what about the orthodox fighter's own left hook and big right hands? For one thing, you'll quickly realize that the orthodox fighter's left hooks have a hard time landing. The mirror stance makes it hard for the orthodox fighter to get his feet close enough to land his left hook. By the time the orthodox fighter is close enough to land his left hook, he would have already been beaten by the southpaw's right jab. The orthodox fighter will also realize that the southpaw's movement easily avoids the straight right.
The T-Position
Just when you thought things couldn't be any worse for the orthodox boxer, it actually can be MUCH worse. The southpaw only needs to step forward with both feet, keeping his front foot on the outside and he now commands even more devastating angles while putting himself at less risk defensively. Standing on the T is the most advantageous position during a southpaw-orthodox matchup. Because the southpaw is more accustomed to fighting right-handers, it's more common for the southpaw to claim the T-position and put the orthodox fighter on the defensive.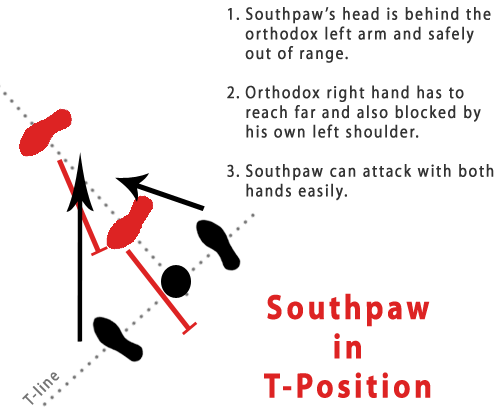 From the T-position, the southpaw can punch any way and anywhere he wants. If you study the illustration above, you will see what I call a 2-to-1 scenario where the outside boxer is in a advantageous position because he can attack with both hands whereas the orthodox boxer can only throw his right arm because his front arm is useless and out of range.
Offensively, you can almost call this a 4-to-1 advantage because the southpaw can throw a right jab and right hook which land at different angles as well as a left cross and left hook which also land at different angles. The orthodox fighter technically only has 1 attack with his right; because you see, regardless of whether he throws a straight right or an overhand right, it will still come almost at the same angle.
Defensively, the southpaw is quite safe since he's hiding behind the orthodox fighter's left arm. The orthodox's left jab and left hook cannot land effectively (if even at all), and the right hand is blocked by his left arm. Even if the orthodox throws his right hand, the southpaw can easily avoid it by pulling his head to his left or taking a small step to his left.
The southpaw is also able to move anywhere he like and escape forwards or backwards out of harms way whereas the orthodox fighter can only back up or and pivot into the southpaw exposing him more to the southpaw's left hand. In most cases, the orthodox fighter has no choice but to close up and take more punches as he tries to reposition his feet into a more neutral stance.
[Do keep in mind that I exaggerated the "T" foot placement my illustration. In actual fighting conditions, as long as the southpaw moves into a position where his front foot is outside the orthodox fighter's front foot, the southpaw will hold the T-position advantage. You don't have to stand perfectly square like in my crappy drawing.]
The Reverse T-Position
This position is very awkward and doesn't seem possible but it happens more often than you think. Here your orthodox opponent is at the top of the "T" with his back to you, giving you the advantage to hit him from behind.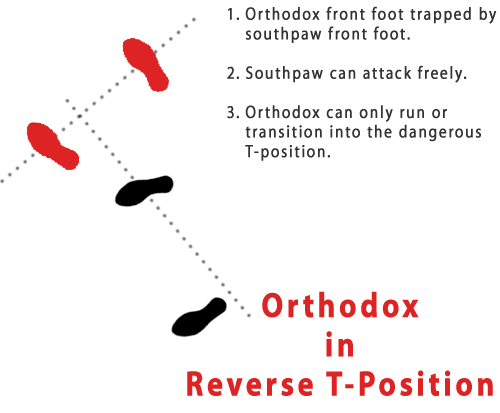 There are two ways you can get into this position. One is your opponent throws a lunging left and over swings to the point that he's gone past your front foot and turned himself around. The other way is for you to plant your front foot behind his and just pivot around him. He can't pivot with you because his front foot is trapped by yours. You can punch him freely from behind. By the time he pulls his front foot out, he'll be pivoting in to your left cross!
Southpaw Left Cross & Southpaw Right Hook
It's all about the angles. Imagine yourself as an orthodox boxing facing another orthodox boxer. You're use to parrying away his light jabs and watching for his straight right hands.
Now imagine you're facing a southpaw. Now you've got huge left crosses coming from where you were use to be expecting weaker left jabs; this changes your defense drastically. On the other side where you use to expect straight right hands from the rear, now you're facing faster right jabs and also a southpaw right hook that comes from an angle you didn't previously have to defend against.
If you think about it, every southpaw punch exploits a speed advantage or angle advantage that you previously didn't have to watch out for. The orthodox boxer is not habitually trained to see your left hands and right hands. I am dead serious, throw those punches as often as you want, anytime you want and you will land easy. Orthodox fighters are ESPECIALLY BLIND to southpaw right hooks. As a southpaw, you should know that every punch you throw carries a surprise advantage. (I'll have another guide later on how to maximize the left cross and right hook to your advantage.)
Wow! Is there ANY hope for the orthodox boxer?
Yes…but he better learn how to fight southpaws and have some tricks specially made for southpaw opponents. But I'll save that for another boxing article 😉
Final Southpaw Tips
If you're a southpaw boxer reading this guide, life should be MUUUUCH easier now against orthodox boxers. Just remember that southpaws hold the advantage. You guys set the pace, orthodox opponents will be under pressure even when you're just chasing them around the ring and not throwing any punches.
3 Crucial Southpaw Rules:
Keep Your Front Foot On The Outside
In a southpaw VS orthodox fight, whichever boxer keeps his front foot on the outside holds the positional advantage. Offensively, the boxer with the outside foot will have the 2-to-1 T-position advantage that I explained above. Defensively, he will be able to move in all directions whereas the other boxer can only to one side. If you put your lead foot on the outside, the other fighter will have to run in the other direction which is towards your strong hand! Just about every boxing coach will stress that maintaining the outside front foot is key in controlling the main advantage during southpaw-orthodox matchups.
Watch For The Orthodox Right Hand
The most dangerous punch the orthodox boxer has against you is his right hand. That is the easiest and strongest punch for him to land against you and it's only a matter of time before he uses more and more. The more frustrated he gets, the more he'll want to throw a big right. Watch out for that right hand and everything will be ok!
Mix Up Hooks and Straights
Don't forget that the wide angle makes it hard for the orthodox fighter to block all hooks and straight punches without constantly having to shift his guard. Punch up, down, and around with both hands at all angles!
Note to Orthodox Right-Handed Fighters
Yes, I do recommend right-handed boxers to study this guide so that you can understand the mindset of a southpaw when you fight one. It's also fun to turn southpaw in fights and surprise your normal right-handed opponents. Sometimes when I'm losing a fight or caught bored in a orthodox-vs-orthodox jabbing contest, I love to switch into southpaw and have some fun.
Enjoy guys, I had fun writing this one.
(Not so much fun drawing though. I'm really sorry about the crappy drawings! My photoshop skills are so bad they took me hours! Hahaha.)
Ready for more southpaw boxing guides?