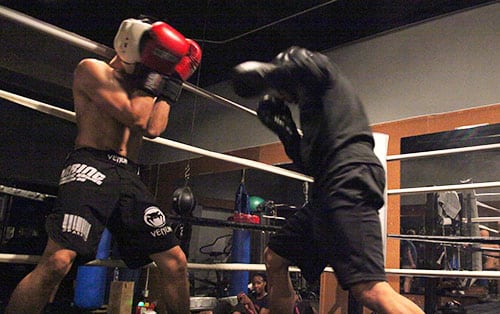 Q: Johnny, Why am I afraid of punches and what can I do?
The fear of getting hit cripples even the best of us. I've seen dozens of amazing athletes…all talented, intelligent, fast, powerful…all reduced to easily fatigued punching bags in the ring because of this fear.
And it's ESPECIALLY a common problem among beginners learning how to box. I mean…how do you expect someone to fight well if he's afraid of getting hit? It's almost damn near impossible.
Fortunately, there IS a solution and ANYBODY can overcome this fear….
Understanding your fear of getting punched
The first thing is…you have to know why you're afraid of the punches. In my opinion, it really comes down to these 2 reasons: 
because the punches hurt 
because you can't see them
Getting punched is not a good feeling. Punches hurt! It's not ice cream, it's not a back massage, it's not a birthday present. It's PAIN! You're not supposed to like it, ok? Right off the bat, if you're getting by punches that are too hard and too painful, you are going to be afraid. There's no way to get around that. Whatever hurts you, will scare you. Actually…whatever MIGHT hurt you, will scare you.
Secondly, there's a good chance you're not seeing the punches. Imagine hearing a scary sound around the corner but you can't see what it is. It's creepy as hell! Imagine trying to fight with your eyes closed. When you don't know what to expect, that ambiguity can wreak havoc on your confidence.
Getting over the fear of getting punched
First off…you need to spar at your level
Don't go faster or harder than you can handle. Don't fight a guy with far more experience, size, speed, and strength on you (unless of course, he's going on really easy on you). With time and practice, your body will react better and be able to take harder punches without feeling pain. It's not a matter of toughness but natural instantaneous reflexes developed through time that allow you to do this. It's no different from being able to react quicker in other sports.
Second…you need to do slow sparring
Slow sparring is something I've been advocating for a long longggg time. You've probably heard me echo this throughout numerous Youtube videos and other articles. And I think people misunderstand WHY it is that I recommend slow sparring so much.
Slow sparring is not about getting you used to fighting at slow speeds and "making it easier" for you. Slow sparring is to HELP YOU SEE MORE DETAILS. The problem with many beginners is that they really don't have the ability to see punches. They're not able to detect different kinds of punches until it's too late. Is it a jab or a left hook? Is it a hook to the head or the body? Is it a straight right or an overhand right? Some beginners cannot even tell when a punch is coming until it's already halfway out…and by then, it's too late.
And so I recommend slow sparring to help you pick up on different visual cues and details on how different fighters move. Sometimes they twitch certain parts of their bodies and telegraph their movements very slightly. It's not important that you consciously notice this and be able to repeat back to me how everyone throws certain punches (although that's not a bad idea)…but it's important that you're comfortable being around these movements and little by little, your body learns how to react NATURALLY to these subtle movements without you having to think about it.
Slow sparring helps you pick up more subtle details
and telegraphs from your opponents' punches.
And so slow sparring is actually not "slow intensity" or "slow thinking" at all. You actually still have to do a lot of thinking and process as much information as you can. Whereas in a high-speed sparring match, beginners will typically rely on raw instincts and pure muscle memory (which gives terrible results for untrained fighters)…slow sparring offers beginners the chance to actually think and flow. There's time for beginners to process information and commit their opponent's patterns and movements to memory. Not only are they not getting hurt, they're also learning.
Slow sparring gives you a chance to see more, and the more you see, the more information you have to help you decide how to react appropriately.
The real problem behind this fear
I truly feel the problem comes from beginners pushing themselves too hard. They have all these unrealistic expectations from watching TV, movies, and Youtube videos that they actually think they can channel the spirit of Mike Tyson after only a week's worth of training. It's just not possible. Imagine a beginner surfer trying to take on a 16 foot wave on his first day. You can bet he'd be wiped out in no time.
Now I'm not saying that beginners SHOULDN'T challenge themselves but I think it should be done in moderation. Sure…you always have tough guys here and there that are genuinely built with a strong mind and have no fears and of course, THOSE guys can do it. But if you're not like them, then you need to take it slow or else you'll get hurt—physically AND emotionally. And getting destroyed emotionally takes forever to come back from.
Getting beat up does not make you a better fighter
Sure, it MIGHT make you tougher. But it also MIGHT make you a more psychologically damaged fighter. Your ego can only take so much abuse before your self-esteem is damaged. I can bet you right now that the most confident fighters you see in the gyms are probably not going to be the most beat-up ones.
Often, the reason why fighters are scared of getting hit is because they've subjected themselves to getting hit hard. They've somehow made up in their mind that they need to get hit hard in order to learn how to fight.