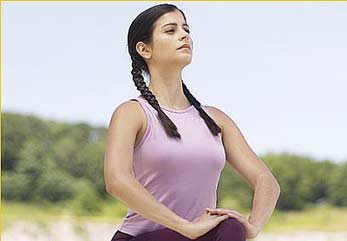 A very basic breathing technique that will increase your boxing performance and endurance in the ring!
I am embarrassed to admit that it has taken me about 8 years of competitive-level experience in a wide variety of sports to finally learn how to breathe correctly. It is a very simple technique and opens up a whole new world of physical performance gains for anybody that uses them.
Enough already! WHAT IS THE MAGICAL SECRET TO INCREASING ENDURANCE AND OVERALL PERFORMANCE IN ALL SPORTS?!!!
The proper way to breathe correctly is to breathe only through your nose for both inhaling and exhaling.
Before you start to resist and state that you heard of a million other different explanations for breathing, please hear me out.
How to Breathe With Your Nose
Breathe in with your nose; Breathe out with your nose
Inhaling will seem difficult at first because you will feel like you're sucking air through a tiny coffee straw. This is because the breathing muscles in your nose and body are not yet developed. With regular practice during off-season training, these breathing muscles will develop.
Exhaling through your nose should be quite easy. Simply breathe out quickly with your nose instead of exhaling through your mouth.
How Nose-Breathing Helps in Sports
During sports performance, if you want to move fast, you must breathe fast. Exhaling air through the nose is much faster and sharper then through the mouth – which means you can move faster if you exhale through the nose.
Breathing through your nose slows down the number of times you breathe in a period. I've read some studies that say breathing through the mouth means 60-70 cycles per minute whereas breathing through the nose is about 40-50 cycles per minute. A slower breathing cycle means that you use less energy for breathing and also that you're probably absorbing the oxygen better since it is a deeper breath.
Your body will be less tired when you breathe through the nose.
How Nose-Breathing Helps in Boxing
If you observe beginner level boxers. They breathe slow and move slow. If you observe pro-level boxers, they have a very fast "hissing" sound when they breathe and their punches are much faster/sharper.
Slower, calmer, deeper breathing means you will have more energy, be more aware, and hit with relaxed sharp punches.
Because you're not opening your  jaw to breathe, you will have less risk of being hurt to the jaw, and your opponent will have a harder time telling if you're tired since you're not gasping for air.
Scientific Explanation
There will always be skeptics. Science has actually proven that we have a nose and mouth for different reasons. When it comes to pushing air, the mouth is made for communicating and making noises whereas the nose is meant for breathing. All animals, including babies breathe with their nose instinctively and use their mouth only for making noise. It is humans that somehow "teach" themselves to breathe through their mouth at some point in their lives. If you look at different people throughout the world physiologically, you will notice that some people have a longer nose than others. People who live in colder climate areas will have a longer nose so that the air has more time to warm before it reaches the lungs. On the other hand, people who lives in warm climate areas will have a shorter nose so that the air stays cool before it reaches the lungs.
More infomation on nose-breathing
http://breathing.com/articles/nose-breathing.htm
Mouth Breathing
Mouth breathing isn't completely useless. When I punch very quickly, I still like to exhale in quick little bursts through my mouth. The reason why is because mouth breathing is slower and so I don't exhale out too much of my breath too quickly. So I do use the mouth for breathing sometimes but I only use it to exhale when I punch. The short burst of air through the mouth seems to add a quickness and sharpness to my punches while conserving air for more punches if needed.
Conclusion
I've tried it myself. I went running for weeks breathing only through the nose. It was hard at first but I took it a step further by breathing through my nose all day. I focused on it while I was driving or sitting at the computer. Within a month, I had fully converted myself to becoming a nose-breather and performance benefits were ENORMOUS. Even when I'm out of shape, I can still perform to nearly 60-70% of my performance when I was in shape and I owe that all to nose-breathing. There are many people who refuse to trust it because it's so uncomfortable.
I don't expect anybody to believe in it but if you really want to try something new improve your performance – try this!
Check out my updated boxing guide on breathing technique!