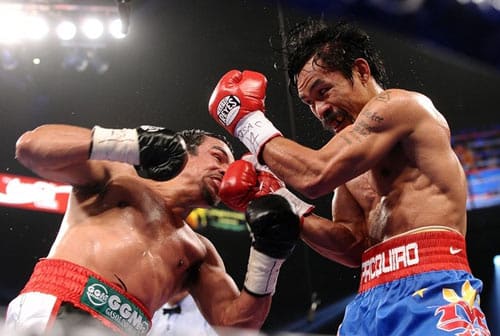 I was coaching 2 fighters in the ring the other day when a familiar scenario played out for the 1000th time. One fighter came forward with wild punches while the other fighter retreated behind a long jab. The boxer was trying to maintain his perfect technique but still couldn't manage to keep the brawler from landing at will.
I begged the boxer to stop and trade with the brawler but he couldn't do it. It wasn't in him to exchange punches. When the sparring match ended he asked me, "Why does he keep beating me?"
Here's what I told him…
You can't fight for shit. You don't know how to trade punches and you seem to enjoy running more than you do punching. The other guy is kicking your ass because he's fighting and you're not. Try using your skills to fight, not to avoid fighting. Or better yet, try learning how to brawl!
What's the difference between a brawler and a boxer?
They're both boxers. Boxing and brawling is really the same thing; they're both fighting. Many people refer to boxers and brawlers as two different styles, defining the boxer as more slick and skilled whereas the brawler is more wild and aggressive.
The reality is that they're relative terms. Pit 2 fighters of different skill levels together and one will look more like a boxer whereas the other a brawler. The "brawler" will seem more aggressive because he is trying to land punches. The "boxer" will seem more defensive because he's already able to land punches.
The Fighter's Primary Goals:
attack
counter attack (defense + skills + attack)
The fighter's primary goal is to attack. Once you can land punches, THEN you can think about using a defense and other skills to AID your attack. A brawler is wild because he's trying to fulfill his primary goal — ATTACK. The boxer is a step beyond by trying to attack AND DEFEND. When I fight someone better than me, I look to exchange punches. I only focus on defense once I know I can hit my opponent.
"You have to learn how to fight
before you can learn how to box."
Where many wannabe boxers screw up is by focusing only on the technique and defensive part. But without the essence of a fighter (the "brawler's" need to HIT), they lack the aggression needed to really win a fight. As a boxer, your first requirement is still to hit your opponent. Only after you establish contact are you allowed to focus on technique and defense.
It's not easy being a fighter. Taking punches hurt so it's tempting to skip the brawling skills and go straight to defense. The important thing is you must have what it takes to outfight brawlers when needed. Deep inside, you have to be a fighter too. You need the mind of a boxer, but the heart and aggression of a fighter. Without that fighter's heart, you're nothing.
How to Fight Like a Brawler
Remember, a brawler's #1 goal is to hit the opponent. So all these instructions are to help you hit in the best way possible. It's not about technique, it's about the attitude and intention behind your movements.
1. Look at Your Opponent
Seriously, guys. Eye contact. LOOK AT HIM! BOMB HIM! Everything you do with intention takes eye contact. Everything you focus on will need your visual focus. When you read, you look at the book. When you play basketball, you look at the basket. When you box, you look at your opponent so you can hit him. Don't look away or avert your eyes. Stare him down! Focus on the target, look at your opponent! If you can't even hold eye contact, I can't imagine how you'll ever learn how to throw and evade punches.
Look at Everything
There are plenty of opportunities to hit your opponent. The head, body, chest, stomach, chin, behind the ear. You can aim anywhere. Start using your eyes aggressively and keep scanning for openings. For all you guys who complain that you can't see anything–WAKE UP! Open your eyes and look! You are a coward if you cannot look at the opponent standing right in front of you!
2. Trade Punches
Your opponent is most vulnerable when he's punching,
so punch when he punches!
 Attack him RIGHT when he attacks you. I'm not talking about slipping and countering. I'm talking about countering right away. Brawling is where you prove who's the better man. When you trade punches, it communicates: "My punch is better than yours. My right hand will hit harder than your right hand. I'm not afraid to trade because I'm better!"
Everything you do is offense or counter-offense. Hitting is the focus in brawling, not defense. Exchanging punches is the brawler's favorite scenario.
Counter with the Same Punch
Imagine that your opponent is vulnerable to the same punch he throws. If he throws a jab, you counter with a jab. If he throws a right, you throw a right. If he left hooks, you left hook. The easiest way to trade is to throw the same punch. Trade jabs, trade rights, trade hooks. NOTE: Uppercuts are hard to trade because some fighters will lean back as they do so.
Touch with the first shot
Never waste your energy on the first shot if you're the aggressor. The better fighters are usually skilled at evading single shot counters. So you need at least one setup shot before you drop the bomb. Throw a fast shot before unloading your power punches.
Burst AFTER His First Shot
Wait for him to throw one punch, then follow up with 3. Keep doing this to break his rhythm. It communicates aggression. It communicates that you want to fight. You want him to think that anything he throws at you will be returned with more. From a strategic standpoint this tactic works because many brawlers aren't very good at moving in and out. Their bodies are usually stuck in position allowing you to force multiple punches onto their position.
3. Breathe Faster
Fast breathing equals fast punches. Don't worry about the punches, don't worry about the power. Simply breathe fast to increase your handspeed during the exchanges. Quick explosive breathing will give you quick explosive punches. Next time you exchange flurries, focus on the breathing not the punches.
Exhale for Every Movement
Exhale when you punch, exhale when you defend, exhale when you move. Using a quick exhalation with every movement makes you faster. The faster you breathe, the faster you move. If you can breathe faster than your opponent, you can move faster than your opponent. Don't worry about trying to think fast or be fast. Just breathe fast!
4. Crash into Him
Imagine that you and your opponent are two cars and that you want to get the best possible crash. The best "crash" would be when both of you are coming forward at the same time. This strategy works well for many reasons. Most people are better at moving forward than they are moving backwards (especially the brawlers). It's harder for them to back up when they have so much forward momentum.
Attack when he comes forward
If he's already chasing you, you've got your work cut out for you. There's nothing a brawler loves more than an opponent that comes forward. If he's going away it'll be a bit of a challenge. You'll have to walk him down cautiously and be ready to attack when you feel him change directions and come forward. Remember the goal is to exchange when both of you are coming forward into each other. Have fun and enjoy the fireworks! 😉
5. Try to Fight
Don't try to sit there and think. Don't try to be tricky. Try to fight. Walk forward and hit him hard. Challenge his pride! Make your opponent fight. The more he punches the better. The more he commits the better. The more he fights, the easier it is for you to fight.
Don't try to SAVE YOUR BODY, USE YOUR BODY!
If you're going to be tired, be tired of punching not tired of defending. If you're going to fall, fall into him. If you're going to be emotional, be angry not afraid. Don't spend energy to SAVE ENERGY. Use all your energy! Show everything you've got. Later on, we'll talk about being clever but brawlers don't need to be concerned with that. Brawlers are the truth, they know what they want and they go straight for it.
TRADE PUNCHES?! Johnny, are you crazy?????
Look, I'm not saying for you to go out there and get killed. I'm saying you need to be able to stand up for yourself and learn how to fight. Because once you know how to fight, boxing BECOMES THE EASIEST THING IN THE WORLD! First try to brawl, go out there throwing and taking punches. Once you know how to brawl, learning how to box will make fighting so much easier.
A true "boxer":
can hit the brawler harder than the brawler hits him
can be more defensive without becoming less offensive
can outbox a brawler without spending more energy than him
Skills make fighting easier.
But first, you must know how to fight.