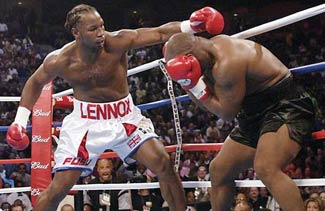 Your trainer tells you to keep jabbing but it doesn't work. The short guys are too fast and too strong. Being tall was supposed to be a blessing, not a curse. This guide will teach you how to beat the shorter fighters.
Your trainer says you're blessed for being taller and longer, but it certainly doesn't feel that way. Boxing was supposed to be easier for taller guys like you, but for whatever reason it isn't. The little guys keep getting inside no matter what you do. Before you go on wishing you were shorter and more muscular, you should learn how to box using your height and reach.
What's So Great About Being Tall?
Height Advantage
Offensively, your hands are now closer to his head. You use less energy punching down at him than you would punching up at a taller opponent. Your shoulders don't get as tired and it's easier for you to hit him when his gloves aren't held up all the way. Defensively, your head is further away from his punches. He might not be able to hit even if you drop your gloves from time to time.
Longer Reach
Offensively, you can hit him when he can't hit you. As long as you guys are comparable in speed and skills, you will always be able to hit him first. He is forced to walk through punches to get to you. At outside range you can lead with power punches or even body shots because he still can't reach you. At inside range, your longer arms can throw at wider angles he won't expect. Defensively, you can jab to keep him away or even just push him back with your front arm. Your longer arms make it easier for you to grab him and clinch on the inside.
Higher Center of Gravity
Having a taller body means you can always weigh him down and tire him out. You can always lean on him yet he can never lean on you. You'll always be the man on top in the clinch. Everytime you guys get tangled up, you get to move off first before he can move. As long as you keep fighting tall, he'll be carrying you the entire fight.
Any Disadvantages of Being Taller?
These are just PERCEIVED disadvantages of being taller. I do see many tall guys that are just natural athletes and don't have any of these disadvantages. These disadvantages are NOT the rule and do not apply to all tall boxers. I just bring known weaknesses to light so that you can work to overcome them.
Longer Punch Recovery
Lanky arms take longer to recover. Strengthen your recovery muscles so you can pull your arms back faster. You should also increase your accuracy! By being more accurate, you don't have to worry so much about recovering missed punches.
Less Coordination
Longer limbs can sometimes be less coordinated. Longer limbs may have less motor control and accuracy. Try to focus on controlling your limbs when you throw punches or step around the ring. Don't just be lazy and dangle your hands and legs around the ring.
Less Endurance
It's just not common to see tall volume punchers. Longer limbs means the punches have to travel a longer distance which means more energy used. Because the fist is so far out from the shoulder, it takes more energy to throw long punches. Condition those arms and legs!
Less Speed
Sometimes the smaller guys are faster. Their muscles aren't stretched out as long and so they can contract at a faster rate.
Less Power
If two guys weigh the same and one of them is taller, the taller one probably has less muscle. Less muscle often equates to less strength, less mass, less power. If you want more power, work on your punching technique and stay balanced.
Less Agility
Let's face it. Smaller guys are more agile. They can slip punches and move their bodies around in ways that you can't.
Less Balance
The tall guy's center of gravity is higher making it easier for him to fall off balance. Every time the tall guy gets off balance, it takes him more energy and more time to regain his balance again. Bad balance means loss of power, loss of mobility, loss of control, and increased vulnerability to punches.
Beating a Shorter Boxer
For a second there, it almost seemed like being taller was a disadvantage. Trust me, it's not. Your height and reach alone is going to be a NIGHTMARE for all shorter opponents. It doesn't matter what the shorter boxer does, he cannot change this simple fact:
A taller boxer can increase his speed, endurance, power, and balance,
But a shorter boxer can NEVER increase his height and reach.
Simply put, you have an advantage that can't be denied. As long as you fight with the right attitude in mind, you will defeat every shorter opponent! Boxing is a game of "hit and not get hit", and if you can reach him when he can't reach you, you're two steps ahead of the game. Right when the bell rings you already have the advantage. The shorter boxer has to work hard for you to make a mistake and let him get into range. It's really your fight to lose.
OK…enough confidence boosters. So how do we go about beating the little man? The tall-man vs short-man fight is always going to be about range. The entire fight will be him trying to get into range and you trying to keep him from getting into range. The fight is all about distance, which I broke down into 3 ranges.
The 3 Ranges of Fighting a Shorter Boxer
Long Range (keep him away)
Mid Range (push him back or clinch, DON'T TRADE)

Close Range (crush him on the inside)
Taller boxers have the advantage at long range AND close range.
Lucky for you, the taller guy has the advantage in two of these distances: long range and close range. Many people are shocked to hear the taller boxer has the upper hand at close range. Many boxers, tall and short, actually think the shorter fighter has the advantage inside. It's not true at all. The only range where the shorter boxer MIGHT have an advantage is at mid-range.
Learn how to fight at all 3 ranges, control the distance,
and you will EASILY beat the shorter fighter.
Long Range Fighting
You can hit him but he can't hit you.
This is every tall boxer's fantasy and short boxer's nightmare. You can reach him with your punches but he can't reach you with his. Long range is where you have the most advantage. The farther he is, the more advantage you have. All you have to do to maintain this advantage is keep your opponent away. Your trainer probably already taught you how to fight short guys: jab him to death and keep moving. Well, there's a little more to it than that.
Throw the Jab
Ok, so your trainer was right. You can keep him away by throwing non-stop jabs. Double jab, triple jab, end your combos with a jab. It's really important that you don't let him slip under your jabs. So throw some jabs at his chest or even his guard. Flick out some light jabs for him to block. I would say speed matters more than power.
It doesn't matter if your jabs don't do any damage;
all that matters is that he doesn't get past your jab.
A great idea is to throw the backstep jab: throw your jab as you step back with your back foot. The backstep jab works wonders because your jab and front foot is keeping him from coming while you're getting away. Take smaller steps if you keep running out of room behind you. If he still gets too close, just stick out your arm and push him back (like you did to your little brother when you were 10).
Plant the Front Foot
If you're going to run, be smart about it. Instead of just giving up ground, try leaving your front foot planted as you bend your back knee and shift your weight to your back leg. (Again, you are shifting weight to the bag leg, not leaning towards the back leg; big difference.) Because your front foot is still planted there, there's no room for him to move in on you. Most guys will be scared to step past your front foot because he'll be walking into your range. Eventually he will get past your jab and get past your front foot; NOW you can move the front foot and move away entirely.
Protect Your Body
At long range, your body may be the only thing he can reach. It's only a matter of time before he goes for it. He's tired of not being able to reach your head and chasing you around the ring so he's gonna try to kill your legs by attacking your body. The good thing is, it's easy for you to protect your body. Just pull your elbows down. You can even lean back a little if you want.
Throw Your Right Hand
It's easy for opponents to get past your jab if they know it's coming. So mix it up and throw a long right hand to scare them. Or maybe your opponent's being lazy and wants to just eat your jab so he can get into range. Let him know you've got two hands. Hit him with the right! Now back to the jab! HA!
The Leanback Right Hand
This is a really ugly punch but I've seen really tall guys do it successfully. What you do is throw a right hand like you normally would but instead of leaning forwards into it, you lean back as you throw your hip forward. So it's like a normal right hand but you lean your chest and head back so your opponent can't hit you. This makes your punch so much longer because your head is on the outside of the punch instead of on the inside. Floyd Mayweather does this a lot during his pull counters.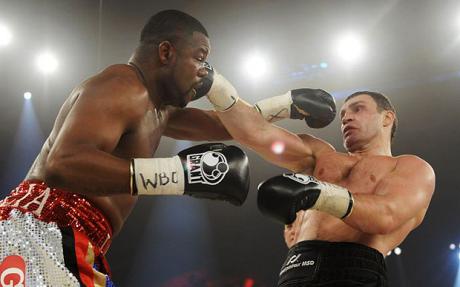 Vitali Klitschko throws the really ugly (but effective) leanback right hand.
(For better examples, just watch fights of Muhammad Ali, Paul Williams, and Vitali Klitschko.)
Conserve Your Energy
Conserve your energy while you let him waste his. There's nothing he can do at long range. Let him jump around and throw 10-punch combinations at the air. At long range, you can evade punches just by leaning back. If you want to move, just walk calmly. No need to panic and jerk around with sudden movements. You need to save your energy for when he gets into mid range.
Mid Range Fighting
Both of you can hit each other.
This is the least advantageous range for you. This is where your opponent has the best chance to hit you. He's finally able to hit you with his punches whereas your arms might need a little more room to throw. If he's got faster hands, better footwork, or slipping skills, this is where he's going to cause the most damage. You were not supposed to let him get this close, but oh well. Whatever you do, don't stay at mid range. Your arms can't extend for full power and he's too far for you to clinch. If you want to trade punches, at least do it at your range and not his. Now let's get to work.
Now you have to 2 options at mid range:
You need punish him for being at this range. Hit him hard and throw all kinds of tricky angled hooks and uppercuts. You better be able to hurt him and make him regret coming in so close. If you can't do that, oh boy, he's going to stay there all day and cause all sorts of trouble.

Suppose you don't have the power to hurt him or he's got too much willpower to eat your punches. In that case, you'll have to use some strategy to force him back into long range (where he can't hit you), or force him into close range (where you can clinch him). 
Lead With Power Shots
Depending on how much taller you are, you might be able to hit him with a right hands and left hooks while he can barely reach you with the jab. Oh man, you're gonna have a lot of fun! Counter his jab with a left hook. Or counter his jab with a right uppercut. Just throw everything you can think of. Lead with uppercuts and right hands and left hooks. Don't just aim at his head; aim at his body, too. He'll be stuck at a distance blocking endless punches. Now, he'll NEVER get into range.
Jab in the Chest
Now here's a tasty little trick. Just keep your jab in his chest to force him out of mid range. Your opponent is going to hate you pushing him back and will eventually do one of these four:
He moves back – excellent, now take his ground and jab him to death!
He slips outside – he slips to the outside and tries to go under your jab. Just drop your forearm and bar it against his neck as you walk your hips into him. Now throw a right anywhere you like; there's nothing he can do.
He slips inside – ok he went the other way now. If you catch his head on the inside, just pull his head down and go into a clinch or throw a right uppercut into him. (remember to release his head when you punch or else you'll get penalized for holding and hitting)
He throws an overhand right – he gets frustrated and throws a right over your jab. Just take a step back and come back in with a counter-jab to his face. Then stick your jab in his chest again, hahaha!
Block & Run
It doesn't have to be so complicated. You can just put up your hands and run until the fight is back at long range again. Unless you got some Muhammad Ali legs, this stops working when you get tired. Oh that reminds me, don't ever tired.
If you get tired, he gets to be at mid range forever!
Close Range
Fighting on the inside.
Whoever said the shorter guy should always try to get inside has probably never fought a taller boxer. Tall boxers have been winning the inside game for years! Win the fight at close range and your shorter opponent will start running from you. You would think that taller boxers would lose exchanges on the inside because of their slower hands, but that isn't the case. The taller fighter can win on the inside without even throwing a single punch.
Clinch
Yeaup, I'm talking about the clinch. Taller guys win the clinch just about everytime. Think about it; when was the last time you saw a short guy clinch a tall guy? It never happens because the tall guy is always the one on top of the clinch and on the outside of the clinch. If you're close enough, just grab him and clinch.
Crush
Clinching is just grabbing your opponent's arm and leaning on him. What you really want to do is crush him. Lean your body on him and weigh him down. He won't be able to fire back and he'll get tired very quickly. I'm not telling you to cheat. I'm telling you to pull his head down if you miss a hook. Lean on him if he slips outside your punches. Any time he bends forward to reach you with punches or slip under you, just lean over him and crush him. You can lean on him using anything: your arms, your armpit, your chest, even your head. Keep your hips under you as you pull his head off his hips. The boxer with his hips under him usually wins the clinch.
Hip Crush
The hip crush is one of my favorite tactics:
When I want to lean on an opponent, I get hips as close to him as possible and then I drop my weight on him. The hip carries my entire body weight so as long as I can get my hips close, I can hang on my opponent with my arms or my upperbody and he will feel my entire weight. If I grab him while my hips far away, he won't feel my weight.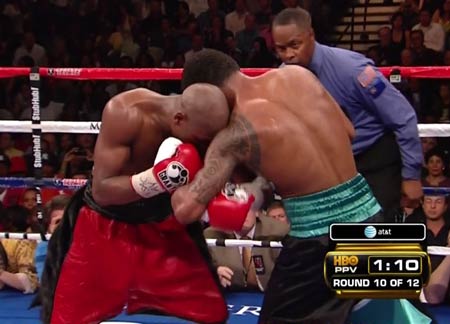 Mosley tries to lean on Mayweather but it doesn't work. 
Mayweather has his hips under him whereas Mosley does not. Mosley is unable to apply enough weight to control Mayweather and gets hit with body shots soon after.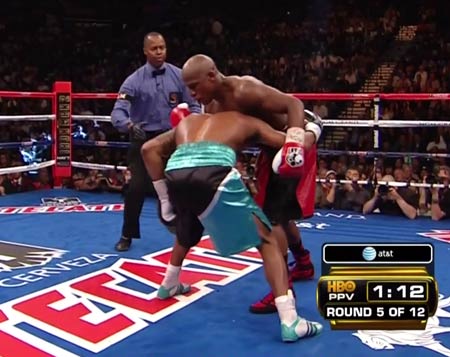 Mayweather crushing Mosley with his upper body.
The trick to crushing opponents:
Don't just lean on them, pull them towards your hip!
The hip crush is a great way to take advantage of your higher center of gravity. You can use your hips to crush another fighter's hips and keep him from throwing explosive power punches at you. You can even do the hip crush while standing. Just put up a guard and then walk all the way into your opponent and try to imagine your hip leaning down on his. The hip crush is also effective against opponents with weaker (skinny) legs, less balance, or poor footwork.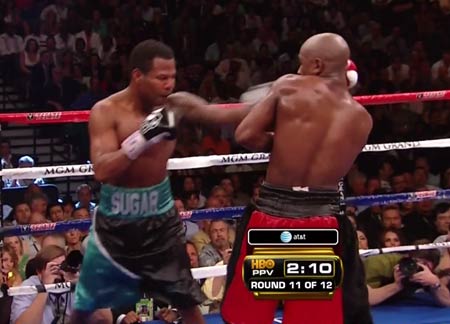 Floyd Mayweather walking down Shane Mosley with his hips high. 
Stick your hip out as if you're trying to bump him with the side of your butt. Step your front foot deep in and try to force him back with your hip. Force his hips off balance and he'll get confused. It works wonders for out-muscling a guy off his ground and gets you a free break while you tire him out. Your opponent can punch all he wants; your hips will block his from generating any power. Keep invading his space with your hips and punch when you're ready.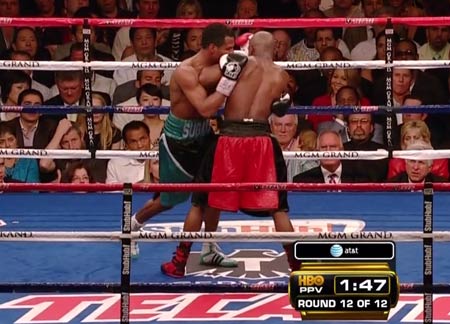 Mayweather hip crushes Mosley on the inside, forcing him to step back. 
Mosley's punches are smothered and deflected by Mayweather's shoulders.
Forearm Crush
Once you've established a strong stance at close range with the hip crush, the next logical move would be the forearm crush. It's better than the clinch in that it allows you to set your opponent up for punches.
Anytime your opponent gets way too close for comfort, just stick your forearm into his neck and push his head over. This is a great tactic for guys that like to come in with their head.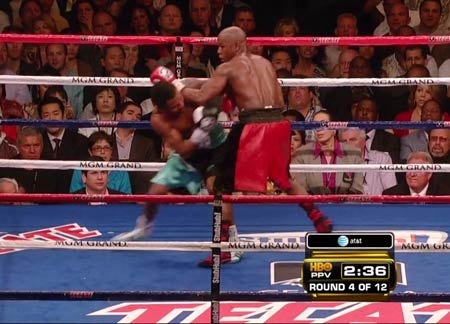 Usually, you put your left forearm on his left shoulder or your right forearm on his right shoulder. Then just push his head down to the side. Now just punch him with your other arm. You can also use the forearm crush after you miss a punch to prevent him for countering you. I made a video of Floyd Mayweather that highlights this "forearm crush" tactic as well as some of his other "boxing tricks".
Examples of Great Tall Boxers
Tall guys have always suffered in speed, endurance, power, or coordination in comparison to their shorter opponents. The tall guys that overcame those disadvantages became ABSOLUTE MONSTERS! Just to give you some inspiration, here are a few notable tall champions that come to mind:
Being Tall is an Advantage in Boxing!
Tall guys have always been a nightmare for shorter opponents. Mike Tyson's first loss was to a guy with a huge height and reach advantage over him. In fact, Mike Tyson's first fight that went to a decision was to a guy who fought tall. The point is: it doesn't matter who you're fighting, Mike Tyson or not, a taller guy will always have an advantage.
You don't have to be tall boxer to fight tall. You can always use a tall-style to beat a boxer that likes to fight "short". The tall-style can be great for beating inside fighters or other fighters that like to bend down a lot. Even if you aren't taller than your opponent, but you have the better skills, you can still fight with the advantages of a tall person.
Controlling the range is everything. It sets the tempo of the fight and how much damage you guys are able to inflict on each other. The tall-man vs short-man match-up will always be fought over distance. If you think you can outbox him, then by all means…go kick his ass at any range you want. If it were me, I'd follow this simple philosophy:
Your opponent will never land any punches
if he can never get into range!