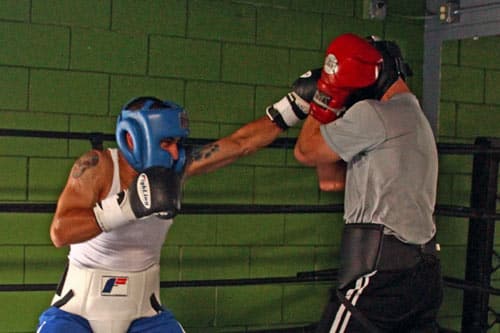 If there was ever a boxing combination to be labelled the best, this would be it. It is so simple yet so deadly when you learn all the variants of the old "jab-jab-cross". Many trainers told me over and over the 1-1-2 is boxing's bread and butter combo, better than any other punch combo but I couldn't understand why. Throwing double jabs in the ring only guaranteed that I would be eating more right hand counters and so I got scared of throwing them.
Many years later, I finally realized what my trainers REALLY meant.
This is how you throw a REAL jab-jab-cross combination…
The 1-1-2 is the most versatile boxing combination!
The double-jab, cross combination is the most versatile boxing combination there ever was. It's so powerful and so tricky, you could use it over and over and never get countered. When I first started boxing, every trainer told me THIS was the punch combination to master. They all said the 1-1-2 could beat any opponent. Not the 1-2 (jab-cross), not the 1-2-1-2 (jab-cross-jab-cross), or the 1-2-3 (jab-cross-hook)—they all said the 1-1-2 was the golden combination.
Being a beginner, I wasn't wise enough to understand the advice. Throwing a double-jab was not only tiring out my front hand (a common problem for beginners), it got me countered. I tried listening to my trainers but it didn't work. A pitty-pat double-jab didn't get any of my opponents' respect. They all walked through my jabs or slipped and easily countered me. It wasn't long before I got anxious to throw my power hand as soon as possible.
But then I fought a pro one day….and OHHHHHH, so THAT'S HOW YOU DO IT! This guy absolutely terrorized me with the 1-1-2. His double-jabs were throwing me off balance, touching me and bothering me from every angle. And right when I got distracted for even a SPLIT SECOND, I paid the ultimate price when his right hand came. In just 9 minutes, I learned the secret to the 1-1-2 that my trainers had tried to teach me for months!
The secret to the JAB-JAB-CROSS,
is in the variation of the jabs!
Watch my video demonstration to see how I throw different jab-jab-cross combinations.
Change the Rhythm (speed vs power)
HARD-HARD-HARD
This is probably the first and most natural way any boxer ever learned how to string a combo together. The typical beginner doesn't know how to make a combo more effective other than to increase power. Well, it works. A hard 1-1-2 will definitely get anybody's attention. It's good to work on to make sure you've got that sharp power and commitment behind those punches.
The problem with this HARD-HARD-HARD rhythm is that it's too slow and too predictable. At the higher levels of fighting, you'll need to mix in faster jabs to create openings for your hard shots. Once you're done throwing that same boring JAB-JAB-CROSS combo over and over, we can move on to the more interesting variations.
fast-fast-HARD
This one is beautiful. Follow someone around the ring with a bunch of pitty pat jabs and then hammer him with a huge right cross. It's so easy to do; you can throw endless jabs while waiting for your right hand. And since you're throwing a bunch of speedy non-committed jabs, you can fling them all over the place–his head, his elbows, gloves, shoulders, etc. You'll naturally aim everywhere you can to distract him for your right hand.
The problem with throwing only pitty pat jabs is that he can counter you with harder punches. Once he catches on to your tricks, he's going to walk through your light jabs and counter hard. In the time that you throw 2 fast jabs, he might throw a hard jab to disrupt you and then a hard right to hurt you. We'll have to mix in hard and fast jabs to be even trickier!
HARD-fast-HARD
This is a great rhythm to catch opponents off guard. Throw a HARD jab, followed by a fast jab, then a big right cross. An easier way to visualize this would be to throw a JAB-oneTWO! So it's like a big jab gets his attention, and then you immediately go into a fast one-two combination. A faster second jab is used so you big right hand can get there sooner. A faster second jab also has the strategic benefit of arriving sooner than he expected and potentially disrupting his counter.
You can make the second jab faster by not retracting your hand all the way after the first jab. Pull it back only a few inches after the first jab and then release it forward again. Another way to think of it is JAB-touch-RIGHT!
fast-HARD-HARD
This is an incredibly tricky rhythm and will open up many strategic possibilities for you later. PLEASE LEARN THIS ONE–it's a game-changer! This time around you start off with a fast jab, then followed by a hard 1-2. The first jab distracts, the second jab penetrates straight in and the cross is the finishing blow.
Later, you will use the first quick jab to punch at a random place to make your opponents block there and exposing himself elsewhere for your 1-2.
feint-HARD-HARD
Once you get the hang of the fast-HARD-HARD rhythm, you'll want to be faster with the first jab. The faster the first jab, the easier you can land the 1-2. Naturally, you'll realize the first jab doesn't even have to be a real jab–it can be a feint. And there you go, use the fast-HARD-HARD rhythm but throw a feint instead of a real jab as the first punch. A fast jab doesn't cause much damage anyway, so why not use a feint instead which is so much faster and doesn't leave you as vulnerable.
Change the Aim
The easiest way to make your combinations more tricky is to aim at different places. And there are FARRRR more places on the body than you think. Most boxers I see only know how to throw at the head or body. Believe me, there are far more places than that. Learn how to target different places and take advantage of your opponent's reactions to your different movements. And the only way to do this is to try aiming at different places.
First priority of a punch: cause damage.
Second priority of a punch: cause a reaction.
Head
Are you aiming (high) at the forehead? Or (low) at the chin? Straight on at the face (into the nose) or into the side (cheeks)? What about the side of his head by the ear? Often times your opponent may leave the top of his head or the side of his head open. Other times opponents will cover their heads by lifting their gloves too high and exposing their body.
Body
The body is full of many angles of attack ESPECIALLY when the opponent is punching. You can aim at so many areas of the body from the front or the sides. Tactically, you can aim at different parts of your opponent's body to draw his gloves down and expose his head.
Arms
The arms are a great tactical place to attack. Punching or pushing the shoulders can make your opponents lean back off balance. Punching at their gloves can distract them or make them cautious of countering in fear of exposing themselves, allowing you to land punches elsewhere.
Air
Punching at the air around your opponent can sometimes cause him to react by swiping at your feints, or leaning off balance, and/or otherwise expose himself. I especially love to throw feints at the air. Even a simple lift of my right glove can cause a reaction.
Change the Punches
Changing the right hand is easy and quite natural. Instead of a right cross, use an overhand right or maybe a right uppercut, or try a really straight right hand up the middle. It's simply a matter of bending or unbending the elbow and then letting the punch come from higher or lower. Sometimes wider, sometimes straighter.
Now swapping the jabs for something else is where the REAL trickery comes in. Once you learn this, it will change your 1-1-2's FOREVER! Pay close attention to this part of the boxing guide. All you have to do is replace one of your jabs for a left hook or left uppercut.
Switching the first punch for a hook or uppercut
Now your combo becomes a 3-1-2 or 5-1-2. You are switching the first jab for a left hook or left uppercut. This tiny little change alone CAN DESTROY YOUR OPPONENT! The reason why it's so deadly is because the hook or uppercut angle will really distract your opponent and make it easier for you to land the follow-up 1-2.
The key is to throw the left hook/uppercut like a jab
It has to feel like a jab, same level of power, same attitude. Don't pivot, don't try to make it a real hook. Make it a quick slap hook as if you're just slapping him on the side to make his guard shift over and then hit him with a hard 1-2 straight up the middle. Same thing if you're using the uppercut. Make it a really long straight jab but with the palm facing up. What looks like a simple straight jab but with a reverse rotation will make your opponent FEEL like he's getting hit by a different punch. When throwing the 5-1-2, you can use that upside down jab to tip his chin up (a quick surprise), then penetrate with a straight jab, then follow with a hard right.
All you need is for him to feel something different
and that will be enough for you to trick him.
The 3-1-2's and 5-1-2's are my absolute favorite trick combinations. It's like a quick slap, then 1-2! Or a quick touch on the elbow, then 1-2! So easy, so fast, and so damn tricky to defend because the angles are so unexpected. THROW IT LIKE A 1-1-2. (And yes, you should try altering the rhythms as well; not only the punches. Faster is better.)
Switching the second jab for a hook or uppercut
Ok, now you're throwing a 1-3-2 or 1-5-2. Again, the hook or uppercut has to be thrown like a jab. Your opponent will feel like they're angled punches but YOU have to throw them as though you were throwing a 1-1-2. The same rules above will apply here. Don't worry about the pivoting or adding power to the hook/uppercut, simply extend your arm as though you're throwing a jab but rotating the fist so it comes from the side (hook) or from the bottom (uppercut).
Using the hook/uppercut as the second punch will quickly divert your opponent's defense because nobody likes to get hit from the hook or uppercut angle. Fighters are usually psychologically pre-conditioned over the years to think of those angles as power punches and not soft punches. Exploiting these fast hooks and fast uppercuts will definitely confuse your opponent long enough for you to land the right hand.
Changing the Angle
Now the only thing left is to change your punching angle. You can do all the same trickery (altering the rhythm, aim, punches) but now while changing your body angle.
Neutral Angle
Coming in straight up from your boxing stance. It works and it's a good place to start for beginners. I suggest you practice the 1-1-2 from the neutral angle before venturing beyond! Fighters that learn to change the angle too early lose their balance/power because they over-do it.
Forward Angle
Throw the 1-1-2 while coming forward (or circling). Or throw the first two jabs from the neutral angle, but then come forward with your right hand. It can be a slight tilt forward or a slight tilt forward and to the side. It can create a new angle for you to attack with the right AND/OR help avoid your opponent's counter. A slight lean is all you need to make use of this sudden change of angle.
Back Angle
Throw the first two jabs while retreating, and then come back with your right hand. Or throw the first two jabs while coming in, and then lean away as you dig a wide right uppercut into your opponent's counter.
The "pro's combo": the jab-jab-right
The purpose of the first punch,
is to set up your other punches.
If you haven't already figured out by now, the first punch of the 1-1-2 combination is typically meant as a distractor. Almost nobody gets hit by the first punch. So the goal is to make the first punch as tricky as possible to create openings for the real 1-2. The more skilled your opponent, the more you realize the effectiveness of your first punch comes from trickery, NOT power. And then once you mix in different rhythms, targets, punches, angles, AND footwork–IT'S GAME OVER FOR YOUR OPPONENT!
The most dangerous combination in boxing, the double-jab, right hand!
Who would have known that stringing together just 3 simple punches could be so deadly? Realizing what I could do with the simple jab-jab-cross was probably one of the greatest discoveries of my life. Not only was I fighting better but it helped me understand what was going on inside the world of professional fighting. You often see a fighter getting hit with what looks like a simple combination and you can't understand why.
Well now you know: it's because the other guy is switching up the rhythm, punches, and angles. He's making it feel like a regular 1-1-2 but it's actually something else. And sometimes, it IS a 1-1-2 but he made it FEEL like something else. HOW CONFUSING!
You can apply everything you learned here to other combos, not only the 1-1-2!
It's not the punches you throw,
It's HOW you throw them.