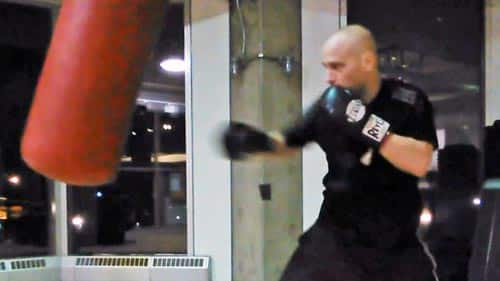 Here's a great boxing heavy bag workout from Jason Van Veldhuysen over at Precision Striking. He's also got a popular Youtube channel.
This 10-round heavy bag workout will improve your power, speed, endurance, and overall boxing skills!
*** Watch the video to see Jason demo his heavy bag workout. ***
NOTE FROM JASON : This heavy bag routine is meant for non-sparring days, where Jason recommends to do 10 rounds on the heavy bag. On sparring days, you use bagwork to supplement your sparring so that you still get 10 rounds of hard work. (For example: if you sparred 6 rounds, do 4 on the bag.)
The standard round time in boxing is for 3-minute rounds with 1-minute rest in between!
ROUND 1 – Warm Up
Start with the jab, bend your legs, and get your hands and feet warmed up. Start gauging timing and distance, move your head before you jab, move your head after you jab, work on your angles, and setting up other shots in later rounds.
ROUND 2 – Southpaw
Hit the bag from a southpaw stance (or orthodox if you're already southpaw) to balance out your body. You'll be working different shots and angles. And you never know when you'll need this strategy in a fight.
ROUND 3 – Head movement
Emphasis on head movement for this round. Work on slipping, ducking, snapbacks, moving head before & after you punch. Move your head, snap your punches, slip, and move again. Keep moving your head.
ROUNDS 4, 5, 6 – Fight pace
Work at 100% full-on fight pace. Throw fast combos, flurries of combos, keep moving your head, keep creating angles, keep your footwork active, move exactly how you move during a fight. Keep the pace high and the pressure on.
ROUND 7 – Tricky
Start getting cagey and slick. Stay on the outside, lots of feints. Start picking your shots, don't be in a rush to throw. Lots of in and out movement. Move in with a few shots and get back out again. Be cagey and cautious.
ROUND 8 – Speed & Volume
Lots of hand speed and high punch volume. Focus on short and quick punches. Work on getting the speed and fluidity in your hands. Don't worry about any technique in particular. Let the mind go free and let the hands go.
ROUND 9 – Power shots
Pure power shots. Bend your knees and turn the hips and shoulders on every punch. Put everything into these shots, bad intentions on these shots. Go for the knockout.
ROUND 10 – Inside fighting
You should be tired and with spent legs. Get inside and make it ugly. Get close to the bag, slipping and dipping, move your head, work the body, work the head. Keep turning your opponent, creating angles, and staying busy.