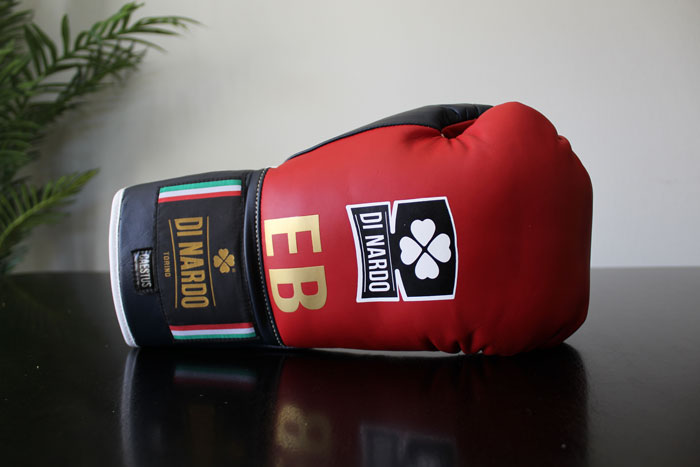 The Ferrari of Boxing Gloves! Nearly $1k a pair!!!
What?! Thousand-dollar boxing gloves? Are you kidding me?!
No, I'm not kidding. The last time I saw thousand-dollar boxing gloves, they had Muhammad Ali's signature on them. But this…THIS is the real deal. They are not collector items. They are not toys for the rich. They are serious boxing gloves made for serious athletes. Handmade by Italian leather craftsman, Filippo Lecesse Di Nardo from Torino, Italy. They are what I would call,
"The best boxing gloves of this generation. The Ferrari of boxing gloves!"
At last, I have finished my personal review of the BEST BOXING GLOVES I have ever worn! (Oh and btw, I've now had these for over a year…with many rounds to put them to the test.) Let me take you step-by-step through every feature of my own custom-made Di Nardo boxing gloves!
I'll release a full video review later. Here are some videos of me testing these amazing gloves with heavy punches on the heavy bag. See photos below. (Click to enlarge)
Di Nardo Boxing – and short history of "Mason's Boxing, USA"
Initially started as "Mason's Boxing, USA"
A year ago while writing my latest boxing gloves review, I briefly remembered a new brand called Mason's Boxing. They were premium Italian-made gloves aspiring to compete on the level of Winning (Japan), Grant (US made in Mexico), or Fly (UK). The brand toted itself as being 100% Italian, premium leather, artisanal, and other fancy words to hype their new product on the market. They had a retro look (maybe even overly-retro), perhaps to play off the sport's old-school nostalgia. Naturally, Mason's combination of unestablished branding and premium pricing came off as a gimmick to many.
While researching the company, I saw they had already fallen apart. From the actual craftsman himself and piecing together stories shared online, I learned its American distributors had financial issues (mismanaged funds). Mason's Boxing went under before the public could form an opinion. Skepticisms of the brand went rampant as the brand's failure echoed louder than its product quality.
The birth of Di Nardo Boxing
While the Mason's brand has fallen, the real product and the REAL BRAND behind it was always meant to be. In January 2018, a Filippo Leccese Di Nardo reached out to me via email and very proudly wrote,
I am the proud producer of the Di Nardo Brand, the first glove in the world entirely handmade in Italy. I would like to collaborate with you, in your ranking of the best gloves in the world.

My product is already approved and certified by the following athletic commissions:

Nevada

New York

WBC

BBBofC (in the process of being certified)

I look forward to your kind feedback

Thank you

Filippo Leccese Di Nardo
I didn't know it at the time, but he was the actual craftsman behind the Mason's brand. Since Mason's disbanding, he had taken full control of his own product, now representing it under his own name and logo.
I didn't care who he was at the time, I was actually only fascinated with that he had Italian-made gloves. This caught my attention because I have family in Italy (my mother's side), have been to many cities there, and familiar with the Torino area (where Di Nardo comes from). I have a beautiful leather jacket from Florence, also designer belts from Bellagio and can attest to Italians having the best leather in the world. I'm a big fan of the country and its people. They remind me much of Mexicans that I grew up with here in the USA. Very humble, kind, and warm.
Nonetheless, the skeptic in me challenged him regardless:
"How long has your company been around?"
"And are you sure you're the only Italian glove manufacturer?"
I was pretty sure I'd already seen other Italian boxing brands. He replied back explaining that other Italian brands like Leone had only the name but are now made in Pakistan or Asia, and definitely not in Italy. He reassured me once again that his gloves are 100% hand-made in Italy.
"I am a craftsman tailor, and I am the first Italian glove entirely designed and handmade in Italy 100%. I represent the excellence of Italian craftsmanship."
If you couldn't tell, he had my full attention by now. I asked more questions and got more of his personal story…
I come from a family of Italian tailors, and specialists in the leather work, and all this has been handed down from generation to generation, I am the last of this generation, my two other brothers and sisters, have taken different paths.

Basically, I started boxing in 2001, and a lot of passion, I wanted boxing to be my life, boxing helped me a lot in a very difficult moment of my life, so I keep it as a treasure inside of me. Boxing is a school of life, everyone can do boxing, but few can get into the boxing ring and fight, so I realized that the ring was not my place, my only thought was: "how do I create my life in the world of boxing?"

What was clear to me, is that the laboratory was my world, a magical place, where everything takes shape, where creativity is mistress and where I could express my full potential. So I decided to combine the two things, my sartorial skills and boxing to create the best glove in the world, with the goal of leaving a mark in this world.
Filippo is a trained artist
To be exact, he is trained tailor and leather craftsman since he was a boy (family business). In having run ExpertBoxing for nearly 10 years now, I've been contacted by nearly every boxing company out there. Many big famous ones and hundreds of small unknown ones. I can tell you right away which ones are "businessmen", which ones are "manufacturers", and which ones are "artists".
Businessmen – talk about branding, problem-solving, and partnerships (marketing)
Manufacturers – talk about pricing, quality, and quantity (efficiency)
Artists – talk about their passion and process (motivation)
My favorite are the artists. Artists live by the code of their beliefs, passions, and ethics. They are mad scientists who pour their heart and soul into everything that they do. Filippo agreed to send me a pair of boxing gloves (and boxing shoes) to be put through my ultimate test. I warned that if the gloves did not hold up to my expectations, I would not sacrifice my integrity to the boxing community. 2 and a half months after we first spoke, my custom Di Nardo boxing gloves and boxing shoes had finally arrived. *They arrived in March 2018.*
Let's begin…
The THOUSAND-DOLLAR Boxing Glove Review
Insane PRICE ($1,000)
Let's start with the price…the gloves cost nearly $1000 dollars (free shipping included). I love repeating this price because it sets the tone for what expectations should be. I want YOU to expect the most impossible fantasy boxing glove that has ever existed and I want YOU to be the biggest skeptic and to hold the brand up to the highest standards.
Will the "Ferrari of boxing gloves" live up its moniker?
Or will it bust like another wannabe "premium, hand-crafted, high-tech" glove brand?
In boxing, we have "true" premium brands like Winning ($400) where everyone is happy to pay it and then we have "over-priced" premium brands like Grant ($500-800) where no one thinks they are worth the price-tag. Which one will Di Nardo turn out to be?
Impeccable QUALITY
The utmost quality in boxing gloves.
I feel these were made by one-man in one-shop the entire time. There is no factory line where the gloves get passed from the "leather-cutter" to the "padding-stuffer" to the "stitcher". There is no weak link because every step of the process is personally overseen by the man himself.
Highest grade raw materials
Finest Italian leathers (full-grain calfskin, vegetable-tanned)
Hybrid Padding (using foam rubber, horsehair, and EVA foam)
Highest-grade polyester lining (water-proof layer) for the leather
Polyamide & Silver lining (instead of regular nylon) for the hand
Kevlar thread (instead of regular nylon, cotton, polyester)
The leather was chosen for beauty, comfort, and strength…it will last FOREVER. The padding was chosen for maximum protection, comfort, and durability…and then crafted to be replaceable as needed. The inner-lining materials were designed to prevent hand sweat from ever reaching the padding (accelerating its wear), and also to limit unpleasant odors ("glove funk"). The kevlar thread was chosen for its unparalleled strength and resistance to stretching, providing superior long-lasting support.
Italian leather is the best leather in the world
The leather used for all my products is a full-grain leather of first choice, obviously tanned and semi-finished in Italy, the country from which the best leather comes to the world, we are masters in this sector.
Di Nardo boxing gloves have the nicest and most luxurious leather I have ever felt in a boxing glove—PERIOD! What makes Italian leather so special? It's the way that they tan their leather, using vegetable-tanning (which takes much longer) instead of chemical-tanning, and delegating each step of the tanning process to specialists. Their tanning process is a combination of ancient secrets, modern technology, and cultural pride. High quality Italian leather is the most beautiful leather in the world, strongest and most durable, and also very soft/supple (for supreme comfort). This kind of leather will actually look more beautiful with time.
In contrast, you have Pakistan who are also known as leather experts but for high-volume low-quality leather. And while Pakistan leather can be soft and supple, they are much weaker and not as beautiful. Mexican leather on the other hand is usually super thick and rugged, so not as comfortable. I think that's why some Mexican glove manufacturers use softer/thinner goat leather instead of cow; it feels much softer and more luxurious.
Polymide and silver LINING
The lining applied in my gloves, it is obviously a lining of Italian manufacture, of the highest quality, is not a common polyester lining with which most of the gloves in the world are lined inside, but well yes it is a polyamide lining and silver thread, thanks to which the glove will never undergo the formation of unpleasant odors inside, thanks to the active ions emanating from this lining.
Most boxing gloves line the insides with nylon or other silk/satin-like materials to:
Waterproof – prevent sweat from breaking down the padding.
Smoothness – give a smooth surface so hands can slide in and out easily.
But Filippo takes it a step further. He opts for a fabric that not only carries a distinct look but also has chemical properties (colloidal silver) in it to combat odor-causing bacteria. It's the same kind of silver agent used in anti-odor/anti-bacterial clothing and also deodorant.
Hybrid PADDING
The padding is a mix of latex (I think that's what he means by "foam rubber"), horsehair, and EVA foam. Many manufacturers use only a simple piece of foam or latex in the padding but he goes all out mixing different materials and bringing back the old school horsehair! I find this choice really intriguing since horsehair went out of fashion for training gloves several decades ago. He also spreads the materials throughout the gloves in different ways from other manufacturers and for his own reasons. (More about his padding later!)
Maximum-strength KEVLAR THREAD
My glove is entirely sewn in Kevlar yarn, another added value, this thread makes the glove practically indestructible, as this thread is applied for the production of bullet-proof jokes and all the clothing of the military forces, which are in fact subject to heat, temperature variations and various stresses.
Kevlar thread (much more expensive than nylon/cotton/polyester thread)…is known for its superior strength, heat resistance, stretch-resistance, and proven performance under high-stress. Some of you may be wondering, "Who the heck needs kevlar thread?" And I laugh out loud because the answer is NO ONE! NO ONE NEEDS KEVLAR THREAD! But you know what? No one needs 12 megapixels in their iPhone either!
But here we are in the time of future technology because of mad scientists in this world improving things beyond what we dream them to be. Filippo Leccese is boxing's Steve Jobs and Elon Musk. I love that he functions beyond the realm of reality. Is that not the mark of a true artist? The best leather, the best padding, the best thread. Guess what he's NOT doing…the best "marketing", the best Facebook campaign, the best viral ad. His personal challenge is to make the best boxing gloves, not the biggest company. I'll raise my fist to that.
Unique/unparalleled craftsmanship
Perfect construction quality
Di Nardo boxing gloves were made with pride!
All the fine details are absolutely perfect. The cutting, the fitting, the stitching. Not a single mark of imperfection anywhere. The gloves have a machine-like precision and yet at the same time, you know there's no way in hell a machine could make it. There are too many intricate layers, intense stitching, materials carefully positioned around other materials. This is Italian craftsmanship at its finest. Next to them, even my other high-end gloves look like toys.
I spent many days wiggling my fingers inside the glove from all angles, trying to visualize everything I felt. The gloves were made in such a complicated manner—oh if only I could draw what my fingers fingers were feeling! Get your own pair, take off the laces, spread the gloves open, and feel around for yourself.
Multiple-layer HYBRID padding
The "CAESTUS" padding is a padding that I use only on training gloves, but before going on I want to point out an aspect that I consider important, each piece of my boxing gloves is made entirely by hand, including the padding.
The "CAESTUS" padding is a padding composed of a mixture of horsehair and foam, all completely quilted so as to avoid movement from the most stressed areas, such as knuckles.
At first it may seem a bit stiff, given its composition, but with use, it will turn into something exceptional, taking completely the shape of the hand of those who use the glove, ensuring protection is comfort.
All this makes this padding very durable over time compared to those of my competitors, who in fact, after a short time of use, open up to their interior, no longer guaranteeing the necessary protection of the hand.
I didn't know what any of that meant or how it would affect my real world experience, but right after I stuck my hands into them, I ran to my computer and emailed right away, "WOW!! SO COOL! WHAT THE HELL IS IN THE PADDING?!" It felt like a hand-contouring mixture of foam and straw? (In case you're wondering; no, it's not memory foam.)
The padding of the gloves in your possession called "CAESTUS" composed of horsehair, foam rubber and EVA is produced as follows:
a mattress of foam, with the horsehair in the middle, which is uniformly amalgamated along the entire length of the mattress, in the area of the knuckles there is an EVA pad, as well as at the tip of the glove to better protect the tip of the fingers of the hand, the whole is completely quilted, so that the padding does not move, and has its own casing completely independent of the glove itself.
I'm not sure I understood those technical details perfectly or how they make his gloves better than others but here is what I felt:
MANY layers of padding – other gloves feel like one or multiple layers of glued padding, Di Nardo gloves feel like a mix of semi-floating materials. I have no idea what's going on in there.
DIFFERENT types of padding – other gloves feel like one solid consistency throughout the padding, his feel like an ice cream sandwich.
ADAPTIVE padding – other gloves force your hand into the shape of the padding. His mold to your hand internally while holding their protective shape externally.
DIMPLES – there are strategic indentations on the inside (hand-side) and outside (leather-side) of the padding. I don't know why but they add to the glove's comfort and ergonomic qualities.
QUILTED padding.
This is a really interesting feature that made such an impression on me. He stitched the padding into what feels like four little compartments (think 4-piece Jacob's ladder). One compartment goes from the wrist to the middle of the back of the hand, second goes from from back of the hand to the big knuckles, third goes from big knuckles to the middle knuckles, and forth goes from middle knuckles to the fingertips. I call it the "4 magical hand cushions".
It's incredibly clever as this padding segmentation serves two functions:
Keeps the padding evenly distributed in their designated places, instead of sliding around as you throw punches.
Allows the glove to move with your hand, since it has more "joints". Other gloves using one solid piece of padding would never be able to shape to your hand the same way his does.
I swear this guy probably spent more time on the padding than other manufacturers spend on the entire glove. It's like an intricate network of padding in there. I can only imagine how much extra time and attention to detail it requires. It's things like this that make his glove so incredibly protective AND comfortable. What a clever genius!
SEPARATE LINING for leather and padding.
Unlike my competitors, Grant, Winning, Reyes, Fly, Rival and others, the glove is entirely lined inside, while the gloves of the companies listed above, on the upper part of the glove, the leather is without any lining, factor which makes these gloves more prone to premature deterioration.
My glove being entirely lined with leather, then a combination of leather and lining, ensures a long life in time, as the lining contributes to the strength of the leather.
The cover that covers the leather, is not a lining, it may seem, but it is not, it is a lining 100% polyester of the highest quality, completely resin, anti-tear and water repellent, I use for a simple reason, coupled with the leather, absolutely makes the indestructible glove, the possibility that the leather has breakages is not impossible, but it is really remote.
This guy is absolutely crazy. He separately lined EVERY LAYER of the glove. I don't even know how to explain it but will do my best.
ALL other boxing gloves have:
Leather outer layer (the outside material of the glove)
Inner foam padding layer (to cushion the hand)
Inner-lining (to prevent hand sweat from reaching the padding and leather)
CRAZY Di Nardo boxing gloves have:
Leather outer layer (outside material)
Polyester inner-lining (sweat blocker), on the INSIDE of the leather outer layer.
Padding layer (hand cushion), placed inside the glove but SEPARATE from the leather outer layer, running all the way along the back of the hand and thumb.
Polyamide/silver lining completely wrapped 360-degrees all the way around the padding, and also the full length of the palm side of the gloves.
Other gloves have only one layer of inner-lining to seal your hand sweat off from the padding and leather. In Di Nardo gloves, you have as many as three layers of lining (between your hand and the outer leather). It's absolutely crazy and so much extra work to do it like this. He's protecting every single layer of the glove and from all angles. The lining is everywhere, protecting the back of the padding as well as the inside surface of the leather. What's even more insane was that he did the same with the thumb padding (lining the padding separately from the inside leather surface).
I went on a rampage sticking my hand into ALL my other gloves. You can do it, too. Stick your hand upside-down into any glove, with your other hand straightening out the curved part, and reach with your inside hand past the curved edge of the padding. Can you touch the spongey texture of the padding? If yes, then you know your padding and leather are vulnerable to the sweat.
I was surprised which brands completely sealed off the fingertips area and which ones did not. Most Pakistan gloves (even cheap ones) sealed it off but many Mexican-made gloves did not. Some of the unsealed gloves at least tried to glue some thin plastic around the padding but others didn't care at all, leaving the padding completely exposed. (NOTE: I later learned from some makers that the thin plastic isn't really to protect the padding from sweat but to make it easier to slide into the glove.) Not surprisingly, the ones with sealed-off lining usually had better padding durability! Anyway, Di Nardo had the best attention to detail. No shortcuts whatsoever and if anything, you'd think he was going out of his way to make it harder for himself.
REPLACEABLE padding!
No less important, which must be stressed, in all the gloves in the world, when the padding loses some of its absorbing and protective effectiveness, the glove is actually to be thrown away and / or to be changed, my glove no, just have care of the leather, as over time, it will be possible to replace the padding with a new one, without any need to buy a glove of new workmanship.
Yeaup, you can use up your gloves and send it back to him to replace the padding. No more throwaway gloves…these will last forever! But what do the replacements cost??! I'll tell you soon enough.
PERFECT WEIGHT – 16oz.
For those complaining about Mexican gloves being too heavy, or other gloves being too light or uneven between the left and right gloves…Di Nardo is perfectly on weight. Hahaha, I've been fooling around with Mexican gloves for so long I almost forgot what a true 16oz feels like. These feel fantastic!
UNIFORM PAINT JOB
Bad paint jobs can definitely be a pet peeve for some, although I'm a bit biased on that nuance myself. When I see bad paint jobs on Pakistan clone gloves, I dock them for bad quality control. When I see paint imperfections on Mexican gloves, I chalk it up to hand-made charm. Unfair, I know!
Well, with Di Nardo you get a perfect paint job. It's a laser-precision luxury-car paint job. It looks like it was painted by a machine, not someone's nephew in the backyard with an airbrush. The gloves have perfect coloring and consistency throughout. No blemishes, color bleeds, crooked markings, or other "handmade" vibes here.
To be technically accurate, Di Nardo gloves are professionally dyed to standard industry color codes. It looks so much better and allows for exact color-consistency; important if you buy more than one glove or want the same color many years later. Cheap factory-made gloves can get great color consistency as well, although the quality of their dyes will vary. The biggest color problems will usually come from custom gloves. Instead of buying dyed leather, they sometimes mix their own colors and paint/dye it themselves (which doesn't last as long and/or flakes off easily).
Unrivaled/Excellent HAND PROTECTION
Incredible knuckle protection
Now we're getting to the #1 criteria. After all, what's the point of fancy-made gloves if they don't do their basic function? We're not buying them to look fancy, we're buying them for hand protection. And the people want to know if these gloves have the best hand protection! I've got a decade-and-half of worn sensitive hands, perfectly suited for testing these gloves.
They felt great on the bag, mitts, also walls. (Yes…I went around the house punching walls because they felt that amazing.) If you have hand problems like me, you will love these. You'll forget all about your hand problems. You may also forget about that 2 o'clock street cleaning while playing with your gloves and get a stupid parking ticket.
The grand question will always, "How do they compare to Winning?" To be really precise, I separate punch protection into 2 areas: one is hand impact, the other is wrist & forearm impact.
Winning – hand 10, wrist 10
Casanova – hand 8, wrist 10
Di Nardo – hand 9, wrist 10
Rival – hand 8, wrist 10
Hayabusa – hand 6, wrist 7
Pakistan clones – hand 6, wrist 6-7
I don't consider Di Nardo to be inferior hand protection to Winning. It's more that I feel he has a slightly stiffer thud. It's a very nice feeling and very unique to his gloves. You have to try it for yourself. But if what you want is a really pillow-ey feeling like Winning, then I would say Di Nardo is different.
I also LOVE that the special quilted-padding extends all the way to your first finger knuckles. Many gloves use thinner padding on the small knuckles near your fingernails. While you may not care, extra padding in this area is useful for throwing hooks and parrying punches. I'm a speedy-type of fighter, so I love how these gloves protect my small knuckles (for horizontal hooks or slapping punches) and make shoeshine combinations feel more powerful.
Great back-of-hand padding
Incredible protection in the back of the hand and actually covers part of your wrist. This is not something I'm looking for but noticed the padding in the back of the hand is really incredible. Great if you like to block and shell up a lot.
Normal wrist/forearm padding
These gloves have standard padding around the wrist/forearm areas (on back-side and palm-side), consistent with other lace-up gloves like Winning, Grant, and even Mexican gloves. I mention it in case you wanted thicker/beefier padding like Mexican triple-cuff gloves, these aren't big and puffy like that.
For comparison purposes:
Most Pakistan clone gloves and most non-triple-cuff glove designs, have minimal padding in the wrist areas, using thin pieces of EVA to maintain the glove's shape rather than for cushioning purposes.
Some Mexican gloves (especially the triple-cuff designs), have thick wrist padding using cotton for a pillowy feel. Unfortunately, this contributes to their common complaint of being heavier than the listed weight.
Some gloves are padded more on one side than the other. Casanova for example has thin padding in the back but a thick wad of cotton on the palm-side of the wrist. MMA or muay thai brands may have more padding in the back (to block kicks) and less in the front (to allow wrist flexibility).
Ergonomic COMFORT
Flexible Protection
I have always thought of giant boats, I have made gloves that regardless of their weight, adhere perfectly to the hand without giving that ugly feeling of having in your hands a pillow, but a real glove that fits your hand and takes its form.
Balancing comfort and security has been a struggle for many gloves. If the gloves are comfortable, they offer no security. And if they're secure, they're not comfortable. Many are like wearing a cast—"security through restriction". They're built with a rigidly-curved layer of padding wrapped in leather and it feels so stiff because of that. Your hand is stuck in a fist position and you can't open it without wearing down the padding.
Di Nardo gloves, however, feel very natural whether you want to open or close the hand. The padding's unique mixture of latex, EVA foam, and horsehair all have a lot to do with that, I'm sure. I don't know how to explain it, but it feels like a jelly sandwich. With latex being the "bread slices" and the horsehair being the "jelly" in between the padding and also leaking around the sides. The thumb is also very comfortable and feels protected from both the front and side angles. The gloves truly feel like they're made for you and get more comfortable with each use. And despite all this "flexibility", they're also extremely protective!
Other gloves give you security through "restriction", and Di Nardo gloves give you security through comfort!
Old school slickness
Despite looking modern, they have a resemblance to old-school professional gloves. Instead of a stiff-fist shape, they're relaxed gloves that easily open to parry away shots, but let you close with lightning quickness to strike. It reminds me of old-school slick, speedy boxers like Muhammad Ali bouncing around with loose hands before launching rapid counters. Imagine the comfort of a thin hand glove but quickly closes into a full-powered hand cannon. You feel slick, fast, AND strong.
You also feel like you can fight with any-style. Touching and parrying from long range with open hands, throwing knockout punches from mid-range, or clinching from the inside. These gloves let you do it all!
Streamlined weight distribution
The weight distribution is really nice. They are made for fast slick boxers. Pakistan gloves (Title/Ringside) feel like a big shield. Mexican gloves feel like a heavy missile. Winning feel like pillows duct-taped around your hands. Di Nardo gloves feel like a long pillow-ey spear. Very smooth streamlined shape, perfect for speed and slickness. You feel light and also like you have a longer reach.
Sharp punch feedback
Some fighters really care about punch feedback as they want to feel like they're hitting hard. Di Nardo gloves give GREAT feedback. I think it's not only the padding but the shape of the padding. Your fist feels like it always lands perfectly flat with the impact distributed nicely to the top knuckles (instead of the middle knuckles). Very satisfying to punch with, and you get both the feeling of a snapping smack as well as dense thud. I love these gloves more every time I use them.
I'll do my best to describe different types of punch feedback:
Dense-foam gloves (bag gloves, some Mexican gloves) – give you a solid THUD! impact.
Pillow-foam gloves (Winning, or cheap worn-out gloves) – give you a soft tish! impact.
Stiff-foam gloves (Twins, some Mexican gloves) – give you an abrupt tack! impact.
Di Nardo gloves – give you a sharp TUNK! impact.
Innovative STYLE (timeless & unique)
Timeless design
==Design IS quality.==
The first giveaway of his craftsmanship was his glove design. He knew damn well he was pushing the art of glove-making and could have gone with a loud obnoxious design like other desperate brands on the market but he didn't. He chose to respect tradition and go with the elegance of timeless design.
The gloves look like BOXING GLOVES, not robot arms, birds, monster claws, or other "cool designs". Also no jarring diagonal color contrasts or bold geometric shapes to look "high-tech". His gloves are the classic stereotype shape of boxing gloves, using matte colors, and yet they look so beautiful and eye-catching all at the same time. This is because its real design isn't in the external decoration but the quality of the glove. True beauty is from the inside!
Don't believe me? Think of all the boxing glove brands in the world. The most time-respected brands…(Reyes, Winning)…use basically the same glove design for decades. Their glove is already perfected through decades of professional use. They don't need new features or "improvements", they only need to respect their heritage and maintain it. And the crappy generic brands…(TitleBoxing, Ringside, Everlast, Hayabusa, Venum)….new glove designs every year. How else do you sell crap products to unsuspecting buyers? Keep marketing new designs and gimmicky features to them!
Filippo's gloves are never in or out of fashion. They would look stylish no matter what decade you wear them. So tastefully-designed; and distinctly unique with a measured subtlety. Such matured elegance. Just like an expensive Ferrari or black suit, you don't need flashy colors and jarring lines to get attention. These gloves catch your eye right away because you can _tell_they are quality!
Unique Design
Innovation comes from instinct.
I love his glove design because they show his artistic instinct and scientific mind. Whereas other gloves keep trying to find "new" materials or "new" designs, Filippo's gloves just went with his instinct. You can tell this guy picked up some gloves and thought to himself, "NOPE! This is not how you make gloves." He didn't copy or improve on anybody else's design. He just completely did his own thing with every aspect of the glove.
The leather he uses is completely different from everyone else. He made his own padding formula. While everyone else was reverse-engineering each other's gloves, he just did his own thing. A true innovator! As much as Filippo stays classic, he's also going completely against tradition.
Lifetime DURABILITY
Replaceable Padding
Di Nardo, unlike any other glove maker, will also replace the padding free of charge once you have undertaken the many hours of hard work in the gym that these gloves can provide you with.

(First replacement is included in your purchase price. After that, each replacement is 60 EURO + SHIPPING COST.)
I absolutely love that these gloves are made for life. For this reason alone, the gloves don't seem so expensive to me. We are now living in a "throwaway economy" more than ever before. We throw away fancy cellphones, name brand shoes, designer clothes that work just fine. But we get rid of them anyway because of their built-in obsolescence (old features, old fashion styles). I'm embarrassed to have been a part of this throwaway economy myself.
My dad used to tell me back in his day, we never threw anything away. Everything was built with quality parts and could be fixed. A broken home appliance like a vacuum cleaner or laundry machine needed only a new washer. Worn-out shoes could be re-soled by the local cobbler. But today, it's cheaper to buy a new piece-of-crap than to fix your old one. Your belongings no longer hold personal value, they're all disposable.
I loved shopping for quality items in Italy. A beautiful $130 leather belt would easily outlast a dozen cheap $30 belts from the department store. A pair of Italian shoes might cost $500 but could be re-soled indefinitely, easily outlasting all the $300 "designer" pairs you find at Nordstrom. Not only that but its leather would mold more to your feet and its outer layer (patina) would wear in uniquely over time giving your shoes a unique character.
Filippo has done exactly this with his Di Nardo gloves. The gloves are meant to last forever and need only to be re-padded from time to time. They are not to be used once and thrown away. They are YOUR gloves. For those that appreciate quality, craftsmanship, and artistic pride, Di Nardo is the finest piece of boxing art money can buy. And let it be known that you are not buying a product, but a man's pride behind his work. You're buying a masterpiece who's creator has more pride in it than you do— ahh, the unfortunate fate of artists.
Are they worth the price?
For $1,000? Yes, absolutely. Outlast 3 pairs of Winnings and you're practically stealing money after that. I don't know any other glove with a lifetime re-padding model. I also don't know of any other gloves that feel on par or better than Winning.
Are they the BEST boxing gloves?
Yes, they are definitely better than Winning, Grant, Reyes, Rival, and all other brands. I've tried them all and you can feel the difference right away. I haven't tried any other high-end individually-crafted boxing gloves before the 2000's (like Flores, MM, etc) but I wouldn't be surprised if Di Nardo's became the best of all time. It certainly seems like it.
The BEST hand protection
I have damaged hands and can attest that these gloves feel amazing. Excellent for bagwork or sparring. Unbeatable protection and comfort. ANDDD you have great punch feedback! You really can't beat his unique combination.
Do they have any flaws?
NOPE! Not a single one. (Trust me, I looked.)
Quality, fit, comfort, protection, durability, style. All perfect.
Is there anything I would change? I might ask for an option to make one even more pillowy like Winning, but most of you won't need/like it…it feels like you're punching couch cushions. The current padding is really incredible…it's in its own class.
Who needs premium boxing gloves?
These gloves are not for the rich or spoiled, they are simply for those who appreciate quality boxing gloves. It is the same for those who appreciate exclusive Air Jordan sneakers, designer fashion, expensive cellphones, watches, jewelry, etc. When you appreciate something and see the value in it, $1,000 is really not that much money. Take into the fact that they protect one of the more important parts of your body—your hands, and the price is almost foregone conclusion. I honestly feel Filippo's prices are a little low for their worth. ($1500 is more like it.)
MAY 21, 2020 EDIT:
Di Nardo glove prices have indeed gone up to $1500. Which I think is great for the brand quality and help keep him from exhaustion.
Also…I would say Di Nardo is the #3 most copied glove brand right now…behind Winning and Grant. I think the day will come when he'll be officially the #1. The thing is Winning and Grant are so much easier to copy.
Glove description from Mr. Di Nardo himself:
That said, I take nothing away from my competitors, and without presumptuous sin, I consider myself the best manufacturer of gloves in the world at this precise moment in history, but my goal is not only this, but is to be the best gloves maker of all times.
Di Nardo was created with one goal, to give customers something eternal, lasting over time.
Di Nardo is definitely the most expensive glove in the world right now, its cost is motivated by all these aspects but not only, it is also a glove certified by the most important athletic commissions in the world:
New York State Athletics Commission
Nevada Athletics Commission
WBC
BBBOFC (English Athletics Commission)
I hope I've been exhaustive.

Filippo Leccese Di Nardo
Where to find Di Nardo Boxing Gloves