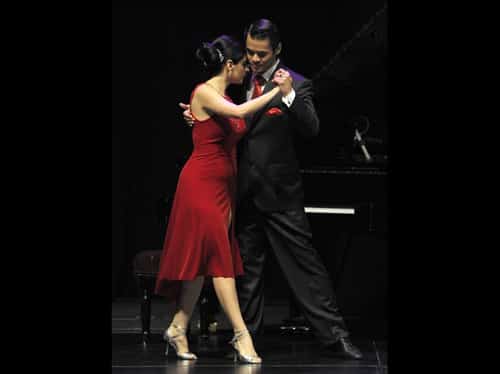 PHOTO: this is my brother, Brian Nguyen, the tango champion.
My brother tried for years to get me to dance. I refused at first thinking "what the hell does dance have anything to do with fighting?" He was the lover, I was the fighter. Could dance and boxing have been any more different? Turns out, I was wrong. There's a whole lot fighters can learn from dance lessons besides balance and footwork.
Dance taught me how to be a man
When I first learned to dance, I did everything my instructors told me. "Put your hands here, step your feet there, turn your body this way." Etc and etc and while I followed all their instructions beautifully, I was still missing some magical ingredient. My dance felt over-analytical and awkward. I was more terrified than excited to dance with a beautiful girl.
My brother finally came up to me and said:
"Johnny, how do you expect to dance the man's part when you're not even a man?"
I was stunned. His words hit harder than any punch I've ever felt.
He explained, "You need to learn how to stand and walk like a man, before you can dance like a man."
I thought I spent my whole life living manly: sports, lifting weights, fighting, computers, fixing cars. My friends looked up to me for manly advice, some of them joked "Johnny is a god amongst men." And yet here I am…being told by my own brother, that I wasn't man enough.
….and he was right.
I might have been man enough to beat up everybody inside the ring but apparently I wasn't man enough to dance with a girl. I felt pathetic. For 2 hours a day for one whole week, Brian taught me how to stand and walk like a man. My brother made dozens of adjustments to my posture and the way I moved, even the way I looked at people. I have to admit it felt silly at first. This wasn't just a lesson on how to stand straight or look confident. He was trying to change the way I saw the world. Little by little, my world did change and for the better.
I began to notice the way other fighters stood around the ring and how they trained. The difference was crystal clear, you could tell a "man" from a "boy" before he even entered into the ring. The way they approached training, the way they walked and talked. The boys trained to show off, the men trained for championships. Sure enough when sparring time came around, the boys fought like boys.
The boys fought with their pride and ego, no respect for intelligence or respect for their opponents. When their superior physicality and stubbornness withstood, they won fantastically. But when they lost, they went down in flames. Not just a loss, but complete humiliation and embarassment. Everytime a boy loses, he is reduced to nothing. When a man loses, he feels pain but eventually forgives himself, gets up, and improves himself.
I remembered an old saying, "Never send a boy to do a man's job." Can you imagine if a village sent out a boy, with his ego and pride, to hunt down a lion? The boy would be eaten alive. Other boys might even glorify his efforts, saying how brave it was to have died fighting a lion.
I still wonder to this day if boxing teaches you to become a man, or if you must become a man before you can box. The day you figure that out, is the day you can finally begin learning the sweet science. In my quest to become a man through dance, I absorbed 3 important principles: balance, perfection, and self-expression.
3 Lessons from Dance
BALANCE
The most obvious thing anybody can learn from dance, is balance. My experience with dance was no exception. I learned so many principles about balance I could fill a book. In fact, I intend to share some of the workouts and routines used by the top dancers in the world because balance drills in fighting are vastly inferior to what dancers are doing.
Why is balance so crucial to dancing? Balance is your body's relationship to the ground, and controls your body's ability to move along the ground. Balance gives you the ability to move your body with speed, power, and precision. You need all these things in dance because you are moving not only yourself but your partner. Everytime a boxer asks me how to improve his speed and power, I hear, "How can I improve my balance?" Now imagine how much better a boxer could fight with superior balance.
A few principles about balance to get you started:
balance is an action, not a position
to balance, you apply your balance muscles
to improve your balance, you must first increase your balance awareness, then develop your balance muscles, then learn proper balance techniques
PERFECTION
I never understood the meaning of perfection until I tried dance. When I first learned to fight, "perfection" meant just being good enough. In other words, a perfect jab was one that was just good enough so that I could move on to the right hand. A perfect right hand was just good enough so that I could move on to the left hook. A perfect slip was one that got me out of the way of my opponent's punch. Everything that was just barely good enough, I would call "perfect".
I never even took ownership of my jab. I was only proud of my jab because it was better than everyone else's, not because it was mine. I never treated it as if it was MY JAB! You see, the moment you realize that something is yours, you will find ways to perfect it. You will always want better for yourself. Everyone wants a bigger house, a faster car, a better body. That's the meaning of perfection right there, always trying to have better. A dancer will practice the same move a thousand times and still try to make it better because it is HIS (or her) move. I imagine all boxers could learn a decent lesson from applying this same approach to their technique.
The next time you throw the left hook, remind yourself that this isn't Joe Frazier's left hook. This is YOUR LEFT HOOK. YOURS! So make it the best damn left hook possible. Practice it forever.
SELF-EXPRESSION
I always knew that dance was a form of self-expression. Dancing was an art for you to express yourself to the world. It took me a while to realize boxing was the same thing. Boxing was also an art, a form of self-expression, but expressed through offensive/defensive moves. Instead of expressing ourselves to music and sounds, we reacted to the movements and rhythm of our opponents. Each fight was a unique dance, that would never be performed the same again.
You will NEVER become a great artist boxer
until you learn how to express yourself.
Authenticity, uniqueness, identity were the keys to self-expression. When it comes to art, it's ridiculous to copy others. Can you imagine yourself singing the exact same song as someone else? Writing the same poem? Or painting an exact copy of the Mona Lisa? Boxing, as an art, is no different.
I see nothing wrong with being inspired by great champions and trying to learn from their moves. New boxers should always learn by copying more experienced fighters, the important thing is not to be an exact clone of someone else (e.g. Mike Tyson). Learn from great fighters but always with the end goal of learning how to be yourself. Can you imagine how sad it would be if you died and your wikipedia said that you fought EXACTLY like another great champion?
Boxing is an art! This is your chance to be yourself. It's not a math test where there's only one answer, and everybody is trying to find the right answer (or the right technique). There is no right technique or best technique. This is an art, you get to show the world what a wonderful personality and unique quality you have to contribute to the beauty of the sport. You owe it to yourself, to show the world and yourself, your greatest capacity as a human being before you die. I believe it is this sole artistic capacity that sets us apart from all other living creatures on Earth. To live, to box, to fight…you must be an artist. And to do that, you must be true to yourself.
Becoming a Dancer, Becoming a Man
A week after being taught how to walk, I was finally taught how to dance with a woman. In that glorifying moment, I realized myself a man at last. Becoming a man isn't something that just happens when you turn 21, or take your first drink, or take a girl home. Becoming a man is an attitude that changes the way you think, the way you move, and the way you live your life. Being a man changes the way you fight. If you're going to do anything, do it like a man…with meaning, intelligence, and respect.
Brian Nguyen, my brother – a man of all men.
2010 & 2011 US tango champion & 2011 3rd place in the world.