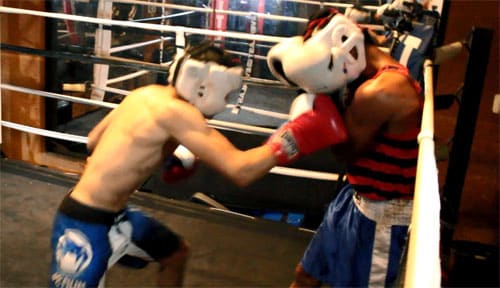 Keep moving! Stay busy! Let your punches go! Move your head!
Why should you keep moving? Some people think constant movement is a waste of energy or makes you predictable…but I completely disagree.
Constant movement is what gives you great rhythm, great endurance, great speed, and even be a trickier fighter. In an intense sport like boxing, constant movement is an important skill that you must acquire in order to be a great fighter.
But how?!
Why should you keep moving?
One of my favorite concepts to teach is to keep a fighter always moving. Even when he stops or pauses, he needs to still maintain a mindset of moving. Like "breathing" or waving his hands around or swaying slightly with his head or body. Something needs to stay in motion. Think of like when you ride the bicycle…sometimes, you want to stop and look at something but instead of stopping 100%, you simply slow down just enough but still retain a tiny bit of movement to keep the bike balanced. Same way with fighting…if you maintain a constant state of movement, it's always easy to move. But if you keep stopping and restarting again, you lose your rhythm and more importantly, you lose your ability to think on the move, fight on the move, etc. So make sure that you stay busy in shadowboxing, bagwork, and also in the ring. You can slow down the intensity or power or speed, but never come to a sudden stop.
Benefits of constant movement:
more endurance
more rhythm
more speed
become trickier (less predictable)
a more engaged mind
better reflexes
The "Myths" about Constant Motion
This is an important matter to discuss. Too many people think of "constant motion" as a waste of energy or predictable movement. First off, constant movement is only a waste of energy if you don't know how to make it benefit you AND/OR you move in an ineffective way. It's also only a waste of energy if your main objective in the first place is never to move at all. If you don't plan to stay busy in a fight or do anything, then yes, constant movement will seem like such a chore for you. If anything, I think constant movement takes less energy than stopping and going. Think of like maintaining a constant jogging pace VS having to start and stop again. It's easier to pick up speed into a full sprint when you're already in motion VS starting from 0mph off the blocks.
As for the argument that constant motion is predictable. This is a matter of how you visualize constant movement. If you think of constant movement as in doing the same things over and over, then yes, you are predictable. But you would be predictable because you keep doing the same things over, not so much because you have a rhythm. In fact…even to be unpredictable and "off-rhythm" would require that you first establish a rhythm. So in a sense, you have to have a rhythm in order to be off-rhythm. Man…was that too deep?
The RIGHT WAY to stay in motion
1. Find your natural breathing rhythm
To me, establishing your breathing rhythm, becoming aware of it, and using it as a guideline for your body's natural rhythm is the best way to learn how to move your body. I'm sure if you've ever ran or skipped rope for more than half an hour, you start to become acutely aware of your natural breathing rhythm. You start to pace yourself and build a rhythm of stepping or jumping based on your breathing. Maybe it's BREATHE-step-step-step, or BREATHE-jump-jump, etc. And of course, there's the inhale and exhale, or the IN & OUT, or the UP & DOWN. Everybody has their own natural breathing rhythm and it's important that you learn what that is. And then learn how to fit movements in with that breath. It will feel natural and efficient for you to move in unison with your breathing.
2. Learn how to move without committing.
When you "move", learn how to move your core only an inch or half an inch. And then your arms and legs are free to move as much as they want. This way you can move a lot because you're not committing so much of your body weight to each movement. This is what allows many pros to be fidgety and constantly be moving their arms around legs around and yet they don't get tired. Because when they actually do move, it's only a few inches, and their highly refined sense of range allows them to fight without actually moving very much. Beginners on the other hand are quite stationary and then when they do move, they move their whole entire body as much as possible which takes a colossal effort and requires tremendous amounts of energy.
3. Use the energy/feeling of movement rather than the actual movement itself
This right here is one of the hardest concepts to teach. I would say that most people look at movement simply as the change in positions of your body (or limbs) from one place to another. But for me, "movement" also has the quality of energy. There is energy in every movement. It may be low energy or high energy but there is definitely energy involved. And by energy, I don't mean the physical intensity of the movement but the aura and presence that it has. With that being said, it's extremely important you learn how to control the ENERGY of your movement. This is what allows you to move at times without telegraphing (or appearing to move) simply because you're not allowing your energy to radiate externally. This ability also allows you the absolute reverse… which is to stay still physically but radiate so much energy that you do appear to move. There is much more that can be said about this but by becoming aware of this, you can really use it to move in far more deceptive ways and take advantage of your opponents reactions.
Constant movement is state of mind, body, and spirit.
What is TOO MUCH movement?
Is there such a thing? Yes… here's where it gets confusing. I would define "too much movement" as anything that doesn't serve a purpose and/or requires too much commitment. By serving a purpose, I mean that the movement has to do something as in attack, defend, or help you prepare for an attack or keep your defenses ready. In a sense, any movement is still purposeful even if it does nothing more than keep you in rhythm.
Moving more makes it easier for you to move more.