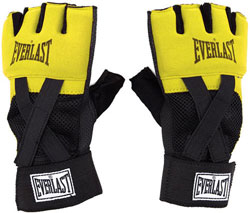 There's been a lot of hype about the Everlast EverGel Glove Wraps ever since they came out. We've seen pictures of many professionals using them in advertisements but are they really that good? I always thought they looked cool but I never considered them to be much better than regular old fashion handwraps.


Price
For the average price of $24.95, I could be getting at least 5 different colored pairs of professional handwraps that would last a while. Heck, I could get a new pair of boxing gloves on sale. To start with, these things are not that affordable.
Durability
They aren't that durable. I didn't wear mine all that much and little parts of it here and there began to rip already. The main areas are around the fingers. The design seems to be stressed when you're shoving your hand in and out of boxing gloves.
Convenience
This was the biggest part of my purchasing decision. No more having to spend half an hour rolling up my handwraps and wrapping my hands everyday. Wrapping your hands now could take only two seconds instead of half an hour like before.
Comfort
The comfort is poor. There is a huge velcro seamline on the inside that scrapes my wrist. The fingers and palm feel great. The hole in the middle allows my hand to breathe without sweating too much. My biggest complaint however is that this glove takes up so much room that I can barely fit my hands into my boxing gloves. I also haven't noticed superior protection for my knuckles over regular handwraps.
The Verdict
These Everlast EverGel Glove Wraps are ok for just regular use like hitting the speedbag  or double-end bags but NEVER the heavy bags. I don't recommend for them to be used for serious punching because they do not support your wrist as well as real handwraps.