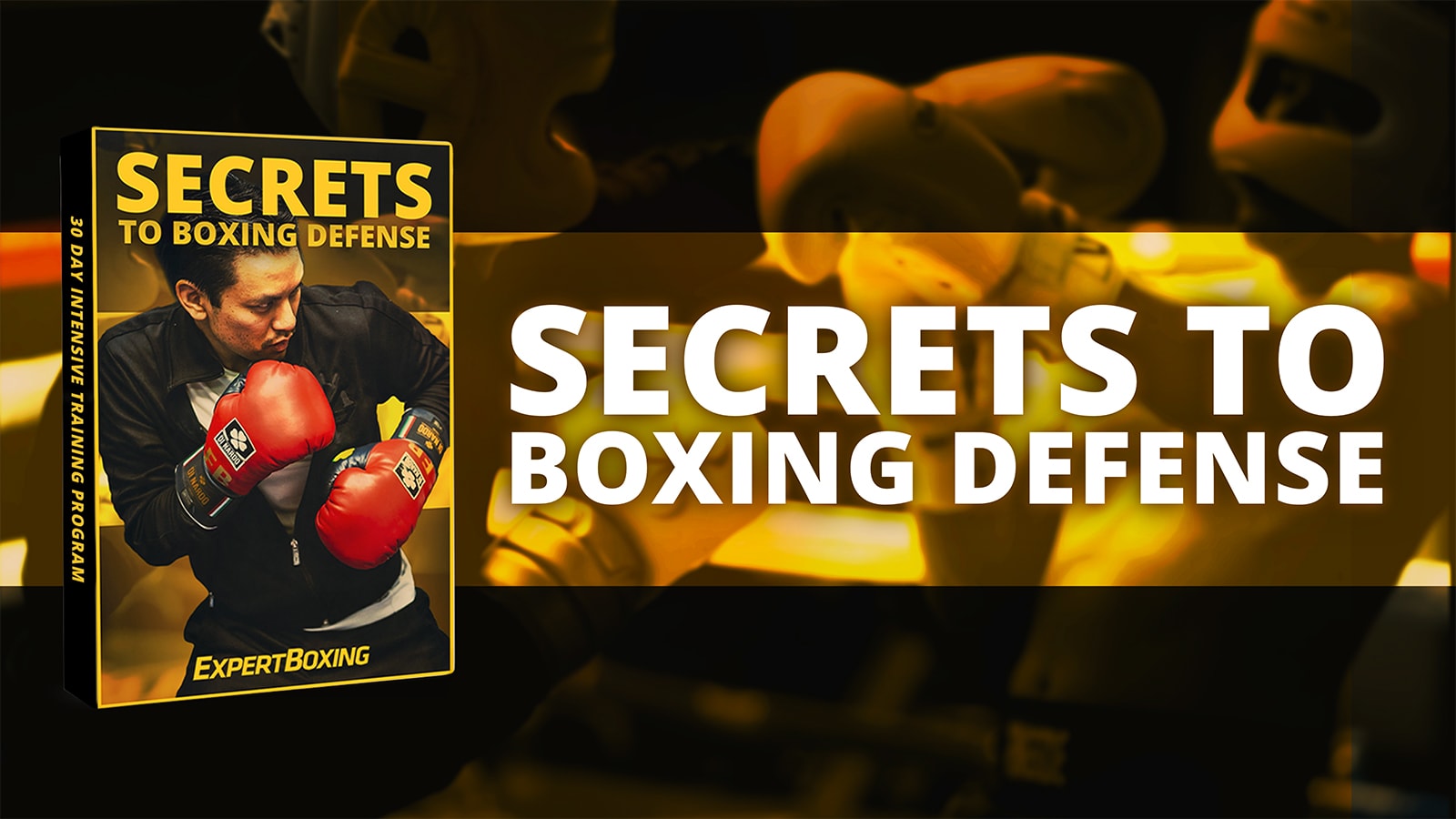 OVER 100 DEFENSIVE TECHNIQUES!
Develop a slick boxing defense for fighting. Understand your opponents, see their punches, and frustrate them with efficient movement. Then set up counters and put THEM on the defensive!
Learn OVER 100+ defensive techniques, styles, drills, and tactics…to make yourself at home against any opponent!
I share all the defensive tactics I've learned (from 16+ years of boxing experience) in this 30-DAY intensive training program. 25+ HOURS of video instruction, and a 20-PAGE workbook to keep track and make notes of different concepts. Honestly…I think it'll take you a year to really digest it all…but hey you ask for advanced, right?
different defensive stances – to negate or bait attacks
proper technique – for blocking, parrying, rolling, slipping
slick footwork – in and out, lateral movement, pivots, and stance-shifting
head movement – styles and rhythms to slip outside, inside, or under
reflex training – to help you see punches (not memorize them)
rhythm & timing – synchronize with incoming attacks naturally
realistic drills – that make you flexible, NOT predictable
counter-punching – using angles to set up different opponents
fighting strategy – countering brawlers, frustrating punchers, out-hustling slicksters.
defense mindset – feeling calm, confident, and comfortable against any opponent
FOREWORD: If you guys know me and how all my EB courses go, then you already know this is the most detailed thing you've ever seen on the topic. It's taken years of outlining, months of shooting & editing, and a Corona downtime to have an available gym and demo partner. All my defensive knowledge given straight from my heart. I'm confident you'll fall in love with the many gems I've dropped in there. There are so many nuances that you wouldn't find anywhere else.
Can ANYONE develop slick boxing defense?
Why develop a slick boxing defense?
Most fighters are forced to be more defensive by their coaches. Constantly screamed at to keep their hands up and fight more intelligent (rather than emotional). Other fighters do it out of necessity…being smaller, shorter, or younger than their opponents…weak chin…or just want to protect their damn brain! And then you have the superstars who are already great and winning but want to hit the next level.
Good defense does so much more than avoiding damage. It allows you to read your opponent's attacks and intentions, and to match or break their fighting rhythm. It provides comfort against any opponent. Creates time and space for you to think. Lets you set up exchanges on your terms. Defense controls fights by taking your opponent's weapons away.
How much skills (or talent) do you need to move like a pro?
Sadly, many people don't believe they can ever do it. I'll tell you this now (and I mean it)…YOU can develop slick boxing skills. Yes—YOU! I don't care how un-talented, un-natural, un-athletic, uncoordinated, out of shape, or how old you are. And I'm not just saying it because I'm selling an expensive defense program (haha).
I've not only trained tons of people online through my ExpertBoxing site, but also in person. I've seen it with my own two eyes. Fighters in every shape and style moving so much more elusively than you would ever imagine. Even people I thought would never be good end up proving me wrong. Just train with proper technique, don't create mental limitations for yourself, and you'll surprise yourself. I promise.
Does that mean a 50-year old couch potato can move like Floyd Mayweather after 3 months of training? Of course not. But you can learn the essence of how Mayweather moves and incorporate those fundamentals into your boxing style. You (probably) won't do it exactly like him, but you'll have your own respectable version of it.
I can help you.
I've been there and done that. I know what it's like to be terrified of that one sparring partner. Or to keep getting hit with the same punch. Doubting myself and feeling like I'll never be a pro. Nagging thoughts of not being talented enough. Even more agonizing to watch less-experienced fighters pick up things faster than I did.
Whatever negative thoughts you have right now…please push them aside and give yourself a chance. There are sooooo many techniques and drills out there that I've bet you've never tried. And a very good chance many of them will make things click for you. Not only will you finally learn the skills you've always wanted, but also become the fighter you've always wanted to be. And have oh-so-much more fun in the ring.
Don't get me wrong. It's STILL hard work. You still have to eat some shots. But this time around you'll have a real game-plan. You'll know what to look for, what to adjust, and how to visualize things so it comes out more natural. No matter what level, style, or body type…I can help you figure out a defensive style that works for you.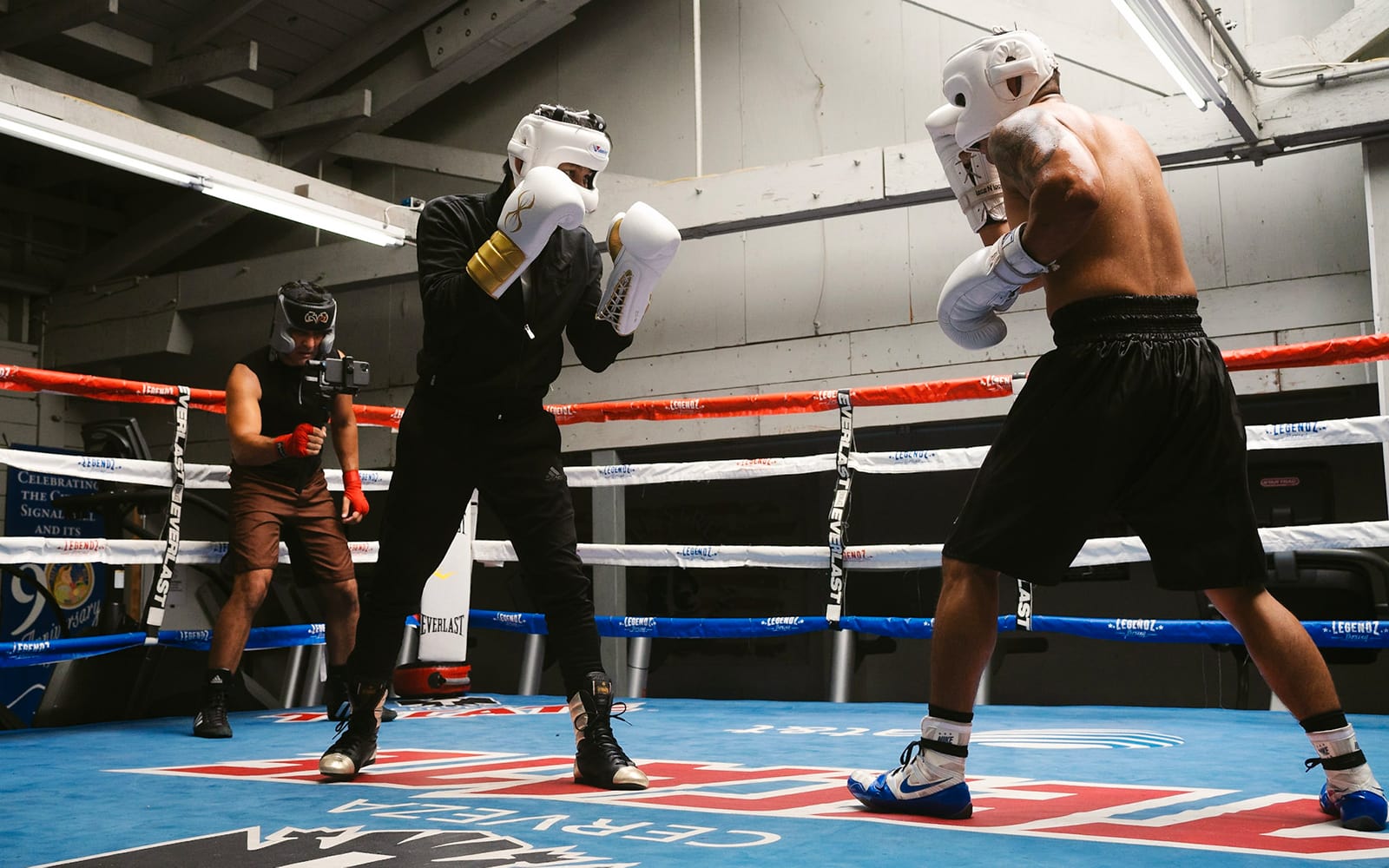 What boxing defense IS & ISN'T
Most people think boxing defense means "hands up" and head movement.
hands up
good head movement (whatever that means)
footwork
fast reflexes and slipping drills
(maybe) copying the Mayweather shoulder roll
Some even claim "the best defense is a good offense", or insinuate in other ways that attacking (and counter-punching) is the best defense. And while these sentiments aren't wrong, they're missing so many little details.
A real boxing defense has…
VISION – being able to see punches before they are thrown.
VERSATILITY – adjusting to different opponent styles, understanding how their attack angles change.
RHYTHM – using your body's natural rhythm to move easier when defending and countering.
COMFORT – lets you relax, not feel like you have more work!
AGGRESSIVE – great defense makes your opponents more defensive, not offensive!
Without vision and versatility, you're just blindly memorizing defense habits. You still can't see anything, and you still get hit when opponents don't fight the way you were trained. Without rhythm, you use more energy and take yourself out of countering opportunities. What's the point of that?
But more than anything, DEFENSE is a STATE-OF-MIND.
So many fighters have a defensive mindset that tells opponents – "I'm scared of fighting you. I don't know what you're doing next and I'm afraid you'll hurt me."
Defensive techniques don't work if you're showing fear.
Your defensive presence must still be an aggressive presence! You need to communicate confidence. That you are calm, calculated, and daring your opponent to make mistakes. That you are at home in the ring. This inner confidence comes with knowing exactly how to deal with your opponent.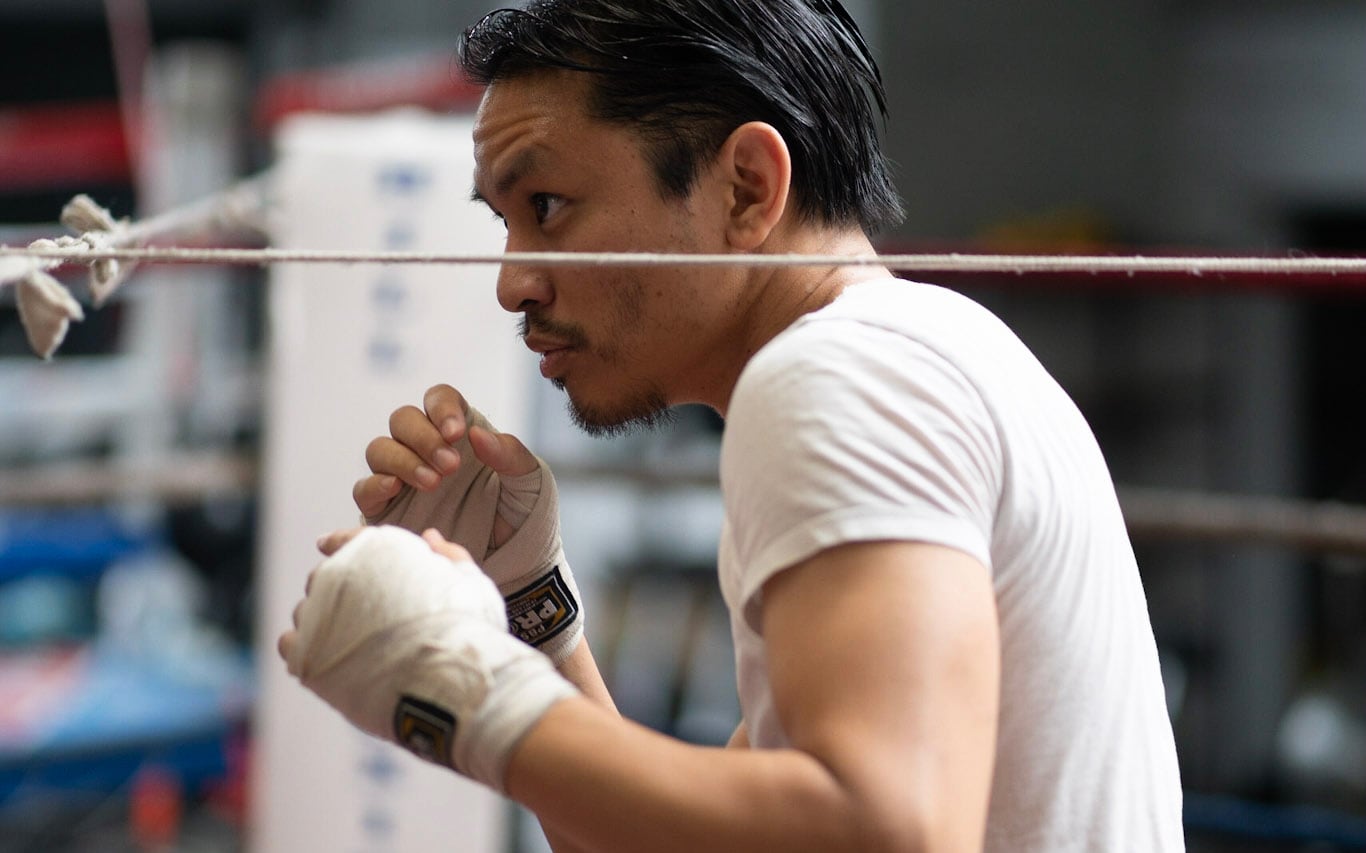 Where most fighters fail in their defensive development
Too much focus on athleticism
Too much wasting time on flashy movements. They don't understand the best techniques can only be felt (not seen). But of course "unseen" techniques don't show well on camera and don't inspire young fighters. As usual…the fundamentals are not appreciated until much later.
There's also problems that come with having too much speed and overly-explosive movements. I see fighters falling off balance or ending up in positions where they can't move or counter back. Even worse is when their defensive maneuvers take them OUT OF RHYTHM setting them up to get knocked out by their opponent's follow-up punches.
Lack of versatility
When you only know one way to block (or one way to slip), you always run into a dead-end. That one technique works until it doesn't. At which point, most fighters will still try the same but more frantic…and it doesn't help. It uses more energy and makes them even more vulnerable.
All attacks have nuances. There are probably 20 ways to throw the jab, right? So you must know 20 ways to evade the jab as well! You shouldn't move just to avoid getting hit. You have to move into new angles, for countering, or baiting different follow-up punches, or to communicate something to your opponent.
Your movements must show that you are more skilled, not more scared.
Lack of vision (over-focusing on reflexes)
Many fighters think great defense requires great reflexes or speed. And while they do help, they aren't necessary. In fact, the most skilled defensive specialists are the smoothest and calmest movers you'll ever meet! (They almost DON'T move.)
So how does THAT work? Easy! They do it with great vision. They can see everything you want to do before you do it. They pick up on your movement cues earlier. They know what punches look like before the arm is fully extended. And it's not memory, ok? It's vision! This incredible vision is what makes them so slick. If you only see punches when they're thrown, you are too damn late already!
I'll impart several training methods to give you this vision. Defense is so much easier once you can see what your opponent is doing. Want to know something interesting?…
Opponents hold back when (they realize) you SEE their punches! 😉
How do you develop a serious boxing defense?
First, you need a solid feedback cycle:
Learn new technique.
Practice it in realistic drills.
Try it out in sparring.
Get feedback and make adjustments.
REPEAT…
Sure…it also helps to have good genetics, speed and reflexes, a super strict father/coach, and doing hundreds of drills everyday. Training in a gym with world champions is also helpful! But I'm confident anyone can develop their skills if they at least practice new techniques and try out on a live partner.
Second, you need variety of training.
Different techniques.
Different tactics and styles.
Different coaches and sparring partners.
The more exposure to different things, the more comfortable you become. You develop confidence with experience. Nothing scares you when you've seen it already. Fear and discomfort are often rooted in unfamiliarity.
Third, you need to understand opponents.
Basic defense only avoids punches.
True defense understands opponents.
Defense is more than simply avoiding punches. You have to know how opponents think. How they fight, how they attack, what angles they like to use. Even better if you can pick their defense apart. This is the bare minimum you need to sit in the pocket with cold killers.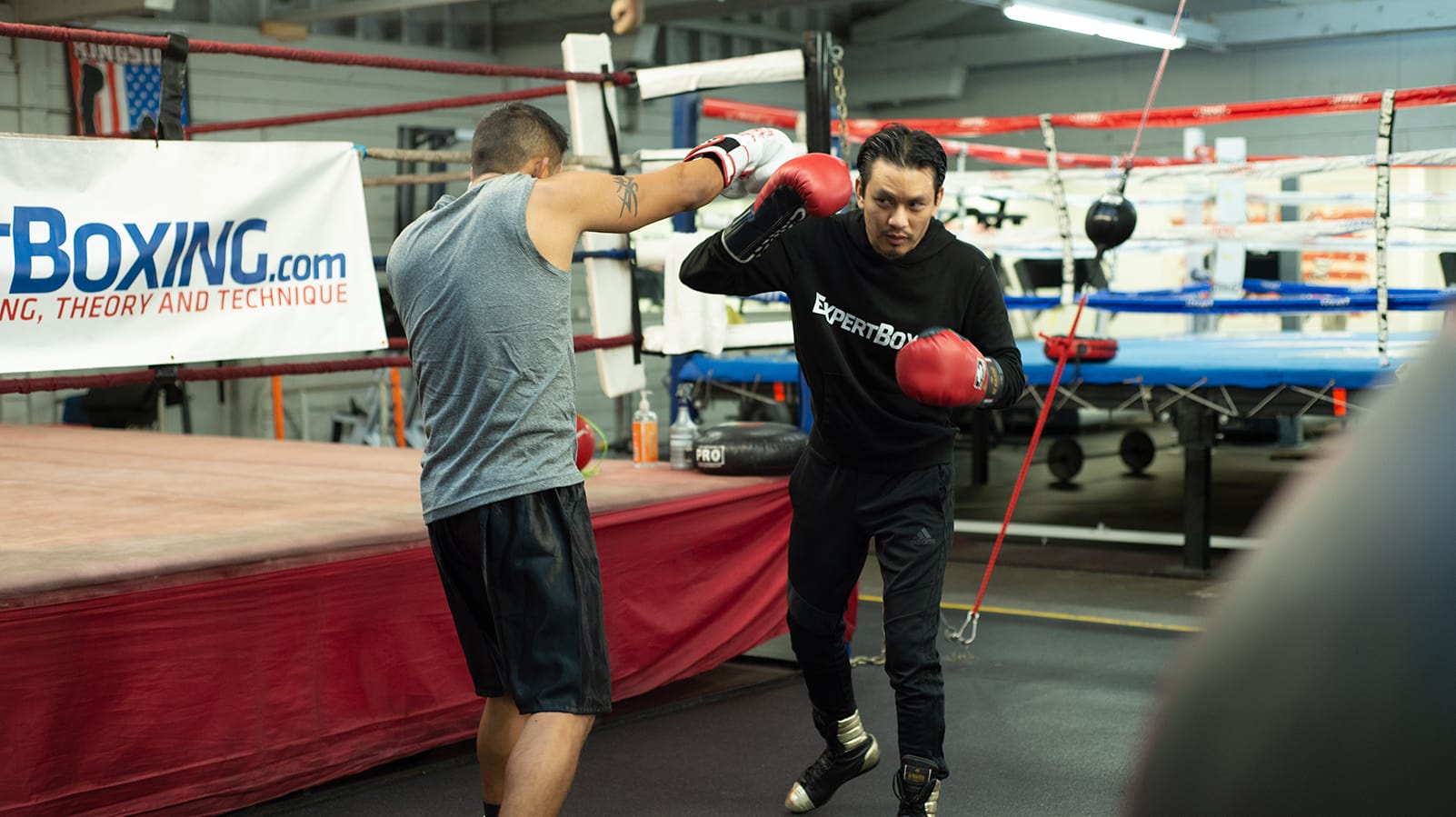 What makes STBD different from other defense programs?
DETAILED – technique, realistic drills, nuances, mindset
If you guys know me and how all my EB courses go, then you already know this will be the most absolute detailed thing you've ever seen on the topic. I cover everything there is. I talk theory and mindset, I go over hundreds of techniques, demonstrate them in realistic drills, and show you all the important nuances from various angles.
You'll learn not only the right way to do things, but also all the wrong ways. I want you to walk away crystal clear on what is correct or not, and what makes it work. And of course, I show you areas where you can alter for your own personal style.
TRANSITIONS – from defense to offense
Because many defensive techniques don't connect all the dots. They show you cool tricks to evade single punches from this angle or that angle. But they don't help you string movements together, to avoid follow-up punches AND set up your counters.
The truth is there is no defense that that will keep you 100% safe. And no opponent that you can keep away for the whole fight…unless you fight back. And therefore, no defensive program is complete until it shows you how to go from defense to offense. Fancy blocking, rolling, and slipping alone aren't good enough to keep legit opponents away.
STRATEGY – for different opponents/styles
You cannot use the same defense strategy for all fighters. What may be "good technique" for one opponent can leave you vulnerable against another! You need to sense how different opponents attack and defend. And what punches they're most vulnerable to.
More than anything, you have to feel comfortable against any opponent style. This is done by understanding (and recognizing) their traits. And then having multiple ways to deal with their patterns. As the saying goes…styles make fights. And technical mastery doesn't help you if you have the wrong strategy for your opponent!
Easier said than done. It took me many years of training, drills, techniques, exercises, and of course….countless brutal sparring sessions to know what I know now. But at last…I am comfortable in the ring. I can be out of shape with zero conditioning and still step in with younger bigger guys, and still be comfortable. And STILL have fun until the last bell.
What's inside the training program (content, topics, videos, teaser)
Short demo clips. Click any video to play.
(NOTE: actual camera angle will be straight on and show full body.)
30 days of video instruction
1500+ minutes of total footage
Online video course – stream off your browser, instead of eating up storage space
Workbook – listing all concepts and for you to make notes
In-depth training
Hundreds of techniques
Hundreds of drills (with and without a partner)
Technical breakdowns
Theory explanations
Live demonstrations with a partner
Strategies against different fighting styles
Virtual sparring each day (practice even without a partner)
Too many things to list…please see daily topics and subtopics below
People I MOST recommend this training program for…
Aspiring boxers – you love boxing and really want to learn every bit of it. See a structured overview of every skill you need to reach the advanced levels.
Serious boxers – you're already competing (amateur or pro). This program can open your mind to new defensive styles, movement technique, and overall way of thinking.
Coaches – this program can help you demonstrate and explain the most complex parts of boxing technique to fighters. It can teach (or remind) you of all the little nuances to help fighters visualize things correctly.
MMA or TMA – get a convenient overview of many different boxing styles all in one place. Then incorporate the most useful techniques and strategies into your existing style.
Street fighters – yes, you can still get many helpful tactics. But keep in mind most street fights don't use any advanced tactics and strategy. Just unplanned brawling based on emotion rather than intelligence.
People I DON'T recommend this training program for…
Casual practitioners – if you're not a serious fighter, you really don't need this at all whatsoever. It is so painfully in-depth and might even kill the joy of boxing for you. There are so many technical nuances you wouldn't ever use unless you're in the ring fighting for your life.
Lazy people – if you're looking for a shortcut, this program is NOT it. Everything here will make your head dizzy and easily take you a year to master. If you want a shortcut, maybe taking lessons with a professional boxer in person is easier!
It cannot substitute sparring – real fighting experience can you teach you things my program cannot. But alas, I'm biased to believe to believe mine is the best program out there.
"Secrets to Boxing Defense"

BUY IT NOW FOR $295
25+ HOURS of video – nearly 1500 minutes of technical instruction broken down into a 30-day intensive training program. Learn over 100+ defensive techniques to improve your boxing defense!
20-page workbook – all the defensive topics, techniques and drills conveniently listed in a helpful PDF. Print it out, follow along, and make notes.
NO EQUIPMENT NECESSARY – it's most ideal to have a partner and punching bag, but you can learn even alone and with nothing.
THIS IS A STREAMING COURSE – no physical items are shipped, and also no downloads allowed. (I no longer want to deal with large video file hosting, it's 400GB worth of videos.) You'll receive a member login after signing-up, where you can stream your course videos.

You need internet to watch these videos.

GET A LIFETIME EB GOLD MEMBERSHIP! ONLY $595
HUGE NEWS – purchasing the EB GOLD membership (only $595) gets you access to all EB premium courses (including this one) for FREE! (More information on the EB membership here.)
Real testimonials for STBD
I barely released this so will take some time.
I'll post as soon as I get them. (Some people already started!)
If you'd like to submit yours, please contact me. THANK YOU!
Topic outline…
Topic lists broken down for each day. I've included a few highlights from each day—but don't look too closely—I purposely didn't list everything. 😉
Day 1 – Boxing Defense Theory
Intro to STBD
Boxing Defense Theory
1st rule of defense – common mistakes fighters make when warming-up.
2nd rule of defense – neutral axis awareness and strengthening your fighting stance.
Importance of sparring – standing on the right part of your feet for balance and power.
DRILL #1 – neutral fighting stance – common body positions that weaken your stance and punches.
DRILL #2 – eyebrow view – fundamental principles on creating power through relaxation.
DRILL #3 – calm breathing & constant vision – to improve punching power.
DRILL #4 – wide vision – how it develops punching technique and makes you a more natural puncher.
VIRTUAL SPARRING.
Day 2 – Blocking Technique
What is blocking?
Basic blocking technique
4-QUADRANT blocking technique
Push-blocking
Techniques for blocking combinations
Headgear visibility
Blocking technique – ALL PUNCHES
DRILL #1 – blocking combinations
DRILL #2 – block & counter
VIRTUAL SPARRING
Day 3 – Parrying Technique
What is parrying?
Basic parrying technique -shifting blocks
Hand parrying technique – DOWN, SIDE, UP, CIRCLE, LOW
MIRROR-HAND vs CROSS-HAND parrying
Parrying at different distances
DRILL #1 – basic parry
DRILL #2 – parrying & blocking/strong>
DRILL #3 – parrying & countering
VIRTUAL SPARRING
Day 4 – Rolling Technique
What is rolling? something
Difference between Philly Shell vs Shoulder Roll
Basic rolling technique – rolling rhythm
DEFLECTING vs BLOCKING
Rolling and Punching
Tilting and stepping
Chin position during shoulder roll
Rolling technique – ALL PUNCHES
DRILL #1 – basic roll
DRILL #2 – straight vs curved
DRILL #3 – tilted rolls
DRILL #4 – rolling & countering
VIRTUAL SPARRING
Day 5 – Slipping Technique
What is slipping?
Basic slipping theory (GOOD vs BAD technique)
Basic slip technique
The TRIANGLE slipping formation
Slipping outside – HEAD PUNCHES
Slipping outside – LOW PUNCHES
Slipping and countering
The KNOCKOUT danger of slipping and countering
DRILL #1 – shadowboxing with mirror
DRILL #2 – shadowboxing with slip rope
DRILL #3 – shadowboxing with partner
MITTS #1 – blocking
MITTS #2 – parrying
MITTS #3 – rolling
MITTS #4 – slipping
VIRTUAL MITTS #1 – blocking & parrying
VIRTUAL MITTS #2 – rolling & slipping
VIRTUAL MITTS #3 – punching & slipping
VIRTUAL SPARRING
Day 6 – Advanced Blocking Technique
What can advanced blocking do?
Solid Axis Stability
LAT block vs SHOULDER block
Blocking straight vs curved punches
Precision push-blocking
Forearm and elbow block
Balance manipulation
Aggressive blocking psychology
DRILL #1 – stiff axis
DRILL #2 – push block
DRILL #3 – block & counter
DRILL #4 – weight shift while blocking
DRILL #5 – default blocking combo
VIRTUAL SPARRING
Day 7 – Advanced Parrying Technique
What can advanced parrying do?
Long-arm Parry
Parrying after punching
Cross-arm Parry
Low Parry
DRILL #1 – long and pre-emptive parry
DRILL #2 – cross parry
DRILL #3 – low parry
DRILL #4 – default parry combo
VIRTUAL SPARRING
Day 8 – Advanced Rolling Technique
What can advanced rolling do?
Philly Shell boxing style & tips
Philly Shell escape angle
Arm deflection
Head deflection
Rolling UNDER punches
Stance-switching while rolling
DRILL #1 – constant rolling flow
DRILL #2 – default roll combo
VIRTUAL SPARRING
Day 9 – Advanced Slipping Technique
What can advanced slipping do?
2-SLIP setup
Slipping INSIDE vs OUTSIDE
The Double Slip
Body shot slipping – hip pullout
Upper body – counterweight rhythm
DRILL #1 – front & back triangles
DRILL #2 – two slip setup
DRILL #3 – old school tire drill
DRILL #4 – slipping the jab, inside & outside
DRILL #5 – double slip
VIRTUAL SPARRING
Day 10 – Defensive Footwork Technique
Defensive Footwork Theory
Holding ground & body language
The Half-Step
The Quarter Turn – linear vs pivot
Footwork with Blocking
Footwork with Parrying
Footwork with Rolling
Footwork with Slipping
Transitioning punches with footwork
Importance of shadowboxing
DRILL #1 – holding ground
DRILL #2 – half step
DRILL #3 – quarter pivot
DRILL #4 – footwork with defense
DRILL #5 – slow exchange
VIRTUAL SPARRING
Day 11 – Core Control
What is your core?
WHAT & WHERE is your core?
Finding your core level
Controlling your core level
Moving from the core
Core density
Core release
DRILL #1 – core movement
DRILL #2 – core habit awareness
DRILL #3 – core level
DRILL #4 – changing density
VIRTUAL SPARRING
Day 12 – Hand Position & Technique
Why are hand positions so important?
Different hand positions in boxing
Long-arm pushoff technique
Forearm bar
Hand-slipping rhythm
Hand-tilt variations
Clinch tactics
Spin mechanics
Countering spins and clinches
DRILL #1 – different hand positions
DRILL #2 – long arm pushoff
DRILL #3 – forearm control
DRILL #4 – clinching and wrestling
VIRTUAL SPARRING
Day 13 – Slick Head Movement
Why is head movement so important?
Head Movement Technique #1 – CHEST BOUNCE
Internal Bounce Direction
Head Movement Technique #2 – HIP BOUNCE
Hand position when slipping
Rhythm change-ups
Head movement transitions – 3 AXIS
Make your own head movement patterns
DRILL #1 – chest bounce
DRILL #2 – hip bounce
DRILL #3 – head movement dance
VIRTUAL SPARRING
Day 14 – Slick Boxing Footwork
What makes slick footwork?
Principles of good footwork technique
Controlling your footwork distance
Head placement for footwork
Rhythmic footwork efficiency
Recycling energy
Transition from head movement to footwork
Using shoulders for pivots
Quarter Pivot Rhythm
Finding your head movement rhythm
DRILL #1 – jumping rope
DRILL #2 – move small or relaxed
DRILL #3 – punch and pivot
DRILL #4 – punch then footwork
DRILL #5 – metronome footwork dance
VIRTUAL SPARRING
Day 15 – Body Efficiency
Principles of energy efficiency
RHYTHMIC breathing vs SHARP breathing
Using TIMING to create power
Using DIRECTION to surprise opponents
Changing rhythm – without losing rhythm
DRILL #1 – natural breathing rhythm
DRILL #2 – hesitation breath
DRILL #3 – relaxed power timing
DRILL #4 – surprise direction
VIRTUAL SPARRING
Day 16 – Brawling Angles
When do we need brawling angles?
Default brawling stance
Brawling attack strategy
Brawling defense strategy
Angled vision
Evading jabs (as brawler)
Evading rights (as brawler)
Evading hooks (as brawler)
Evading uppercuts (as brawler)
Evading body shots (as brawler)
DRILL #1 – evading punches
DRILL #2 – brawling vs brawler
DRILL 3# – brawler vs boxer
VIRTUAL SPARRING
Day 17 – Outside Boxing Angles
When do we need outside boxing angles?
Default outside boxing stance
Keep arms busy, but accurate
Outside boxer attack strategy
Outside boxer defense strategy
Evading jabs (as outside boxer)
Evading rights (as outside boxer)
Evading hooks & uppercuts (as outside boxer)
Evading body shots (as outside boxer)
DRILL #1 – jabs vs jabs
DRILL #2 – jabs vs hooks
DRILL #3 – jabs vs rights
DRILL #4 – jabs vs body shots
VIRTUAL SPARRING
Day 18 – Stalking Angles
When do we need stalking angles?
Low stalker stance
High stalker stance
Difference between Stalkers and Brawlers
Requirements to be a stalker
Stalker attack strategy
How to pressure opponents
Stalker defense strategy
Evading jabs (as stalker)
Evading rights (as stalker)
Evading power shots (as stalker)
Evading body shots & uppercuts (as stalker)
DRILL #1 – cut off the ring
DRILL #2 – touch jab vs catch-n-jab
DRILL #3 – forced block vs catch-n-shoot
DRILL #4 – body shots vs catch-n-shoot
VIRTUAL SPARRING
Day 19 – Retreat Angles
When do we need retreat angles?
Important factors when retreating
Different retreating stances
Retreating from center ring
Temporary southpaw tactics
The Art of Retreat
DRILL #1 – constant circling
DRILL #2 – backwalk
VIRTUAL SPARRING
Day 20 – Escape Angles
When do we need escape angles?
How close should you go to the ropes?
Different escape stances
Defense strategy on the ropes
Countering strategy off the ropes
Escape off the ropes
Escape out of the corner
Keep weight on the front foot
DRILL #1 – rope escape vs the 1-2
DRILL #2 – corner escape vs counters
VIRTUAL SPARRING
Day 21 – Defense Against Brawlers
Understanding the brawler's mentality
Defense strategy against brawlers
Fighting stance (against brawlers)
Jab strategy (against brawlers)
Power punching strategy (against brawlers)
Escape strategy (against brawlers)
Do you really need constant movement?
Counter-punching strategy (against brawlers)
DRILL #1 – lead shots vs brawler head movement
DRILL #2 – punching down vs low brawler
DRILL #3 – rope escape vs brawler
VIRTUAL SPARRING
Day 22 – Defense Against Punchers
Understanding the puncher's mentality
Defense strategy (against punchers)
Fighting stance (against punchers)
Setting the rhythm
Tactics for staying busy
Evading the big punches
Fighting strategy (against punchers)
Longterm strategy (against punchers)
DRILL #1 – boxer vs puncher
DRILL #2 – catch and shoot
DRILL #3 – countering the puncher
VIRTUAL SPARRING
Day 23 – Defense Against Slicksters
Understanding the slickster's mentality
Fighting stance (against slicksters)
Fighting strategy (against slicksters)
POWER slickster vs SKILL slickster
Attack rhythm (against slicksters)
Catch the slickster timing
DRILL #1 – open hand contact
DRILL #2 – open stance vs slickster potshot
DRILL #3 – baiting vs slickster
VIRTUAL SPARRING
Day 24 – Defense Against Awkward Fighters
Understanding the awkward fighter
Defense strategy (against awkward fighters)
What makes fighters awkward?
Figuring out awkward opponents
Attacking awkward fighters
DRILL #1 – straight vs wide punches
DRILL #2 – potshot uppercuts
VIRTUAL SPARRING
Day 25 – Defense Against Southpaws
Understanding the southpaw's mentality
Southpaw angle visualizations
Defense strategy (against southpaws)
Jab strategy (against southpaws)
Back hand strategy (against southpaws)
Front foot position
Should you ever turn (or practice) southpaw?
DRILL #1 – jab battle
DRILL #2 – crosses and defense
DRILL #3 – footwork battle
VIRTUAL SPARRING
Day 26 – Countering After Blocking & Parrying
Why is countering important for defense?
Counter-timing for blocking
Block-countering (same time)
Block-countering (off time)
Block-countering (combo time)
Counter-timing for parrying
DRILL #1 – same time counters
DRILL #2 – off time counters (catch and shoot)
DRILL #3 – combo time counters
DRILL #4 – touch parries at center ring
DRILL #5 – touch parries off the ropes
VIRTUAL SPARRING
Day 27 – Counter After Rolling & Slipping
Counter-timing for rolling
Roll-countering (same time)
Roll-countering (off time)
Roll-countering (combo time)
Counter-timing for slipping
Slip-countering (same time)
Slip-countering (off time)
Slip-countering (combo time)
DRILL #1 – roll countering (same time)
DRILL #2 – roll countering (off time)
DRILL #3 – slip countering (same time)
DRILL #4 – slip countering (off time)
VIRTUAL SPARRING
Day 28 – Footwork and Countering
Body positioning for counter-punching
Experimenting outside the diagonal position
Explore NOT shifting weight
Bounce and HOOK
Bounce and CROSS
Shuffle Cut Technique
Head position on step-back counters
DRILL #1 – step and hook
DRILL #2 – step and cross (or hook)
DRILL #3 – shuffle cut
VIRTUAL SPARRING
Day 29 – Defensive Training Methods
Defensive training cycle
How to develop defensive reflexes
Body mechanics for defense
Defensive vision and reaction drills
Drills for developing natural body movement
How effective are non-boxing reaction drills?
How to be flashy
Tips to shortcut your technique development
Drills for today
Day 30 – Defense Mentality
Aggressive defense attitude
Self-control for a fighter
How to rest when on defense
Survive a losing fight
Being open-minded
Enjoy the art of boxing
Thank You
Addendum
INTERNAL rhythm vs FIGHT rhythm
Upright vs Crouch position
Always wear headgear
Advantages of rolling
Frequently Asked Questions
How long will I have access to this material?
Lifetime access.
Once you buy it, you will have access to it forever.
You cannot share, sell, or post it online. If you are caught, you will lose access without any refund!
What skill level is the material in here?
It teaches you everything from beginner to pro level.
Of course…some professional-level technique is best learned in person where you can see and feel the movements up close. But if you don't have access to professional coaches and fighters, I'd argue my program is the next best thing.
Ultimately, there are things you just can't learn from an online course. You'll need a trainer that can see how you move and make subtle adjustments specifically for you.
How long will it take to really learn all this?
To have new things to try and add to your game—immediately.
To grasp it conceptually—1 month.
To really digest it into your boxing style—1 year.
Your results may vary. Every individual is different.
Can I really have a slick defense even if I'm not naturally talented, fast, or have great reflexes?
Yes.
There are so many trainable things outside of speed and reflexes.
Ideally, you stop setting limitations on yourself and work on everything!
Are these kind of techniques suited for only a particular style?
I made sure these techniques can be used with any style. Of course, some styles favor certain techniques more than others.
But regardless, you should learn EVERY STYLE & TECHNIQUE if you really want to study the art of boxing. You need to understand not only yourself but your opponents.
What computer or device do you need to watch the videos?
You can stream off the internet using any computer or mobile device with internet.
You can also download to your computer and watch from a media player.
Please have a tech-savvy person nearby if you don't know how to use a computer.
Are there any refunds?
Absolutely not. (No matter what excuse.)
If you're not sure whether this is for you, please don't buy.
If you can't afford it, please don't buy.
I have tons of free stuff on my site and Youtube. Watch that instead.
I repeat. There will be no refunds once you buy it.
Are there any special discounts? (e.g. kids, broke college students, homeless veterans)
No.
Please use my free stuff. They were created exactly for people who don't have money.
Close friends and family, don't you dare pay for this. I'll give it to you for free.
PS: Still have questions about "SECRETS to Boxing Defense"?
Leave a comment below or contact me and I'll answer it right away. It's an incredible course with MANY benefits. Find out for yourself.