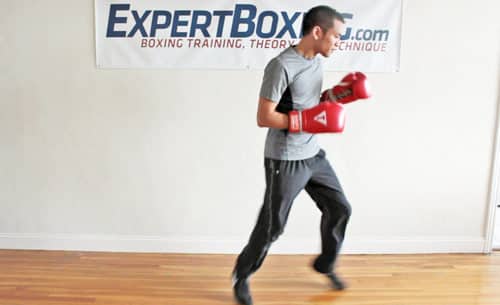 Learn how to bounce in-and-out like a REAL BOXER!
You would think everyone would know how to bounce-step just from watching Muhammad Ali, but things don't work that way. Like any other skill in boxing, it's harder than it looks!
Do you get tired easily when bouncing around?
Is it hard for you to get in-and-out of your opponent's range?
Is it hard for you to stay balanced when moving?
Is it hard for you to throw punches when moving?
If you answered "YES" to any of the questions above, there's a good chance your bounce-step could be a lot better. The REAL boxer's bounce-step is relaxed, subtle, grounded, and slick!
What is the Boxing Bounce Step?
The bounce-step is a commonly used fighting footwork technique typically used in boxing as well as in other kinds of fighting styles. Unlike the basic "step-drag" which is taught to beginners to help them stay grounded and save energy, the bounce step allows the fighter to change directions quicker and can also be used to cover more distance, at the cost of using more energy.
Executing the bounce-step requires a bit more skill as a fighter could easily exhaust himself if he lacks the ability to bounce efficiently, with good coordination and rhythm. The bounce-step could be certainly considered in some ways a similar skill to skipping rope. While a novice could easily get tired within a few jumps, a skilled fighter could easily bounce for many rounds without using much energy.
How to do the Bounce-Step
1. Try to "bounce" with both feet.
The common mistake is to jump from one leg to the other, passing your body weight back and forth. The reason why this isn't recommended is because it easily wears out your legs. It's better to jump off both legs and land with both legs which would require you to keep your body weight relatively even between both legs. As you jump back and forth, the skill is to keep the weight distributions between the legs around 55/45 rather than 80/20 or even worse—100/0.
Allowing both legs to share the stress of jumping AND landing would not only make the move far more energy-efficient but also allow you to change directions faster.
Using both legs to bounce and land,
increases speed and saves energy.
2. Bounce downwards, not upwards.
The common mistake is to bounce upwards, which wastes leg energy pushing your hips upwards in a direction you don't need to move, and then wasting more leg energy when your body impacts the ground again. As you can see, jumping UP will unnecessarily tax your legs twice because you're moving your body up & down when what you really needed is to go BACK & FORTH (or IN & OUT). The other problem with jumping up and lifting your hips off the ground is that your body spends more time in the air disconnected from the ground and unable to throw punches with power.
Bouncing with the intent to go "downwards" will keep your hips down and be more grounded, allowing you to change directions quicker faster and throw punches with more power, and also save energy in the process. And by bouncing "downwards", I don't mean that you try to lower your stance or bend your knees more…I mean for you to simply project the momentum of your body more downwards rather than upwards.
The trick has to do with being able to relax your body to move, rather than to create tension. And in case you don't know how to relax your body to move, I highly recommend for you to skip rope everyday. Do it for 10-15 minutes every single day as a warm-up. That is the best way to teach your body how to bounce efficiently. Do that exercise everyday and watch your boxing footwork jump to a whole other level.
Bouncing downwards keeps your hips grounded allowing you to
change directions quicker and throw punches with more power.
3. Keep it small.
The common mistake is to make big bounces, which wastes leg energy because you're moving more than you have to. It takes more energy to bounce higher and farther, and then to land, and then to change directions and bounce again. Keeping your bounces small is what makes it easier to bounce with both feet, bounce downwards, and save energy.
Many beginners usually make big bounces because they haven't yet developed a refined sense of range. And so they end up jumping large distances to get in and out of range. This movement is completely unnecessarily and only wastes energy and slows them down. You won't need to be so fast and cover so much ground once you find the line between out-of-range and in-range.
The best tip I can you is to stay at the edge of your opponent's reach. Place yourself just outside his range and this way, you will only need a small bounce to get in and a small bounce to get out. At the end of the day, the bounce footwork is to get you in and out. And the closer you stay to the edge-of-range, the less effort it will take you to go IN-&-OUT. It's not about being fast or flashy. You move in, attack, and get out. That's all there is to it. The less effort it takes you, the better.
Using smaller bounces from the edge of range,
allows you to go IN-&-OUT with more speed and less effort.
When to use Bounce-steps
1. When you need to change directions quickly
The bounce-step is the perfect move for changing directions quickly. This is useful in fighting when you want to quickly go in-&-out for hit-and-run tactics. It's also useful for going side-to-side when you're trying to use lateral movement to run away from a chasing opponent.
Bounce steps would be unnecessary if you were trying to go only in one direction, such as going straight back or straight forward, or only to one side. If you're only going in one direction, you may find more energy-efficiency or balance with other footwork techniques such as: the step-drag, or the shuffle, or even simply walking.
2. When you're at the edge of range
The bounce-step is best used when you're at the edge of your opponent's range. The ability (and energy required) to change directions quickly is perhaps most important when you are within range of your opponent's punches. Being able to go change directions quickly gives you the most strategic benefit when you use it to go into range, land punches, and then quickly get out.
Changing directions when you're out of range doesn't make any sense because you're not in danger of getting attacked and you don't need to use more energy than necessary. On the flip side, changing directions quickly when you're up close on the inside also doesn't make any sense because you're so close that you won't be able to move fast enough. If you're fighting on the inside, I recommend fast head movement over fast footwork.
Tips for the boxer's bounce footwork
Learn how to get a real boxer's bounce, a very skillful movement and often very misunderstood. The boxer's bounce-step is a great fighting footwork movement that can be easily used throughout an entire fight if you know how to do it correctly. While many people think it's all about bouncing up and down and back and forth using explosive leg power, this couldn't be further from the truth. The real boxer's bounce is actually very relaxed, subtle, stays low to the ground, very slick, and very fast!
The REAL boxer's bounce is
relaxed, subtle, grounded, and slick!
1. Use your body's natural twist (contralateral movement)
Let your body twist back and forth with each bounce. It's similar to walking where your arms move in the opposite direction of your legs (watch the video to get a visual on this). When you bounce with this kind of movement in mind, your body is more relaxed and moves better as your upper body balances out the lower body.
The problem with not using contralateral movement is that your upper body remains stiff instead of relaxing. This causes you to end up shifting your weight from leg to leg as you bounce back and forth. As explained up above, this wears out your legs as your body weight shifts entirely to one leg on every bounce.
By understanding the secret of using contralateral movement with your bounce-steps, you'll find it much easier to relax and bounce off both your legs simultaneously. The important detail is to know that your body doesn't have to LOOK like the upper body is moving on every bounce but to know that the body is relaxing in that way on the inside. Being able to relax and twist your body on the inside allows you to move much easier.
Your body doesn't have to look like it's twisting,
as long as it's relaxing and moving on the inside.
2. Keep your body weight at center.
Once you've mastered the bounce-step using contralateral movement, you'll find it's much easier to stay balanced and keep your body weight at center as you jump back and forth. The ability to stay balanced using the upper body twist will allow you to jump off the center and land at the center. Again, this helps to improve the speed of your bounce-steps and save leg strength since both legs are doing the work simultaneously.
Staying centered when you land and jump,
saves energy by distributing the work between both legs.
3. Keep your body down.
Learning how to use the contralateral twist will not only balance out your body and allow you to relax, but also make it much easier to keep your hips (and body) grounded. Being able to stay down while jumping can be one of the hardest things to master but it definitely helps you to stay down so that you can throw punches or change directions again when you need. The goal is to keep your hips and body down even when you "jump". It's even possible to keep your feet lightly touching the ground as you bounce back and forth.
One of my favorite tips is to tell people to relax downwards as they jump. Try to feel like you're relaxing as you bounce DOWN THE STAIRS, instead of using tension and muscle to bounce UP THE STAIRS.
Using the bounce-step with a contralateral twist
allows you to stay balanced and grounded.
Other guides on boxing footwork: