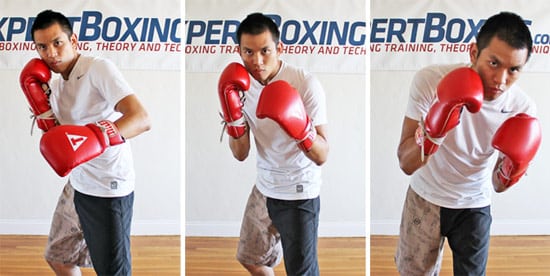 Becoming a slick boxer requires the ability to flow through EVERY POSITION in boxing.
If you've ever watched a slick boxer for more than 2 minutes, you'll see him tilt his spine. First he'll tilt it one way, then he'll tilt it another way. His upper body moves like a joystick nearly every minute of the fight.
But WHY should you do it? And an even better question—HOW?
You're crazy if you still think it's possible to fight from only one position.
I'll show you the advantages and disadvantages of the different axes in boxing. Next I'll tell you how to transition between them. Then I'll tell you how to transition WITHOUT wobbling off balance.
Keep reading if you want to become a slick boxer.
What are the 3 Axes in Boxing?
The "3 axes" is just a name for a concept I share with fighters. The 3 axes refers to the 3 possible weight distributions in boxing:
neutral axis – weight evenly distributed between both feet
forward axis – weight distributed more towards front foot
back axis – weight distributed more towards back foot
Your axis WILL ALWAYS lean
in the direction of your weight distribution.
When I say "axis", I am referring to your spine—the axis of your punching rotation.
The important detail to understand is that your axis will tilt wherever you distribute your weight. If your weight is on your back foot, your axis (your spine) must tilt backwards. If your weight is on the front foot, your axis must tilt forward to feel natural.
Sure it's possible to have your weight on the front foot while leaning back…but that would mean you have to bend your hips forward and that wouldn't be "natural".
Great fighters can fight from all 3 axis positions.
Ultimately, you will realize that all boxing stances are created from a difference in weight distribution.
The hands are naturally positioned to balance the upper body. Notice how fighters that lean back like to drop their front hand?
The head will tilt towards the foot with more weight.
The body faces the same direction of the foot with more weight.
1. The hand and head positions are really just a result of your weight distribution.
2. And therefore to have full mastery of your body and truly understand boxing, you have to learn how to move and fight from all these positions.
3. And to fight from these positions, you must first understand how they affect your ability to attack and defend.
All boxing stances are a result
of weight distribution between the feet.
Neutral Axis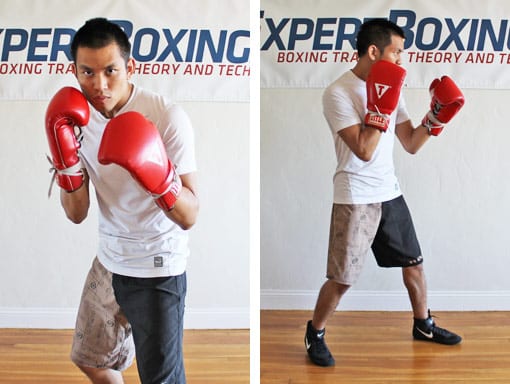 The first boxing stance you ever learned was probably based off the neutral (middle) axis. Standing straight up gives you the best combination of power, defense, balance, and mobility. From here, you can throw and defend against many punches if not all. Both the right and left hands can throw straights, hooks, and uppercuts (that's a lot of angles!).
The problem with the neutral stance is that
your opponent won't let you stay there.
No opponent will let you stand straight up in front of him. He'll be punching you, pushing you, and pressuring you from all angles to knock you off balance or even knock you down. Realistically, you will never be able to stay in one position throughout a fight. You'll be forced to move around and if you have the skills, you'll be able to flow and find new opportunities as the fight evolves. For now, just remember that the neutral axis transitions easily to the forward axis or rear axis.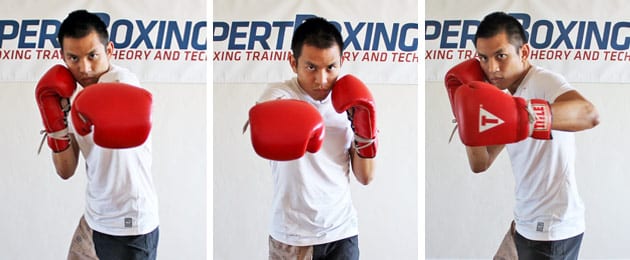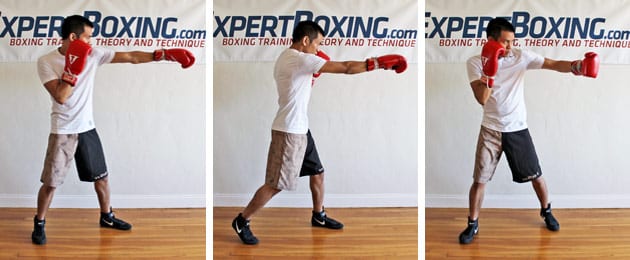 Offensive Opportunities
As I've already said, the middle position allows you to throw many punches with perfect form and power. You can throw jabs, crosses, hooks, and uppercuts without losing your balance. At the same time, you're able to defend well against all your opponent's punches without worry of losing balance.
Defensive Vulnerability
You are probably most vulnerable to the jab and right hand when you're standing straight up in the neutral axis (hooks and uppercuts are less likely to reach). You shouldn't fear jabs and crosses too much since those are the first two punches you learned how to throw and block. Nonetheless you should be very cautious of them.
There is also a 3rd long punch you should be aware of and that's the left uppercut. It isn't thrown too often but now you know. As I've already said before, the main vulnerability of the neutral axis is that it's too predictable. Every boxer was trained from day one to attack and defend against boxers that stand straight up. It's textbook boxing and everybody knows how to deal with it.
Forward Lean Axis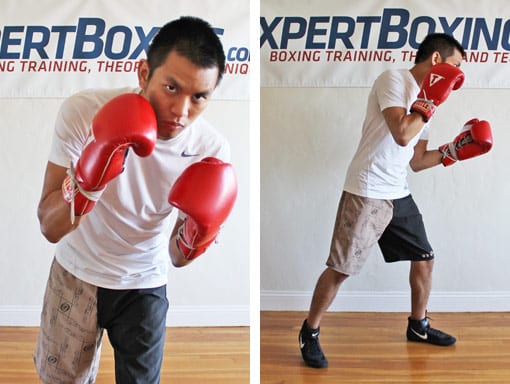 The forward lean (inside) axis is home for the inside fighter. The left hand threatens upwards to the body and head while the right hand threatens downwards with huge chopping right hands. The change of angles can surprise many opponents and catch them off guard especially if you transition while they're punching. Many counter-punchers will lean forward from time to time for these reasons. The forward lean axis is also useful for holding your ground and keeping an aggressive opponent from pushing you back off balance.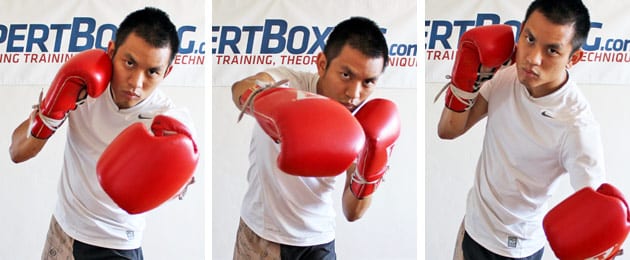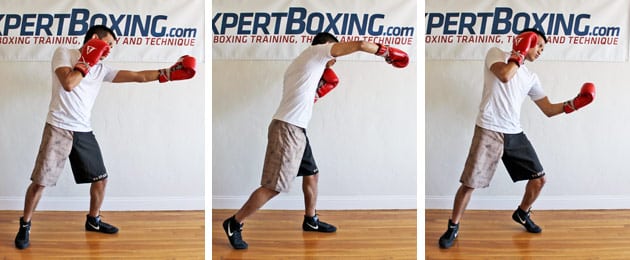 Offensive Opportunities
The left hand can throw upwards hooks and uppercuts to the head and body, whereas the right hand can throw straight rights or overhand rights to the head, and hooks to the body. The inside axis is heaven for the body puncher. Short guys will also like being on the inside for the simple fact that they're closer to their opponent. The forward lean axis is for pure power punching and causing maximum damage. Do your work and get out!
Defensive Vulnerabilities
This aggressive stance does come with risk and exposure to dangerous punches. For one, your head is right in the way of your opponent's right uppercut. If he's got a big uppercut and uses it, this is not where you want to be. You are especially vulnerable to hooks and uppercuts to the head and body. Even if you block the hooks, he can keep throwing it to push you around. Always be ready to evade the left hooks when you're in this position.
Your biggest risk of all is getting off balance. The number one problem with guys using the forward lean is that they lean forward too much. Your opponents can control your balance by pulling or pushing on your head as they pivot around you and counter. Watch inside fighters like Joe Frazier, Julio Cesar Chavez, etc…and you will see there's a difference between tilting your axis forward and leaning on your opponent.
Don't lean forward so much that
you don't have the strength of your legs under you.
Back Lean Axis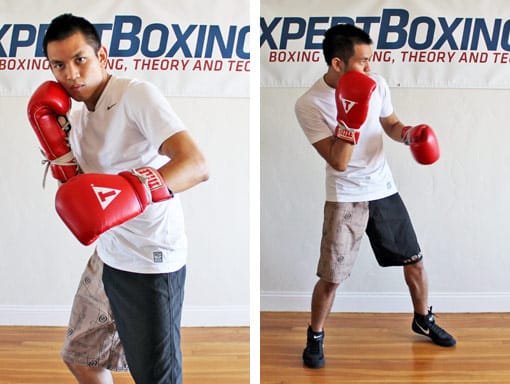 The back lean (rear) axis is commonly used by defensive fighters and counter-punchers. Leaning back allows them to keep opponents away with distance aided by an extra long jab. Should their opponents get past the long left hand jabs and hooks, their right hand can counter forwards and upwards with deadly force on the inside. The rear axis also pulls their head off center making it harder to hit with a right hand. It's very common to see fighters like Floyd Mayweather block right hands with his left shoulder from the back lean axis.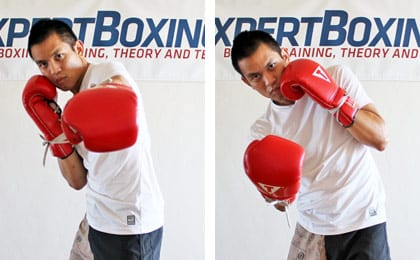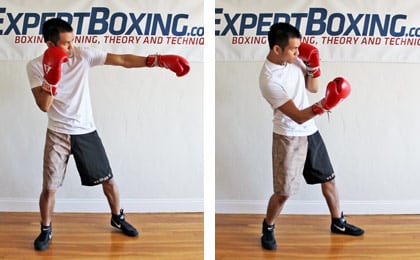 Offensive Opportunities
The back lean axis is perfect for throwing really long jabs to the head and body (think Vitali Klitschko). Should he get past your jab, you can counter him with a big left hook or right uppercut or right hand…or all three. Any time you lean back, he's going to be tempted to come rushing in so make sure you have that big right hand counter ready. You can also set him up for big counters by rolling your left shoulder to deflect his right hands (like Floyd Mayweather).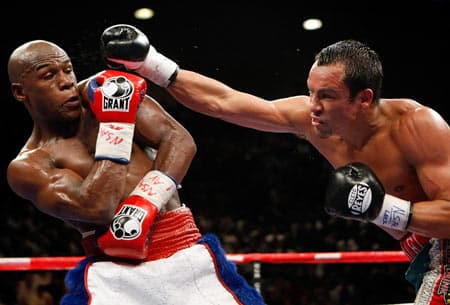 Floyd Mayweather blocks a right hand with the shoulder roll, setting up the right hand counter.
Defensive Vulnerabilities
Your two biggest threats from the rear axis is that you get pushed off balance or that your opponent gets past your left hand. You have you be very careful about not leaning back too much that you fall off balance easily. I used to beat fighters that leaned back by pushing their left shoulder. I would just jab or push at their left shoulder until they fell back. The moment they lost their balance, I jumped on top of them or slid behind them and threw everything. You have to be extra careful that you're not leaning back too much. If you find yourself losing balance, immediately take a step back with your back foot to readjust yourself.
You have to be VERY careful of him getting past your left hand (outside your left hand). He can do that easily by stepping his right foot behind your front foot, or simply by leaning on you in a way that holds your left arm down. Once he gets past your left arm, he can attack with overhand rights, left hooks, left uppercuts, and push you further off balance. All you will have to defend yourself will be a single right hand punch which is easily slipped if he's prepared for it!
Transitioning Between The 3 Axis
Changing your lean is what boxing is all about! This is the next level of boxing. Every time you slip, you're shifting into a different axis, evading punches as you attack from different angles. Moving into a new axis is what allows you new punching opportunities that you didn't have before. You're also making it harder for your opponent to hit you because you keep moving around.
Changing your axis forces your opponent
to attack and defend at different angles.
Back in your beginner days, you used to attack and defend by just blocking and throwing punches. Or maybe you jumped in and out of range, using your athleticism to attack and defend. Well that doesn't work at the higher levels. The only way you'll ever be able to hit someone is to stay within range and outbox them with slipping and multiple punching angles.
3 Ways to Transition to a Different Axis
1. Change axes when you ATTACK
Don't just keep your head in one place when you attack. Keep shifting your body around as you move your head. This makes it incredibly hard for your opponent to counter while at the same time giving you new angles of attack. You'll be creating holes in your opponent's defense as he tries to follow your head.
Move in with a jab, throw a right cross as you lean forward, pull your head out as you throw a left hook, finish with another right hand. Some punches you throw without changing axis, and then with others you change axis with them (especially if you're expecting a big counter).
2. Change axes when you DEFEND
This is what slipping is all about! Slipping moves your head so that you're at a different angle each time. By slipping constantly, you force him to punch at different angles as you escape from one place to the next.
If you stay in the same place,
his punches will eventually break through your guard.
3. Change axes when you COUNTER
If you can change axes when you counter-punch, you have officially learned how to box. This is it! Instead of just blocking, change axis as you defend, and throw a counter from an angle he didn't expect.
If he jabs, drop your to your rear axis and jab to the body. If he throws a right hand, slip forward to the outside (forward axis) and dig a left hook to the body. You can set him up for bigger counters by switching the axis (your position)constantly. Lean back slightly and wait for him to attack. If you see a jab, come right back with a big overhand right to the head, or big right hook to the body. If you see a right hand, drop forward with a big right cross to the body. If he throws a right uppercut while you're leaning forward, immediately pull out with a big left hook to his exposed head.
Baiting the Counters
Watch how the pro's do it. They like to start off with a different axis than the one they want to attack from. You might see Ricky Hatton and Miguel Cotto walk towards their opponent with a neutral axis, but everybody knows they want to lean forward and dig hooks to the body. Or you might see Floyd Mayweather throw jabs from the neutral or forward axis, but he leans back the moment someone tries to counter him.
Try to disguise your true intentions by approaching your opponent from a different axis. Be careful not to make it obvious you're loading up a big counter-punch.
Becoming a Triple-Axis Fighter
One dimensional boxers will typically cling to one axis for the entire fight. (Some fighters will spend the whole time leaning forward. Others might be leaning back.) The bottom line is: sooner or later, they will get exposed. Can you imagine throwing the same punch from the same angle over and over? It stops working by the third try and smart opponents will counter you within a round.
Attacking & defending from the same position every time,
makes it easy for your opponent to defend
& counter you.
Axis Switching Tip #1 – SHIFT FLUIDLY
Multi-dimensional boxers will constantly shift across the 3 axis in fluid motion as they fight. This allows them to be a constantly moving target without actually having to move their feet. They can attack from more angles with more variety of punches, all while staying within range. Some fighters will fight from the front and neutral axis (offensive fighters), or the rear and neutral axis (defensive fighters). I've also seen fighters using only the forward and rear axis; I call this being "off-balanced".
When you move into a new axis, be smart. Don't just lean forward out of nowhere or lean back for no reason. Don't make it easy for opponents to learn your movements. Throw a punch to disguise your real intentions. Toss a jab out. Aim it at his shoulder or chest so he's more likely to block it. Then attack with a quick flurry before you shift into a different axis and throw the real combination.
Now if you are REALLLLLLY clever, you will change axis when your opponent punches. Use the opportunity to move into a different axis when you slip, and then you counter from the new axis. Because you countered from a new angle and a new position, your opponent will be totally unprepared for it which maximizes the chance of a knockout.
Great slipping takes you out of danger
and gives you a new punching angle.
Axis Switching Tip #2 – SHIFT SUBTLY
When you shift to the new axis, be subtle, don't lean too much!!! The new axis should only be a slight difference. If you lean too much, you become off balance and vulnerable. As long as you have your head at a different angle and have your punches coming from a different angle, you are fine. You don't need to move any more than that. A forward lean doesn't have to be drastically different from the neutral axis. The difference is only a matter of inches. Read my guide on Advanced Slipping Technique, PART 1 – Head Movement.
A great boxer can change axis
WITHOUT LOOKING like he changed axis.
As you master the art of changing axes when you fight, you will notice an advantage that goes beyond punching angles and moving defense. Your opponent will over-swing and come off balance when you keep changing your axis. Not only will he not be able to defend, he won't be able to stand on his own two feet. You will be able to push him around, slip his off-balance counters, and attack him freely.
Using all 3 axis is an advanced boxing skill. You'll need some smooth coordination, slipping skills, and relaxed movement in the ring. Once you get the hang of it, you will feel a beautiful flow in your boxing movements. Your game rises to a whole new level when you can stay within range and move fluidly across the 3 axes avoiding punches while attacking from deadly angles. You can practice transitioning through the 3 axes in shadowboxing!
Axis Switching Tip #3 – SHIFT USING ROTATION
The easiest way to shift your weight from one foot to the other without leaning off balance is to rotate your spine. You can keep your spine right at the center and then pivot your entire body (including the feet) so that you face towards the front foot, or the back foot, or somewhere in the middle. If your spine leans over, it should be because your weight fell towards one foot, not because you bent at the waist. Keep your waist straight!
There are so many fighters who learn this new tactic and do it ineffectively by trying to tilt their spine from the waist. Leaning forwards or backwards from the spine doesn't do anything except put you off balance and make it harder to transfer power from your legs to your hands. In reality the words "lean" or "tilt" are used to help you visualize the concept. The less lean or tilt you have, the better.
My Favorite Triple-Axis Fighters
It's not common to see fighters fight on all 3 axes, but they do exist. Here are my favorites:
Pernell Whitaker – the way he fights, it's like he has 5 axes!
James Toney – slickness beats athleticism anyday!
Miguel Cotto – watch him stalk and box from all 3 axes!
Floyd Mayweather – sometimes leaning forward, sometimes leaning backward, and at times deadly right in the middle. He might be leaning, but he's never off balance!
Joan Guzman – he's inside, he's outside, he's everywhere!