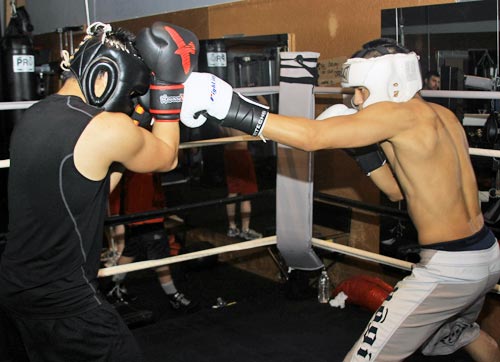 You can't consider yourself a boxer without learning the basic boxing punches. Read on for the proper instructions on throwing the four fundamental punches in boxing – jab, straight, hook, and uppercut.
Obvious note* – if you're southpaw, just reverse these instructions.
JAB
Take a small quick step forward with your front foot as you snap your left fist at the opponent's head. Fully extend your arm! The fist should recover quickly and your back foot quickly moves forward to bring your feet back to starting stance. In a sense, this jab punch will move your body one step forward.
Jab variations:
Double-jab.
To the body.
With a forward step.
With a back-step.
With a (front foot) pivot.
STRAIGHT RIGHT
Take a small step forward with your front foot, lean your body forward a little, then dip your head A LITTLE BIT forward and to the left to get it out of harms way. Your shoulders will rotate and spin your right fist out straight towards your opponent's head. Your back foot will move push forward as the right hand is thrown straight from the starting position. Recover your right hand quickly to avoid being countered. NEVER throw a wide or looping shot because those take more time to reach your opponent and you can get countered easily. Never cock your right hand back before throwing it because that tells your opponent that your right hand is being thrown. Throw your right hand STRAIGHT and rotate your body. The body rotation and push off the back leg is the main source of power, NOT a swinging arm. Your left arm comes closer to face to guard against a counter right. If you're throwing a straight right after a jab, remember to return your jab quickly to protect your head. You don't have to hold your left glove too closely up against your face. Straight lefts are the same thing except that you don't lift your feet; also, straight lefts are usually thrown after straight rights.
Right hand variations:
To the body.
As a lead punch.
As a cross.
As a wide/overhand right.
LEFT HOOK
With your body in an upright position, hold your left fist out with your left elbow bent. If your left hook is high to the opponent's face, point the palm down. If it's low to his body, point your palm out to the side. Do not swing your arm for this punch. Instead, SWING your body and spin your feet. As you spin your body and feet to the side, drop the right heel, and push your left heel up to power the left hook. A properly thrown left hook is quite possibly the most lethal punch thrown in boxing. The reason for this is because the left hook is thrown from the side and it makes it harder to see. Because the left hook comes in from the side, it allows it to swing the opponent's head, and send the brain fluids spinning, and increase chances of a knockout punch. To throw a right hook, simply move your body as you would for a right hand but move the right hand in a hooking motion instead. ALWAYS, remember that you spin your body for the hook, you NEVER SWING YOUR ARMS.
Left hook variations:
To the body.
As a hookercut (half hook, half uppercut).
Try vertical vs horizontal fist.
With a (front foot pivot) pivot.
UPPERCUT
Contrary to what you see in movies and video games *cough* Street Fighter 2 *cough*, uppercuts are short, quick punches to use in CLOSE RANGE. To throw an upper cut, lower either hand about one foot and with your knees bent SLIGHTLY, rotate your shoulders and spin your body to propel the punch at the opponent's head as you quickly pop the uppercut up towards your opponent's head.
Uppercut variations:
To the body.
Thrown straighter (with less arc).
Do keep in mind that there are literally at least twenty different ways to throw each punch and there are many punches that are in between like a hook-uppercut or a right-jab.
Congratulations on learning the basic punches in boxing. Hopefully, this isn't the only article you're reading. I highly recommend for you to check out my guide on basic boxing stance and also the mental checklist for first-time sparring.