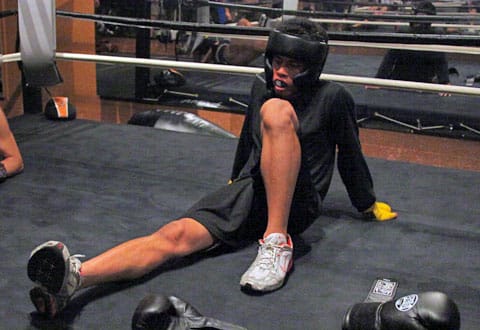 The moment always comes at the worst time possible. You're halfway through the 3rd round and next thing you know, you're tired. It's kinda like running out of bullets in Call-of-Duty. Entire championship fights were ultimately decided by endurance because fatigue cripples even the greatest athletes.
Sometimes it's physical, sometimes it's mental. It doesn't matter what level fighter you are: beginner,amateur, or pro—fatigue will hurt your performance!
How much difference would it make if you NEVER got tired in the ring again?
The Importance of Endurance in Boxing
Endurance is critical in any sport. The ability to keep going often separates the winner from the loser. Entire championships were ultimately decided by endurance. Is it really a surprise that the greatest athletes usually have the best endurance?
Endurance is a bigger factor in boxing than most other sports because of the psychological factor involved. Fighting can make you nervous and feel tired faster than you. Getting in shape is the easy part. Train 5 days a week for a year straight and you'll be on par with the average amateur boxer. Being in excellent shape is only the bare minimum standard of being a boxer. Knowing how to control and manage your fatigue is what makes you a great fighter!
1) Cardiovascular Endurance (oxygen intake)
Your cardiovascular endurance is your body's aerobic capacity…which is its ability to absorb and convert oxygen into muscle energy. A person with good cardio will be able to absorb more oxygen and exert more before getting out of breath. A person with poor cardio will feel out of breath quickly. It's definitely possible for someone to get tired prematurely because of an oxygen deficit rather than muscular fatigue.
QUICK FIX – avoid working beyond your oxygen intake capacity
The easiest way to avoid cardiovascular fatigue is not to work beyond your oxygen intake capacity. In other words, do not work harder than you can breathe! Find the rate at which you can move without getting completely out of breath. For one person this might be 2-3 hard punches and a step every 5 seconds. For another person, this might be 5 quick punches and lots of running.
Don't work harder than you can breathe,
and you'll never get out of breath.
How to Increase Cardiovascular Endurance
The first thing you must do is learn how to breathe more efficiently. Establish a breathing rhythm and learn to use good breathing technique (I'll write a guide on this later). Efficient breathing technique will help you make the most of the oxygen going into your lungs. Doing endurance workouts will teach you how to practice good breathing…which brings me to my next suggestion.
Do lots of cardio exercise. Lots and lots of running, jumping rope, etc. Of course boxing itself is very good cardio, but you can always push your body with other kinds of cardio. Doing more cardio increases your body's ability to absorb oxygen faster. Don't just muscle your way through the workouts, but try to discover a natural breathing rhythm for your body. (If anything, your "fighting rhythm" is actually your "breathing rhythm".)
2) Muscular Endurance (conditioning)
Your muscular endurance comes from your hard training in the gym. A person with good muscular endurance will be able to make repetitive motions for long periods without getting tired. A person with poor muscular endurance will feel their muscles getting tired quickly and easily get sore. I must add that stronger muscles will also help with endurance. Increase your strength so that the lighter loads become easier to do.
QUICK FIX – punch with your core
Bad technique is the main cause of muscles getting tired too quickly. If you're punching with your arms, you are doing it wrong! Punching with anything other than the core will make you tire faster.
Some of you right now are like,
"What? I can't punch with my arms? What about my chest? I can benchpress 500lbs and you're telling me I can't use that?!"
Yes, stop punching with your arms if you don't want to get tired. You can MOVE your arms (and shoulders) and deliver power with your arms, but don't try to generate power with the arms/shoulders. Try to generate all your power from the core. If your shoulders and arms are still getting tired quickly, the problem might actually be a weak core. It doesn't seem like it, but sit-ups are far more important for punching power than push-ups.
The core is the strongest muscle in the body; you can work out the core 2-3 times a day if you wanted. If your core is properly trained, it can take thousands of repetitions before it tires out. All your limbs are connected to the core so try your best to generate power from there first. The more work done by the core, the more powerful you will be and the less tired your other muscles will get. When you punch with a strong core, the power transfers easily from your legs to your arms (allowing you to relax your arms for more speed). When you punch with a weak core, you don't feel as much power from the legs and so your arms have to do more work for you to FEEL like you're punching harder.
The best way to avoid arm fatigue,
is to avoid generating power with the arms.
Use your bigger muscles to generate power! I'm referring especially to your abdominals, back, and leg so that you don't rely on the smaller muscles such as the chest, shoulders, and triceps. It is almost always the small muscles that get tired quickly and leave you feeling crippled. Some guys have arms so big their arms get tired from barely throwing any punches.
Be smart, ok? Punch with your entire body, but let your core do the hard work. If you don't know how to punch using your core, then you'll have to learn how. For now: imagine that the core generates the power and the arms only have to whip out and touch the opponent. (I have a super helpful advanced punching guide on this coming out later.)
How to increase muscular endurance
This is where your conditioning steps in. You should have a proper strength and conditioning program that prioritizes developing your biggest and most important boxing muscles. But all the conditioning in the world can't help you if you lack proper boxing technique. The difference in technique is the reason why a young beginner gets tired faster than an old experienced pro. Even an elite endurance athlete like a marathon runner will get tired in 3 rounds if he does not have proper fighting technique!
Here's a quick reminder to keep in mind so you have an idea of technique-vs-strength:
One quick stomach contraction, used at the right time with the right technique,
will give you more punching power than the effort of a 250lb bench press.
Sounds impossible, right? Don't worry, it's called technique. I will show it to you later. 🙂
3) Nutritional Endurance (diet)
Diet has a big part to do with your endurance. The right foods in the right portions at the right time will give you more energy for training, while the wrong foods/portions make you feel lethargic and tired. Your body gets its energy from food so what you put in makes a big difference in the performance you get out of it.
QUICK FIX – consume energy supplements
Well, the quick fix is drinking caffeine or eating something sugary right before your workout. Gatorade, energy drinks, energy supplements, etc. It won't last forever, but it works if you need something right now.
How to increase nutritional endurance
Start by eating the right foods. Low glycemic carbs are the answer. They release sugar slowly into your system so you have a nice steady stream of energy for hours after the meal. Avoid high-glycemic carbs because they release sugar too quickly into your blood, which gives you that "food coma" effect where you feel like sleeping after a big meal.
Once you know what to eat, you'll have to eat the right portions at the right times. I'm not going to explain the science of diet here so you'll have to check out my common sense boxing diet guide.
4) Psychological Endurance
Are you the guy that hits the heavy bag for hours, but can't last 3 rounds in the ring? Believe me, it happens to EVERYONE. I'm sure you've heard before that boxing is 90% mental and 10% physical. Fight conditioning is far more psychological than it is physical. The problem might have more to do with your fighting attitude than your physical endurance.
A confident/relaxed fighter
will outlast a scared/tense fighter.
QUICK FIX – avoid fighting beyond your confidence level
The pressure of fighting in the ring can affect anybody. The fear of getting hit, nervousness, over-analyzing, anxiety, all while trying to remember the new techniques you just learned–it can overwhelm anyone. The EASIEST way to avoid psychological fatigue is to fight at a pace where you don't feel overwhelmed. If this means slow motion sparring, then so be it!
Easiest way to avoid psychological fatigue:
avoid fighting beyond your confidence level.
"Oh, but Johnny, if we don't train at full force we'll never learn how to fight for real!"
Listen, you have to spar slowly so you can learn comfortably. Once you know your stuff, there's always plenty of time AND ENERGY (because you're not getting prematurely tired) to brawl yourself to exhaustion. If you're going to take punches for the sake of learning, at least give yourself a chance to drill the techniques first.
Personally, I think putting someone in the ring before he comfortably knows the techniques is silly. It's like throwing someone into deep water so he can learn how to swim. I don't know about you, but it sounds crazy to me. I don't see how the fear of dying is going to teach anyone the breast-stroke!
How to increase psychological endurance
Avoiding psychological fatigue can be as easy as changing your approach to fighting. Many fighters come in with the wrong attitude of trying to save energy. They think to themselves, "Oh I only have this much energy, so I can only use this much so I don't get tired." It's the wrong mindset because energy conservation wastes energy. You will be more defensive while your opponent is doing all the fighting. You will only get tired even faster because you were spending energy to save energy!
Don't spend energy to save energy!
Spend energy to fight!
The right mentality is to think of how you can make the most of what you have. Instead of thinking, "How can I make this energy last forever?", try thinking, "How can I do the most damage with the energy I have?" The focus is on being effective, not on being energy efficient. Getting tired is ok, c'mon—YOU'RE IN A FIGHT!
I promise you, if you use that energy correctly, you will NEVER run out of energy. Here's why:
If you try to fight effectively, it will drain his energy.
If you try to save energy, your opponent will be draining yours.
***BEGINNERS: focus on fighting SMART instead of fighting conservatively.
Getting Tired is Part of the Game
I wrote this guide for the guys that ask me the same question over and over. Personally, getting tired isn't an issue anymore for me. I train the best I can and then let myself enjoy the fight. I understand fatigue as a natural part of the process. It's about HOW you got tired, instead of how NOT to get tired. (Did you get tired from throwing beautiful combinations? Or did you get tired from running like a sissy?)
It's better to be tired from punching,
than to be tired from defending.
In the moments that I gas out (and they DO happen), I do what I can to finish the round. I might become more defensive or throw less punches, but someway somehow, I make it out alive. Getting tired is not really a big deal when you enjoy fighting because you have the skills and confidence to do so.
It also helps to STAY WITHIN YOUR LIMITS and not get into gym brawls to feed your ego. If you're scared to death of getting tired, it might be because you're fighting beyond your level. Trying to avoid getting tired while fighting is like trying to avoid getting tired while playing your favorite video game. It's like you don't really enjoy boxing or that you don't really enjoy the challenge of fighting.
Getting tired in the ring is half the excitement!
I've had crazy moments where I'm like, "OH SH*T! There's 90 seconds left on the clock and this dude wants to take my head off!!! COME GET ME, YOU BASTARD!" Can you imagine how boring the marathon would be if everybody ran 26 miles and nobody got tired?
Other guides on fighting endurance: