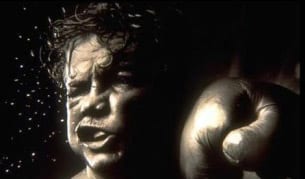 Believe it or not, there's actually a science to absorbing punches in boxing. There's a lot more to absorbing punches then just good genes, heart, and bone structure.
To become godlike in your ability to take punches you will have to spend numerous defensive drills to increase your ability to take a punch. Below are several basic and advanced tips to taking punches:
RELAX
Just like when you're catching a high-speed football with your hands, you'll have to relax and soften up your hands so that the ball won't hurt you.
KEEP EYE CONTACT
Never take your eyes off your opponent. The punches will hurt more because you are unable to see and prepare your body for the punch and it's true what they say: "The punches you don't see hurt the most." Back when I use to spar in the gym, the pro I sparred against would never let me hit him. The basic thing he did was keep his eyes open, stay calm, and pick every single one of my shots off. It didn't matter even when I did hit him because he saw every punch coming and braced for them.
BRACE FOR BODY SHOTS
In contrast to rolling your shoulders and turning your head away from the punch, you do the exact opposite when taking a body shot. If you're taking punches to the stomach however, you will have to stiffen up your muscles and breathe out so that you're creating a hard shell around your stomach area. You can practice your bracing by having someone pound your stomach with a medicine ball.
STRENGTHEN YOUR NECK
There are many special exercises that boxers use to strengthen their neck muscles. Kickboxers and many other fighting arts use them too. They allow you to build stronger neck muscles to keep your head from being whiplashed too hard when you take a punch. While this doesn't exactly build your chin, per say, it will decrease the chances of you losing consciousness from a punch.
ROLL WITH THE PUNCHES
If you've ever sparred a pro before, you'll find that it's nearly impossible to ever hit them square. Even clean punches to their head don't feel clean. They have mastered the art of spinning their head or body away from your punch to decrease the damage. Easier said than done, of course. Here's how it works: if you're getting punched to the head, turn your head and flick your head away from the punch. If you're taking a punch to the body rotate your body so the punch passes throw and doesn't hit you solid. The hardest part about rotating the body is that you have to figure out what part of the body they're trying to hit. For example, (I use the orthodox stance), if someone were to throw a left hook to my body, I would turn my body clockwise to let the left hook pass through. Now if he was to throw a left hook to my head, I would still turn my body counter-clockwise in order to let the left hook through. This is just an example, different situations will mean you have to do different things. Don't take this step too literally!
LEARN THE COMBOS
Get use to take punches from the most basic combos. Every boxer should know by now that a left hook is usually followed by a right cross and vice versa. If you get hit with one, immediately brace for the other.
WATCH FOR STRONG PUNCHES
A good boxer doesn't try to block every punch, he only worries about the power punches. A jab to the face will not do as much damage as a left hook to the chin. A good idea about blocking is to let your hands block the side punches while you move your head to avoid the straight ones. Again, don't take this too literally but do use it as a basic guide on deciding how to defend. There's no point in blocking a jab only to cover your own face and not see the big right hand coming.
CONCLUSION
Taking punches in bunches is an art. It's about practicing and being smart, not being tough or being too cocky. Train hard and learn and watch from the pros. Don't be too stiff and don't be too caught up in your own punches that you can't see the counter punches. Counter punches usually hurt the most. Learn and watch from the masters. My favorite defensive wizards are Floyd Mayweather Jr, James Toney, and Pernell Whitaker. Watch them closely and you'll realize that their not only good at avoiding punches, they're good at taking them too.