The easiest punches to counter are the ones you know are coming. Learn to how to set traps and then punish your opponent with deadly counters.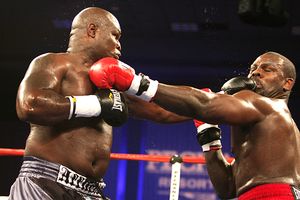 Back in my early days, I remember a time when this kid hit me with a huge left hook to my body. I thought I was smart. I said to myself, "Let him throw it again." as I prepared to counter his next left hook.
And then guess what?
…it never came.
I took punch after punch while waiting for the perfect counter, but he never threw that punch again. It was then that I realized…
Great fighters don't wait for their opponents' punches,
Great fighters FORCE their opponents punches!
That right there is like the simple rule of success in life. You just can't wait all day for opportunities, you have to create your own. No one is going to sit there and throw choreographed punches for you to counter. You have to do something…you have to fight!
Now there's two ways of getting your opponent to throw the punch you want…one way is to bait the counter, the other way is to force the counter. (Now I realize why my trainers always yelled at me to "GET OFF FIRST! JOHNNY, GET OFF FIRST! THROW FIRST! THROW THE FIRST SHOT! THE LAST SHOT! EVERYTHING! LET YOUR HANDS GO, JOHNNY! LET YOUR HANDS GO!!!!!!")….the language was toned down to PG-13, btw.
Baiting Counters
Why must you set a bait? The easiest punches to counter are the ones you know are coming. Setting him up, makes it easier to defend and easier to counter. Tease him with a juicy right hand opportunity and then make him pay when he goes for it. Your counter is so much deadlier when your opponent really thinks he's countering you, but the joke is actually on him. Pretend to be lazy and then counter. Later on in the fight when you get tired, he might be too scared to take advantage.
Bait with deception, not with poor positioning.
The proper way to bait is to make yourself LOOK like you're open. You're not supposed to actually leave yourself vulnerable!
SMART Baiting
Lowering your glove a few inches while leaning your head a little further away. You want to make your opponent THINK that you're open, but reality you are just as guarded or even less open.
STUPID Baiting
Dropping your hands to your waist and sticking your chin straight out. This isn't baiting, this is called "stupid".
Baiting the Jab
Lower your hands a little from long distance. Make sure you're far enough that only his jab can reach. Open up your face for his jab and trust me, he's gonna throw the jab. It's the basic punch everyone was taught to lead with. Make sure you're prepared to quickly close the distance and counter. Move your head and throw a counter jab or even better, a big right cross. Or even a lunging left hook. Don't get too wild and always follow up with more punches.
Baiting the Right Hand
Hang a lazy jab (or just hold your left glove out) and see if he goes for the right hand counter. Be ready to slip his right hand and come back with a left hook or right hand counter. Instead of throwing a lazy jab, you could also just drop your left glove. Many experienced fighters will bait the right hand by bringing their head in (JUST A LITTLE) at close range, then pull their head out and counter when you swing at it.
Baiting the Left Hook
Throw a lazy 1-2 to bait the left hook. You can also bait the left hook by walking yourself into range. Just be too close to jab and you're bound to see the left hook. Be ready to roll under it or do something quick.
Baiting the Body Shot
Expose your mid-section at long range to bait the jab to your body. You can flex your stomach and quickly bend over to trade your big right hand for his jab to your body. If you lean away from far range (especially if you're tall), he can't reach anything BUT your body. You can bait body shots at close range by pulling down on your opponent's head or shoulders.
Baiting the Southpaw Left Cross
Throw a 1-2 or any combination that finishes with the right hand, and be ready for his left cross retaliation. Actually, any time you finish with any combination watch out for his left hand. Once you see that left hand, slip right and counter with a right hand to the head or body.
Forcing the Counter
The best way to counter punch is not to wait for the punch but to force the punch. In other words, if you want to counter his right hand, don't wait for his right hand, but force him to throw the right hand. Instead of learning a billion counters to the jab, just work on getting him to throw the jab. Learn how to move or attack in a certain way that always baits his jab. Once you learn how to bait specific punches, the counters will come easily.
The best fighters don't wait for counters,
they force the counters.
If you got the energy to force the fight, then go out there and jump all over him. Hit him with everything and counter him any time he fights back. Force the punch you want him to throw and all your counters will land!
NOTE: be careful what you wish for. If you're not ready to counter, you'll pay a price for being aggressive.
Forcing the Jab
Fight at long range and keep jabbing him. Move your head constantly like a speedbag. He'll have to jab if he can't reach you with anything else.
Forcing the Right Hand
Keep jabbing him. Be close enough for his right hand but too far for his left hook. Try to stick your left glove in his eye. Keep itching him with your jab and he's going to try and scratch it with his right hand. It also helps to keep circling towards his right hand.
Forcing the Left Hook
Get closer to his right hand and smother it. See if you can get your head outside of his right shoulder (do this momentarily in the heat of the fight so he punches instead of pivoting into you). Take away the room for his right hand and he'll be forced to throw a wide left hook to back you off. Crouching down is also another way to bait the left hook. Another way to bait the left hook is to just trade punches at close range, you're bound to see his left hook sooner or later. The left hook is an instinctive reflex when fighting at close range.
Forcing the Southpaw Left
Move towards his left hand and throw a bunch of right hands at him. If you're too far for his right hook and standing right in front of him, he'll be forced to commit to his big cross first. Slip outside it and land your right cross. Another tip to forcing his left cross is to throw your right at his glove or at his elbow. This forces him to block first (pinning his arm) before he can counter you. One of my favorite counters is to throw a right uppercut as the southpaw's left elbow, slip outside his counter left, and then come back with a big right to his head.
Advanced Baiting and Countering Tactics
Forcing a Specific Arm
Want to know the easiest way to make him throw from one arm? Just grab the other arm or smother the other arm. Stand on his right side and he throws the left. Grab his left arm and he throws the right. It's a natural instinct. Now the smart thing is to use this knowledge to land your counters, instead of going for the easy block. Next time you know he can only throw from one side, quickly think of a way to counter it.
Baiting Angled Shots
This is what the pros do to me everytime. Just come into range and put your head one foot in front of his. I GUARANTEE YOU, that unless his hand is right in front of his chin (which it won't be, it's usually down by his shoulder), his punch will NOT come straight. His punch will come at an angle, making it very easy to avoid by just pulling your head STRAIGHT BACK a few inches. He misses, you counter. Easy, right? Try it in practice. Anytime that you back up away from an opponent or chase one down, try putting your head RIGHT IN FRONT of his about one foot, and then pull it straight back as he misses the angled punch.
Baiting Downwards Punches
Bend your knees and squat down just a little. If he throws a downwards right, stand up and pop him with one of your own. If he throws a left hook, stand up as you uncork one of your own. He hits air, you hit him. You can be even more clever by covering with one glove to leave one side more open than the other. To bait his downwards right, use your right glove to cover his jab and left hook angles. To bait his hook, hold your right glove tight to your face. It sounds so simple but you'd be amazed at how many fighters will give up and just go for it. You can hasten his thinking by staying aggressive and pressuring him as you come in low. He won't like the pressure and get over-anxious to keep you off.
Baiting Off-Balanced Punches
Unless the boxer is overly wreckless, you can never get an opponent off-balanced by slipping his first punch. You need to slip AT LEAST two punches in a row. This is one of the few instances where it is more preferred to slip multiple punches than to slip one. What you'll do is slip his first punch but set yourself at a further angle, causing his next punch to reach further to hit you. Slip this second one and he will be wide open for some sweet counters. Next time you slip his jab, try to set your head at an angle that will make him reach farther with his right hand. Then slip the right hand and land the easy counter. Now the tricky part is slipping the jab in a way that doesn't scare him from throwing a right hand after. (There's a nifty secret to this but I'll let you figure it out. It's one of my favorite things to do in the ring.)
Combo Baiting
Baiting counters can save you when you're losing a fight. By only showing certain vulnerabilities you give your opponent a predictable attack pattern so that you know exactly where to defend. Watch some of the greatest boxers out there and study how they fight hurt. One of my favorite "losing fighters" to watch is Miguel Cotto. Watch how this guy fights in losing battles against Ricardo Torres (Round 2), Antonio Margarito, and Manny Pacquiao. Yes, he's losing the fight but you have to admire how he does it. He's constantly shifting his guard (his right hand) from one side to the other. He doesn't put up his entire defense. He keeps opening his guard from one side to the other so that his opponent punches in a predictable pattern.
Beating Aggressive Fighters
Baiting and countering is the easiest way to beat an aggressive fighter. He's already throwing punches, it's what he likes to do. Don't try to out-punch him. Be clever and get him to throw the punches you want. It's not enough to avoid his punches, you have to control how he misses.  The counter itself then becomes very easy.
Beating the Counter-Puncher
AGGRESSIVE counter-punchers like to match you punch for punch. If you throw a jab, expect a counter jab. If you throw a right, expect a counter right, etc and so on. Whatever punch you throw, expect the same one in return.
DEFENSIVE counter-punchers like to counter from the side you just punched from. If you threw a punch with your left hand, expect a counter right from your opponent. Also vice versa, if you threw a right, expect a counter left.
Instead of focusing on countering a punch, figure out how to make them throw a specific punch.
Learn how to make your opponent throw the punches you want,
so you can land the counters you want.
You know you've got the counter-puncher beat when he doesn't even go for the counter anymore. You might be lazy or tired but he's no longer chasing after opportunities or trying to take advantage of your slow recovery. He's so scared of falling for your tricks that he doesn't realize you're tired. Wanna know my favorite part about countering a counter?
You do more damage when you counter a counter.
…want to be the king of counters?
Read my guide on How to Beat a Counter-Puncher [coming soon]
10 Bait Combos (learn some combos specially made for baiting counters)