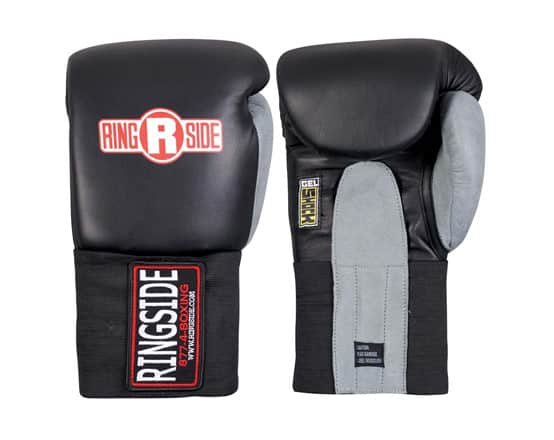 A complete guide for those who don't know what type of punching gloves and boxing gloves to buy. You will learn the difference between all the different types of gloves, their uses, and where to buy them. (Please see my UPDATED GUIDE – Best Boxing Gloves Review).
Punching Gloves come in the ever-confusing variety. What's even more confusing is that the manufacturer claims that each product they offer is the best choice. I'll help you decipher between the names and the claims.
Why Use Gloves?
Contrary to what other fighting forms like karate or kungfu will recommend, punching will wreck your hands over time EVEN if you are careful. Incorrect punching form as well as unprotected hands will lead to arthritis, weakened joints, weakened muscles, and decreased functionality of the hands over time. It's scary but it does happen. To ensure that your hands will be protected and functioning well for the rest of your life, it's important that you always protect them. Just like you would wear headgear to protect your head, you must wear punching gloves to protect your hand. Some punching gloves will even go a step further by providing extra cushion to prevent your opponents from taking too much damage.
A good pair of boxing gloves will be comfortable and will fit your hand around the wrist and fingers. It shouldn't feel like the glove is tiring out your hand or forcing it to shape in a way that feels awkward. High quality gloves will withstand a punch time and time again without losing it's cushioning qualities. Certain materials used to make the glove will determine how long it lasts before it tears apart or flattens up. It's important to note that while some cheap gloves may feel just as comfortable as expensive gloves or seem to cushion the impact even better, they certainly will not stay that way over time.
Real Training Brands VS Toy Brands
Not all punching gloves are made with the mentality of real boxing training in mind. As with anything life, not all are made equal. The worst brands are the ones offered at large sporting chains like Big 5 Sports, Sports Chalet, and Sports Authority. The absolute worst punching gloves you could buy are the Everlast ones that look like the classic boxing gloves. Don't EVER buy those – you will probably break your hands within a week if you do.
Expensive VS Inexpensive
Just because you paid more for your punching gloves does not make them better. However, the rule of thumb: you get what you pay for, is still valid. A $25 set of punching gloves will probably not be as good as a $60 pair of gloves from the same store. Use common sense and expect to pay at least $40 online or $55 if buying from a store. The best gloves will usually cost around $90 and up.
Different Glove Types
Bag Gloves – There are 2 kinds of bag gloves. The first type is the modern version that looks like a full-sized fully-padded glove that especially made for hitting the heavy bag. It has a denser padding that gives you more hand protection and allows you to hit the bag for longer without the glove going flat. It should go without saying that you shouldn't be hitting a live opponent with these as the denser foam makes it more painful for sparring.
The second type of "bag gloves" are the old school kind. They look small, and really thin, as if you're wearing very thin mitts over your hands. They were made only to protect your skin from tearing and don't offer much cushion or wrist support. Depending on who you talk to (old school vs new school trainer, you will get a different answer about their functionality.) In my opinion, ignore them, they are a waste of time and money. They are designed to protect your knuckles while you deliver hard punches to the punching bag and serve to accustom your knuckles to harder impact. The biggest problem is that they don't offer much cushion, or wrist support, and don't weigh as much as a typical fight glove, which could mess up your timing later in the ring.
Sparring Gloves – These are thicker-cushioned gloves with soft padding to soften the blows from one fighter to another. Because this type of cushion is softer, you should only use it for sparring and not for bagwork. Hitting the heavy bag with the softer cushion will make this glove go flat quickly. It's important to note that sparring gloves should be at least 14-16 ounces especially if you weigh anything over 130 pounds. Some people believe in sparring with gloves that are competition weight for your weight class. (Up to you to decide but at most gyms I was in, we sparred with 14-16oz gloves.)
Training Gloves – These are all-purpose gloves. They're sold as being good enough for sparring and bagwork but you will realize it's hard to get a perfect glove that can do both. Some of them are not thick or soft enough for sparring. But if you wanted a cheap all-purpose glove, this will be the closet thing. Figure out What Boxing Gloves to Use
Pro or Fight Gloves – Fight gloves are smaller and more compact to deliver more damage to your opponent. They are not recommended for anything other than real competition.
Aerobic or Cardio Gloves – These gloves are usually made obvious by their very low pricing. Avoid them! They have the least amount of padding and will fall apart faster than anything.
Color
Does the color of your boxing gloves matter? YES! Although red is the classic color, it is less visible to the human eye than other colors in the spectrum. If you're sparring against someone, it's preferred that they wear gloves of a color that you can see. Don't forget that wearing light colored gloves can also help your trainer catch your punches better. I've trained at night a lot so I love to buy blue, green, and white colored gloves. I still have a pair of red ones just because red is the classic boxing color. Another knock on red gloves is that sometimes you can't see the build up of blood stains on the gloves. I know this is a bit morbid but I'd like to know if a pair of gloves have been bled on.
Lace-Up VS Hook & Loop
Lace-up gloves offer more comfort if you like your glove to fit snug around your wrist. For some fighters, it's just a habit to have lace-up gloves. Hook & Loop gloves are made to be convenient and can be just as supportive as the lace-up while having the convenience of being hook & loop. Most people will prefer the hook & loop gloves because they can put them on themselves without much help. The bad parts about hook & loop in my opinion are that the elastic velcro hooks can tear into your cotto hand wraps and shred them. It's not a big deal but it's happened to me before and really annoyed the hell out of me. Lace-up gloves are actually not that hard to deal with. They might be considered even more convenient than hook & loop gloves if you have skinny wrists – since all you have to do is tie the laces just once and then slip your hands in and out every time before use.
Another great thing about lace-up gloves is that it allows you to walk around the gym and ask people to tie your gloves. It makes a great icebreaker for you to walk around and meet the pros, trainers, and other fighters in your gym.
My Thoughts on Different Glove Brands
Title – I love Title boxing gear. Their brand is quality without being overpriced. It also happens that I see their gloves in boxing gyms all the time. Even their classic training gloves will take years of abuse. Easily the best value for the money.
Fighting – This is Titleboxing's "premium" brand. The cushion and padding are great but the wrist areas can feel a little skimpy. I have the hook & loop version and the velcro feels very cheap. Nonetheless, they feel like a great quality glove and cost considerably less than the other premium brands.
Everlast – One of the most popular names synonymous with the sport of boxing. Much of their gear is unfortunately a bunch of hype. I don't know why this company has a toy division but many of their products are over-priced and poorly made. Their gear becomes higher quality only when you buy the higher-end pro-grade stuff. You basically don't see any real boxing gloves from Everlast until you pay about $70 or more. Everything from $65 and down feels too stiff, too much like a toy, or just not anatomically comfortable for the hand. Not surprisingly, I see the name Everlast more inside little kid's toy closets than I do in real boxing gyms.
Grant – Awesome gloves with protection all over. They're very well padded and used in a lot of professional fights. There is a lot of padding around the wrist area which is great defensive fighters or guys that take punches on their wrist a lot (peek-a-boo style, high guard, etc). Excellent quality.
Century – CRAP. Absolute crap. Unfortunately, many people see this cheap brand sold everywhere like at Big 5 sports and Sports Chalet and actually believe it's a real boxing brand – IT ISN'T! Stay away!
TKO – Imitation pro gloves. Their gloves might look thick and feel good at first but they'll quickly break down and stiffen which gives you less protection over time. Avoid these wannabe-pro gloves like the plague!
Reyes (Cleto Reyes) – believe the hype. These gloves are made to be more compact at the fist to aid the puncher. It's important to note that these gloves are made for FIGHTING, definitely NOT TRAINING/SPARRING. The gloves punch harder because they have less protective cushion so it's important to protect your hands as much as possible in training. They are also very high quality and last forever if you can get the authentic mexican-made ones (there are hidden links on the internet). Again, I do not recommend these gloves for training, especially on the heavy bag.
Rivals – Very nice, expensive stuff that also looks very cool. In my opinion, you can find equally good gloves for a bit less. It's up to you if you like their cool glove styling. Quality wise, they are 10 out of 10 – among the best type of equipment you can find. Their headgear are my favorite.
Ringside – Just like Rivals, it's very nice and super high quality at a higher cost. These gloves will last forever! They feel great and will look new even though they are 3-4 years old. The inside and outside of the glove stays perfectly intact. Stitching stays together, the cushion still thick. It's really great quality. Everyone who's owned a pair of ringside can attest to this. Another 10 out of 10 brand.
PRO (ProBoxingEquip)– This is a company that is located in Southern California in the LA area. Their punching gloves are crap. I've tried even their professional ones before and they go flat within months of heavy use. Avoid them no matter how much their salesperson discounts the price.

If you mention any brands outside of these, I probably will have never tried them or not long enough to form an opinion. You're still welcome to post a comment and maybe someone else can reply to you.
Purchasing Recommendations
The best way to buy punching gloves, and maybe anything else in life, is to go to a store that carries the product and try them out in person. Get a feel for the gear and use your own judgment for "quality" and "feel". Don't let the salesperson talk you into buying their own generic store-brand boxing products.
After you've tried out a feel brands and decided which ones you want, go look for cheaper prices online – they will most likely be MUCH MUCH cheaper over the internet. OPTIONAL – you can call the store back and let them know you've found a better price online but you'd be willing to buy in person if they can match the price. I do feel it's worth paying a higher price in person if the store has a good return policy and good customer service.
For starters, www.titleboxing.com is a great place to start.
Read my other guides on choosing boxing gloves: