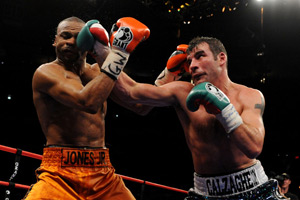 My favorite southpaw punch combinations and counters for left-handed fighters and boxers.
Here are some basic punching combinations for southpaws. These are specifically design, AND TESTED by me, for effective use against your orthodox opponents. Even though I'm an orthodox fighter, I have a very powerful left hand and consider myself to be somewhat left-handed (I also happen to be left eye and left leg dominant). I've fought many rounds as a temporary southpaw and also learn from other southpaws. These combos are guaranteed to be truly effective against right-handers. Remember: it's not the combos you throw, it's how you throw them!
If you haven't read my original southpaw guide, check it out:
Southpaw Combos VS Orthodox
Jab-Cross, Jab-Hook
This is a right jab, straight left, followed by another jab, and finished with a big overhand left. The first 3 straight punches, even if they don't land, they'll make him concentrate his guard to the front which allows your big left hook to sneak around his guard. You can do this the entire fight and he will never know whether the left is coming straight or around.
1-2, step in, Hook to the body
If your opponent starts to go on the defensive and hide behind a high guard with his elbows concentrated in front, you can step in a little deeper (so his punches are smothered) and hit him with wider shots that he can't see. Throw a fast jab and left cross, if he blinds himself with a high guard, step in quickly and follow up with a wide right hook around his guard to the body or the head.
1-2b-3-2
Throw a jab, followed by a hard straight left to his body (aim for the solar plexus, followed by a big right hook and left hook. If the left to the body lands, it'll surprise him and even knock the wind out of him allowing you land the right-hook left-cross follow-up. Even if he blocks the left hand to the body, his elbows will be pulled forward concentrating this defense to the front allowing your hook a chance to still land around his guard. If your hook lands, he might shift his defense again which allows your straight left finish come straight up the middle. Again, just remember that the orthodox fighter is will have to keep shifting his defenses if you keep throwing punches from different angles!
1-back-2
Many orthodox fighters have been taught to throw lead right hands against southpaws or counter southpaw jab with a right hand. You can beat this by throwing a cautious jab and then pulling your head out or parrying his right hand, and then follow up with a left hand counter.
1-2-slip-2
This is for your opponents that like to throw a counter rights after you throw your left. What you'll do is throw a jab-left cross, then pull your head back or backstep as you anticipate his right hand counter. Right as his right hand counter misses, you come right back with a big left hand counter. This combination will be very useful when your opponent is backed up along the ropes. He'll most likely throw a desperation right hand to try and get you off him. Try to bait his right hand by throwing some fast & light 1-2's; wait until he counters, then throw a hard counter left. You can also try another variation which is 1-2-back-1-2
3p-2, follow up
This combo works amazingly well in just about any situation. You can use it when he's being aggressive or when you want to be aggressive. Whenever you see an opportunity, just throw a lead right hook to the head as you pivot counter-clockwise on your right foot. It doesn't matter if your right hook lands, you are now out of harms way because of the pivot and can throw a big straight left. If he blocks the right hook, his left hand will have moved over to the side exposing the front of his head. Even if he blocks both punches, there's a good chance your left hand can still punch him through his gloves. The alternate variation is to throw the left down at his body. Whatever happens, feel free to follow up with more punches–he can't block them all!
1-2-1-1-1forever, pivot or escape
This combo takes advantage of the fact that the southpaw fighter can practically jab an orthodox opponent to death as long as the southpaw is cautious of the orthodox right hand counter. So here's what you do: throw a 1-2, followed by a final jab or endless jabs. The jabs don't always have to be hard, they can be a bunch of fast tap-jabs or pushing-jabs.

This combination can be used offensively or defensively. If he's wide open, your counter jabs will land. If he's closed up, you can keep pushing him around with your jabs while you move around him or pivot out of the corner. The fact that his guard is up means you bought yourself a little time to improve your position. As long as you pay attention to his right hand, you're pretty safe from any counters.
Lead Left anytime
Yes, it's that simple. Throw a lead left anytime you feel like it and follow it up anyway you want. The lead left is something a lot of orthodox fighters just can't see. It's a devastating punch and comes from a devastating angle they're not use to. Be slick about it and watch out for their right hand!
Southpaw Counters VS Orthodox
If the orthodox opponent throws a ___: you ___. (Fill in the blanks.)
JAB: Slap Down & Counter Jab
Slap it down quickly with your right glove and throw a counter-jab. Follow up with a straight left if he's not paying attention. According to the race advantage up above, your straight left always has a big chance of beating his straight right. (The slap down is actually just a small downwards parry, don't drop your right hand so low that you expose yourself.)
JAB: Pop Tall & Jab
You set this up by bending your knees and dipping down just a little lower than you normally do. Right as he jabs, you relax the knees lifting your head up (so he misses) and jab him in the face right over his jab. Follow up with a hard left to his face or his body if he looks surprised.
JAB: Tap-Block and Counter-Left
Quickly stop his momentum by tapping his jab with your right glove and then shoot a straight left hand up the middle. This counter has the rhythm similar to a fast 1-2 but instead of a jab, you use a tapping block.
JAB: Split & Left Hand
As soon as the jab comes, you quickly slip your head outside to the right of his jab while simultaneously throwing a straight left counter up the middle. I call this the "split" because your head is one one side of his jabbing arm while your left hand is attacking on the other side. You can throw the left hand counter to his head or to his body. If you do it right, you'll drive him crazy every time he tries to jab you. You can also throw a speedy left hand just to make him yank his defense into place, and then you throw a big right hook on top.
JAB: Double-Left on the Outside
Step forward and creep up closer to him behind his front right leg (putting yourself in the T-off advantage) and throw 2 lefts. it can be whatever you want–2 left crosses, 2 left hooks, 2 really wide left hooks. 1 high, 1 low, or both high. Whatever you want, really. My personal favorite is to throw 2 wide left hooks. Usually, they're so busy look at me move on one side that they don't notice my wide hooks attacking from the other. You have to try it on an opponent to see what I mean.

After you throw 2 lefts, follow it with a huge right hook to his head or body–whichever he's not blocking. If he's hiding behind a high guard, you can even pause for a second, look for an opening and then throw the big right hook. If you do this move right, he will have absolutely no choice but to block. This is a textbook Pacquiao move. You can see it in many of his fights. (Especially against Oscar De La Hoya who uses the jab a lot.)
JAB: Right Hook Over The Top
Exactly what you just read: throw a right hook over his jab, follow it with a left uppercut to the head or body and repeat with another right-hook left-hand if you can. You can keep using this combination over and over if you see that he's helpless against it.
RIGHT: Parry & Counter Left
Parry his right hand inwards with your left hand, and then throw a counter left. (Parrying the right hand inwards means to use your left glove to push his right hand inwards to your right (his left) when he throws a straight right at you. If he's throwing a right hook, just lean out of the way.)
RIGHT: Lean Back & Counter-Left
Lean back out of the way of his right hand, and throw a counter left to his head or body. If he's the sort that likes to throw the 1-2 a lot. Keep blocking his jab to see if you can bait his right hand for this counter.
WIDE-RIGHT: Straight Left
If you see that he loves to throw wide right hands, you can intercept it easily with straight lefts. Make sure you lean your head in a little with your straight left so that your shoulder is protecting your head. You can also finish with a jab or jab-push to keep him out of range in case he tries to follow up with a wide left hook.
LEFT-HOOK: Lean Back & Counter Left
When he's swinging that left hook, just lean back or pull your head out of the way and then throw a left hand counter. Your front foot placement makes it hard for an orthodox fighter to step in close enough to land left hooks.
LEFT-HOOK: Block & Jab
This counter works especially well if he's throwing a left hook to your body. Simply pull your elbow down to catch his glove and then shoot your right arm back out for an easy jab score. If you're fast and close enough, you can land a counter-right hook. Don't forget to follow up with with a straight left because his right hand is probably on the way by now.
The best way to practice these combos are on the mitts with your trainer, and NOT on the heavy bag. You need a trainer to stand in front of you so that you can get use to seeing an orthodox opponent and how their feet and body position are lined up. Let me know which combos worked the best for you. Feel free to recommend some of your own and I'll add them to the next list. Southpaws need love, too. 🙂