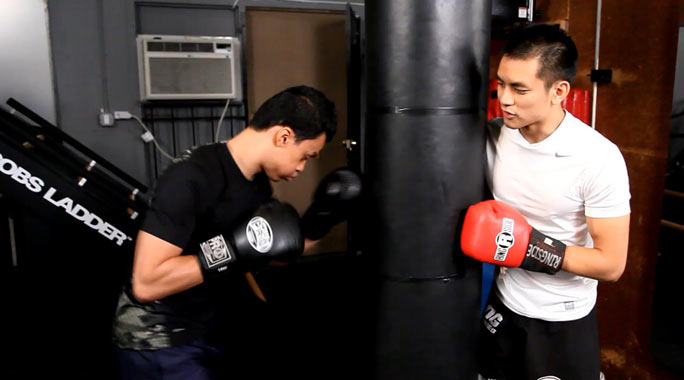 What sound do you make while punching?
"AGHHH!" sound
"EEESH!" sound
"IMHHH!" sound
"OOOSH!" sound
"UNNGH!" sound
What difference does the exhalation sound make? Learn how your breathing sound can affect your punching power, speed, and endurance…and of course: which sounds do the pros make?
How does your breathing sound affect your punch?
I'm no expert on breathing but I do feel the changing the sound of your exhalation while punching changes how you generate punching power through your core. It also changes how you hold your head and how you apply leverage into your punches. You'll quickly find that some punching sounds make it easier to throw more powerful punches or faster punches.
Another thing you may worry about is how different sounds require you to hold your jaw or clench your teeth (mouthguard) differently. It ultimately will come down to personal preference but I'll go over the choices the way I perceive them.
The "AGHHH" sound is the most POWERFUL.
IS IT the most powerful? I can't say for sure but it definitely feels like it. I feel the hacking "AGHHH" sound activates your back more and channels a powerful chopping energy through your entire body and core. The sound seems to come from the back of your throat through an open mouth (easier with a lifted chin as well). Some fighters will leave their lips closed which greats a "PAH" sound instead. You'll also find the "AGHHH" sound is great for throwing wider punches or hooking punches as you have more time to really chop that "AGHHH" sound throughout your body.
If there's any drawbacks, I would guess that it exerts a lot of energy and you feel like your jaw is wide open and vulnerable to counters. I also feel the "AGHHH" sound uses a lot of air and so you can't throw more than 1 or 2 punches with it at a time. It's not as ideal for combinations. Not surprisingly, the "AGHHH" is the most common choice among power punchers.
Who uses the "AGHHH" sound?
The "EEESH" sound is the FASTEST (and MOST RELAXED).
The "EEESH" sound is the fastest, quickest, tightest sound to me. The sound comes from a small exhalation at the throat squeezing air through closed teeth, and timed with a slight force from your core. Some fighters who close their lips will get a "BEESH" sound. It uses only a tiny bit of air so you can throw many punches with this sound without running out of breath.
You can use this to get explosive speed on your counters. It's very commonly used by all fighters who like to surprise opponents with quick counters. Great for speedy punches like potshots and also shoeshine flurries. The only drawback is that since this punch uses only a small tight activation of your core, it probably won't generate the most power but IT'S STILL POWERFUL.
Who uses the "EEESH" sound?
The "IMMHH" sound combines SPEED (and STRENGTH).
The "IMMHH" sound is somewhat like a modified version of the "EEESH" sound in that your mouth is closed but instead of only a small tight exhalation, you let just a little bit more air out and your core works a little harder to push punches through. Some fighters who keep their lips closed will sound more like "HMMMF".
This can be used for longer speedier combinations, or adding more power to your fast punches. I personally don't like it because it feels like it uses too much air. I also feel like this sound isn't suited for long arm punchers like me and will make me tired faster.
Who uses the "IMMHH" sound?
The "OOOSH" sound is for LEANING FORWARD (AGGRESSION).
The "OOOSH" sound to me is for when you want to punch with your head tilting forward. This is great for aggressive fighters, pushers, or those wanting to wing overhand punches over the top. I think this sound comes out when you're leaning forward with your mid-section slightly contracted. The "OOOSH" sound seems to come from the front of your body (chest) rather than from your back muscles. Some fighters will push out less air which gives a tighter "OOH!" sound instead.
This sound is great for just putting your chin down and coming forward with strong straight punches, and big overhand rights or left coming over the top. I think the "OOOSH" is also good for putting lots of strength behind your punches without having to explode. You'll find the "OOOSH" sound is more relaxed and doesn't require as much burst as the "EEESH" sound. Depending on how your body moves, the "OOOSH" sound can be either slower and more tiring…or more relaxed and stronger than using "EEESH".
Who uses the "OOOSH" sound?
The "UNNGH" sound is for DIGGING POWER.
The "UNNGH" sound is similar to the "OOOSH" sound since that it also comes from a forward lean and using frontal body muscles. I would say the difference is that the "UNNGH" sound seems to come more from your core/abdominals rather than your chest like "OOOSH". This gives it more power for digging punches like hooks and uppercuts to the body, and also speed combinations on the inside.
The "UNNGH" sound is indeed more effort but you can use it in different ways. Some fighters will dig many punches with urgency using this sound. Others will throw singular shots win a more relaxed manner. The "UNNGH" can actually be relaxing when thrown slower or one at a time.
Who uses the "UNNGH" sound?
Breathing Control = Body Control
How you breathe greatly affects your punching power/speed and overall body control.
As you start to experiment using different sounds from different positions, you'll come to find that the sounds you make really can affect the way you fight. It affects your punching power, speed, explosiveness, ability to relax, reduce telegraphing, and just overall body control.
Generally speaking, I find "AAA" sound fighters to be more powerful. "EEE" sound fighters to be faster, more relaxed. "OOO" sound fighters to be stronger or more aggressive. And "UNG" sound fighters to be more tense (for better or for worse). Most fighters will use at least 2 of those sounds regularly if not all of them. Do explore, get to know yourself better and change things up as needed.
How do YOU like to breathe? And how do your favorite fighters like to breathe?