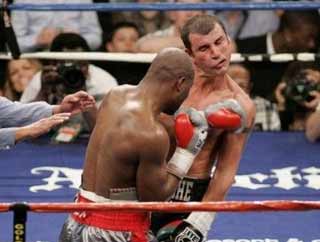 Q: What is the best punch for knocking out your opponent? – Ahmad Sadeed
A: Hands down, the left hook is the best punch for knocking out opponents.
To begin with, there are really only two "best" punches for knocking out your opponent, the right CROSS and the left HOOK. The right cross (or left cross if you're a southpaw) is your most powerful punch because it's thrown with your strong hand and pushed by your strong leg. The punch starts off in the back so it has a little more time to build up speed and hit with more power than any other punch you can throw.
The left hook gets its power from a full body rotation. Instead of being powered by the straight tricep like a right hand, the left hook relies on the shoulder, chest, and bicep muscle to swing the hook across your opponent's jaw.
So why is the left hook the best knockout punch? There are numerous reasons. The left hook is not a straight punch; it's a hook. A left hook will land on the side of your opponent's head spinning it, which either knocks him out or makes him very dizzy. Another reason why landing a punch from the side is more devastating is because the head isn't braced against anything and so the punch can go through the target and rattle the head. If you land straight right on an opponent's head, it's much less damage caused because his chin and entire head is braced from behind at the neck (especially if his chin is tucked down). Another advantage about the left hook is that it comes from the side and so it's hard to see. The left hook can come from a blind angle at long distance or even short distance and everybody knows it's the punches you don't see that hurt you the most.
The right cross is still a bread and butter punch. It's great for hurting and knocking out people with but it's not the best knockout punch in my opinion. The uppercut is another great punch that has a deadly surprise angle but I find that it's hard to use from far away.
Go watch highlights online of boxing knockouts and you'll see that the most devastating ones are usually left hooks. There are many great fighters that have won numerous championships because they had great left hooks. There are some fighters that were known purely for their killer left hooks. (Oscar De La Hoya, Miguel Cotto, Roy Jones, Jeff Lacy, etc.) Not surprisingly, the left hook is also my favorite punch.
One of my favorite picture perfect left hooks ever landed.