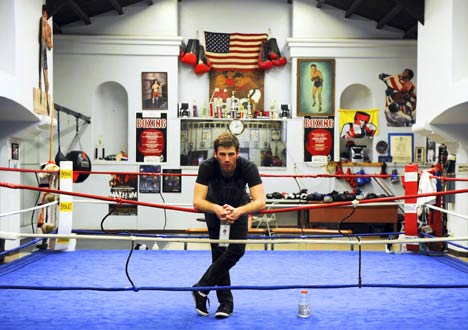 All the competing boxers I know have been to every gym across town. Some went for sparring, others went just to work out. Can training at multiple gyms make you a better fighter?
Outside fighters have been visiting our gym a lot lately. Their main reason was to find sparring partners their size. Boxing trainers were switching between different boxing and mma gyms to support themselves with enough clients. (Some trainers were pro boxers themselves and met their trainers at other gyms.) And then you've also got the MMA guys that work their striking at one gym and then their groundgame at another. Friends are invited along and somewhere along the way, fighters make it a routine of training at different gyms throughout the week.
Could training in multiple gyms be beneficial for your boxing?
See the benefits and decide for yourself:
More Sparring Partners
This is probably the biggest benefit. Maybe you're a featherweight or heavyweight and can't find somebody your size at your home gym. Or maybe you're king of the hill and need to find more competitive sparring to improve. Sparring at other gyms will allow you to increase your skills and keep your training from getting stale. You'll test yourself against different styles and trickier opponents who can sharpen you skills. Your confidence will skyrocket before the local tournaments when you've already fought everyone across town.
Better Equipment
There's no rule saying you have to do your mitt drills, bagwork, sparring, and weights all in one stinky basement gym. Many fighters I know work their boxing technique and mitt drills with their head trainer at a local gym. Then go to another gym to find quality sparring partners and pick up tips from their friends' trainers. Following this, they do their conditioning, weights, and running at home on gym equipment (rented from companies like Hirefitness or otherwise) or in a nice clean commercial gym. Then do their conditioning, weights, and running in their home on rent gym equipment or in a nice clean commercial gym. This doesn't always happen all in one day, of course.
Mixing up multiple training centers works out nicely. You find quality sparring partners at a busy pro gym. Then spend quality time with your trainer at your home gym. Then go work out with some nice equipment at the local fitness center. Being around so many different groups of people, you're bound to pick-up new tips about fighting or fitness.
Multiple Trainers
Going to multiple gyms will inevitably lead you to meet other trainers and fresh sources of information. You learn new boxing styles, tips, and tricks from not just the trainers but your sparring partners as well. Who knows, you may even fall in love with another combat art like BJJ and find something to supplement your boxing, it happens. Visiting multiple gyms helps you stay motivated and always excited to be learning something new about fighting. It's the same excitement you get when going to new restaurants or bars. (First it's excitement, then doubt, then fear, then you fall in love with something you never knew existed. I recommend you try it.)
Competition Scouting
You will see your future competition beforehand. You will have a good idea of how good you need to be to win fights. When tournament season comes around, you will have seen it all and have less surprises to be afraid of. Make sure you introduce yourself as a competing fighter when you first go into the gym. Let them know you're there to learn and show your respect. Do not showoff and don't knock anybody out unless you have to. It's always nice to have multiple places to train. You never know if you might need a new gym and trainer one day.
Do you really need to train at multiple gyms?
If you're not a competing fighter, then no. Or maybe you already come from a famous boxing gym and visiting fighters come from other gyms all the time. It's not really needed but it can help. Your trainer might also be offended if you tell him you want to learn from other sources. This was the case for several fighters that sparred at our gym without letting us record their sparring. It turns out they were desperate for new sparring partners and didn't want their trainer to find out they were scouting new gyms.
If there's one thing that can revive a stale boxing career, it's training at different gyms. Several trainers at my gym drive their fighters as far as 100 miles away once every month, to give their fighters looks at the future competition. The experience has always been positive. Watching others train makes our fighters more motivated to train harder and give it their all in training. They realize that they're not competiting with each other but the unknown out there. It builds a sense of community at our gym, creating stronger friendships and respect amongst each other. Some guys are more motivated to compete while others realize they're only good enough for smokers. The trainers get to share tips with each other. It's a fun experience for all.
A long time ago, I use to train boxing at 2 different gyms, went to local commercial gym to work out and still scoped out new gyms every other week. Even now, I train and spar at 2 different gyms and still look for new places all the time. All the competing fighters at my gym train and spar at a minimum of 2 different places and it makes a lot of sense. It's the only way to really know that your techniques are working and up to date. It always help to get new looks at new fighters and keep an eye on your competition. You'll know exactly how hard you have to work to win. When the tournament rolls around, you'll be confident as you say to yourself, "Ahhh, I've seen him before."
So the question is…how many gyms are you going to now?