Are you pushing yourself too hard or too slow in training? Learn how to train at the right speeds so you can tire out your opponents at a pace they can't handle.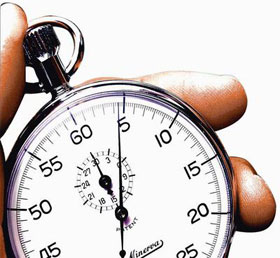 How Fast Should You Train?
The question is:
How fast or how intense should your training pace be?
Some boxing trainers believe in going all out while others believe in taking it easy. Most guys think the perfect training pace is somewhere between screaming your lungs out and falling asleep on the stationary bike. The smart boxers think figuring out the perfect pace is all about balancing your energy use so you get tired right as the fight ends.

The perfect training pace actually…
                                      …doesn't exist.
Max Pace and Resting Pace
There is no such thing as the perfect training pace. Train at any pace you want and I guarantee your next fight will either be slower or faster than what you trained for. And so I introduce to you the concept of training at two different speeds.
Resting Pace
Your resting pace is the pace you can keep up forever. Everyone should have a resting pace. Actually, let me rephrase that. Everyone, MUST, have a resting pace. This is the pace you can go at and not get tired. For some people, a resting pace is 3 punches every 10 seconds and lots of walking. For better athletes, a resting pace might be 5 soft punches and 2 hard punches every 10 seconds. Think of it as a "jogging pace" (but for punching instead of running). You need to establish a resting pace so that you do not come to a complete stop when you get tired.
Establishing a resting pace,
allows you to fight even when you are completely tired.
Using your Resting Pace
You fight at your resting pace when you're not actively engaging your opponent. Your fighting pace does not go any slower than this. Maybe you're looking to catch your breath or maybe you guys are in between exchanges. Or maybe you're just looking to warm-up. Whatever the case may be, you use your resting pace whenever you're not actively fighting. You are not allowed to get tired and stand still, use your resting pace!
Max Pace
Your max pace is your sprint pace. The speed at which you go all out with 100% intensity. Some can throw 15 punches in 10 seconds, where others can throw 25 punches in 10 seconds. Whatever it is, you're going all out 100% giving it everything you've got. It's your MAX pace. You need to challenge and push your maximum speed regularly in the gym. It increases your overall cardio and performance levels to a whole new level. Having this higher gear of performance allows you to outfight your opponent during critical exchanges.
Increasing your max pace,
increases your speed to win punch exchanges.
Using your Max Pace
Anytime you seriously engage your opponent is when you should turn into high gear. Maybe you see an opening and want to seize the moment. Perhaps your opponent's defense is so tight you can only crack through with a really fast combination. Or maybe you're taking punches along the ropes. Or maybe you're both exchanging punches at the end of a close round. Training at 100% intensity allows you to win those crucial punch exchanges.
Training at your max pace,
also INCREASES your resting pace!
There is also one more thing about regularly pushing your max pace. Having a faster max pace also means you will have a faster resting pace. Think about it. If your resting pace is 50% of your max pace, and you raise your max pace to a whole new level–guess what, you've also increased your resting pace!
Actual Fighting Pace
What about the actual fighting pace? The actual fighting pace is going to change as you already know, and you'll be ready if you've trained at your resting pace as well as your max pace. You'll be able switch gears during the fight and adjust comfortably to whatever happens. Best of all, you'll be able to switch-up the pace to prematurely tire out your opponent.
Win By Switching Up The Pace
Many fighters do not have both a max pace and a resting pace because of their training attitudes. You can test this by applying both your max pace and resting pace during the fight. The moment you find their weakness, apply the right strategy to tire them out.
Beating Max Pace Fighters
Most fighters train at high intensity, so they don't have a resting pace. They have been taught to train at 100% at ALL TIMES. It's all they know how to do and every workout is focused on going as fast as possible. On one hand, they're improving their maximum power, maximum energy output, and overall conditioning. The drawback, however, is that they're only learning how to waste energy as fast as possible.
Exploiting the max pace fighter is easy,
you just have to get out of the way.
You'll know a max pace fighter when you see one, he's always throwing with 100% power. I call these guys the mouse-traps. By "mouse-trap", I mean that they're always loaded up and ready to spring at you with 100% power. You beat them by using your resting pace. Move in and out and hit them with lighter punches. You want to be the clever little mouse that nibbles on the cheese and gets out before the trap springs. Use your resting pace to keep going in and out, staying calm, as you set off his hardest punches over and over. It won't be long before he gets tired; after all, he IS punching a lot harder than you are. The easiest way to tell if a max pace fighter is tired is when he's not doing anything. (He doesn't have a resting pace, remember?) And once he's tired, you come in with your max pace and pound him into the canvas.
Beating Resting Pace Fighters
These are the chill and sometimes lazy boxers in the gym. They never go 100% at anything because they think they'll never get tired as long as they stay relaxed and only go 50%…forever. Although it is smart to conserve your energy, I do believe that you need to challenge your max pace every now and then. It's smart to be a long-distance runner but your body needs to be able to "sprint" occasionally in the ring. The guys that don't train their max pace will always lose exchanges or get tired quickly when forced to throw hard punches.
The chill guys are easy to identify in the ring. They move around a lot and fight with a steady rhythm that even sounds like music. It's like, jab-jab-right, two-steps, two-slips, repeat. You can FEEL their rhythm. Beating these guys is easy, too. Just turn up the pressure.
To beat the resting pace fighter,
hit him with some hard punches and then cruise with him.
Hit him HARD a few times, make him panic. Make him get uncharacteristically wild. Let him fly out of his shell and try to match you with a giant combo. Then let the pace settle down again. Let him get comfortable, then come in again and force him to exchange punches again. You're being smart by not wasting all your energy on a guy that's not spending any. You're also saving energy but mixing in some intense exchanges here and there. Get him to fight at a higher pace than what he's use to training at. He tires out faster because he's not use to fighting at higher speeds, his resting pace becomes so slow that it's ineffective and you can jump all over him for the easy KO. (You don't have to out-score the guy, you just have to raise his fighting pace to tire him out.)
Beating the Switch-Pace Fighters
OH CRAP! You've met someone that can fight at both paces. He can fight fast with hard punches but also dance around and cruise with you at slow speed. He fights when you fight and rests when you rest. He's not just athletic but also smart enough to match your rhythm. Ok, NOW you've got a tough fight.
Hurt him at MAX Pace;
Save energy at RESTING Pace.
The way to control the momentum (and thus, the fight) is to keep switching the pace. Of course you have to do it so your opponent gets tired as you're saving energy, and your opponent gets hurt when you're throwing hard punches. If you guys are both going fast, you switch first into a resting pace and step out as his last few punches hit air. If you're both going slow, surprise him by switching into the high gear first and hitting with hard punches. The moment he kicks up his speed, you settle down into your resting pace again and evade. It's a non-stop game of cat & mouse with both of you trying to get each other to commit first. Ahhh…the beauty of boxing. I love this sport!
Controlling the Fight Momentum
To be the best fighter you can possibly be, you need both a high performance max pace as well as a high performance resting pace. Both are important and both will save your butt when you're in deep trouble. You should be alternating between the two fighting paces to find the right rhythm to defeat your opponent.
The best fighters in the world aren't just power punchers,
they can hurt their opponents while fighting at a resting pace.
Some of the top fighters in the world have an incredible resting pace. Manny Pacquiao, Paul Williams, and Antonio Margarito can all cruise at over 100 punches a round. Or you can watch Bernard Hopkins wearing down his younger opponents. Watch him land big punches or do something crazy to keep his opponents on edge, and then he'll walk around to buy time.
Many of the greatest fights out there have been won because one boxer knew how to switch up the pace against the other boxer. Next time you watch a fight, try to watch not only who's going faster or slower, but who is more relaxed during the pace changes. See which fighter is over-commmitted and wasting energy during the pace changes.
Become an endurance fighter, with a sprint capacity.
Train hard at both paces and get use to switching between them in sparring. It's usually not the pace that tires people out, it's the switch that wears out fighters. Changing rhythms is punishing to the body and mind. You can practice the pace changes in many aspects of your boxing training. Add some sprints to your running or some bursts of fast punches on the heavy bag. Cranking up the intensity for even just a few seconds during your workouts can make all the difference. (This is why interval workouts are so effective at increasing performance.)
Sooner or later, you will find a guy who won't be able to match your pace or your pace changes. And when you do, you will beat him not because you're faster or more relaxed…but because you're both. 😉