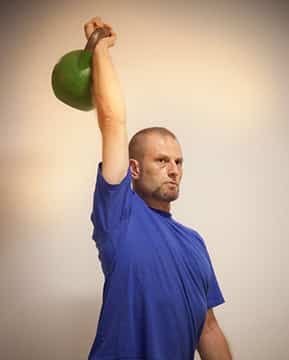 SPECIAL GUEST POST FROM SPYRO – certified kettlebell instructor!
I have a task for you: just go ahead and search the Internet for the term 'kettlebells'. Then check out some of the resulting pages and I dare you not to think that these 'cannonballs with a handle' (a new banality is born every minute…) are some god's gift to humanity.
I bet you are going to read stuff promising you serious muscle building, core strengthening, fat 'torching' and tremendous conditioning. There are also going to be some references to old school Russian strongmen eating iron nails instead of spinach, the infamous Spetsnaz, and – who knows? – maybe even Rasputin and Stalin too!
Well, let me tell you a little secret: not everything about kettlebells is exactly as advertised! And who better than a kettlebells coach to make this clear?
Kettlebells: what's wrong with this picture?
Think of it this way: kettlebells are marketed mainly to the fitness crowd, people who 'work out' as their main physical activity. Their 'sport' is working out at a gym or at home, a couple of times a week, maybe more, and what they need is quite simple: some muscle building, some core strengthening, some fat loss and some work for their cardio-vascular system. Do kettlebells deliver the goods to this target group? You bet! And frankly, I find conventional kettlebells training way more challenging and beneficial than running on treadmills, or dancing to the Zumba beat.
The problem arises when one tries to market kettlebells to athletes, as a tool that will help them enhance their performance. Let's take boxers, for example: if it is only muscle building, fat loss, core strength and conditioning they will find in kettlebells, i.e. general physical attributes, why would they bother? To those ends, boxers have been skipping rope, hitting bags, pads and sparring partners, doing roadwork, lifting weights and doing calisthenics since… forever! Why change what they have been using successfully for so many years?
You don't fix something that is not broken: it would seem like a no brainer, but check out the training programs kettlebells coaches suggest as suitable for boxers and you will only see (anaerobic) conditioning programs: snatches alternated with burpees or push-presses alternated with chin-ups for a prescribed number of rounds, and so on. Well, I'll tell it like it is: this training is good, but there is nothing special about it – it's just generic conditioning. Even more, snatches and push-presses can just as well be performed with dumbbells! Our question remains then: what can kettlebells training do for boxers?
Sport-Specific Training For Athletes: Have Fun, Save Time!
As a physical preparation coach for combat sports athletes, I'm all about specificity in training and making the athlete's life easier. Let me give you an example: if it is aerobic fitness a boxer wants to improve, why do roadwork (slow, long-distance running) when he can do boxing-specific activities (shadow boxing, hitting the pads or the bag, etc) for the same amount of time, while maintaining a heart rate of 130-150 bpm? This way the same physiological adaptations can take place (increased cardiac output and developed vascular network) and boxing technique can be trained at the same time.
We should always keep in mind that athletes took up boxing because they like to box, not because they like to spend hours at the track or practice exotic conditioning techniques with names such as 'the rack', the snatch' and the 'jerk'! So, to make it simple: when doing physical preparation training for athletes, do it in as much a sport-specific way as possible, so that both the athlete and the coach are happy.
Kettlebells For Boxers: What's In It For Me, Then?
So, if the conditioning abilities of the kettlebell are 'just OK' for boxers, is there something about them which makes them exceptional for boxers? Sure there is! In my experience, kettlebells are by far the most suitable tool for highly specific exercises in order to increase power output in the key movements of the sport… Yep, it's punching power I'm talking about!
Here's why:
Punching is a ballistic movement [1] par excellence (you launch your fists; you do not push with your fists). The big kettlebells lifts (swing, clean, snatch, push-press, jerk) teach power generation through ballistic movement. No other training method does that nearly as well, except for Olympic weightlifting, but…
…an Olympic bar can only be used in bilateral movements and boxing movements are not bilateral. Kettlebells can be used from a staggered stance and give themselves very well to unilateral and contra-lateral (rotational) movements, such as the ones found in boxing.
Kettlebells can provide training for the specific type and speed of muscular contractions used in boxing, namely starting strength for the upper extremities, accelerating and stretch-shortening strength for the lower body [2].
All the kettlebells pulling exercises (swing, high pull, clean snatch) require dynamic hip extension performed repeatedly. Hip extension is the most important component in generating punching power, which has been greatly overlooked due to a 'cultural' attachment of combat arts with rotational movement (no, you do not need twisting sit-ups to punch hard!).
The correct way to grip the kettlebell handle in positions such as the rack or the overhead lockout promotes the correct wrist alignment and the rigidity of the joint that will allow for a full transfer of the power of a punch into the target. During exercises such as the clean and the snatch, a big chunk of cast iron, moving at high speed with significant momentum, has to be stopped at just the right moment in the rack or overhead lockout position, so kettlebells can teach both the correct way and the correct timing of the wrist lock. Performing snatches or presses with a dumbbell won't help with any of that.

Check out the video above to see just a few of the exercises that can be used for dramatically increasing punching power.
Please keep in mind that the exercises shown in the video are suitable for athletes who have already developed the minimum degree of range-of-motion and strength required to properly execute the techniques of boxing.
This means the exercises are NOT recommended for beginners. Also, a basic level of proficiency in the safe execution of the basic kettlebells exercises (two- and one-arm swing, clean, snatch, press and push-press) is necessary before trying to perform some of the more complex variations in the video.
Don't believe the hype…
The purpose of this article was to point out that, marketing kettlebells exclusively as a training tool for conditioning simply does not do them justice, making them appear one-dimensional and limited in scope. While kettlebells are more than adequate as a training implement in order to improve a boxer's physiology and energy systems, it is through enhancing striking biomechanics that they can provide the most impressive results inside the ring! Go ahead and try them and make sure you let me know what you think!
[1] A ballistic movement is a forced movement initiated by muscle action, but continued by the momentum of the limbs.
[2] For a better understanding of explosive strength, rate of force development, starting, accelerating and stretch shortening strength, plus the best methods to train these attributes, I highly recommend the book Understanding Physical Conditioning: A Movement Based Approach, by Luis Preto MSc.
Spyro Katsigiannis is the founder of the Dynamo Concepts training methodology, for teaching martial arts and enhancing athletic performance (www.dynamoclub.se). He is a certified Kettlebell Systema Coach under Denis Kanygin and a San Shou (Chinese kickboxing) coach. He offers consultation to combat sports clubs in biomechanical optimization of movement and power generation enhancement.
You can leave comments for Spyro below and he will answer them.