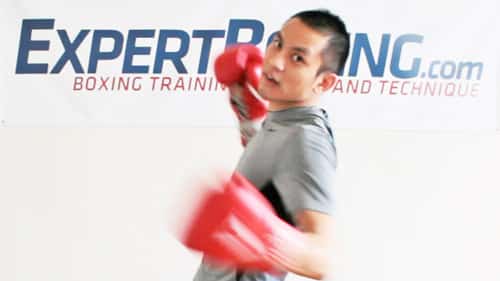 What makes a punch combination deadly?
Is it the accuracy?
The speed?
The power?
What's the MAGIC SKILL that makes your combination truly effective?
Why is it that skilled fighters can be effective even with the most basic punches?
First learn how to throw different combinations.
Then learn my secret to killer combinations.
How to Create Your Own Punch Combination
Start with the Basic 1-2-3-2 combo
Everything starts off with the basic punch combination. Use this combo as the basis for all the tips below.
The following tips will help open up your mind and give you ideas on how to mix things up. Once you know how to create your own punching combinations, I'll show you how to make them deadly.
Create your combos based off the basic punch combo:
JAB, CROSS, HOOK, CROSS (1-2-3-2)
Body Shots
Maybe his defense is too good or he slips all your punches. If head punches don't work, try going to the body. This will cause him to defend up and down and increase the chances of you sneaking some punches through.
"Going to the body" can mean a lot of things. Are you aiming for the stomach or the solar plexus? The chest or the ribs? Or the liver? The same rule applies for the head: are you aiming to the face or the side of the head? The forehead or the jaw? Concentrate your attack to one area to make him guard there, then attack elsewhere. Mix it up!
Attack the body to expose the head, and vice versa.
Ideas for body shots:
Jab to the body, then right cross to the head. (Then 3-2)
Jab to the head, then right cross to the body. (Then 3-2)
1-2 to the head, then left hook to the body. (Then a right cross)
1-2 to the body, then left hook to the head. (Then a right cross)
1-2-3 to the head, then right cross to the body.
Different Punches
You should leave the jab as still your first punch but you can switch everything else out. Try using a left uppercut or left cross instead of the left hook. Try using an right uppercut or overhand right instead of the right cross. Changing the punch will change the angle and make it that much trickier for your opponent to evade your shots.
If you absolutely want to lead with a left uppercut or left hook, make sure it FEELS like a jab… which means it should be light, fast, and snappy. It should FEEL like a jab except only has the surprise angle of a hook or uppercut. (Don't make the mistake of loading power which then makes it too obvious and leaves you vulnerable.)
Use different punches to create new attack angles.
Ideas for different punches:
1-2-3b-2 (Jab, cross, LEFT HOOK TO THE BODY, cross. Instead of all head punches.)
1-6-3-2 (Jab, RIGHT UPPERCUT, left hook, right cross. Instead of the usual 1-2-3-2.)
1-2-5-2 (Jab, cross, LEFT UPPERCUT, cross.)
1-6-5-2 (Two uppercuts to really drop his guard for the right hand.)
1-4-3-2 (Jab, OVERHAND RIGHT, hook, cross.)
5-2-1-2 (lead with a fast tapping uppercut)
Add punches to the end of the combination. (If you're landing punches, why not continue?)
Change Rhythm
Rhythm is the easiest and possibly most effective way to change up your combinations. Changing the rhythm allows you to change the way your combinations feel, without actually changing the combination itself.
For example:
Let's take a simple combination like the JAB-CROSS-HOOK (1-2-3). Most beginners will throw all hard punches which sounds like BAM-BAM-BAM! A more experienced fighter might speed up the 1-2 to quickly blitz his opponent and then surprise him with the hook. This way it sounds like bibip-BAM! And the left hook can be aimed to the head or body, anywhere you like.
The second example can be more effective because you've traded power for speed which helps you open up the more skilled opponents. You can apply this same principle to any boxing combination.
Trading off power for speed,
can help you penetrate the more defensive opponents.
Ideas for changing the rhythm:
Fast, then power. (Throw the first few punches with speed, and then lay down some hard shots. Great way to make opponents block and then you surprise them with a hard shot.)
All fast punches. (Throw any combination but using all fast punches. Great for flurrying and surprising opponents with speed.)
Double Up
Another way to change up the rhythm by becoming trickier is to repeat punches. It's common for opponents to expect punches coming LEFT-RIGHT-LEFT-RIGHT but if you double up on one side, you can easily screw up his defense rhythm. This tactic is especially effective against boxers that slip or shoulder roll a lot.
If you're clever, you'll hold back your power to speed up your double punches and strategically place power shots when they're most likely to land. (Sometimes the first one is the power one. Other times the second one is the power one.) Another smart idea: instead of throw a double hook, you can try an uppercut and then a hook or vice versa. And yet another smart idea: try aiming at different targets when you double up your punches. (like throwing the first hook to the body, and the second one to the head)
Double up punches to change your attack rhythm
and become harder to defend.
Ideas for doubling-up punches:
Double the first jab. Or triple it, or more. (Can give you more time until you're ready to throw the right cross.)
Double the first right cross. (This can confuse your opponent momentarily to really open him for your left hook.)
Double the left hook. (Many opponents don't expect two hooks. Use it to hurt him or surprise him, which then sets him up for the delayed-and-now-unexpected finishing cross.)
Feints
There may be times when you're more focused on opening up your opponent, rather than landing punches. This can be the case for the more defensive or more skilled opponents. There will be times when you purposely throw punches to make him guard in one place so that somewhere else is left open. In these moments, a feint can be safer to use because you're creating offensive pressure without actually throwing punches and potentially making yourself vulnerable.
A clever feint can make an opponent react in any way that you want, and create the opening you need. A quick wave of the hand or even a half-thrown punch can fool even the quickest opponents. Fake a movement, to create a desired reaction, and then take advantage from your uncompromised position.
Feints can open up your opponents,
without opening up yourself.
Ideas for feints:
Feint at the head and throw at the body. (Or vice versa).
Feint with one hand but throw with another.
Many combos starting with a lead right or lead hook, are more effective when used after a jab feint.
Feint with a head movement or foot movement before throwing your combo.
Head Movement
Using head movement during your punch combinations is a great idea and one used by many experienced fighters. It's never safe to leave your head dead center in the middle of combinations unless you're completely in control and ready to evade incoming punches. Moving the head during a combination not only makes you more elusive but also creates new punching angles and makes it less likely for your opponent to throw back (because you keep moving).
Using head movement while throwing punches,
can create new angles while making you more elusive.
Ideas for head movements:
Bring the head in when going inside. (Start the jab with your head outside but then bring your head in as you throw aggressive punches.)
Bring the head in and out. (Bring the head in as you punch, and pull it back out as you finish.)
Move the head with every punch. (Slip your head into new positions with every punch.)
Also try NOT moving your head with every punch. (Not having to constantly move your head can give you more stability, speed, and power. Try throwing 2-3 punches before moving your head to a new position.)
The trick to head movement is to do it subtly. Move it only as much as needed to get into position or evade an oncoming punch.
Footwork
Using footwork while throwing combinations is a very hard concept but definitely possible. If anything, it's far easier to use footwork in between combinations.
The general idea with using footwork while punching is either to A) make you more elusive or B) create new punching angles. Long-range footwork like IN-&-OUT movement is better suited for using footwork before and after combinations. If you're going to be using footwork while throwing combinations, it is most likely a pivot or stepping out at an angle.
The trick is to be RELAXED. If you feel like you're jumping all over the place, it won't work in a real fight. When you practice, the footwork has to use no more energy than a single bounce on the jump rope. (Hopefully, you've been jumping rope for boxing.)
Using footwork while throwing punches,
can create new angles while making you more elusive.
Ideas for footwork:
Pivot with every jab. (And then ground yourself for all the other punches. Pivoting helps you circle your opponent.)
Step in with every 1-2. (And then ground yourself for the follow-up hooks and crosses.)
Pivot or back-step with every left hook. (To help make space for your right cross against aggressive opponents.)
The Secret to Killer Punch Combinations
True punching quality
"Doing different things" is not the same as "doing things differently".
When I first showed you how to create new combinations, that was showing you how to do different things.
Now I'm going to show you how to do the same things differently, such as throwing the same combination but in a different way.
It's not WHAT you throw,
it's HOW you throw it.
There are so many beginners watching Youtube and trying to copy their favorite fighter's combinations without any luck. This is because they lack the QUALITY. Sure you can throw a hard 1-2 but can you throw it like Ali? I can assure you that the difference between Muhammad Ali's punches and yours is more than just speed and power. Ali has a specific QUALITY to his punches.
When I say, "quality", I'm referring to the punch's ability to fit the unique situation. It's not about just speed and power. It's about being sensitive to the situation and responding accordingly. Fighting is like a conversation, like a dance. You have to see what's in front of you and then react to it. Every opponent is different. World champions might LOOK like they're doing the same thing over and over, but I can assure you that they're making subtle adjustments constantly throughout the fight.
And this quality is something you can only develop from years of being in the ring. I would get countered EASILY if I threw punches at my opponent the same way I threw them on the bag. For some opponents, I have to throw jabs a little faster than normal. For other opponents I have to throw jabs with my head a little off to the side. Or for some guys, I aim my jabs at their forehead and other guys I aim my jabs at their chin. I remember discovering one day that if I angled my right cross a certain way, it made it far more likely to sneak through a guard. These details might seem small or plain common sense, but they often make the difference between winning and losing.
Every combination should feel different
The point of having different combinations is to be able to threaten your opponent in different ways.
This is again where skill and experience really makes all the difference. I can make the same 1-1-2 combination feel like 10 different combos. Whereas a beginner can throw 20 different combinations but they all feel the same.
Here's what I FEEL from a beginner opponent:
Ok, he's starting with straight jabs.
And now he's throwing a 1-2.
Ok, now he's throwing jabs and crosses with occasional hooks.
Oh look, now he's throwing a couple left hooks to the body.
He's adding uppercuts and trying to be tricky but everything still FEELS the same.
OOOOH, now he's trying really hard. But his combos are too predictable… All LEFT-RIGHT-LEFT-RIGHT. All same rhythm and comes from the same angles.
*And then I roll off everything without breaking a sweat.*
Here's what I FEEL from a skilled opponent:
He's testing me with jabs. Some to the head, some to the body.
*THAK!* Darn it, he found an opening at a very weird angle to my left temple. I'll have to lift my glove now. (I become very defensively aware now.)
*Bu-BAP!* He jabbed to my new glove position and then a HARD JAB to my chest. (Now I have to protect my head and body.)
*Bu-Bup!* He threw a really fast 1-2 at my guard and then leaned back when I threw the counter hook. (I'm very aware of his head moving in and out now.)
*Bu-BAP-BAP-BAP!* This time he threw a very light jab and then jumped all the way in and cracked me hard with a 1-2-3-2 combination. (Now I know he can be both elusive AND aggressive.)
Now he's standing in a slightly different position. I feel like he's going to do something weird and then–*DAMMIT*–he hits me with the same combination again.
It's all about the feeling
It's more than just throwing different punches at different angles and different rhythms. The goal is to make your opponent vulnerable. You have to become sensitive enough to find new ways to move against him (sometimes on the spot). Sometimes you have to abandon everything you practiced because it doesn't work!
Sparring should increase your sensitivity.
Teaching you to adjust by creating new ways
to do the same thing.
A real fight is far more complicated than what I could ever explain. I'm always doing things differently. I might be throwing jabs over and over again, BUT IT'S NOT THE SAME JAB. My aim might be different. My head placement might be different. My hand and foot position might be different. One jab might be for setting up the right hand. Another jab might be setting up the left hook. Or maybe the breath is different. Or maybe the way I position my chest is different.
I often hear beginners asking me, "But Johnny if I keep throwing jabs, wouldn't that make me predictable?" And it makes me laugh because I know it means he's throwing the same jab every time. With that attitude, it doesn't matter what he does. He could throw different punches and he would STILL be predictable because they would all feel the same.
I remember getting beat by a guy with a killer left hook. He would chase me down with head punches and then out of nowhere, a big left hook to the body. Over and over again. And do you want to know why I couldn't defend it? BECAUSE IT DIDN'T FEEL LIKE A LEFT HOOK! His incredible skill wasn't in his punching technique but rather his ability to MASK his left hook to the body. It always felt like something else, anything but a left hook. How can you defend something when you don't feel it?
A skilled fighter can throw the same punch
OVER AND OVER,
because he's able to give it a different quality.
Skilled fighters have a way of being very unpredictable. The way they stand or position themselves makes you expect a certain punch but then something else comes. Or the way they hold their hands makes you feel very vulnerable to their hook. Or the way they throw their right hand makes you feel like you'll never be able to counter them in time. Some guys have a way of coming in on you where you feel like they're in range but then you throw and you're not even close. Some guys have a way of making you miss not because they slipped so well but because they knew how to make you throw at the wrong place. It doesn't matter if you do the same thing over and over, as long as you're still being unpredictable.
Skilled boxers can make me FEEL like I can't fight back. They know how to move their bodies in ways that cause me to make mistakes. Against skilled fighters, I feel like their hands, their heads, their feet, their bodies are all constantly moving around pressuring me from different angles as they throw the same punches over and over.
If all your combinations feel the same to your opponent, he'll be able to defend them easily without ever having to adjust to you.
It's not about what you throw,
it's about what your opponent feels.