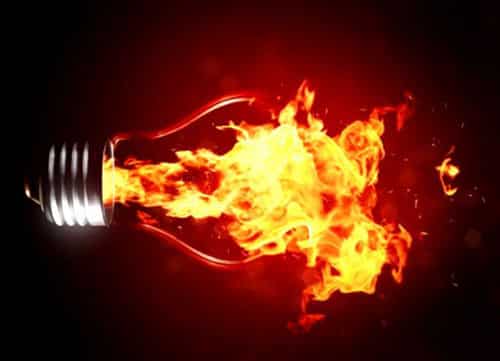 Most fighters don't know (or can't admit) that they're wasting energy. They make silly excuses like, "Oh I just need to relax more." or "I need to work on my cardio." No, man…you're getting tired because your technique sucks. You're losing fights not because of your cardio but because of the way you fight.
Are you tired of getting tired?!
…if so, then STOP DOING THIS ONE THING…
STOP PUSHING!
Pushing is bad technique.
Yes, STOP @%$&#* PUSHING! It limits your ability to fight effectively and efficiently. Pushing is bad technique. It's slow, it telegraphs your movement, limits your control, and wastes energy. Sure, you might feel powerful when you push but you'll lose to boxers that relax to move, not PUSH to move.
Want to know something else? Pushing wrecks your balance. By always trying to push something and invade someone else's space, you sacrifice your own axis to generate force. The force created by a falling axis is exactly just that…FALLING. It's weak and doesn't give you much control. And you can't generate any more force until the axis is upright again, which requires more energy. Don't think of yourself moving into your opponent with every punch. Instead imagine yourself as a bomb and that your opponent is simply in range when you explode down INTO the ground, not off the ground.
Force is not generated by colliding/exploding
into your opponent. (pushing)
Force is generated by transferring
the momentum of your body dropping downwards, into a forward punch. (relaxing)
The "Pusher"
A pusher is a boxer that's ALWAYS pushing himself around the ring. The pusher moves by pushing his body weight and attacks by pushing his punches. The pusher is known for expending energy even when they're doing nothing.
To "push" means to exert force on something. But what is that something?
Unless your opponent is literally touching you, the only "thing" you're exerting force on is YOURSELF! Let me explain further. In order to push something, you must first have a WEIGHT. To create this weight, you first have to "load" a weight and therefore CREATE UNNECESSARY TENSION that wasn't there in the first place. This weight that you created for yourself, now has to be unloaded by spending even more energy. It sounds so silly, right? You first use energy to LOAD a weight, and then you use energy to PUSH it off you. Doesn't it sound illogical?
Let's go over the 2 obvious problems with boxers that "push".
Push-Moving
The pusher moves himself by PUSHING his weight around the ring. When he wants to move forward, he pushes with the back leg. When he wants to move backwards, he pushes with the front leg. If he wants to move faster, he pushes harder. If he wants to move further, he pushes harder. Changing directions requires him to explode back and forth with both legs. He's wasting energy because his legs are constantly firing into each other to prevent him from going off balance.
Now guess what happens when he gets tired? He moves slower and he gets off balance because his legs don't have energy to PUSH him back upright. And because he's off-balance, he's going to spend even more energy to move!
Push-Punching
The push-punchers load their punches by pulling back their arm or stiffening up their arm to make it feel heavy and powerful. Then they use tremendous force to shove the weight (they created) into their opponent. The whole fight is them loading and unloading their punches. First pushing tension onto their muscles, then pushing the tension off their muscles.
The pushers load their punches because they don't know how to (properly) generate power. They have poor technique and don't feel any power in their punches. So they find new ways (poor technique) to increase the FEELING OF POWER in their punch. Fortunately for them, bad technique can actually help you hit harder. The problem is that they're still not throwing with maximum power. If only they knew how to use their body weight, they need to create a weight to load their punch. Doing that allows you to punch harder while using less energy.
The other problem with loading your punches is that it telegraphs your punch. Your opponent can always feel when you're going to punch because he senses you becoming heavy all of the sudden. Watch a pro boxer IN PERSON and see how he moves. He's always 100% relaxed and punches from a completely relaxed state. You can never tell when he's going to strike BECAUSE HE'S NOT LOADING! So for all the folks out there reading guides on how to conceal their punches, you don't need to learn this.
Relaxed boxers don't need to conceal their punches
because they're not loading anything!
Why Do Boxers Push?
Most boxers push because it feels incredible! You're like, "OH YES! I'M SO STRONG! LOOK AT ME EXPLODE ALL OVER THE PLACE! WHOOOOOPIEEEE!!!!"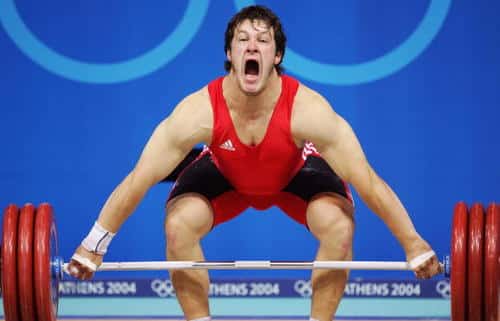 Unfortunately, that's the attitude of many fighters. Working hard makes them feel like a man. Makes them feel like they're being more productive.
Loading the weight takes time because you have to load before you can unload. Some boxers cleverly (but improperly) remedy this problem by staying ALWAYS LOADED. I see this all the time; ask a boxer to put up his boxing stance and already his arms look flexed. His fists and legs look like they're about to explode! No wonder the pushers get tired so fast…they're always carrying an invisible weight (tension) even when they're not doing anything.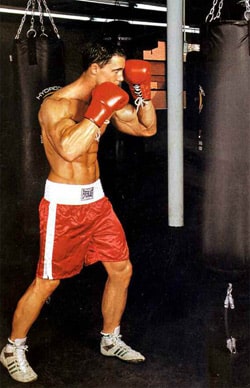 Now what happens when the pushers get tired? Their punches slow down, their footwork gets sloppy, their movement falls apart. But of course, they don't see this as a sign to improve their technique. They blame poor conditioning, or not trying hard enough. The next thing they do is train even harder to have more energy to WASTE! The reality is that conditioning will never compensate for poor technique, it only prolongs the inevitable. Ultimately, you will get tired because of the way you move.
Conditioning doesn't prevent fatigue,
Conditioning delays fatigue.
It's about technique, not conditioning. Even though I haven't been running at all, I can still crank out 5 miles or more if I wanted. I can do it without being in running shape because of the way I run. If anything, I would only need conditioning so that I can run faster, but the conditioning itself doesn't prevent me from getting tired.
Final thoughts on pushing:
Pushing means loading.
Loading means creating unnecessary tension & adding time.
Unnecessary tension & added time means wasted energy and slower response.
So then the next question is:
"Johnny, how am I supposed to generate force
without (PUSHING) exerting force?!"
JUST RELAX!
To relax is to release tension. A boxer that relaxes doesn't need to push himself around the ring. He doesn't need to waste energy to create tension and waste more energy to counter-act that tension. He recognizes the tension that ALREADY EXISTS between his body and the ground. Not only is he relaxed, he only uses energy to further relax himself aiding the RELEASE of a force onto his opponent.
Relax-Moving
A good boxer doesn't need to push his weight to move. Trust me, you don't either. Your body already wants to move. Your two legs are already preventing gravity from pulling your body in one direction. So if you think about it: you can move just by RELEASING one leg! And watch your gravity take you body in the direction of the leg that released!
Try it right now and see for yourself. Instead of pushing yourself forward with your back leg, try releasing your front leg forward (allowing your body to relax towards your front leg). See how gravity naturally shifts you forward? Now you just have to release back leg allowing it to relax forward. This right here pretty much incorporates the same principles from Jack Dempsey's "falling step" technique. (Using gravity to generate power.)
In order to move back and forth, you relax to one leg and then the other. You have less need to push from the back leg when your front leg releases your body to start its momentum going forward. You use less energy and have more control of how far you go! Now trying this relaxing method of movement as you go forwards and backwards. Do it slowly and see how much easier it is to just relax your legs back and forth than it is to push. (If you feel slower in one direction, this means your body is off-balance!) This relaxing type of movement keeps my body closer to the ground, resulting in more balance, control, and ability to change directions!
Moving by relaxing keeps your center of gravity grounded,resulting in more efficiency, balance and control!
Relax-Punching
Right about now is where most beginners would ask me, "How the hell am I supposed to punch hard without creating a force?" Good question. Most people don't realize that JUST BY STANDING, you are already "loaded". Your "punching weight" is your body weight. There ALREADY EXISTS a tension that is "loading your weight", which is called GRAVITY! The only thing keep gravity from propelling your weight is your legs.
So to release this weight onto your opponents, you only have to release the weight from your legs to punch powerfully into your opponent. But of course, you can't just release your legs and let the weight drop to the floor, you have to ROTATE your hips as you relax your legs. Therefore, rotating the drop of your body weight into your opponent.
That's why I relax into my punches, because I'm releasing my weight into my opponent. I don't need to create a new weight (through unnecessary muscle tension) to swing into my opponent. I can exercise my legs and push as hard as I want. The "weight" I create through muscle contraction will NEVER equal the weight of my body. More importantly, the imaginary weight that I create uses my own energy to create and can't be sustained throughout the entire fight. Any fighter that hits with less power as the fight goes on is probably relying on his own "created weight". I'm actually the opposite, I hit harder when I get tired. (But I have less control, and less speed.)
The relax-puncher punches
WITH the force of gravity, not against it.
Relaxing VS Pushing
Relax your body to move.
Relax your body to punch.
The pushers are wasting their energy. Everything they do is a push. Load, push, load, push. They just can't seem to push hard enough, right?
I'm a relaxed fighter, so I never have to push. My body is ALWAYS LOADED WITH MAXIMUM POWER. Because my weight is my entire body. This weight never changes, I will always weigh 145lbs throughout the whole fight. Knowing how to use my gravity-loaded bodyweight allows me to move with maximum power and more speed. I save energy because I don't have to create a load.
If anything I LIMIT my punch and LIMIT my movement. If I had no control, my body would punch 100% and move 100% all the time but I don't allow this. I set things up with smaller steps and smaller punches. I hold myself back for strategic reasons and then when the time is right, I just RELEASE my power.
It's really that simple. The whole fight, I'm relaxing my punches and relaxing my movements. I can punch just as fast and just as hard in the 20th round as I do in the 1st round. The only energy I use is to further relax myself…working WITH the tension that gravity already places on my body, not against it.
Great boxers generate force
through relaxation, not exertion.
How do you relax?
To relax means to release tension, not to release control.
So many people misunderstand the meaning of "relax". They think "to relax" means to sit down and watch TV with a beer and be lazy all afternoon. Relax does not mean taking it easy and saving energy for later! To relax doesn't mean going slower or doing less. In boxing, it means to generate force while you RELEASE tension (as opposed to generating force by creating tension).
You can HIT HARDER and THROW MORE PUNCHES
by relaxing!
It's not really that difficult of a concept. People simply have to unlearn old technique before they can learn new technique. I don't want to go into technique right now because this is just a theoretical guide to get your head in the right mindset. Here are some final boxing tips to think about…
Stop Pushing
This should have been the name of this whole guide. Stop pushing and stop trying to create force. Know that you already have force in your body and find a way to translate it into boxing movement. Instead of trying to create force, focus instead of directing the force your already have. See if you can direct the force of gravity into your punch. Just following this step alone is the first step to put you in the right direction.
Stay Balanced
The first thing you should do is find your balance from stance. If you move while off-balanced, it means that all your movements in one direction is a "fall" (no control), and all your movements in the other direction is a "push" (less range & energy efficiency). Both result in waste of energy and less power. Being perfectly balanced allows you to move (and exert force) in any direction and change directions as often as you need. If you're not balanced, you're probably using energy to stay upright.
Relax First
Any movement that you make, BEFORE YOU MOVE, the first thing you should do is relax somewhere. Release something first. Do not load! If you're going to move, you relax one leg first! If you're going to punch, you relax the arm first! Before you even THINK of pushing anything, see if you can relax somewhere to help the push. To keep this article short (ha!), I won't go over technique but at least you can start thinking about this.
I don't relax to save energy.
I relax so I can hit harder and move better.
Ok, so I lied. This article isn't about saving energy, it's about fighting better. Relaxing is about being about being able to do more, not about avoiding fatigue. This is boxing, remember?
Later on I'll explore deeper into how to relax and how to REALLY use your body. For now, PLEEEEEASE STOP PUSHING! Stop it now or else you'll never improve as a fighter.