The great Henry Ford said, "Whether you think that you can, or that you can't, you are usually right."
We can only accomplish what we THINK is possible. Your mind sets the goals in your life and determines whether you'll get there. If you dare to be great, how strong must your mind be?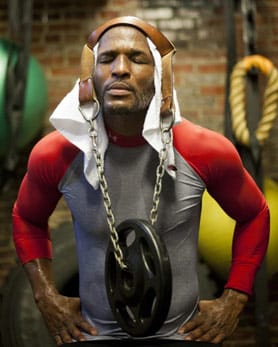 Better yet, how do you strengthen the mind?
Boxing Life is 90% mental and 10% physical.
Your whole life will be a collection of emotions, thoughts, and memories. What you did and how you did it, will never compare to what you felt in the moment. A sad memory is a thousand times more painful than a broken bone. Human beings are emotional creatures; our lives will ALWAYS be more mental than physical. Our strength is our minds, not our bodies!
Everyone works out the body, but how often do you work out the mind? Your mind is your health, your capability, your human identity. A strong mind can overcome fear, paint a picture, strategize a fight. If your mind can do it, then yes — YOU can do it!
LESSON TWO: Strengthening the Mind
Do you remember that time when you couldn't do something? It was something you've never done before like jumping in the water or getting on a bike. You were so afraid and your mom had to tell you, "You can do it. It's all mental. It's all in your head."
Your whole life is going to be that moment over and over again. For the rest of your life, you will be forced do things that you couldn't previously do. Not just you but everyone. We will forever be faced with the moment of truth, day after day after day…this is, of course, assuming you're living the life of greatness.
Back in high school, I was facing my very own "moment of truth" on a daily basis. And I'll tell you exactly how I dealt with them…
Auto Suggestion
Auto-suggestion allows you
to control your self-conscious and strengthen your mind.
Auto-suggestion is a concept commonly toted of all time as one of the best ways to mentally train yourself for success. The concept is simple, you keep telling yourself the same thing over and over. It's a form of self-hypnosis allowing you to control your sub-conscious, and empower yourself to do the impossible. There's an entire field psychology and countless success books established around this concept.
I never heard of the term "auto-suggestion" until about 3 years ago. The funny thing was, I was doing it long before I started boxing. When I was 15 years old, I built a reputation as being one of LA's best young skateboarders. Everyone called me "Crazy Johnny". I was notorious for jumping down long flights of stairs, leaping off rooftops, and other dangerously high drops.
But nobody knew my one secret…
Before every jump, I was scared out of my mind!!!
I am not fearless. I'm made of flesh and bone. I bleed just like all other skaters. I had to talk myself into the stunt several hours before attempting the jump. I would stand at the top of the stairs for hours, repeating to myself over and over with this one poem I made up:
I have no fear.
I feel no pain.
I cannot bleed.
I will not die.
…am I being a sissy? YES. Am I freaken insane? YES. Did my silly poem work? YES!!!
I had to repeat the poem maybe a hundred times, sometimes for a few hours before I was brave enough to jump. I recited it in my head at first. Then saying it out so that I could hear it. Then I yelled it for the whole world to hear. My friends loved it, they knew the poem meant that I was going to jump after all. The jump seemed less daunting after every time that I recited the poem.
At some point, I stopped reciting because the poem echoed endlessly in my head. Ok, NOW I'm ready.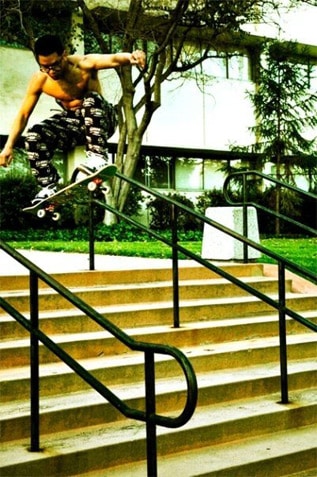 This is me on a skateboard.
2 hours of mental preparation, 10 seconds of physical execution.
Mental Exercise
Treat the mind like you would your body. It needs regular exercise. If you don't strengthen your mind regularly, it grows weak. Your mind forgets what you're capable of; it lets you down when you need it most.
We all need mental strength. In the most precious moments of our lives, we become more human than ever. More afraid and more alive than ever. These moments will shred you to pieces if your mind isn't strong! But if you've been strengthening your mind, your fear WILL be replace with peace, confidence, and guidance. The LAST thing you need during your moment of truth, is a little voice in your head telling you that you can't do it.
You need to tell yourself over and over:
You can do it!
You can do it!
You can do it!
Recite this in the locker room before your fight. And don't you DARE leave that locker room until you believe in your victory 100%. I mean, if you can't even convince yourself that you're gonna win, you have no business taking the fight. Don't expect in others to believe in you, this is YOUR FIGHT, YOUR RESPONSIBILITY, YOUR VICTORY. The greatest fights you will have in life will be won alone. So start now, start today. Tell yourself what you need to hear, what you need to do.
"You can do it."
It's awkward at first. You feel stupid. You feel like you're lying to yourself. That there is no way you can ever be good. That's ok, I felt just as stupid the first time I tried push-ups. My arms couldn't hold my body but I kept trying. A few years later, I held the record in my army platoon for most push-ups in one minute.
Work out your mind
just like you work out your body.
You can do it, keep saying it. At least believe in the words, if not in yourself. Little by little, you start to think success MIGHT be possible. A few more times and now you're sure it's possible. Then you keep saying it, and you say it louder and prouder because now you KNOW you can do it. You're not only sure it's possible, you're certain of victory. It's in these moments of self-conviction, that one becomes great.
Look yourself in the mirror. Look at yourself dead in the eye and tell yourself, "You can do it!" Do it now or cry later when you lose. One way or another, you will have to face yourself.
Coach Yourself for YOUR Future
No champion ever says after his victory, "I was so afraid I wasn't going to win. I never thought I could do it. I'm so lucky to be champion."
It's usually more along these lines of…"I worked hard and I deserved it. I want to thank everyone for their support. I've been dreaming of this day for a very long time."
Becoming great takes a long time. If I want a sandwich, I can make one in 15 minutes. But if I want to be great, it will take me years, maybe decades. If you want to win that fight tomorrow, your mind should have been strengthened a long time ago! It would have changed the way you trained up until this moment. And you wouldn't be nervous now.
"My passion is my strength.
I'm dedicated and motivated.
I work hard and I deserve it.
I use my resources to overcome challenges.
Success is my reward, my right, my future.
I can do it."

– Johnny Nguyen (I made this up right now)
Tell yourself what you need to hear. Say to yourself what you wish people would say to you. Motivate yourself, compliment yourself, strengthen yourself. Take care of yourself and be responsible for YOUR future.
You're not being great for others,
you're being great for yourself!
Self-Coaching for Greatness
You're going to be alone if you want to be great. You will be training when no one else trains. You will have thoughts no one can understand. You may ask for help one day and no one will be there. Be prepared to cry alone. Without a strong mind to guide yourself, you will not survive the path to greatness.
Being great is more than overcoming the odds, achieving the impossible, or proving people wrong. Being great means having a strong mind and working for what you want in life. I didn't tell you about auto-suggestion for you to inflate your ego. Use auto-suggestion to become great, instead of just thinking that you are great.
I am the greatest. I said that even before I knew I was.
– Muhammad Ali
Want to know the real secret to strengthening your mind? You don't wait until right before the fight. You do it when you wake up and get dressed in the morning. You do it long before training starts, before you even step into the gym. You have to remind yourself every day and every second of your life, what you're capable of.
You can do it.
Read the other parts of this series: