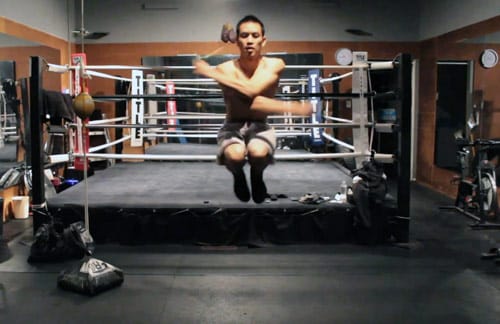 2 weeks ago, I wrote a basic jump rope guide along with some basic tricks.
Well now it's time for something a little more exciting. Hopefully with this list of easy jump rope tricks, you'll be tempted to finally start jumping rope. The jump rope is truly that amazing and will work wonders for your boxing coordination, rhythm, and fluidity!
Fancy boxing shuffles, cross-overs, double-jumps, all that stuff you've seen the pro boxers do with the jump rope…you can do it too. And I'll show you how.
Easy Jump Rope Tricks for Boxers
Watch me demonstrate some common jump rope tricks for boxers.
1. Skier
keeping your feet together, jump from side-to-side
(visualize an imaginary line on the floor to jump over)
The skier might not be a common trick once you start jumping rope more often but it's a good exercise for beginners to develop hip stabilizer muscles. It's also a good idea to try this on one foot to develop stronger ankles and calves.
2. Bell
keeping your feet together, jump forwards and backwards
(visualize an imaginary line on the floor to jump over)
The bell jump is another easy trick but again, it's good for beginners to develop their legs with this. Once you get the hang of it, try doing the bell jump from your boxing stance (with one foot in front of the other) and jump back and forth only a few inches each time.
3. Straddle
jump with the feet spread to shoulder width
jump again with the feet back together
(your feet move like you're doing jumping jacks)
A great way to make the straddle more challenging is to land with your knees bent so your hips are lower to the ground (still landing on your toes). This will give your quads a major workout.
4. Scissor
jump with one foot in front, the other in back
jump again as you switch the feet around
always land on the balls of your feet
There are many variations you can do with the scissor jump. You can do it with your weight evenly distributed across both feet (legs scissoring right under you), or place your weight forwards (legs scissoring behind you), or vice versa with your weight at the back (legs scissoring in front of you).
Try alternating between straddles and scissors, or even cross your ankles and uncross your ankles with each jump. You can also try bending your knees so you're in a lunge position as you do the scissor jump (more challenging).
5. Kick-Step
jump twice on one foot, and then twice on the other foot
on the first jump, keep the free foot next to the jumping foot
on the second jump, kick the free foot forward
The kick step is a great way to develop the boxer's shuffle. Once you get the hang of it, try developing a slick rhythm so you can feel and look like you're dancing to music.
Watch my video for tips on how to do double-unders and cross-overs.
6. Double Unders
spin the rope under you twice as you jump with your feet together
Double-unders are definitely the starting point of developing your ability to do more fancy tricks. Moreso than developing your conditioning to clear the rope twice on one jump, it develops your coordination to be able to change the speed of the rope without screwing up your rhythm.
The trick is to jump straight up and spin the rope faster. Don't try to jump too high. It might help to shorten your rope if you feel like your rope is too long. Another tip to speed up the rope (and look cool in the process) is to plant your feet on the ground and do 2 side-swings (one for each side) to whip the rope faster before you jump it. You can easily get triple jumps doing this.
Once you get the hang of double-unders, see if you can do 10 or 20 in a row. See if you can do it on one foot (very hard for beginners).
7. Cross-overs
jump up as you cross your arms across your chest, which twists the rope under you
then jump again as you uncross your arms in order to uncross the rope
Cross-overs will be your second bread and butter trick. Once you master this, you can do a million more tricks and add far more variation to your rope-skipping.
Try doing cross-overs as you stand on one leg, or use a running motion with your legs. Also try doing cross-overs as you do straddles, scissors. Another thing you can do is one cross-over and instead of uncrossing it, you put both handles together into a side-swing.
8. Double Cross-Overs
in one jump, spin the rope under you twice as you cross and uncross it before landing
The double cross-over is probably the hardest and yet most exciting trick for beginners. It requires muscle in your legs, back, and arms, along with good technical skill and also a properly sized rope. A rope that's too long will be very difficult to cross twice under you. I like to do as many double cross-overs as possible in the last 30 seconds of every round. The feeling is something like a sprint interval.
Boxing Jump Rope Creativity
When you first start out, you'll naturally switch between all the various tricks depending on which part of your body tires out first. Certain tricks wear out the legs whereas other tricks wear out the shoulders. The ultimate goal is to be able to jump rope to music.
I'm usually dancing to music and switching up the rhythm and dynamic of the rope to match the music. Sometimes slow, sometimes fast. Sometimes my arms stay still while my switch, other times my legs maintain a steady rhythm as my arms cross, uncross, and swing all over the place. I'll also move around the room slowly shifting as I'm doing my jump routine. Sometimes when I'm doing the running motion, I'm actually traveling around the room and not just in one place.
Be creative and invent your own jump rope dance. It will eventually become natural to mix different tricks together once you get a natural rhythm of clearing the rope. This is what makes the workout fun, more challenging, and more effective for developing your fight conditioning and rhythm!