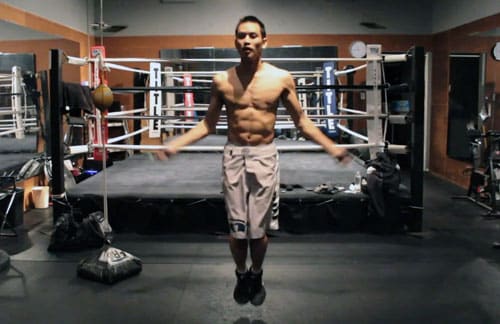 Want to improve your fighting endurance, punching power, balance and footwork, in just 10 minutes a day?
…if so, then GET UP AND START JUMPING ROPE!
I hear fighters complain about their footwork and endurance and yet they've been skipping the jump rope sessions. Don't cry when your opponent moves better than you do because you have no idea what you're missing out on. Don't skip the jump rope! [haha, get it?]
Why Do Boxers Jump Rope?
At the measly cost of $5, you won't find a cheaper or more effective piece of boxing training equipment (except maybe gravity). It's one of the most effective and fun ways to improve your boxing performance! If you're not jumping rope, you're missing out on one of the best exercises for fighters.
The benefits of jumping rope for fighters:
better endurance
better footwork
increased punching power
increased stamina for throwing combinations
improved breathing efficiency
improved ability to stay calm
Jumping rope will improve your:
conditioning, rhythm, coordination, footwork and power.
Jumping rope, (also called skipping rope), is one of the best training discoveries I've made in any sport. I used to come into the gym, hit the mitts, hit the bags, and then go straight to sparring. I never bothered with the jump rope.
It took up space, wasn't fun (initially), and I never saw the point of it. It didn't help that my first trainer didn't force us to jump rope. It's truly a shocker that more sports do not skip rope as a standard exercise. I can only guess that it's probably because jumping rope is initially hard to learn and embarrasses even seasoned athletes.
All the pros jump rope
It wasn't until I wanted to copy the pros that I began to jump rope. They were doing it to warm up and warm down and so I figured I could at least do a few rounds every day. The results after a month were pretty amazing. I felt like such a idiot for not having done it sooner.
Better Footwork
This was the most obvious benefit and it made perfect sense. For most beginner fighters, the only leg conditioning they ever really do comes from 75% running and maybe 25% of plyometrics, weights, or other non-running exercises. The problem with this is that all of those exercises don't really develop a better "coordinated lower body".
Good footwork has more to do with leg coordination,
than leg conditioning.
You would think that running truly develops great legs but it isn't so. Many fighters are day-dreaming while they run or just throwing their feet around without any form. Even the most diligent runners are hardly doing anything complicated with their legs except making sure the foot hits the ground. Plyometrics, weights, and other resistance exercises have the same problem. It's a boring repetitive motion and doesn't really activate your foot awareness very much. At best you would have better conditioning but you still wouldn't have better control of your lower body.
This is where the jump rope shines. Jumping rope FORCES you to be more conscious and aware of your feet. And the more tricks you do with the jump rope, the more conscious and coordinated you have to be. This coordination development easily leads to better footwork in the ring. Being able to control your feet will make a huge difference over just lifting and dropping your feet all over the place.
More Stamina
The jump rope is by far my number one exercise for developing stamina for boxing. It's better than running, better than swimming, better than Crossfit, it's better than anything else I've ever tried. And I'll tell you why…
The first reason is because the jump rope can mimic many exercises. You can jog, you can sprint, you can jump high, you can jump low, squats, lunges, twist, turn, etc. There are virtually limitless body motions you can do while jumping rope. Add in the fact that you can vary the intensity, speed, difficulty, rhythm, etc and you have the ultimate exercise.
The second reason (which is more important than the first) is because the jump rope WILL DEVELOP BETTER EFFICIENCY. This is a technical matter, not a physiological matter. The jump rope forces you to do many repetitive motions over and over again and with good rhythm too (or else you'll trip on the rope). This quickly builds muscle memory, coordination, and superior technique.
I don't care how good you think a sprinting or weight training program can be. If I was to compare a boxer who jumped rope for 10 minutes everyday versus a boxer who lifted weights for 30 minutes everyday, the one that jumped rope would easily out-move him every single time. He'll have more bounce, more control, and just better foot agility.
I know because I developed my bounce through the jump rope. Running was great for endurance but the jump rope really taught me how to bounce efficiently. With the jump rope, I was easily bouncing over 100 times every minute so it was only natural that I quickly learned how to bounce in the most efficient way possible. This is such a basic skill and yet so many fighters STILL do not know how to bounce an entire round without getting tired. I'm not saying you should be bouncing around forever, but it's important to have the ability to move without getting tired!
More Rhythm
The jump rope is such a great exercise for fight training because it mimics the fight rhythm better than other exercises. You're forced to be in constant motion and always  maintain a minimum level of awareness. The problem with fighters that don't jump rope is that they aren't used to being in constant motion and don't have a constant awareness. They're slow at transitioning from stillness to movement.
The jump rope always improves your mental awareness. You're no longer "sleeping" during fights because you're used to always having to watch out for something (like the rope). In the ring, this increased mental awareness helps you to avoid incoming punches or find countering opportunities. At the very least, your increased awareness helps to keep your mind calm so that you don't panic during sudden exchanges. The fighters that do jump rope do a better job of maintaining a constant rhythm (physically and mentally) even when they're not actively moving.
More Power
This might be a surprising fact for some but the jumping rope truly does increase your punching power. As I've said before, when jumping rope your body is forced to make many repetitive movements quickly and on rhythm so your body naturally learns how to move efficiently. This same skill will transfer over to affect the way that you punch.
And the jump rope won't only improve your power of punch, but also your power of movement. You will be far more powerful in any movement because you're now a more efficient and more coordinated machine. I can actually look at fighters move in the ring and tell which ones jump rope and which ones don't. Once you've learned how to jump rope yourself you will be able to see what I mean. There's a difference between fighters with a natural relaxed bounce vs an energy-wasting muscle bounce.
The Right Jump Rope for Boxing
Boxing Jump Rope Review

See my reviews for different kinds of jump ropes and learn which ones to buy or avoid.
Plastic Speed Rope with Plastic Handles & 90 degree connection – THE BEST OPTION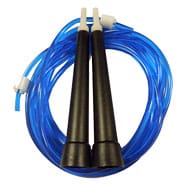 This here is the perfect jump rope for boxing training. The thin rope, combined with the 90-degree connection, spins easily and perfectly for a typical boxer's rhythm. The thin plastic handles are effortless to hold which lets you concentrate on the rope and doing tricks.
The 90-degree connection helps the rope spins easier, avoids kinks, and also makes it easy to adjust the length. The rope itself gives you a perfect resistance (not too little or too much) which helps you develop coordination and rhythm.
These ropes are usually bought online since you won't find them in typical stores. They used to sell the exact same ones I use (called "The Boxer's Training Jump Rope") but not anymore…so I found an updated version of it that I think is even better (basically you want 5mm rope, not the super thin ones):
Plastic Licorice Rope WITHOUT 90 degree connection – 2nd best option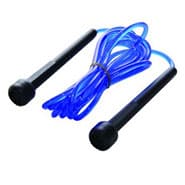 These are usually the cheapest and most abundant option in sporting good stores. They're perfectly fine for boxing and quite the bargain at only $5. The problem with these ropes is that they don't spin as easily and don't last as long because they don't have the 90 degree connection. You'll be able to do all the basic tricks but double-spins will require a little bit more effort.
With increased use and increased speed, the rope will eventually crack the plastic handle at the very top. For a newbie jumper, this might take a couple months to happen. For an experienced jumper, this could happen in the first week.
These are usually called "Speed Ropes" and go for $5.99 at your local sporting good store.
PVC Jump Rope – bad, crappy rhythm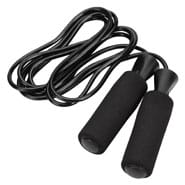 The most obvious PVC jump ropes are the black colored ropes with black-colored padded handles. They even have ball-bearings which are supposed to make the rope spin evenly but this actually turns out to be a hassle when you want to change the lengths of the rope.
A major problem with PVC ropes is that the rope stretches when you spin it at faster speeds and that easily screws up your jumping rhythm. Sometimes the rubber rope will feel too light and make it difficult for you to gauge the rhythm. You'll see what I mean if you ever try one.
Leather – bad, painful & slow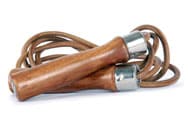 I especially HATE HATE HATE the thick leather ropes with the wooden handles. I don't know why they're being sold because they're so terrible and useless. My main complaint is that they spin too slow and also that they're too painful when you screw up. One session with a leather rope will make your back look like you got whipped in the middle ages.
Other jump ropes to watch out for
Expensive jump ropes – yes, the $40 ones do spin quickly but they are overkill for boxing. Those ropes are for doing quadruple spins and really fancy tricks.
Beaded jump ropes – these are ok, but require too much energy to spin in my opinion. They're great for outdoor use because the plastic protects the rope.
Steel (or metal) jump ropes – my complaint with metal ropes is that they spin too easily. They're too easy to spin and too fast for beginners. These ropes make it harder for beginners to learn the rhythm. Another thing is that steel ropes don't stretch like the plastic ropes so they don't give the arm as much of a workout. These ropes are better for tricksters and guys who like to do triple or quadruple spins. You have to compare to see what I mean.
Thick jump ropes – generally speaking, thicker ropes will always taking longer to spin because they require more energy. You might not notice this with single spins but double spins will be far more difficult if not impossible for beginners. Use thinner ropes so you can develop better coordination through faster spins.
Thick handles – I avoid thick jump rope handles because you end up focusing on the handle moreso than the rope itself. A slim plastic handle lets you hold the rope securely and comfortably with a relaxed hand so you don't have to focus on "holding" the handles. (This is better for learning tricks.) It's also better to have the resistance come from the swing of the rope rather than the weight of the handle. (This makes it easier for you to feel the rope and develop your jumping rhythm.)
Weighted jump ropes – so many guys keep trying to add weight thinking it'll increase their hand speed but I disagree. Weighted jump ropes distract from the best qualities of the jump rope—which is developing coordination and rhythm. Adding weights renders it a more basic conditioning exercise and prevents you from developing higher level coordination.
If you want a more challenging jump rope workout,
increase your speed and trick difficulty, not the weight.
The right length for your jump rope
If you step one foot on the middle of the jump rope, the handles should come up to about your armpits. If you have long arms, you may want it slightly shorter. Beginners typically start with a slightly longer rope so they don't trip as easily. When you get better, you will shorten the rope so it spins faster allowing you to do more advanced tricks and jump at a faster rhythm. With time and experience, you'll eventually figure out the perfect rope length that makes it easy and effortless for you to maintain a constant rhythm.
You should also find a good surface to jump rope on. The floor should be firm but with a little bounce. Softer than concrete, harder than the ring canvas. The hard rubber surfaces typically found in gyms is good. Hardwood is ok, too. You'll get shin-splints if you do it on a surface that's too hard (like concrete) or too soft (like carpet). Don't use your jump rope outside because the rough ground will tear the rope.
Now that we're all set up, excited, and ready to go…let's get to jumping!
How to Jump Rope for Boxing
The best way to learn how to jumprope to try it for 30 minutes straight every day for a week. (I actually went at it for 2 hours, but it's ok…not everyone is me.) When you get tired and screw up, just calmly stop, set your feet, and try again. The important thing is to keep breathing at a steady calm rhythm as if you never messed up in the first place. Don't sigh and panic.
It's ok if you get so tired you keep hitting your shins. Just keep trying until the 30 minutes is over. 30 minutes will seem like a really long time but TRUST ME, TRUST ME, TRUST ME! Your body WILL adapt to that initial blitz. The more tired you are, the better–your body WILL learn how to be more efficient. After that first week, you will be able to jumprope forever.
I learned how to jump rope by just forcing myself to do nothing but jump rope for a week straight. I locked myself in the gym and jumped rope for 2 hours straight. I tired quickly in the first few minutes but after that, I calmed my breathing down and stopped panicking. All it took was for me to finally admit to myself that I "sucked".
I put on my favorite music and just kept jumping. Sometimes I went 15 jumps without screwing up, other times I made it to a hundred. I was screwing up 4-5 times in a row but I wasn't worried about failure. Every time I messed up, I just calmly stepped over the rope and started jumping again. By the next month, I jumped rope just as comfortably as anybody else in the gym. True story.
Boxing Jump Rope Tips
Some useful jump rope tips for beginners:
Breathe only through your nose (this calms your breathing and increases endurance).
Land on the balls of your foot with your knees slightly bent.
Stand straight without curling into a ball in the air (this helps balance).
Shorter faster jumps are easier than higher slower jumps (also better for developing rhythm).
Spin the rope using your arms, not your shoulders (this keeps your shoulders and traps loose).
Let the rope hit the floor gently so you have an audible rhythm to follow.
Don't stop during the rest periods (or try not to).
Stop jumping if your calves are hurting (you risk shin splints).
The goal is to jump as little as possible (the higher you jump, the more energy used).
Jump as low to the ground as possible.
The higher you jump, the more energy wasted.
The trick is to relax the jump
instead of pushing through it.
Basic Boxing Jump Rope Tricks
I'm sure some of you are dying to jump rope like Roberto Duran but first you'll have to master these basic jump rope rhythms or basic jump rope "tricks". Keep switching between the tricks as you jump and keep changing up the rhythm to give yourself a nice dynamic workout.
1. Basic Jump (single 2-footed bounce)
jump with both feet together
land on the balls of your feet
This is the most basic jump and serves as the foundation for all the other jumps. Beginners will trip and whip their feet a lot. You may even get frustrated and cry. whatever you do, just try again.
Try to get to 10 jumps without messing up. Then try to do 20. Eventually, you'll reach 100 and you'll feel like it was the hardest thing in the world. (The basic jump will eventually be as easy as breathing. Trust me, you'll get there!)
2. Run in Place
jump over the rope with your left knee up
jump over the rope with your right knee up
keep jumping over the rope as you run in place
lift your knees high to make it more challenging
Running in place with the jump rope might be technically easier for some people but it's physically more challenging especially when you go fast. It's a better workout if you try to lift your knees higher (so that your upper thighs are parallel to the floor).
Some boxers will prevent themselves from tilting backwards off balance by leaning their upper body slightly forward. To add some intensity to your jump rope routine, try doing the "run in place" rhythm as fast as you can for the last 10 seconds of every round.
3. Side Swing
put your hands together and swing the rope down on one side
now swing the rope to the other side
just spread your hands to jump again
you can do the side swings while jumping or also while walking around (for resting)
This is a great way to rest your shoulders or give your legs a break. You can walk during the side swings or just keep jumping to maintain that rhythm; I prefer the latter.
You can also be fancy by using the side swing to speed up the rope before you do doubles or triples. The side swing is also a good way to recover if you mess up; just keep bouncing and side swing the rope until you're ready to jump again.
4. One-Legged Hops
jump twice on one leg
then jump twice on the other leg
One-legged hops will develop the extra power needed to do some of the more advanced jumps. I like to do a pyramid routine where I jump on each leg from 2 jumps all the way up to 10 jumps and then back down to 2 again. For example: left 2 times, right 2 times, left 3 times, right 3 times, left 4 times, etc, etc. You can also make this a little more challenging by moving sideways as you're doing one-legged hops. This will build some muscle all around your hip as well as your balance.
5. Basic Shuffle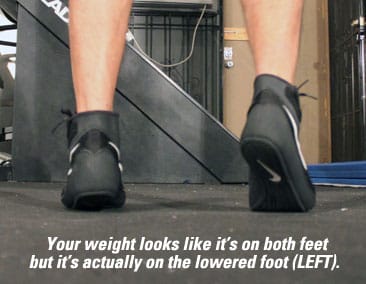 jump twice on one foot, and then the other (just like you did for one-legged hops)
gently touch the toes of the free foot to the ground so it LOOKS like you're jumping on both feet but actually all your weight is still on one foot (the knee of the free leg will be slightly more bent than the knee of the working leg)
This will eventually develop your ability to do the boxer's shuffle and give you that nice bouncing rhythm that all the seasoned boxers have. It's not hard at all but it's amazing that many fighters still can't do it. If you want that nice bounce (or at least to stop looking like a rookie), start skipping rope more.
Boxing Jump Rope Training
Jump rope can be used as a warm-up or a cool down. Boxers will typically jump rope for about 10-15 minutes (3 rounds continuous without rest) as warm-up before their boxing workouts. If you can't do 3 rounds, start with 3 minutes as your goal, then work your way up.
Once you get the hang of the basic tricks, learn more tricks to keep it from getting boring. Jump to some music or talk to your friends. Jump rope time can be your time to meditate or time to socialize. Once you get used to clearing the rope, jumping rope is not much harder than a jog.
You can make it as challenging (fun) as you want. Try changing the speed or try different tricks, whatever you want. You can mimic boxing round intervals by increasing the pace during the last 15 seconds of every round and then slowing the pace during the rest periods.
The jump rope will eventually become addictive. It's one of the few parts of your training routine that can be creative, fun, and different every time you do it. It develops your back, shoulders, and arms, as well as your legs. It improves your footwork, coordination, endurance, power, everything! Seriously…the jump rope is your magic pill!
There are NO SUBSTITUTES for jumping rope
Running is a dummy exercise that can be done with zero awareness. Ladder drills are better but they still don't force you to have that perfect rhythm and efficiency the way the jump rope does. Jumping rope requires you to maintain that minimal level of awareness and coordination that helps you stay calm and relaxed when making quick movements in the ring.
The level of awareness you use for clearing the rope could also be used as offensive or defensive awareness in the ring. A boxer that jumps rope will be far more alert at his resting rhythm and move with a more natural quickness than one that doesn't. The jump rope is a great exercise for developing your overall athleticism and cannot be substituted with anything else.
Jumping rope is THE BEST EXERCISE
for developing footwork stamina and footwork efficiency.
Ready to learn more jump rope tricks?