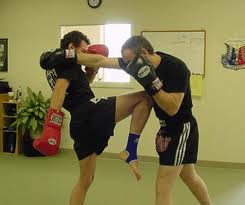 Q: How can I integrate Western style boxing with Muay Thai Boxing (kickboxing)?
A: This is a very tough question. I wouldn't recommend for you to change your stance because Muay Thai stance allows for more powerful kick attacks and effective kick defense. You can however transition to the boxing stance at very close range in the corner if you like.
The main tip I can provide only at CLOSE range is for you to lower your hips to the ground giving you more power for your punches. Simply drop your hips on every punch you throw and they will become more powerful. On the inside, you can try lesser used boxing combinations such as 1-2-5-2 (jab-right cross-left uppercut-right cross) and also spend more time stepping to the side and throwing punches at an angle when you see that your opponent is covering up and not able to see you through the guard.
One of the best punchers and Muay Thai fighters I've seen is Ramon Dekkers. He's definitely been able to combine effective boxing punches with his Muay Thai fighting. If you want an example, just watch him.

Let me know if the tips work and maybe I can try some more ideas for adding boxing to your Muay Thai style. – Johnny