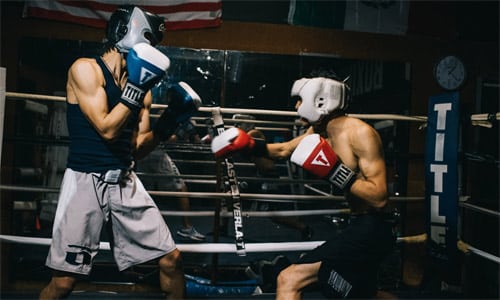 The best advice is often the simplest advice.
Life is complex. So are techniques, skills, instructions, and many other things. After all the training you've done (or haven't done)…the last thing you need is more things to confuse your brain and distract you from using your most natural weapon, INSTINCT.
So here are 10 easy tips to help you focus on the fight (and not the instructions):
1. Commit to the fight
You're there to attack, kill, destroy, win. Commit to having that mentality the whole time. Don't go in with the "let's see what happens first"…that's exactly the kind of thing that makes you second guess yourself and increases your chances of losing. There's a difference between being smart and being cautious. It's ok to observe and think, but please—COMMIT!
2. Focus on what you have to do
Land the punch, avoid the counter, move. You should be worrying about what you have to do rather than be worrying about getting hurt or other things. Don't give yourself too many things to worry about. It's really a waste of time/energy to worry about things that you cannot affect. Just attack, then move. The moment you stop to worry about getting hit, you're probably gonna get hit.
3. Exhale sharply with every punch
Every punch should have a breath. This makes you faster and more powerful. It also helps you relax and save energy while also helping you establish a rhythm. Keep in mind this is meant to a be a SMALL BREATH, not a loud huff and puff.
4. Breathe when you defend
Breathe when you block or run away or slip. Breathe every time you're on the defensive so that your body can take full advantage of this "resting state". Breathe in a relaxed manner, not a panicky manner.
5. Walk, don't run
Running and jumping around wastes energy. Walking towards, away, or around your opponent will save lots of energy, exude confidence, and still make it easy for you to move in and out of range. You don't have to walk, you can use whatever footwork movement you want but do it with the ATTITUDE of walking. No panicking, ok?
6. Drive your elbow (rather than the fist) into each punch
It doesn't matter whether it's a jab, right hand, left hook, uppercut, head or body shot. Try to drive your elbow and snap your elbow into the punch. This simple tip makes it easy for your arm to have good punching form with your elbow supporting your wrist and transferring maximum power. Too many people worry about the fist position and launching the fist…but the fist is weakly supported and doesn't transfer much energy unless the rest of the arm supports it.
7. Never cover your eyes or let your opponent go out of your vision
Avoid ducking your head under him or into his waist in a way where you can't see his head. If you guys are too close and swinging wildly, try to grab him in order to find him. Some guys use the mentality of always being able to see his chest, this is ok, too.
8. Lean on your opponent
This tactics works well to wear him out and let him waste energy throwing punches with no leverage. He'll also be wasting energy trying to regain his balance. Of course, you can't just make it a sumo wrestling contest, you have to actually throw punches here and there when you do this. This tactic works best if you are bigger, taller, have stronger legs, or need a rest.
9. Watch for the opponent's strong hand
Most fighters are one-handed or have one dominant hand that does all the damage. Pay attention only to that side and you will find that it's almost impossible for him to hurt you. Quite often your opponent will stop using EITHER of his hands, when you take away his opportunities to use the strong hand.
10. Feint to the head, and then go to the body. (ALSO VICE VERSA)
So simple and effective every time. The more tense and out-of-control the fight, the easier this trick will work.