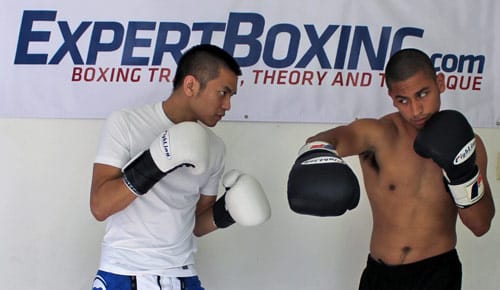 If you've ever faced a big puncher before, you've probably noticed the power of his right cross within seconds of the opening bell. It can be a psychological hurdle when you're trying to outbox your opponent. It's hard to focus on establishing your jab when all you want to do is run and hide from his right hand.
There may be weak jabs and weak hooks but the right cross is almost always a powerful punch—even from a lesser-skilled fighter. It's the kind of power you never forget and rightfully so; it's caused many knockouts in the professional and amateur ranks. Luckily for you, the right hand can open up many opportunities for your counters. Why be afraid of the right when you can use your opponent's momentum to land your own power punches?
Here are 10 classic counters for that right hand…
How to Counter the Right Hand

Watch the video above to see the counters in actual motion.
The most important skills for counter-punching:
positioning, awareness, & trained reactions.
Counter #1 – Jab Interception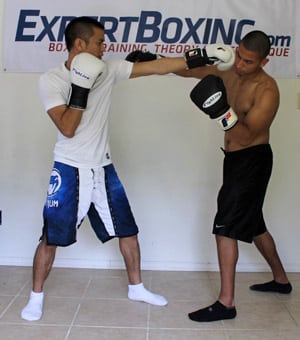 This is probably the easiest counter to the right hand but also the easiest to mess up. All you have to do is extend your left glove so that your jab counters straight up the middle while his right hits the back of your shoulder. The easiest way to knocked out with this counter is by leaving your chin up and having your left shoulder down.
Countering Tips:
Lift your left shoulder to cover your chin.
Aim your glove into your opponent's eyes (very effectively for blinding him, especially if you're using a low powered speed jab).
You can also simply extend your left glove into his face and push him back (again, it's more effective if you stick your glove into his eyes).
Keep both feet planted so you can transfer more power into him. This also keeps him from running you over with the momentum of his right hand.
You can also try this counter while pivoting clockwise out of the way with your front foot. If you're pivoting, then your counter jab would land OVER your opponent's right instead of inside of it.
Counter #2 – Inside Left Hook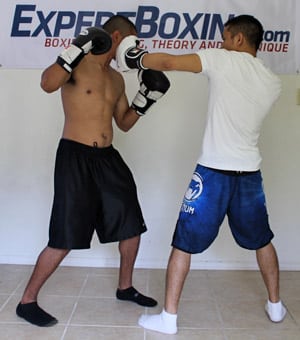 This is a deadly counter to the right hand that requires nothing more than a little bit of clever timing. The trick to this counter is to know that most fighters rarely throw their right hands straight from their chin. Their hand usually pulls back a little or drops a bit from the chin before it's launched forward into a right cross.
So the trick to this counter is to throw your left hook when his right hand peels away from his chin. This counter is almost thrown pre-emptively. Even if your left hook lands before his right hand uncovers his chin, you will still cause partial damage.
Countering Tips:
Rotate your head away as you throw the left hook so that his right hand will be deflected if it lands.
Don't worry about getting your hook inside his right hand, simply throw as if you want to exchange punches.
This is also known recently as a "check hook". You can also pivot out of the way while throwing this counter to make yourself more evasive.
Counter #3 – Outside Left Hook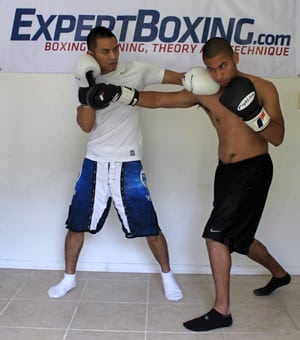 This is a similar idea as the last counter but this time you try to land your left hook AROUND your opponent's right hand. Depending on where your opponent places his right glove, this counter can be easier to land than the last counter.
If you're longer armed or like staying more on the outside, it can be easier to counter with an outside left hook than an inside one.
Countering Tips:
It may be easier to get your fist around his guard if you throw with a vertical fist than a horizontal one.
Rotate your head away as you throw the left hook so that his right hand will be deflected if it lands.
Don't worry about getting your hook around his right hand, simply throw as if you want to exchange punches.
You can also pivot out of the way while throwing this counter to make yourself more evasive.
Counter #4 – Right Hand Trade (to the head)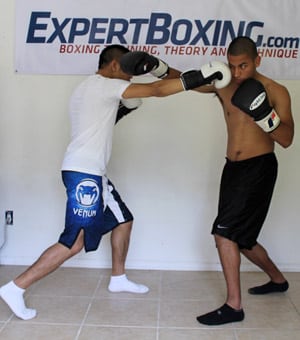 This is my favorite—and potentially most effective—counter to the right hand. Trade right hands with your opponent and make sure to dip your head down just a bit as you come in with your counter. Your opponent will be getting hit by your right cross while he's coming forward with his own right cross. There are few counters as deadly as this one!
Countering Tips:
Set your head in one place (preferably to your right side) before slipping your head slightly to the left when you counter.
Rely on timing and speed as opposed to power. Your opponent will already be throwing himself at you. Loading up power will slow down your counter and make it easier for you to get hit. You can cause a lot of damage simply by reaching forward with your right hand and landing first. You can always follow-up with harder punches after you land the first counter.
Counter #5 – Right Hand Trade (to the body)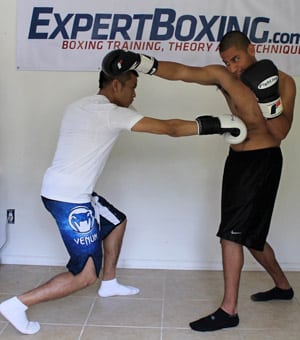 Here is another deadly counter to the right hand. Bend your knees and blast your own right hand into his body. This counter is crippling because once again he's turning himself right into your counter. Aim for his solar plexus and all you have to do is watch the ref count to 10.
Countering Tips:
Stand higher to make more room to duck under when you go to the body. Don't give away your intentions by ducking low before the counter.
Keep your eyes on your opponent's head and don't look at his body when you hit it. You want to be able to see follow-up punches and also keep from telegraphing your counter.
Counter #6 – Block & Left Hook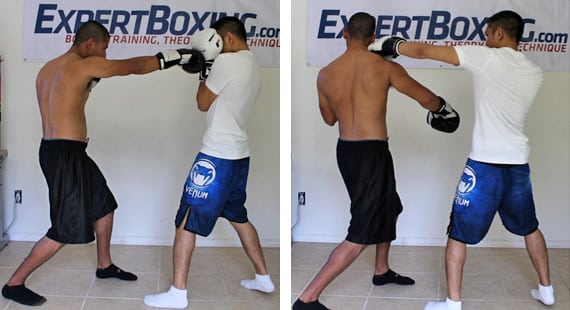 The right hand is probably the hardest punch to recover when compared to the other punches. It carries so much power and comes straight out. It's not like a jab with flicking power that returns easily, or a left hook which naturally curves the hand back to the starting position.
Knowing this, you can easily counter the right hand simply by touching your opponent immediately after he makes contact with your guard. In this counter, all I do is cover up with a high guard and wait for him to throw his right hand. As soon as I feel contact from his right hand, I immediately explode out of my guard with a counter hook.
Countering Tips:
Exhale when you block to help bounce the right hand off your guard so it doesn't push you off balance.
Counter immediately after you feel contact from his right hand.
Keep your eyes open and look through your guard so you can see the right hand coming.
Counter #7 – Parry & Jab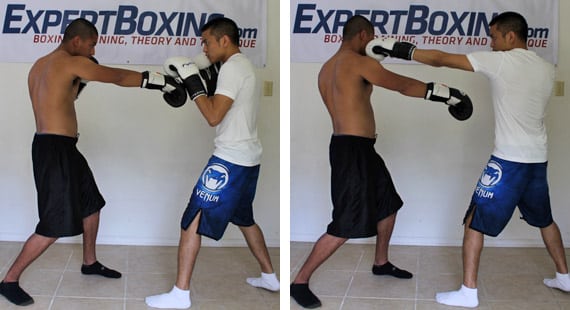 Parry down his right hand and jab over the top. Slap the top of his incoming glove to guide his powerful right hand away from your face. This is a useful counter when you're at long range and/or looking down at your opponent.
Countering Tips:
Use only a small motion to parry his punch. Don't take your left hand so far from your face that you expose yourself.
Counter immediately. Some guys will make the parry and counter as one continuous motion whereas other fighters will make it two separate quick motions. Use the one that allows you to react the fastest.
Counter #8 – Slip Outside & Left Hook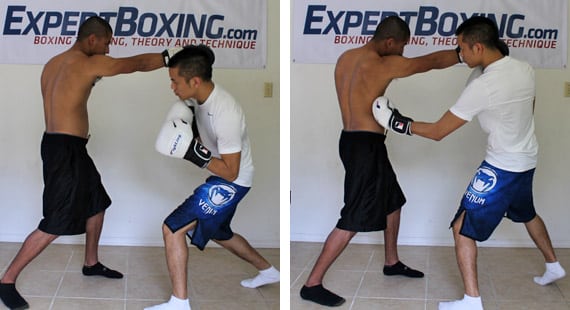 Slip outside his right hand and land a counter left hook to the head or body. This is a difficult counter that relies on a bit of skill. You can read my detailed guide on how to counter the right hand with hooks. The rewards are tremendous if you can pull off this counter. You'll not only scare him from throwing right hands but you'll also be able to get much closer to dish out more damage.
Countering Tips:
Set your head to the right side beforehand to give yourself more room to slip left without coming off balance.
The images are showing a lot of movement to demonstrate the motions. Realistically, this counter is more effective when using as little movement as possible to slip the right hand.
Counter #9 – Shoulder Roll & Right Hand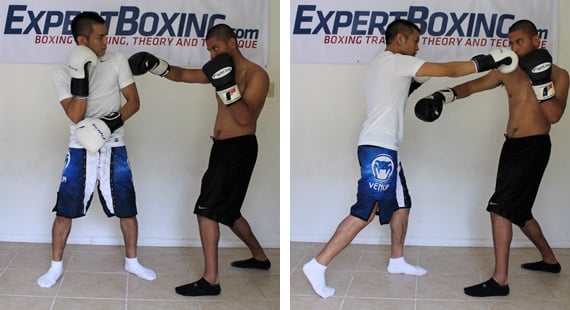 Here's a very easy and very effective counter. Roll away from his right hand to deflect its power using your left shoulder, then come back with a counter right. You can check out my guide to learn how to shoulder roll.
Countering Tips:
Stay on both feet so you don't lean off balance when you roll away from his right hand.
You can counter back with any type of right hand—a straight, an overhand, or uppercut.
You can also pivot slightly during the shoulder roll to take yourself out of harm's way before throwing the counter right. If your opponent likes to throw his weight at you, this small motion will make him fall past you.
Try to keep your eyes on your opponent during the shoulder roll, this makes the counter more accurate.
Counter #10 – Roll Under & Pivot, then Right Hand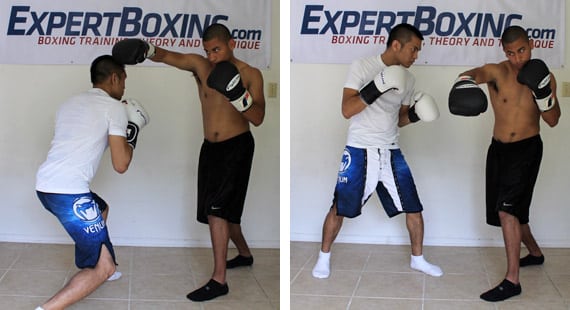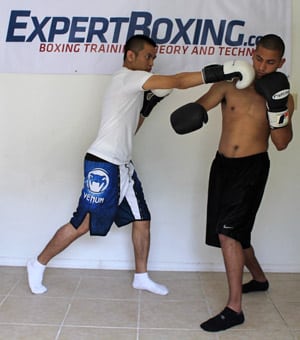 This is a difficult counter that can help you escape bad positions and come back with your own power punches. What you do here is roll under the right hand while pivoting out of the way, then come back with your own right hand. Your right shoulder might bump as you go through him. Don't worry, this can be useful! Shoulder him right in the ribs as you go through so that you knock him off balance and disrupt his flow.
This counter can be used against opponents that like to throw their weight onto you, their forward motion allows you to roll under the punch simply by ducking under. You can also use this counter to escape when you're stuck in the corner. Roll under and pivot through your opponent as he misses and falls into the counter. Then come back with hard counters.
Countering Tips:
Keep your head high so that he aims higher. This will give you more room to roll under.
Imagine yourself ducking forward and going THROUGH your opponent. Step your front foot under your opponent's armpit and step THROUGH his body. Then allow your natural momentum to pivot you when your body weight transfers to your front foot. DO NOT try to roll and pivot around his punch (this traps you in front of him), instead GO THROUGH HIM and try to get behind him.
If your opponent is overly aggressive and throwing himself at you, you only have to duck and pivot and let him throw himself over you.
Don't duck your head so low that you don't have time to come up with a counter.
Avoiding the Big Right Hand
Evading and countering right hands requires more than the simple memory of common counters. Below, I list the required skills for countering the right cross (or any punches) in order of importance:
positioning – how to position yourself to minimize the effectiveness of your opponent's punches while maximizing your own.
awareness – how to detect a punch before it lands
trained reaction – how to respond to an opponent's movement
1. Positioning
Many fighters will complain that they don't know how to avoid the right hand. Before you complain about not being able to avoid the shot, let me first ask you a few questions. Why is it that your opponent is able to throw his right hand without any fear of you countering back? How did your opponent get so close to you? Are you establishing distance with your jab? Do you even have a good jab?
If you don't want to get hit with the right hand, it's important that you don't stand in the way of your opponent's right hand! Don't stand there, don't drop your guard, don't leave your left side so open! If you however DO want to bait his right hand, then by all means put yourself in harm's way for strategic purposes.
Your position determines
what punches your opponent will throw at you.
My point is: where you position yourself in relation to your opponent determines what punches he is most likely to throw at you. At the very least, you should make your opponent work to throw his right hand instead of giving him a free opportunity.
2. Awareness
The #1 problem with countering right hands:
not knowing it's a right hand until the arm is extended.
The number one reason why most fighters get hit by ANY punch, not just the right hand, is because they can't tell a punch is coming until it's too late. The trick to avoiding right hands is to know it's a punch BEFORE it becomes a punch! Many fighters are taught to counter right hands by first seeing a fully-extended right hand, then avoiding it, then countering it. Is this you???…if so, you're too late.
The most important skill to countering right hands is not to learn as many counters as you can, it's to learn how to detect different kinds of right hands. You develop this skill by sparring slowly and having your opponent throw different punches at you. After being able to SEE AND ANALYZE many right hands in slow motion, your brain remembers what they look like and begins to recognize them even at high speeds. If you start off your drills too fast, all you'll learn is how to counter but you'll never learn how to sense a right hand in its early stages of movement.
I don't need to see a right glove extending towards me to know it's a right hand. I can already tell the right hand is coming just from the way that my opponent shifts his weight onto his front foot and starts turning his head to help rotate his body. By the time that he puts extra weight onto his front foot, I've already countered him (or gotten out of the way). The sooner you are aware of a punch, the more time you have to react to it.
3. Trained Reaction
Assuming you know how to position yourself and have a high awareness of oncoming punches, you only need to practice countering drills to counter-punch successfully. You should drill the counters above until they become second nature. Drill them while on the mitts or during slow sparring. Mastering the counters is not as important as raising your punch awareness.
It's easier to counter immediately,
than to evade and then counter.
Theoretically, it is impossible to outpunch someone that started punching before you. Because of this, you should counter as soon as you can. The more time you spend evading, the less time you have to counter; which is why I don't like wasting time defending before the counter. Defensive moves are really only helpful in 2 situations: one is when you aren't prepared to counter immediately, the other is when the defensive movement itself creates the opportunity for you to counter easier (ie: slipping so your opponent over-reaches with his punch). At the highest levels of boxing, defending before countering can make you too slow to counter.
The best reaction will always be to counter immediately. Like I've said before, you don't need to wait for his hand to fully extend into a right cross. You can counter him while he's still shifting weight or beginning to exhale. I counter the moment I feel my opponent THINKING of a right cross.