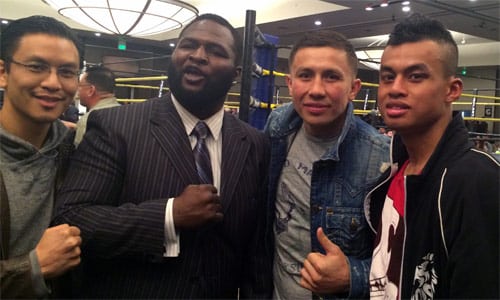 Crucial tips for getting your first win.
After spending last Saturday supporting some friends at their pro fight, I've come to the realization of some important details when it comes to winning your very first professional boxing match. I saw several debuts and took notice of the way they prepared themselves, carried themselves, acted in the ring before the fight, and of course…their techniques and strategy during the fight. I could see very easily what worked and what didn't work.
It goes without saying that preparation is key. Your natural ability, skill, and training have a large part to do with winning. But there are also other factors that you may not have considered that can make a huge impact on your success.
Tips for Winning Your Pro Fight
Careful Matchmaking
While matchmaking doesn't guarantee who actually wins the fight, it certainly guarantees who the matchmaker WANTS to win the fight. This is the truth and dirty side of boxing. Many fights are put on in order to develop fighters rather than to give fans a fair and even-sided fight. I noticed in the match-ups that all the guys on the A-side (the red corner) were heavily favored to win. They had more experience, heavier, better records, and just seemed like they were the better fighter.
The match-ups looked like this:
RED CORNER                                                               BLUE CORNER
Leon "Left Hook" Jackson   DEBUT     – vs –      Billy "Stumblefoot" Magee  3-17   (0 KO)
Travis "The Deathbringer" Rockjaw  21-0 (19 KO)    – vs –    Joe Schmoe  5-9  (1 KO)
David "The Demon" Jackson  DEBUT    (144lbs)   –  vs –    Shane "Dynamite" Redison DEBUT   (135lbs)
Some of you may think I'm exaggerating but the records really were that one-sided. It was like watching a live rat being let into the snake tank. But the unfairness was really much deeper than on the surface. For example…all the guys on the A-side of the match-up were given 2 months notice before the fight. They had ample time to prepare and the event was made on the names of the A-side fighters alone. Everybody on the B-side of the equation was handpicked to lose (make the A-side look good) and given much less notice.
My friend, who I came to support, was unfortunately on the unfair end (the B-side). He was given 4 days notice and lied to about the weight. They told him he had to make the lightweight limit which was 136lbs. But on the day of the fight, the weight limit turned out to be 4 pounds more (140lb) and not only that but his opponent was easily 10 pounds bigger (in terms of natural body weight). How much of a difference is 10lbs? If you've ever fought before, then you know a 10-lb FUNCTIONAL weight advantage is a huge difference. But more importantly, I think the real problem was that he wasn't aware of that. He could have prepared differently. But no…they simply told him last minute, made him squeezed all the way down in weight, to fight a bigger guy. Of course…he could have also not taken the fight, but that's a lesson learned one fight too late.
Why the need for careful matchmaking?
I never thought I would be the one to say this but I totally understand the reason for padding fighter's records. For those who aren't familiar with the pro game, it's common for promoters and matchmakers to "protect" their investments by giving their star fighter easy fights to help him build up an undefeated record with many sizzling highlight-reel knockouts. This helps the fighter to build up a fanbase and sell tickets, because the average fan lacks true boxing knowledge and can't appreciate a fighter's boxing skills as they can his punching power. With all these easy fights, the protected fighter easily racks up a nice record and gets to pick and choose his opponent because he sells more tickets. Eventually, he finally challenges for the title and the fight makes more money for everyone involved because there's more appeal in a title fight when one guy is undefeated and supposedly has a lot of knockout power.
It's hard to make money in boxing when you have a bunch of guys taking turns beating each other and they all come out with records like 15wins-9losses. That might work for the UFC/MMA, but in boxing it's different. In boxing, a respectable record looks more like 30wins-2 losses. And so that's exactly how the businessmen operate in boxing…they build fighters to get exactly that record. And then when you finally have a few strong prospects with pristine records, that's when you finally put them together and sell it on Pay-Per-View.
*NOTE: I have nothing against the UFC style of matchmaking. I think it's beautiful that they can afford to have marquee names with many losses on their records and still sell fights. I wish boxing was like that. It used to be in the old days when having losses didn't hurt the fighter's marketability but time has really changed and the game has changed a lot as well.
You have to figure that the managers are typically always carefully matchmaking. You're either the star prospect (because of your ethnic background, Olympic name recognition, amateur success, fan-friendly style) and you get protected, or you're not the star prospect (too old, little power, low skill) and you get fed to the wolves. Or maybe you're none of the above, and they're just using you to fill in the undercards. No promoter is going to throw his star fighter into a dangerous fight and hurt his chances to make bigger money later down the line.
But don't the fans want good fights?!
Yeah…I used to think that, too——that the fans love seeing even fights. But I don't buy that crap anymore. When you go to a big professional boxing event, one that goes on PPV, sure…the undercards can sometimes be very exciting. Often times they feature future stars, sometimes it's 2 undefeated contenders battling it out, or a prospect brought in to showcase his talent (albeit against lesser competition), or even 2 random guys who are spurred on by the large crowd to deliver excitement.
But it's not like that at the smaller professional boxing events. Most of the time, you've never heard of ANY of the guys. Typically, you've MAYBE heard of the A-side guy in the main event because he's supposedly really good and will soon challenge for the title against someone you HAVE heard of before. And then you might have also heard of a few other guys on the event because they have a reputation in the local gyms. And of course, the only reason why you're at one of these smaller pro boxing events is because you're there to support your friend, like I was.
From what I saw…the crowd breakdown in the smaller pro boxing event was something like this: 25% of the people were there to support the A-side guy in the main event. There's a good chance the promoter for the A-side main event guy also has several other fighters showcased in the event as well, each one with his own personal friends/family as well as the mutual gym support. So you figure there's maybe 40% of the crowd there to watch maybe the same 3 or 4 guys (that all come from the same gym/manager/promoter). And then the rest of the audience are personal supporters distributed out to all the B-side opponents. When you go to a bigger pro boxing event, the crowd numbers are further skewed in favor of the main event guys, and especially A-side guy in the main event.
So where am I going with all this?
My point is…the audience in general, does not care to watch anybody other than the guy they came to support. If most of the audience is there only to watch the main event, they will not pray that all the undercards last a full 12 rounds. They don't care to see 2 no-names scratch out an even decision. They have no emotional investment in either fighter. They just want the undercards to hurry up, knock each other out, so they can see the main event already.
If I had to guess, when audiences see a pro fight, here is their order of preference in terms of what they'd want to watch:
KNOWN names, even fight, with a knockout
KNOWN names, long fight, with lots of power shots thrown
KNOWN names, long boring fight
UNKNOWN names, fast knockout
UNKNOWN names, long fight, with lots of power shots thrown
UNKNOWN names, long boring fight
My advice to upcoming pro fighters?
Put your ego aside. If you want to make it as a pro, tell your matchmaker to start you off with easy fights. Take your time to develop yourself, get those knockouts, please the fans, and don't let yourself lose early on.
There's no point in coming in as the B-side in an unfair fight only to take a loss for a few hundred dollars. Be patient, keep racking up the wins, increasing those paychecks. And don't you worry, because the day will come when you get to really challenge yourself in the ring…and at least THEN, you will not only be respected for the fight but also rewarded financially for all your work.
I felt really bad for my friend because he was disrespected by everyone (the businessmen, the opponent, the fans). They threw him to the wolves early on. They didn't care for him or his career. They used him up to help some other guy's career. And I could see that it wasn't because the other guy was better. Maybe the other guy had more experience, or more preparation. But my friend could have easily been in that guy's position against a different opponent. It would have set his career up differently.
The way I see it. It's your life. You put your hard work into this thing. Things need to be in your favor as much as possible. You train hard, you deserve respect. The opponent has to give you fair notice in advance. They can't just call you 48 hours prior and tell you to drop 15 pounds for a fight. Your manager needs to respect you and your dreams. Likewise, you fight for yourself and for the fans. You respect your skills and the fans need to respect your skills, too. It's not fair if you're taking boxing seriously, training to be world champion, and here you are getting knocked out in front of the fans. And they look at you like a bum.
There's no need to prove yourself early on. Nobody is going to give you much credit for winning tough (but unknown) fights in your first 10 fights. You'll still be unknown to most fans, your paydays still won't reflect the work you put in. You'd get way more credit beating an extremely faded veteran than you would beating a unknown up-and-coming fighter. You have an entire future full of big challenges for big paydays to look forward to. Without already having name recognition, you won't prove anything by taking dangerous fights early on.
If you wanna be tough, be tough in the gym, be tough in the way you respect yourself. If you want to fight tough guys to build experience and learn on the job, do that in the gym. When you fight professionally, you are a business. You need to respect yourself as a business entity. Put your ego aside, take the easy fights to develop your skills and practice things against different kinds of opponents. Rack up those wins, and build your paydays. And then finally, when you are ready…you accept the big challenges on YOUR TERMS. What would you rather do? Take the fight of your life while you're a "bum" with 3wins-2losses and only getting paid $500? Or take the fight of your life when the people call you "champion" with 30wins-0losses and getting paid $2,000,000?
Eye Contact (between fighter and corner)
I've noticed that there were widely varying levels of emotional awareness and emotional control among the fighters. Some fighters were totally lost within their emotions and literally fought the fight one-step at a time, or rather "one punch at a time". The stresses of their fight wore clearly on their faces, whether it be a match full of stress or one full of ease. It was clear that they were completely engaged and perhaps even imprisoned within their fight.
And then there were other fighters who had the ability to step back (figuratively), step out from within their emotions and connect with not only themselves but the people around them. These fighters were more able to control their emotions and to look beyond their stress. They were able to notice the screams of the audience, the placement of the referee, the instructions of their coach.
I found that the fighters who made the most eye contact with their corner seemed to be the most at ease. This isn't to say that fighters should be staring at their trainer for answers during the round as much as possible. No. The difference is subtle. The fighters with the least emotional control probably never even looked once at their coach, and sometimes never even in between rounds as well. The fighters who did look at their coach only did it a few times and only when and if needed. They were able to glance over and notice their coach making counter-punching gestures or yelling out instructions.
These fighters were able to take themselves out of the zone, reset their emotions, take a quick check at the instructions, and then head back into battle again. I don't think it's so much about being able to multi-task but more so being able to control your emotions. More so being able to break away and dis-engage from an emotional environment during a time of stress, to reset your mind, and come back in. It shows a heightened awareness…an ability to be aware and sensitive of more things.
Don't block for too long
This one should be obvious especially since it's something that you learn as an amateur but for some reason, many pros still have this problem. Even the ones with tons of experience. What you'll usually see in the midst of some fights is that one guy will all of the sudden decide to stop moving and to just stand there and put his hands up to block his face.
It often doesn't work out very well. The smaller pro gloves don't do a good job of covering you and your opponent will be able to hurt you even through your guard. It's not only that but you have a crowd that's chanting every time you throw and so the puncher throws even more punches, and the guy on defense ends up being more defensive because he's now trying to wait for the perfect countering opportunity before he comes out of his shell. But the thing is he never gets to come out of his shell because the puncher is pushing him back onto the ropes and overwhelming him with more aggression. The punches do more damage and the guy on defense ultimately loses his balance along the ropes and has to run out of the way.
All this tells an incredibly biased story in the judges eyes. What they see is one guy throwing punches. And then because the other guy is putting up his guard, they figure the first one is probably doing damage. And then they see the first guy pushing back the other guy along the ropes with good aggression and workrate. And then they see the second guy unable to counter back and so he just runs out of the way…which looks like he's giving up ground.
It might be that the defender was never hurt and that he was just "boxing" but still, the crowd doesn't cheer for defense (unless it's really obvious flashy defense) and the judges can't score slipping and blocking, they score for punches.
QUICK NOTE: If you're going to block, please avoid covering your eyes. It looks very passive to both the judges and the opponent. And I've noticed that almost all opponents will jump on you if you cover your eyes for even a split second. Think of it as an aggressive lion jumping on its prey the moment it turns it's back.
Timing your defense, countering, and footwork
Now it's easy for me to sit here and tell fighters "NEVER TO BLOCK", but being a fighter, I have a feeling of what goes on in there. Basically, it happens when one fighter decides he doesn't want to exchange punches and would rather defend for a bit, and then land a clean counter. It's worked in sparring…why not here?
It has something to do with the atmosphere. Pro boxing at the lower levels isn't as clean. It's messy, more aggression, and again…the gloves are much smaller…making the punches faster, harder, and more penetrating. Combine all that with the fact that your opponents are better trained, more skilled and conditioned, and you're going to find yourself in a bit of a pickle when you decide to go on the defensive.
The pros are so accurate that if you even stand still for 2 seconds, that can be all it takes for him to land one punch to stun you, another to knock you off balance, and one more to put you down. It really happens that quickly. And you don't really have the bigger gloves or headgear to act as a secondary shield in case you're caught slipping. You go down rather quickly.
I think your defense, footwork, and counter-punching really have to be done on YOUR terms. So often, I see a guy defend because he's forced to defend, he moves away because he's forced to give up his ground, or he throws back counters because he's forced to counter. These things don't look good to the judges. They see a guy that is uncomfortable and forced to do things because the opponent is pushing him around. If you're going to do anything defensive, it has to look like you're doing it on purpose. You defend because it frustrates him, you move away because you're in control of the ring, you counter because you set him up for it.
Stay aggressive
This is the easier option. Stay aggressive. Don't go on defense. Stay offensive and offensive-minded. And you'll find that you won't fall into the defensive end and have to fight your way into the fight.
Stay off the ropes
Here's an obvious one: stay the hell off the ropes! Why? Because good opponents are going to chase you down, cut the ring off, throw punches at you and force you on the defensive when you've giving yourself nowhere else to go. Sure, maybe you do have great footwork and a solid jab. But you also don't need to make it easy for your opponent to put the pressure on you.
From what I saw, many guys were just trying to make a little space and next thing they know, they were on the ropes. The thing is the ropes are only 2 steps away. Take one back-step to give yourself some room, the opponent comes in on you, you take another back step and BOOM…you're stuck on the ropes again. And from here, you've got nowhere to go back to run out the sides or you can try and stand there and take shots from your guard.
I think this problem can be avoided if you stay aggressive in the first place, not try to give up ground. And if you do give up ground, give up only a little at a time. Even when you back up, you still have to put the pressure on your opponent. Otherwise if you keep giving up your ground without offering any counter-offensive presence, he's just going to walk you down until you stop moving and fight back…which is usually along the ropes.
Head Butt Awareness
There's always somebody who wins this game. There is always somebody with the stronger, harder skull. I saw a cut in almost all the fights if not all. The reason is because it's common for fighters to dip their heads when they get wild. You figure 2 guys who are fighting at a faster and more adrenaline-loaded pace than they are accustomed to, against a faster stronger opponent than they are accustomed to. It's only a matter of time before someone starts to dip their heads.
Some guys dip their head when they go forward with punches. Or as part of a crude brawling style. It's not exactly technical boxing but I've seen it work. Other guys dip their heads for defensive reasons. They're simply not comfortable, they can't see all the punches coming, and so they dip their heads to get out of the way. It's an instinctive reaction to move your head in some random flinching maneuver when you can't see or don't like what's going on.
You have to be careful of your own head movement habits in training. In sparring, it's hard to notice because you wear headgear and so headbutts aren't felt as often. But in pro fighting, it's your bare head and boy does it hurt when it collides with someone else's hard skull. As for dealing with your opponent's headbutting, this is something you have to learn to deal with. When I watched pro fighting, many times the guy trying to avoid the head butt would lean back or give up ground because he didn't know how else to deal with a headbutter. I wish I had some knowledge to share on this but all I have is observations. I hope you watch out for it and learn how to deal with it in training.
Problems in your FIRST pro fight
Being that I got to see how much work it takes to getting to your first pro fight, I commend all fighters for getting there. You have these dreams of racking up an undefeated record and becoming world champion and all that. You train hard, you spar with champions and you give 100% and it's easily to believe in yourself because up until this point, you've been nothing but awesome. Most guys I see that turn pro truly believe that they have what it takes to be a world champion. There not here to rack up a 15win-8loss record. They want to be 30 wins and 0 losses with 25 knockouts. They want to be the undisputed pound-for-pound champion. They want to be the second coming of Roy Jones Jr.
But the reality is not many will ever become a champion. Many of them will lose. Of course, we already know this. Maybe instead of 30 and 0, you could become 25 and 4. That's still respectable, right? Well I have to tell this: your failure might come much sooner than that.
For many of you, your first loss is going to come in your very first fight. Think about it. Imagine 100 guys fighting on their debut. Guess what, 50 of you are going to take a loss on your very first outing. You may have had all these dreams of being undefeated world champion but you know what…you're going to be 0 wins and 1 loss.
And it's going to hurt real REAL bad. You're going to have a painful reality check. Maybe you're not as good as you thought you were. Maybe you're not as good as the champions you sparred with. Maybe things were unfair. The opponent was too big. The floor was too slippery. The judging was biased. You had a sprained ankle. The excuses start to pile up. Nothing will ever give you the closure for losing your first fight. It's like a painful experience that never goes away.
I think the reality is…pro fighting is simply that much harder than amateur fighting. Opponents are better, the conditions are less forgiving (smaller gloves, no headgear), and the atmosphere is more stressful. And it's up to you to realize this is the reality of pro fighting. You either overcome obstacles or you don't.
Whether or not you beat your first opponent, just know that you have the utmost respect from me. And from your family and friends. Never forget that you are an inspiration to all those around you. Those who achieved the greatest success are usually those who have also achieved the greatest failure. Dare to be great. Be honest with yourself and think about what you can do better. Raise your consciousness to a higher level, and then make better conscious decisions that impact your life, then live the better life. Rinse and repeat.