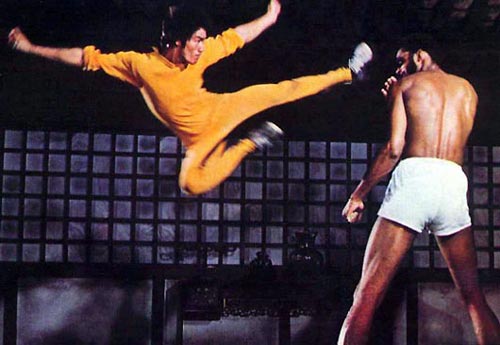 The best fighters usually fight with their best fighting style. It's as simple as that. Fighting with a style that fits your natural ability and skills makes you more effective and more successful in the ring.
I use to think developing a fighter's style was easy until I spoke to a beginner the other day and realized many beginners are potentially using the wrong fighting style. Let me be clear, your best fighting style is PROBABLY not the one your favorite boxing champion uses.
For those of you ready to stop copying Mike Tyson, and start being *insert your name*, here are 4 easy steps to developing YOUR FIGHTING STYLE!
Figuring Out Your Fighting Style
1. Stop Trying to Copy a Style
By copying a style,
you sacrifice developing your TRUE fighting style.
I could go on all day about this. The most IMPORTANT step to finding your own unique fighting style is to stop copying others. It's not about being unique or being original. It's about being YOU, being 100% you. Too many fighters today are so busy trying to imitate their idols. They try to fight with Mike Tyson's power or Floyd Mayweather's defense or Ali's hand speed. By forcing yourself to fight like somebody else, you risk becoming less effective than if you were to fight the way your muscles/skills were intended.
There are many fighting attributes such as power, speed, aggression, defense, etc. All these attributes are important and things you should be aware of. By TRYING to focus on one attribute, you lose focus on the rest. Your fighting style suffers because you're only improving in one area instead of everywhere. The worst scenario is that you sacrifice your true talents by trying to be something you are not.
Mike Tyson is powerful because he is NATURALLY powerful. He punches powerfully without having to think about power. His focus and awareness is spread across everything else like defense, movement, and boxing strategy. He doesn't waste all his mental focus on just thinking about power. Floyd Mayweather doesn't THINK speed. He's aware of speed, power, defense, everything. It just so happens that speed is his greatest attribute. It doesn't cost Pacquiao any extra energy to be fast, he just is!
You have to stop looking at others and focus on yourself. Every day that you box, pay attention to yourself and see how your body responds. By focusing on yourself and figuring out what you do well, you will find new ways to respond and fight better without having to copy anybody else. Maybe you're not happy with the way that you box. You're still much better off figuring out the secret of how YOU move YOUR body and not how somebody else moves theirs.
2. Try to Hit Your Opponent
The purpose of your fighting style,
is to hit your opponent.
This is the most important aspect of fighting is to hit your opponent. Any, and I mean ANY TECHNIQUE that you learn should help you hit your opponent. If you learn a new punch, a new combo, a new way of movement, it must have the ultimate goal of helping you hit your opponent. If you learn a new defensive technique, a new evasive manuever, it MUST help you counter (hit) your opponent. If your trainer teaches you something new and it doesn't help you at all, then it doesn't fit your style! (Perhaps your style will evolve later and make use of it, but that isn't the case now.)
It is through the goal of trying to hit your opponent that you will naturally develop better technique and ultimately a better fighting style. If throwing power punches doesn't work, try throwing smaller lighter punches. If one defense doesn't help you land counters, try another. Focusing on power just for the sake of being more powerful is silly if it doesn't help you hit your opponent.
I once asked a great trainer, "How does my jab look?" He laughed and replied, "Just try to punch. Don't worry about the form. Don't worry about if your wrist looks right, or the elbow is straight, or the shoulder is rotated. Just try to hit your opponent. As long as you keep trying to hit your opponent, you will find new ways to make your jab faster, stronger, less telegraphing, etc. Your technique will become better in every way as long as you focus on the ultimate goal. Try to hit your opponent!"
3. Find the Easy Way
Your best fighting style is your easiest fighting style.
The best style for you is one that's easiest to do. If you feel it's easier to throw left hooks than right hands, then by all means throw more left hooks! If you find it easier to move backwards than forwards, then move backwards more! If it's easier to land your light punches than your power punches, keep throwing those light punches! Why make things harder on yourself? Fight the easy way!
Mike Tyson is powerful because it's easy for him to throw with power. If throwing power punches is too hard or too much focus for you, let it go. Don't try to hang on to a style that feels unnatural to you. It hurts me to say this to fighters but very often, the reason why you admire a style so much might be because you can't do it. Most people who don't have power will admire power punchers. Many fighters that don't have natural speed will admire speed fighters. It's the nature of always wanting what you don't have. It's kind of like poor people admiring the rich.
The easy way is the most obvious way. The easy way takes less effort, less energy, less thinking. Sometimes, the easy way is the boring way. Hey look, this is fighting. You don't owe anybody the responsibility of making things more challenging on yourself, that's your opponent's job! Sometimes the easy way is all you know how to do and all you can see. Suppose you only know the jab and only see opportunities for the jab, that's fine, stick to it.
With time, you will develop more skills and find EASIER ways to fight. I don't slip to be fancy. I slip punches because slipping is actually EASIER than blocking for me. Slipping takes less damage and I'm so well trained at it that feels more natural to stay in constant motion with slipping than to stand still and block punches. Slipping is easier than blocking because I don't have to spend energy keeping my hands up all day. Slipping is easier because I'm not covering my eyes with my gloves. For those of you who aren't as well trained at slipping, that's ok, stick to blocking. Ultimately, your style should make it easier for you to fight, not harder.
4. Work on Everything
Learn all fighting techniques.
People always ask me, what should I do for my style? What techniques are best for my body type? The answer is easy, WORK ON EVERYTHING! Learn every technique, every style. Want to develop your best fighting style? Learn everything, starting with what feels easiest and most natural to you, then work your way towards skills that feel more difficult and more unnatural.
Just because you started boxing with one style doesn't mean you will retire with that same style. As you improve your boxing skills over time, you will naturally find new AND EASIER ways to box. You might become a more slippery defensive fighter because your new skills make it EASIER to slip punches than to block. You might become a more powerful puncher because your technique makes it easier to throw power punches. You might become a more busy fighter because your conditioning makes it easier to stay busy the whole fight. As your fighting ability improves, so will your fighting style.
Many boxers start out with an overly aggressive or overly defensive style because they don't know any better. Over time, they all naturally throw more punches with more power, fight more aggressive yet more defensive, and improve their fighting style in every aspect. This total improvement happens because they are aware of EVERY aspect of their fighting ability instead of limiting themselves to only one fighting quality.
At the end of the day, the word "style" is overrated. It only refers what you do the easiest and most naturally, in other words–what you do best. Just because I have a power style doesn't make me the best power puncher. I bet even the weakest-punching professional boxing champion punches harder than me. He punches harder than me because he focused his boxing skills on everything and improved his technique in every way to make it EASIER for him to HIT HIS OPPONENT. He didn't waste his training time trying to be a harder puncher than me. In fact, I'll bet he hits harder, faster, more accurately, and throws more than I do. He's not just more powerful than me, he's better than me in every way!
What is a Fighting Style
Your fighting style is the way you adapt to situations.
Don't think of your style as the way you move, but rather the way you ADAPT (respond) to things. Imagine how a boxer, muay thai kickboxer, and grappler might counter a right cross differently. The boxer would slip and throw a left hook. The kickboxer might block and counter-kick. The grappler might duck and shoot for the takedown. Their styles trained them to adapt differently. The most important observation is to see that they are responding their easiest way possible. Imagine how crazy it would seem if the boxer tried a takedown. Believe me, it looks just as ridiculous to see a boxer TRYING to be a power puncher.
Your best fighting style is the most adaptive one.
As you become more well-rounded, you style becomes more flexible to adapt to a wider range of opponent's styles. Your fighting style should become more dynamic over time. It is not just one attribute, but can adjust in several areas to compensate for your opponents. For example I like to jab and outbox from long distance. If my opponent gets too close, then my style adjusts by using my long arms for clinching and digging wide hooks on the inside.
As you face better opponents, you will have to fight with multiple styles and to force the fight to a style where you have the advantage. I can punch, I can box, and I can brawl on the inside. The problem is that my opponent can do the same. So I have to force the fight to a style where I have the advantage. Suppose I'm a better inside fighter so I'll go inside more. He MIGHT try to out-brawl me on the inside or he might switch to his long-range boxing style to keep me away. You never know what's going to happen. The point is, just let everything flow. Let your body learn everything that feels natural and easy to do. Later down the line, you will need more than one boxing style to be successful.
Having the best style means you can adapt to more things. It doesn't necessarily mean being the most defensive or most powerful.
"Have no way as Way; have no limitation as limitation."
– Bruce Lee
Having read this, how did you change your fighting style?