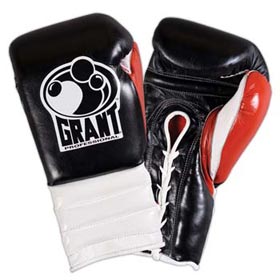 A simple guide on choosing the right size gloves for the right type of boxing training—bagwork, sparring, or competing.
What Size Boxing Gloves Should You Use?
I get several emails every day asking about what size boxing gloves to wear. If you're like me, you'll probably use one set of gloves for everything (hitting the bags, sparring). If you're a competing boxer, you'll have another set of gloves specifically for fighting. The size and type of boxing gloves you use will depend on your body weight and purpose.
All Purpose Boxing Training Gloves
Just about every boxer has a pair of gloves that they use for all training purposes. When you go buy boxing gloves, you will see many different kinds advertised. The only ones you really need are TRAINING GLOVES or SPARRING GLOVES. Basically, training gloves are can be used for all types of boxing training like hitting the bags and sparring. Below are general guidelines for body-weight and size of boxing training gloves recommended.
120lbs & down  (12oz or 14oz)
120lbs – 150lbs (14oz – 16oz)
150lbs – 180lbs (16oz – 20oz)
180lbs & up (18oz & up)
Sparring Gloves
Sparring gloves are basically extra-padded training gloves so that you're not hurting your sparring opponent.  Regardless of size or weight, hardly anyone ever spars with anything less than 16oz unless you're a really small person (under 120 pounds). Theoretically, you COULD spar with 14oz gloves but then it wouldn't prepare you for a competition fight if you compete with 16oz boxing gloves. If you weigh more than 175lbs lean muscle, you should spar with gloves no less than 18oz or 20oz. Don't forget to watch out and make sure your opponent is not using smaller gloves than you because you will get hit harder by the unfair advantage.
There is also another common belief that you should always spar with gloves at competition weight for your weight class. If your weight class competes in 10oz gloves, then you spar with that. Of course, you have to tone down the pace so you don't destroy each other before the actual fight. Personally, I feel beginners should use more bigger gloves to be on the safe side and then work their way down towards competition weight if they can handle it.
Competition Boxing Gloves
These are boxing gloves you use for fighting during real competition boxing events. If you're an amateur boxer, there is an exact size specifications that your weight class will use whether it be 12oz, 14oz, 16oz, etc. In amateur boxing, your gloves have to be approved for boxing competition (for example: in the USA, you have to wear USA Boxing approved gloves for amateur fighting). Your trainer will know the correct size and specifications required. In professional boxing matches, the gloves are usually smaller. Generally, your training/sparring gloves will be heavier and thicker than your fighting gloves.
What's the Difference Between Size And Type
A bigger glove generally has more padding. Whenever you're training, using a bigger glove offers your hands much better protection. If you're beating on the heavy bag, you want the best protection possible so that you're not damaging your hands over time. Training with a bigger glove will get you more accustomed to the weight and your hands will be faster when you use smaller size gloves during competition. Sparring gloves are usually the thickest and offer the most padding. Training gloves are a bit smaller but still very protective. Bag gloves are pretty crappy and not recommended (I rarely ever see them being used.) Amateur competition gloves have good padding while professional competition gloves have less padding so you can hurt your opponent more.
My Personal Recommendations on Boxing Gloves
Avoid Bag Gloves – I don't see the point of them. The thin bag gloves offer your hands little protection and just makes you feel good since you're hands move faster. It's not good to get use to that speed since you will never fight with gloves that light. (***NOTE: I'm referring to the really thin old school style bag gloves, not the new well-padded ones sold nowadays.)
Mexican Style Gloves – Smaller more compact fist for better damage. These are good  for competition fighting but not very much padding for training. Again, I'm a big advocate on protecting your hands for longterm use inside and outside of boxing later in life. Avoid them during training if you can.
Brands Do Matter – Every brand distributes the weight across the boxing glove differently. Some offer more protection for your fist, others more protection for your wrist. A 14oz glove (Grant, Ringside, Rival) from a good company offers far more padding and protection than a 16oz glove from a crap generic company (Century, TKO).
Proper Fit – Make sure your gloves will fit you right WITH HANDWRAPS ON. Put on some hand-wraps and see if the gloves is snug around the wraps. Brands vary in size around your fist. Make sure you are able to make an easy comfortable fist inside your boxing gloves.
Final Advice – Go to a real boxing gym and try on different types of boxing gloves they have. Check out the shape, padding, and comfort. Go home and buy them online.
Want to know what boxing glove brands I recommend?