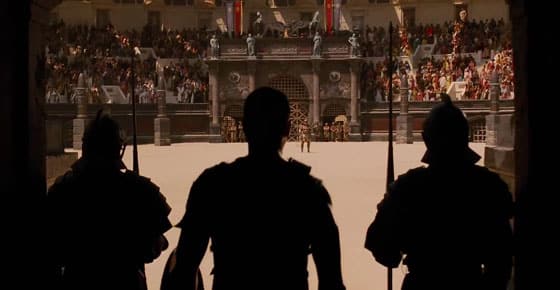 Last Sunday, I cornered for 2 fighters for their first fights. My friends, Van and Richard were training hard for the past couple months. I was proud to see both of them win their first fight. (Video included.)
I figured you'd want to know how I coached Van and Richard. To all the guys that trained hard, you deserve to win–this guide is for YOU. To everyone else that only trained 99% and/or like to make excuses, this guide will keep you from getting KO'ed in front of your friends.
Here are some strategies and tips for your first fight…
The Truth
You're either ready or you're not. If you're only one week away from the fight, there isn't much that I (or anybody) can say that will make you a better fighter overnight. You either have the capacity to win or you don't.
THE GOOD NEWS, is that I can help you fight to the BEST OF YOUR ABILITY. And that right there is all you really need. If you go out there and fight to the best of your ability, I promise you will be happy with the result no matter what happens. Nobody likes to tire out early and get outpunched. Nobody likes to lose a fight where they didn't perform their best.
So again, I can't make you any better than you are but I can help you perform at 100% capacity.
What If You're Nervous?
I can only think of a few reasons why people get nervous before fights. One is you didn't train hard enough. If you slacked off in training, don't ask for a victory. Other reasons for being nervous is that you don't actually enjoy fighting or maybe the crowd atmosphere gets to you. If you don't genuinely enjoy THE RISK of getting hurt, you shouldn't be competing.
Everybody gets emotional before a fight. Fear, anxiety, stress, excitement…it's all part of the reason you fight. Never forget that the emotions are the reason why you love fighting (or why you love anything). The risk of losing, the glory of winning–it's why you enjoy competing! So go out there and take that risk.
The fight is your reward.
When you train hard, the fight becomes your reward. You get to show everyone how hard you trained and how amazing you are. You're excited come fight day and you're anxious to get in the ring. You WANT to fight, you WANT to have your fun.
I want to share a story about my fighter, Van, who trained 100% everyday for his first fight in December. Unfortunately the event got cancelled on the day of the fight, but what happened next was really inspiring. When I broke the news to Van that the fight got cancelled, he got sad as if his birthday was cancelled. I tried to cheer him up and let him know it was only more time for him to get better but he didn't care.
Luckily, we were able to enter him into a smoker fight in January. When the day finally arrived, I had never seen a happier fighter. He was smiling and giggling like he had already won. He worked hard for it and couldn't wait for the moment. I hope that when your first fight arrives, that you want it as bad as Van. And if you don't want it as bad, then I pray that you're not fighting Van. 😉
STRATEGY FOR YOUR FIRST FIGHT!
Round 1 – BOX
establish: control, skills, respect
Come out with some feeler jabs but watch out for HIS right hand. Trust me, he's itching to throw it as much as you are. Block his jabs but watch out for that right hand. You're free to land your own right hands and maybe a quick combo here and there but don't go tearing after him and trying to finish him off. SAVE YOUR ENERGY! Try to hold center ring and keep circling your opponent instead of backing away from him. Establish dominance, confidence, and ring generalship. The first round should look even.
Touch Him
This is the most important part of the first round. You have to establish your reach and boxing ability. Make sure you can touch him before you commit to power punches later. You're also letting him know that you're able to reach his vulnerable spots; let him know you can hurt him. This keeps him cautious instead of trying to run you over. Throw fast jabs, fast right hands. Hook him when he drops his hands. Touch him to the head and body, up and down. Move around and keep finding new angles. Sneak some counters around him to see where he's open when he throws.
Box Him
Unless he's wide open for your right hands, don't go in there trying to knock him out. Let him create his own vulnerabilities. If he wants to waste energy brawling, pick your shots and knock him out. Otherwise, stick to your game plan and learn as much as you can about his vulnerabilities while you box him.
Breathe
I thought this was obvious but it isn't. The hardest thing for most beginners is to maintain their breathing while they fight. Everything seems to distract them from breathing. Think of it this way. Your breathing is your pace. If you can fight to your own breathing, you are fighting at your pace. Your opponent might move all crazy and throw lots of punches, but if you can maintain YOUR BREATHING, you will be in control of yourself, not him. Breathe when you punch, breathe when you defend, breathe when you move. Most important of all, breathe when YOU want (not when he lets you).
Round 2 – PUNCH
establish: power, strength, aggression
Now is the time for you to start pushing him. Start committing more to your punches. Step in more. More power, more push, more aggression. See if you can force him all the way to the ropes. Be ready to take the damage you dish out. The fight will be going back and forth with both fighters trying to hurt each other. Natural common sense applies here.
Sit Down On Your Punches
Don't lift your hips so much. Let your hips drop and pivot your feet harder against the ground. The more connected you are with the ground, the more power your opponent will feel. Drop that weight to punch harder!
Follow Up With More Punches
This is a huge one! Too many beginners will sit there and admire their work. If you get a good hit in on a guy, try to capitalize on that. Don't give him a chance to regain his sense. Try to turn 1 connect, into a 3-hit combo. Don't step away from him, keep hitting until he throws something back. And then when he does, you slip that, and follow it up with more counters. Don't ever let him fight, don't let him stand, don't let him breathe. The real trick is learning how to put pressure without throwing punches (or wasting energy).
Inexperienced fighters don't start throwing
until their opponents throw first.
Experienced fighters don't stop throwing
until their opponents throw back.
Move After the Last Shot
Move after you throw your hardest punches. Your opponent is going to come back after you just cracked him with a good one. Throw a combo, take a step. Throw another combo, take 2 steps. You don't have to jump away from him, that's a waste of energy. Just the act of you MOVING AWAY is enough to deflect the power from his punch. Don't be so cautious about not getting touched. The goal is to throw off his rhythm by constantly changing directions. It's not about BEING in and out, it's about MOVING in and out. Take small steps, as long as you're moving in and out, you're doing fine.
Defend the Mirror Side
A good rule of thumb is to defend from the side you just threw. If you ended your combo with a right hand, expect a counter from his left. If you threw your left hand last, expect a counter to your left side. Don't sit there and over-think it. Just let your combinations flow but whatever arm punched last should expect a counter on that side.
Round 3 – BRAWL
establish: endurance, position, dominance
By now, both fighters have accepted their roles. Maybe one is the aggressor whereas the other is passively waiting along the ropes. Or both are boxers or both are brawlers.
I hope you're in great shape for what's about to happen. The 3rd and final round is where you go all-out throwing non-stop punches. The only time you stop punching is to let him miss. Otherwise, stay busy and keep pouring the pressure on him. Leave nothing in the ring. Come after him with non-stop combinations. Stop, catch your breath and adjust your defense if you need, but keep moving forward. He might have a good counter or two, slip them, and keep coming forward. Don't wait, let your hands go! More punches, more pressure, more aggression!
You want to remind the judges who worked harder. You want to look like the more aggressive fighter. (Running in the last round is a common way to lose decisions! So make sure you have energy to fight at the end and finish strong.)
Automatic Combinations
Now is NOT the time to be thinking. You should have 2 sets of automatic combinations at hand: the ones you practiced in the gym, and the ones you figured out from the first two rounds. For me it's double-jab, right cross, roll under the left hook, and follow up with a right cross, left uppercut, right cross. Then I'll step to one side and swing a big left hook. At close range, I throw 1-2-1-2-1-2, and then step back. I'm stepping off to new angles everytime so my opponent doesn't realize I'm doing the same thing over and over because I'm hitting from new angles every time.
It's easy, I don't have to think about it. I can throw a thousand of them if I need. Your automatic combos might be different. The last round is when you are most tired. You save energy by repeating what works.
Punch & Smother vs Punch & Defend
When you don't have energy, it's tiring to punch and then defend or punch and then step out of range. Many amateur fighters are very clever in that they will smother and fall INTO their opponents when they finish punching. This way, your opponent is busy holding you up and you don't have to use energy for defense. By the time your opponent pushes you off him, you've gained some wind and just keep punching him again. Instead of spending energy on defense, you save all your energy for punching.
NOTE: I am not saying for you to disregard defense. I'm just saying it's easier and more energy-efficient to smother instead of trying to use an active defense like slipping or back-stepping during the last round. Learn how to lean cleverly into your opponent after you finish punching.
Forced punches
This is a concept of forcing your opponent to absorb your punches. You're tired now and don't have the energy to chase him down with punches. Instead of trying to throw harder and faster, there are some clever things you can do to make him an easier target to hit. He's tired too so with proper tactics, you can force him to block or take punches. Throw at his chest, throw at his ribs, almost anywhere at the body really. Body punches are a great endgame tactic because your opponent is less mobile. He'll have no choice but to block your punches or absorb painful body shots. This pins down his arms giving you precious time to go to the head. If he's stuck in one place, your head shots will do damage even if he blocks them.
Another way to force punches is to get him off balance. Muscle him on the inside, shoulder him when you step around him. Grab the back of his shoulder and spin him as you pivot out. When he blocks your punch, try to push him off balance if you can. When he swings hard, lean back so he can fall off balance. When he lands a punch, grab his glove and pull him towards you. Get him off balance anyway you can so you can land more forced punches on him.
The last tip to create forced punches is common sense. Throw with a margin of error. If he likes to lean back or step out, throw your punches a little long (hook at the back of his head, not the front). If he likes to slip or roll under, aim for his chest or shoulders. If he likes to block a lot, start at the body and move your punches up to the head. Last but not least, THROW SOME FEINTS, this makes him commit to a movement so you can hit him after.
Weaken His Legs
Every fighter's legs are weak in the last round. Anytime you end up in a clinch, spin him around you. You do this by weighing down your hips as you pivot one leg behind you. This motion creates a hole on one side making him fall into the hole and come off balance (especially if he's leaning into you). It helps to know some basic wrestling skills.
You can also weaken his legs by walking into him as you throw punches. I especially love to do this against fighters with skinny chicken legs.
Tips for your First Fight
1. Act Aggressive
Make your opponent FEEL that you want to hit him.
This single tip alone is worth like 5 tips in itself. Turn on your aggressive attitude. Don't worry about confidence or punching power or whatever. Make your opponent think you're going to hurt him. Twitch that right arm like you're going to hit him with the biggest right cross in the world. When you chase him down, make him FEEL like you want to throw more punches. When he attacks you, always look like you're about to counter back with something hard. This aggression makes him cautious, makes him less aggressive.
Stare your opponent down. This alone will stop any opponent from attacking you. Think of an opponent hiding behind his guard. When you don't see his eyes, he looks vulnerable and easy to attack (like a sleeping person). But when he stares straight back at you with his eyes, you back off cautiously. Do the same to your opponent, if he attacks you stare straight back at him even harder. Make him think, "I'm watching you, I'm gonna hit you!"
How amazing, right? You might not have to BE aggressive, you only have to act the part.
2. Don't Brawl Too Early
Most guys I see that screw it all up, they brawl first and then try to box the last round when they're out of energy. Fighting this way makes it easy for you to be at a disadvantage because you're showing your opponent your cards first. He gets to see how hard you hit, what skills you have, and how conditioned you are. Don't forget that he has a trainer! If you show all your tricks early, his trainer will have him make the adjustment and figure you out by rounds 2 & 3.
Your opponent's trainer will probably tell him
to conserve his energy in the first round.
Brawling early means you'll be tired when you try to box later. If you start boxing late in the fight, he wins the last round easily because it looks like you're scared and not trying to engage. Unless you're 100% sure that you can knock him out, save the fighting for the end. When you get better, you can start fighting however you like but for now, try to box > punch > brawl.
3. Box at Center Ring, Brawl Along the Ropes
Try to box and use the space at center ring to move and outbox your opponent. It's not smart to throw hard punches here because your opponent can escape easily by back-stepping or side-stepping and countering you. When you're at center, keep boxing and moving on your opponent. Keep turning him and moving so that you hold center ring, let him try to push you around (with punches) as you outmove him.
The closer you get to the ropes the harder you punch. The closer you push your opponent to the ropes, the less room he has to move and the more you can force him back with your power. Likewise if you're the one on the ropes, you will probably have to use power to get him off you. There's also nowhere to go so you HAVE to fight if you're stuck in the corner.
4. Stay Warm
Wear sweats in the 24 hours before the fight so you're body stays warm and loose. Don't stretch within 2 hours before the fight, do it all before. When you warm up before the fight, make sure you break a sweat! (Your body performs better at higher temperatures–hence, the phrase "warming up".) Drink lots of water hours before the fight. As your fight approaches, take only small sips of water. You'll feel nauseous or bloated if you have too much water in your stomach.
5. Walk
Holding that boxing stance can make you tense during a fight. Any time that you're not actively punching, relax your body and take a walk. When you're opponent bounces around from long range, walk a bit to relax your legs. Even when you're taking punches, there's no rule saying you have to stand there. You could literally just WALK away (even while you're blocking). Even if his punches hit you, they carry less power if you're moving away from them.
Many of the slickest fighters never bounce around the ring, they're able to fight while walking. You can throw a few punches, then walk, throw a few more, walk again. Watch Miguel Cotto, Joan Guzman, Ivan Calderon, to see how they do it.
6. This Isn't Sparring
Official competition is very different. You can't pull the same crap you do in sparring. Laying on the ropes looks bad and will cost you decisions. In sparring you might have felt like a rope-a-dope but to the judges it looks like a passive fighter. Ducking your head down to waist level is also not allowed. It's ok in sparring but not allowed in the amateurs. No passive fighting allowed in competition, you must ALWAYS show aggression. If you take 15-20 unanswered punches, the ref jumps in and gives you a standing 8-count. If you keep doing this, the fight will get stopped even if you're perfectly fine.
7. TRY to Punch!
So many fighters will get caught in that standoff where neither guy will punch first because they're both afraid of each other's counters. It's ok to be cautious, I'm proud of you for having a brain and caring about defense.
Now find a way to hit your opponent. Instead of waiting for him all day, figure out how to be intelligently aggressive. Usually the guy that gets knocked out is the one being reckless, not the one being aggressive. Have some faith in your chin. If you've taken hard punches in training before, you probably won't get knocked out in your first fight. It will HURT but you will be ok.
Be aggressive, not reckless.
Go With the Flow!
Don't try to memorize a million new things before the fight. It hasn't worked for me or for anybody else. In fact, it's never worked. The idea of memorizing how you're going to fight is like trying to trying to plan out how you're going to dance with a girl at the club. There's no time to remember, no time to think. I can show you exactly how Floyd Mayweather rolls punches but it won't work if you have to think about it before doing it. All your skills need to be automatic by now. In moments of extreme stress, everyone resorts to their comfort zone. This is part of our human nature.
Learn how to box, practice it, master it…then forget about it, just go with the flow, and enjoy the fight. Good luck!
Highlights of my fighters, Van and Richard winning their first fights:

Now post your first fight video and tell me how you felt!